Eight Enduring Paris Bistros In The 7th Arrondissement
The 7th Arrondissement of Paris has its fair share of iconic monuments. There's the Eiffel Tower and the Champs de Mars, which dominate this genteel district. Add to that Musée d'Orsay, Musée Rodin, and Les Invalides, where you find Napoleon's Tomb. It's no wonder savvy travelers head to this district.
And it's no wonder food lovers flock to the 7th Arrondissement where cafes, enduring bistros, and restaurants are found on Rue Cler, Rue Saint-Dominique, and around Le Bon Marché department store. Let's take a virtual walk around the 7th to see what culinary surprises are in store.

Discover What's On When You're Here...
Discover What's On When You're Here
1. Au Pied de Fouet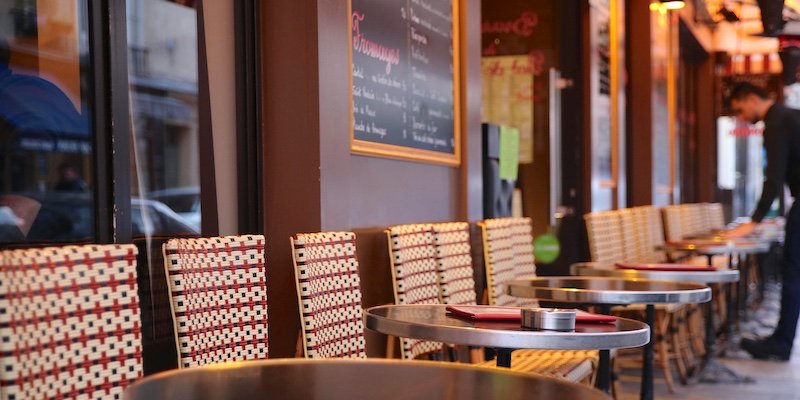 When 3-star chef Alain Passard of L'Arpege was asked where he likes to eat when he's not working, his answer made culinary headlines in France. Au Pied de Fouet is a humble bistro serving up classics like lentil salad, rillette d'oie (country-style goose paté), and grilled steaks at bargain prices.
Others must have read those headlines because today you can expect the tiny hole-in-wall to be mobbed. The decor here is vrai Parisien with a zinc bar, red-and-white checked tablecloths, and knickknacks collected over the ages strewn from ceiling to floor, all adding to the charm. Don't miss the simple, signature desserts like crême de marron (chestnut cream), fondant au chocolat, and our favorite, pruneaux au vin (prunes soaked in wine).
45 Rue de Babylone
7th Arrondissement
Metro – Sèvres-Babylone
Closed Sundays
2. Au Babylone
Au Babylone has been a family business for generations, since 1951 to be exact. Victor, Liliane and their daughters turn out four to five main dishes daily, along with a handful of homemade desserts. What's on the menu? Slow simmered leg of lamb, veal blanquette, raspberry tarts, cherry clafoutis, and seasonal fruit crumbles.
Their best advertising is the cadre of regular customers who dine at Au Babylone several times a week. Unpretentious, definitely old school, it's the kind of place you want to visit after a busy day of shopping at Le Bon Marché or Le Grande Epicerie de Paris.
13 Rue de Babylone
7th Arrondissement
Metro – Sèvres-Babylone
Open for lunch from Monday to Saturday

3. Le Bistrot de Paris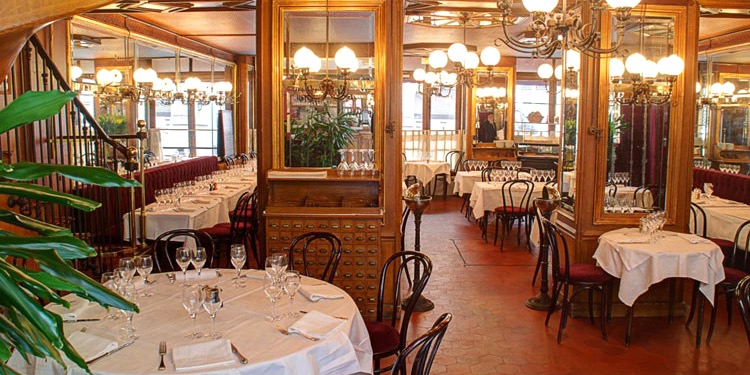 Le Bistrot de Paris may go back to 1965, but the building it occupies goes back even further — to the Belle Époque, sporting Art Nouveau decoration like extensive woodwork, a grand staircase, and ornate mirrors. This is an old-school bistro with impeccably-set tables and the kind of French menu you dream about — escargots, salade d'endives, tangy herring in a warm bath of buttery vinaigrette, fat asparagus with mousseline sauce.
Owner Jean-Gabriel de Bueil defines himself as a collector of old bistros. His small restaurant group, started with the purchase of Le Bistrot de Paris in 2002, includes enduring Paris bistros rooted in culinary heritage like Chez Georges in the 2nd, Chez René in the 5th, Fred in the 17th, and Savy in the 8th. Bistrot de Paris is the perfect lunch spot after a morning at nearby Musée d'Orsay.
33 rue de Lille
7th Arrondissement
Open daily for lunch and dinner
Metro – Rue du Bac, Saint-Germain-des-Prés
4. Le Café du Marché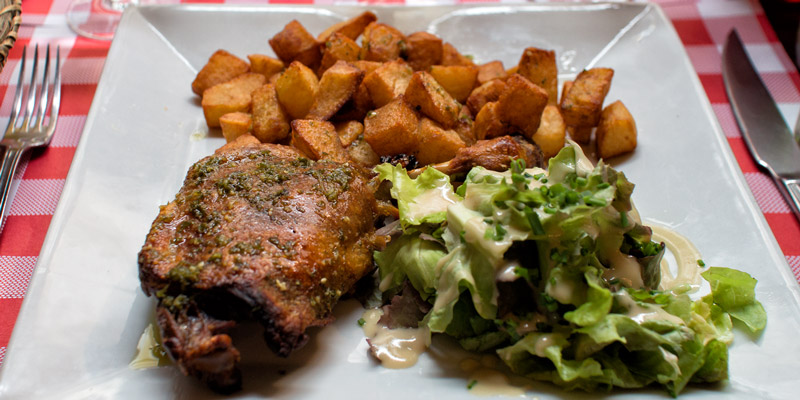 We've written plenty about this classic Paris cafe/bistro that's just a stone throw from the Eiffel Tower, but we couldn't resist mentioning it one more time (in case you haven't been listening). You wouldn't expect to find this sort of bargain restaurant in the chic 7th Arrondissement — with an attractive terrace and a menu with prices that defy logic.
Arrive at noon and it's guaranteed you will wait in line. The secret is to come early or late at mealtimes to get a table. The salads are large and attractive and the hot plats are served with either a generous heap of goose-fat-fried potatoes, golden yellow puréed potatoes, or frites. Favorites are the crispy duck confit, roast chicken, a glorious hamburger (French style, meaning it's served rare, unless you say otherwise), and a bevy of homey desserts like moelleux au chocolat, crême brulée, and tarte tatin.
38 Rue Cler
7th Arrondissement
7:00 AM to midnight. Sunday 7:00 AM to 5:00 PM.
Metro – École Militaire

5. Le Petite Chaise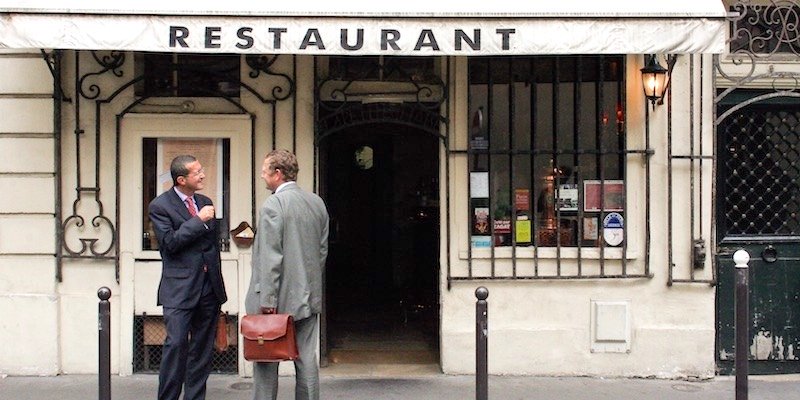 Surf for online reviews of Le Petite Chaise and you'll come away more bewildered than enlightened. Is it one of the best dining experiences in Paris or is it a tourist trap? Often called the oldest restaurant in Paris, Le Petite Chaise has been in continuous service since 1680. (Remember those days?) George Sand and Colette dined here in the 19th century while François Mitterand was said to have been a regular a century later.
The tiny dining room is charming and the overall atmosphere jovial. Pro or con, reviewers agree on one thing: the toothsome French onion soup. Food writer and man-about-Paris David Lebowitz has been very happy with their pot au feu — simmered beef served in a giant bowl with steamed vegetables, Dijon mustard, and tangy cornichons.
36-38 Rue de Grenelle
7th Arrondissement
Open daily for lunch and dinner
Metro – Rue du Bac
6. Fontaine de Mars
This enduring Paris bistro got a lot of press after the Obamas (yes, those Obamas) wanted to dine at an authentic bistro. While there might not be any culinary fireworks at Fontaine de Mars what you do get is a glimpse into traditional restaurant dining at a generational bistro that has stood the time (it opened in 1908).
On offer are all the favorites we go to Paris to find — steamed leeks with with a tangy dressing and crunchy croutons, homemade duck confit, roasted duckling with caramel and endives, all served with glorious sides like crispy, steamed green beans, gratin dauphinois, and sautéed spinach. Make sure to leave room for the tourtiere from the Southwest France with armagnac ice cream.
129 Rue Saint-Dominique
7th Arrondissement
Open daily for lunch and dinner
Metro – École Militaire

7. Le Petit Cler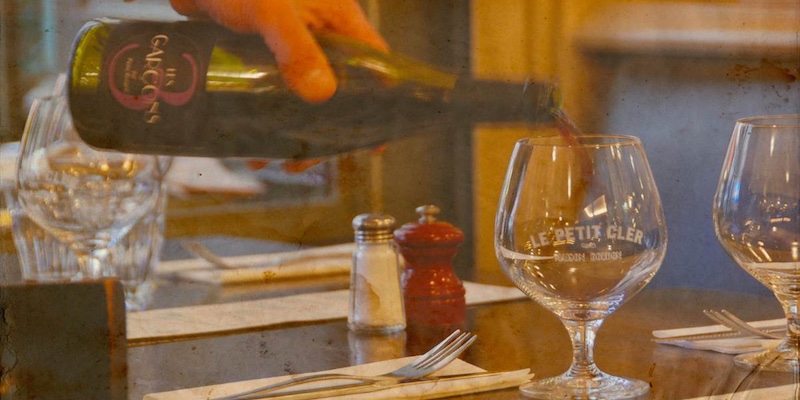 If you want to stretch your dining dollars, or are looking for something très simple, we just had to include Le Petit Cler, operated by the Fontaine de Mars family. The small menu offers classic French food that is very satisfying; it's also open on Sundays. Check out the daily specials — jeudi it's tomates farcies a la provençale (stuffed tomatoes Provençal style); dimanche it is, appropriately, roast farm chicken with purée maison.
Tartines are made with famous Poilane bread. Choose from Saint-Marcellin (goat cheese) or sardines en boite (yay, sardines in a tin… that's a good thing) with butter, olive oil and lemon. The decor is like taking a step back in time, reminding you that you are, indeed, in France. There's also an outdoor terrasse.
29 Rue Cler
7th Arrondissement
Open daily, 8:00 AM to 11:30 PM
Metro – École Militaire

8. Au Bon Accueil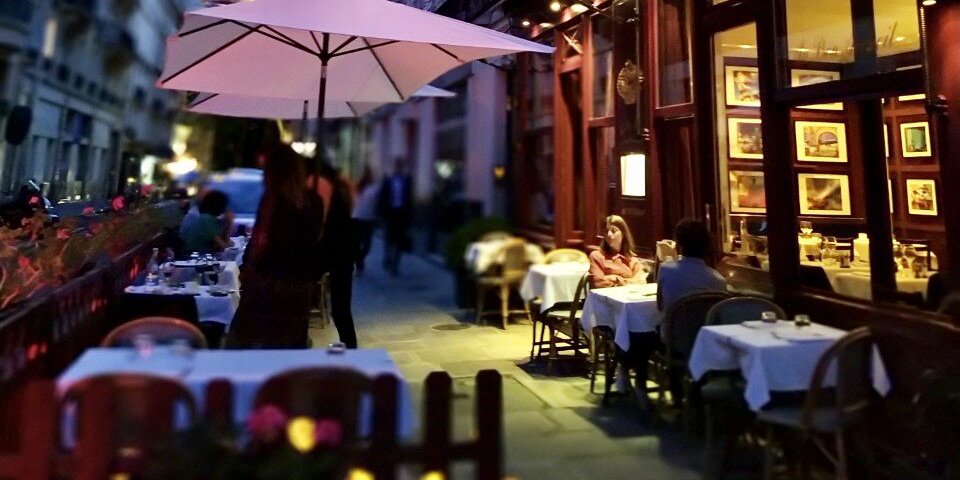 For many years, Au Bon Accueil was our go-to restaurant near the Eiffel Tower, but then something happened. Perhaps it was a new chef or a new front of house, but everything felt off-kilter. So, for the past few years we've dined elsewhere. But now, after reading so many wonderful recent reviews, we've realized that it's time to go back. Because when they were good, they were very, very good.
On the menu is a spectacular sole meunière, one of the best we've ever had. (Last time we ate here it wasn't available; we celebrate its return.) Au Bon Accueil features a small, elegant dining room, literally in the shadow of the Eiffel Tower; the nighttime view of the tour from Rue de Monttessuy is incredible. Time to make a bee-line to an old favorite.
14 Rue de Monttessuy
7th Arrondissement
Open Monday to Friday for lunch and dinner
Metro – Alma Marceau, École Militaire