8 Enduring Paris Bistros In The 1st Arrondissement
If you're on a quest for long-lasting, historic bistros of Paris, you're going to be spending time in the 1st Arrondissement. Although it's one of the tiniest arrondissements in the city, it packs a wallop. Here's where you'll find the Louvre Museum, historic parks like Jardin des Tuileries, and luxury shops along chic Rue Saint Honoré and Place Vendôme. The 1st Arrondissement also takes in the west side of Île de la Cité.
Our search strategy was simple — put together a list of the enduring Paris bistros in the 1st Arrondissement that have managed to survive the test of time, and continue to attract diners with classic French dishes. Allons-y!

Discover What's On When You're Here...
Discover What's On When You're Here
1. Le Soufflé
Since 1961, Le Soufflé has been cranking out light, fluffy soufflés, both sweet and savory, made with every ingredient imaginable. The iconic restaurant is located between Place Vendôme, La Madeleine, and Place de la Concorde and is faithful to the traditional French soufflé.
The savory soufflés feature the freshest ingredients from the market — fat asparagus, creamy foie gras, morel mushrooms, earthy truffles; while dessert soufflés are brimming with ripe, red raspberries, juicy peaches, dark chocolate, and the grand classique — Grand Marnier. In fact, you can even order a special 3-course soufflé meal that ends with a flourish with a red fruit soufflé for dessert.
If some reason you're not in the mood for the French national dish there are other options on the menu like boeuf bourguignon, magret de canard aux pêches (duck with peaches), and côtelettes d'agneau grillées & gratin dauphinois (grilled lamb chops with potatoes dauphinois). This uber-popular bistro fills quickly, so we recommend you make a reservation.
36 rue Mont Thabor
1st Arrondissement
Metro – Concord or Tuileries

2. Les Cartes Postales
This hideaway bistro is tucked onto a small street in the 1st Arrondissement. Some satisfied diners describe it as one of Paris' best kept secrets, and they might be right. The tiny traditional bistro serves French classics with a Japanese twist. And it's no wonder since the chef/owner Yoshimasa Watsanabe hails from Japan but received his culinary training in France. Diners rave about the turbot carpaccio starter, the crab cakes with a zesty, grapefruit vinaigrette, and the long-simmered braised ox cheek stew.
7 Rue Gomboust
1st Arrondissement
Metro – Opera
3. La Fresque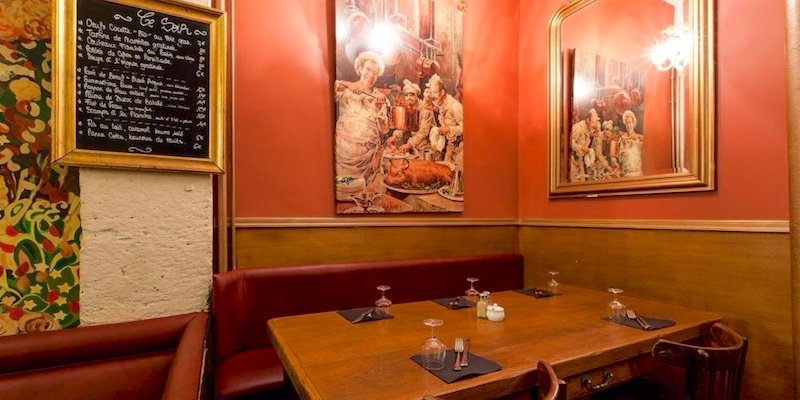 Located just outside Les Halles Metro station, you always find this old-style bistro packed with locals hungry for unpretentious French food. On the menu is chicken tagine with olives and confit lemons, and a very traditional French fish dish — raie with blackened butter, capers, and steamed potatoes. And for dessert? Try the baba au rhum, lemon tart, or faisselles (fresh cheese) with a fruit compote. Nothing fancy, just solid, good cooking.
100 Rue Rambuteau
1st Arrondissement
Metro – Les Halles

4. Le Petit Bouillon Pharamond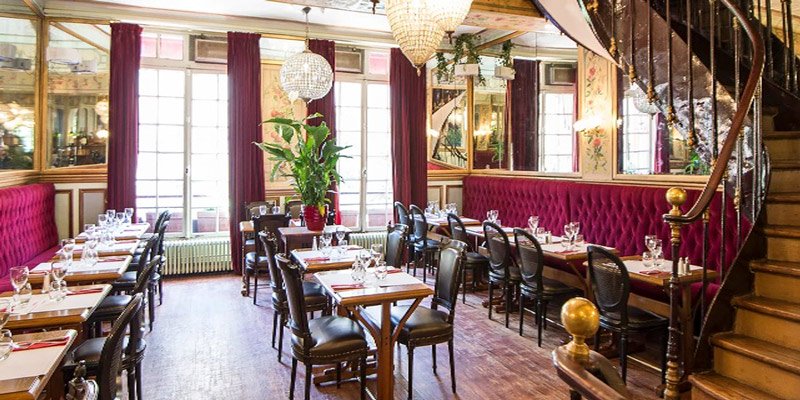 Stepping into this Belle Époque bistro is like stepping into a time machine. How can it be that the authentic decor has survived for 120 years? If nothing else, come here to marvel at the extraordinary design details like the tiles with intricate patterns, immense etched mirrors, high ceilings, and a sweeping staircase taking you to private dining rooms on the second and third floors.
It was 1832 when the Pharamond family left Normandy to settle in Paris and showcase the speciality of their region, tripe. They chose Les Halles neighborhood as it was the "belly of Paris". In 1900 they risked it all and redecorated the restaurant for the Paris World Expo, resulting in the Pharamond being designated the official Pavillon de la Normandie. Today, diners rave about the Normandy specialties (yes you can still order tripe) and the bargain prices. The outdoor terrace is very spacious and quiet.
24 Rue de la Grande Truanderie
1st Arrondissement
Metro – Les Halles
5. Le Rubis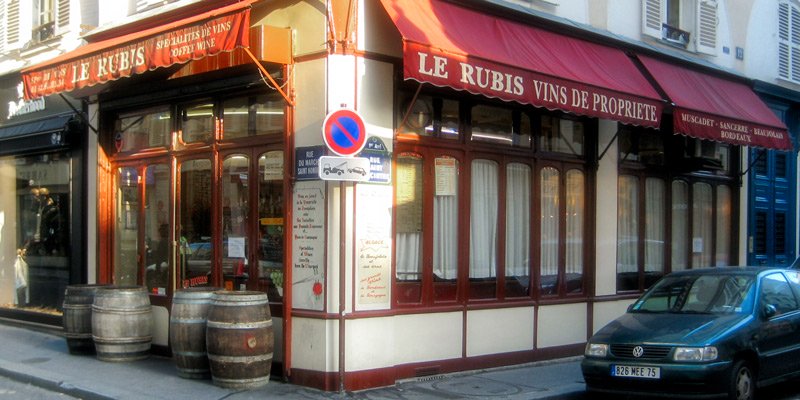 Although it's just around the corner from the Ritz Hotel, you won't find any Michelin inspectors hanging around this rustic bistro/wine bar. In fact, things have stayed pretty much the same since it opened almost 90 years ago — from the well-aged zinc bar to the wine barrels that mark the entrance.
Everything is authentic, including the simple no-nonsense food. Think long-simmered stews made with beef, tete de veau and sausages alongside lentils, tender white beans all enriched in rich, wine-based sauces. This is the kind of nourishing and high-calorie cooking that will instantly lift your spirits.
10 rue du Marché St-Honoré
1st Arrondissement
Metro – Tuileries

6. Le Tambour
In France, the bourgeois class dined on elegant cuisine while the peasant class, who did all the manual labour, required sturdier cooking to sustain them. Le Tambour is in the second category. Near the Bourse, or stock exchange in the center of the financial district, is this historic cafe/bistro with a recent facelift that makes it even more fresh and lively. On the menu are modern takes on French classics as well as the more traditional round-up of oeuf mayonnaise, terrines, pot au feu (beef stew), hearty salads, bone marrow, and steak-frites.
41 Rue Montmartre
1nd Arrondissement
Metro – Les Halles or Sentier
7. La Cordonnerie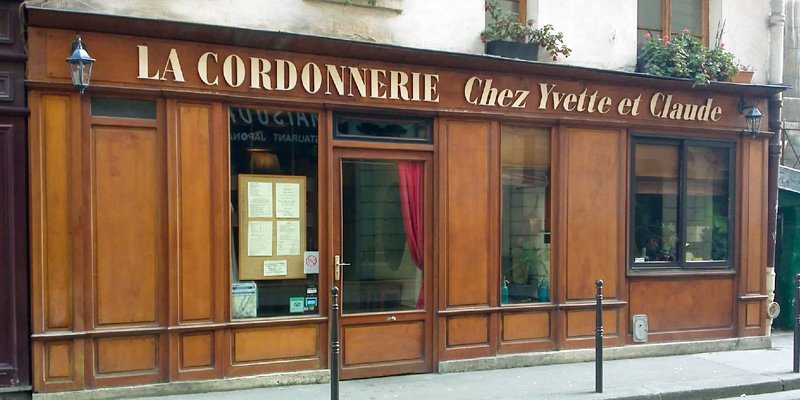 Just steps from the Louvre, this small bistro is everything you're dreaming about when you dream about Paris. Its menu represents the best of classic French dishes. Since there's only a handful of tables, it's a good idea to make a reservation before you arrive.
There's no hiding here — the chef operates from an open kitchen with a handsome display of copper pans hanging above his stove. Our recommendation is to pay attention to the daily plat — and you can't go wrong with the steak-frites with plenty of shallot sauce and crispy fries. And if there's anything with chocolate… order it.
20 rue Saint Roch
1nd Arrondissement
Metro – Pyramide

8. L'Épi d'Or
If you're in search of old-school Paris, look no further. Located in Les Halles quartier, in a marvelous glass and iron building by Victor Baltard (he's the architect who designed Les Halles market pavilions), L'Épi d'Or opened its doors in 1880. Although L'Épi d'Or (the golden spike) has seen many owners through the ages, the food and decor have remained true to the original vision.
What you find here is a menu full of traditional French cuisine like chaudraie, a stew of pork cheeks, or d'agneau a la cueiller, a seven-hour simmered leg of lamb slow-cooked in wine. Check out the ardoise (blackboard) for the day's specials of seasonal fare. There are a few tables outside for those who like to dine al fresco.
25 Rue Jean-Jacques Rousseau
1st Arrondissement
Metro – Louvre