Ten Historic Bars, Bouillons & Brasseries Of Paris – 1614 to 1911
Ten Historic Bars& Brasseries Of Paris
In Paris the lines between cafes and bars, brasseries and restaurants are a bit blurred — and that's also true of our list of the historic bars, bouillons & brasseries of Paris. Although you can get a meal at most bars, you can also just stop by, saddle up to the zinc counter, and order a coupe de champagne, une bière, or un apéritif. (In France "bar" originally referred to a drinking establishment attached to a a hotel; so a freestanding watering hole might have been called a rade, bouge, or troquet.)
You probably are familiar with Saint-Germain-des-Prés literary faves Café de Flore and Les Deux Magots, but in this collection of the historic bars, bouillons, and brasseries of Paris, we've included a few you may want to add to your must-drink list in the City of the Aperitif, if only to get inside to marvel at the stunning period architecture. Let's go, step by step, back in Parisian time…

Discover What's On When You're Here...
Discover What's On When You're Here
1. Harry's Bar – 1911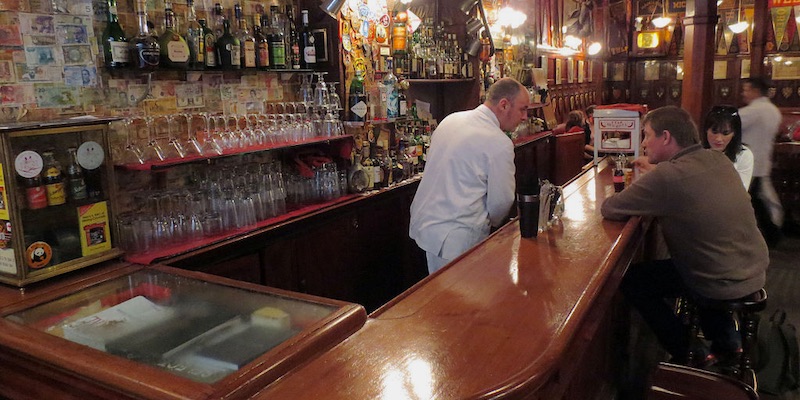 Harry's Bar Paris, from Wikimedia Commons, photo by Mitch Barrie
This is a classic American-in-Paris tale. In 1911, a jockey named Ted Sloan dismantled a New York bar and re-installed it on Rue Daunou in Paris. Surprisingly, the relocated watering hole became very successful. (Harry's comes from the bartender Sloan hired, Harry MacElhone, who bought the bar in 1923.)
A hundred-plus years later, the beautiful pub is still a mecca for Americans in Paris. Birthplace of the Bloody Mary, Harry's now has more than 300 whiskeys on offer and is the place to come when you're in the mood for a classic cocktail (pas de hipsters). Note to self — Thursday and Friday are jazz nights at Harry's.
5 Rue Daunou
2nd Arrondissement
Metro – Opéra
2. Café de Flore – 1885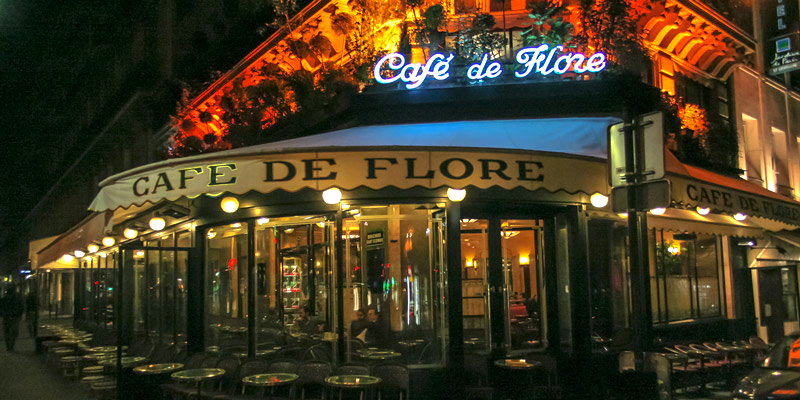 Café de Flore, photo by Mark Craft
Café de Flore opened in 1885 , the same year as its famous neighbor Les Deux Magots. In 1913, surrealist poet and friend of the Cubists (a term he invented) Guillaume Apollinaire became a regular and brought his friends André Breton (Dada founding member) and fellow poet Louis Aragon.
In the 1930s French intellectual and cultural figures Georges Bataille, Pablo Picasso, and novelist Raymond Queneau (he wrote Zazie dans le Metro) were the next wave of artists who frequented Café de Flore. But it was Jean-Paul Sartre and Simone de Beauvoir who declared it their headquarters and gave the place its lasting iconic status.
172 Boulevard Saint Germain
6th Arrondissement
Metro – St Germain des Prés

3. Les Deux Magots – 1885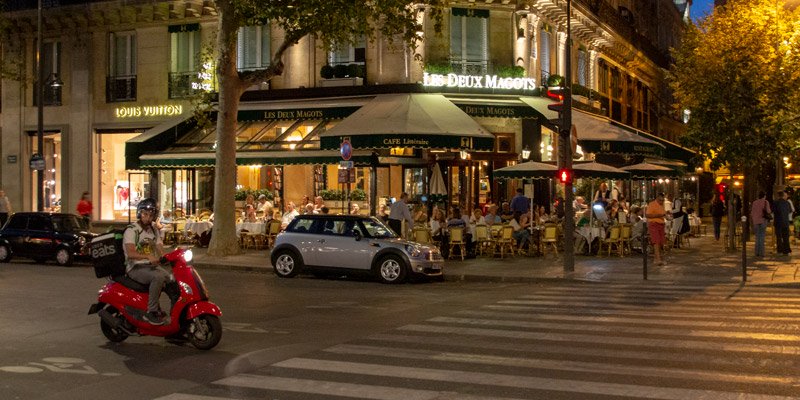 Les Deux Magots, photo by Mark Craft
Back in 1812 Les Deux Magots was a store, selling silk specialties, located around the corner from Place Saint-Germain des Prés. Six decades later it moved to its current spot on the recently-created Boulevard Saint-Germain. The new thoroughfare proved so popular and so busy that the owners converted Les Deux Magots from a store to a cafe and bar in 1885. It quickly became a regular haunt for poets Paul Verlaine, Arthur Rimbaud, and Stephane Mallarmé.
In 1920s another generation of artists regularly stopped by for drinks — Louis Aragon, André Gide (1947 Nobel prize winner in literature and friend of Oscar Wilde), dramatist and poet Jean Giraudoux (he penned the Madwoman of Chaillot), Pablo Picasso, cubist Fernand Léger, and Ernest Hemingway. Even though travelers from around the globe now fill the seats at Les Deux Magots it has managed to maintain its legendary status and historic feel.
6 Place Saint-Germain-des-Prés
6th Arrondissement
Metro – St Germain des Prés
4. Café de la Paix – 1862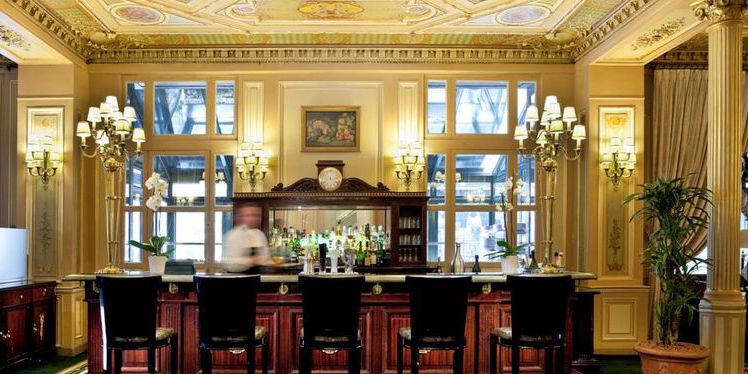 The bar at Café de la Paix
Just imagine the buzz there must have been along the then-new Grands Boulevards during the Belle Époque. Wider streets, plenty of trees, open spaces, and new establishments. In 1862 the Grand Hotel de la Paix opened its doors and the hotel's cafe became the cornerstone restaurant of the new district called Opera Haussmann.
Café de la Paix was an immediate success and made going out for coffee a fashionable activity. Legendary stars and historic figures — from Emile Zola and Oscar Wilde to Guy de Maupassant, Maria Callas, and Marlene Dietrich — have toasted with a glass of champagne at the bar.
5 Place de l'Opéra
9th Arrondissement
Metro – Opera

5. Le Delaville Café – 1860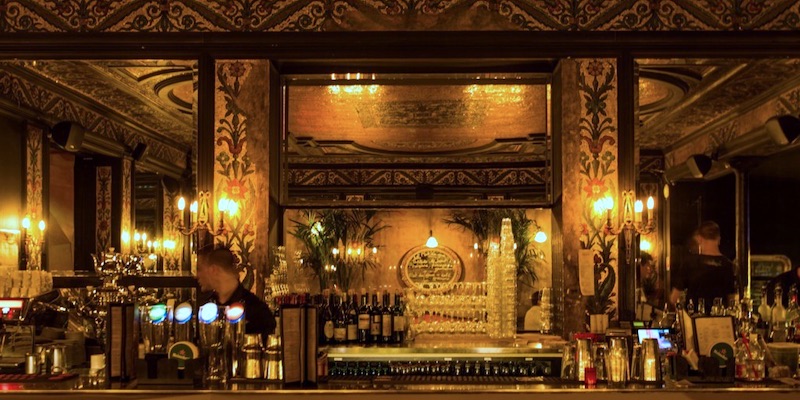 The bar at Le Delaville Café
Unlike Flore and Deux Magots this historic Paris bar near the Grands Boulevards doesn't get the attention it deserves. Once a 19th-century bordello, today it's a low-key bar & restaurant refurbished by an experienced team from Café Charbon. who recognized and restored Le Delaville's good bones with a Belle Epoque bar, high ceilings, and a majestic staircase.
34 Boulevard Bonne Nouvelle
10th Arrondissement
Metro – Bonne Nouvelle
6. Bouillon Chartier Montparnasse – 1858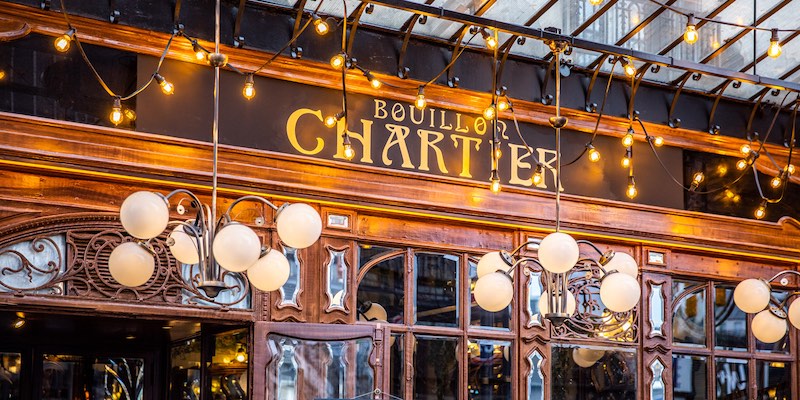 A brasserie opened on this Montparnasse site in 1858. Edouard Chartier purchased the brasserie in about 1905, named it Bouillon Edouard Chartier, and began a major renovation that resulted in a stunning Art Nouveau décor — glass skylight, decorative mirrors, and the traditional Parisian zinc bar. It's now classified as an historic monument and over the decades it attracted an artistic crowd.
The amazing space has undergone a confusing number of name changes over the years, most recently as Montparnasse 1900. Now, since February of 2019, it has become the Montparnasse branch of Bouillon Chartier (which is located in the 9th Arrondissement). On a nice day sit outside on the terrace, sip your kir royale, and think about the days when everyone from Picasso to Modigliani hung out here. (Apparently you can't be an artist in Paris if you're not sitting in a bar or on a terrasse drinking.)
59 Boulevard Montparnasse
6th Arrondissement
Metro – Montparnasse

7. Au Rocher de Cancale – 1804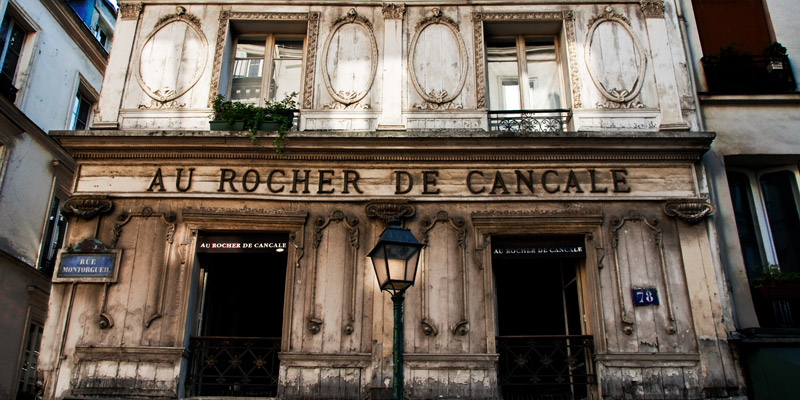 Au Rocher de Cancale, photo by Mark Craft
In 1804, Alexis Balaine opened an oyster restaurant at 59 Rue Montorgueil. He chose the location because of its close proximity to Les Halles market and the Opera, betting folks would be in the mood for oysters after food shopping or a show. Honoré Balzac (1799-1850) was a regular and customers of Au Rocher inspired characters in his massive novel sequence, La Comédie Humaine.
Following a bankruptcy in 1846, the restaurant moved up the rue, across the street at number 78, its current location. Head to the bar on this iconic market street for a glass of Sancerre with oysters, soaking up the remarkable neo-renaissance vibe. It's now a French classified historic monument with a restored, amazing façade. (The photo above is pre-restoration.) Fun fact — Cancale is a village in the famed oyster region of Brittany.
78 Rue Montorgueil
1st Arrondissement
Metro – Châtelet Les Halles
8. La Rotonde Stalingrad – 1788
La Rotonde Stalingrad, from Wikimedia Commons, photo by Citron
Originally a customs office built in 1788, the distinct round building designed by neoclassical architect Claude-Nicolas Ledoux (1736-1806) was abandoned after narrowly escaping destruction at the hands of Baron Haussmann at the end of the 19th century. It's now a historic landmark as well as party place centrale with a restaurant, several bars, and a beautiful terrace. It's a bit of a ride out to Stalingrad (on line 2, 5, or 7) from the center of Paris, but worth it for Saturday night cocktails a la française or Sunday brunch.
8 place de la Bataille Stalingrad
19th Arrondissement
Metro – Stalingrad, Jarues

9. Le Procope – 1686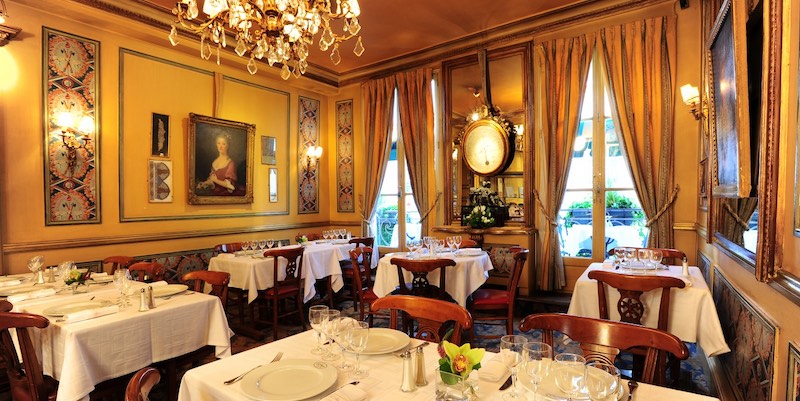 It was in 1686 that Francesco Procopio dei Coltelli, a gentleman of Palermo, decided to open a coffee shop in Paris. Very quickly it became a fashionable destination for writers and artists of the time — think Fontaine, Voltaire, Rousseau, Beaumarchais, Balzac, Hugo, Verlaine, Diderot, and, yes, even Benjamin Franklin.
During the French Revolution Le Procope was an important meeting place for key players Robespierre, Danton, Marat, and Bonaparte. Today the Procope is a true Parisian institution. Although it's now more of a restaurant, you can head to its small bar for a glass of wine and to take in a bit of history.
13 Rue de l'Ancienne Comédie
6th Arrondissement
Metro – Odéon
10. Bar de L'Entracte – 1614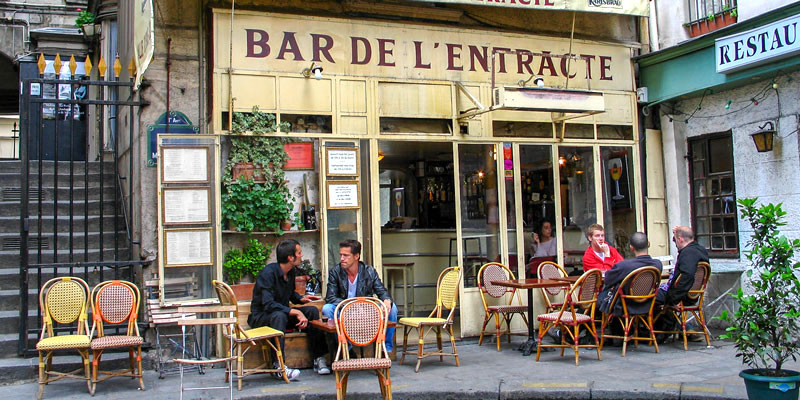 Bar de L'Entracte, photo by Mark Craft
It's often claimed, but difficult to verify, that Bar de L'Entracte was the first bar in Paris. In 1614 the place was known as La Pissote because, being kitty-corner from Palais Royale, the king's coach drivers would stop here for a quick bathroom break and a drink. Four hundred years later it is actors who drop by after a performance at the Palais Royal Theater for a glass of wine at the authentic zinc counter.
The hole-in-the-wall bar is located behind the gardens of Palais Royal at the end of narrow, one-way Rue Montpensier, a few steps away from historic restaurant Le Grand Vefour.
47 Rue Montpensier
1st Arrondissement
Metro – Palais Royal