Ten Old-Fashioned Paris Restaurants Still Serving The Classics
These days you may hear about the New Paris, with trendy food addresses and vegan menus. But luckily, there are still old-fashioned Paris restaurants, serving classic bistro-style thick cut steaks and perfectly grilled and juicy escargots bubbling hot as they are delivered to your table by waiters dressed in white shirts and long, black aprons.
So, come with us on a visit to ten of the time-tested, old-fashioned & traditional Paris restaurants that are still around to satisfy your desire for a piece of nostalgic of a different era.

Discover What's On When You're Here...
Discover What's On When You're Here
1. La Mediterranée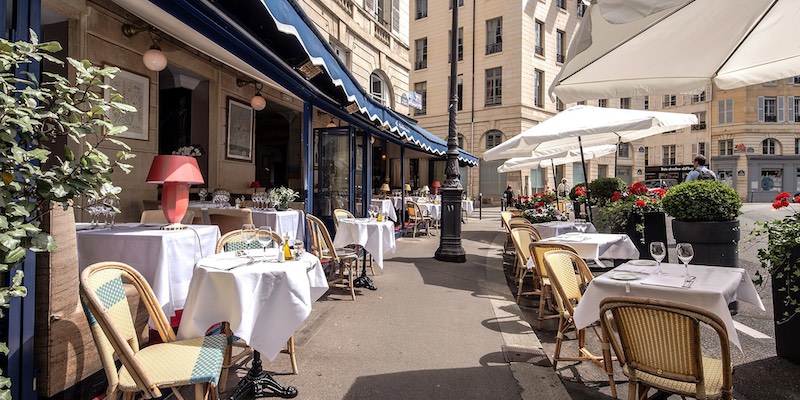 Created in 1942, La Mediterranée has never been as popular as it is today. And for good reason. It has a prime location on one of Paris' finest squares, Place de l'Odeon, overlooking the stately Odeon Theatre de l'Europe. Its incredible fish and seafood menu features the freshest catch of the day — from oysters and urchins to sea bass. It's a perfect place to end the evening after a show, or to start the evening with dinner before a stroll through nearby Jardin du Luxembourg. Fun fact — Jean Cocteau designed the logo, and it's still in use.
2 Place de l'Odeon
6th Arrondissement
Metro – Odeon
2. Chez Georges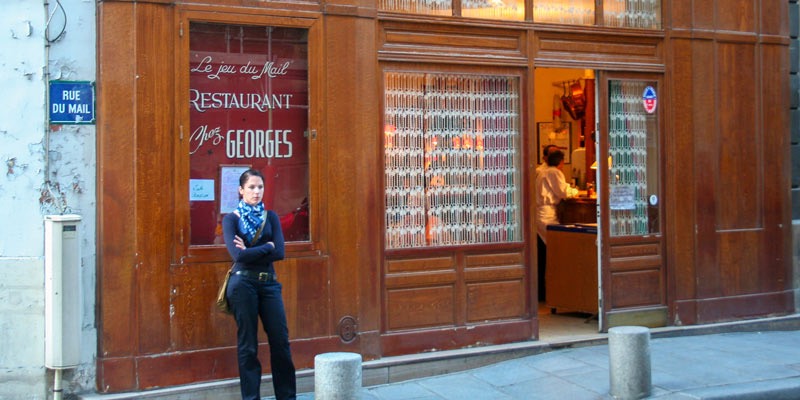 When you are dreaming of traditional Paris, Chez Georges, a classic 1926 bistro with mirrored walls and too-small tables, is the place you are pining for. Even grumpy restaurant critic Jay Rayner of the Guardian has waxed poetic over the buttery, garlicky escargots; fresh, buttery radishes; rare glistening entrecôte steak, and the perfectly old fashioned millefeuille and tarte au citron for dessert.
1 Rue du Mail
2nd Arrondissement
Metro – Bourse, Sentier

3. Chez Dumonet – Josephine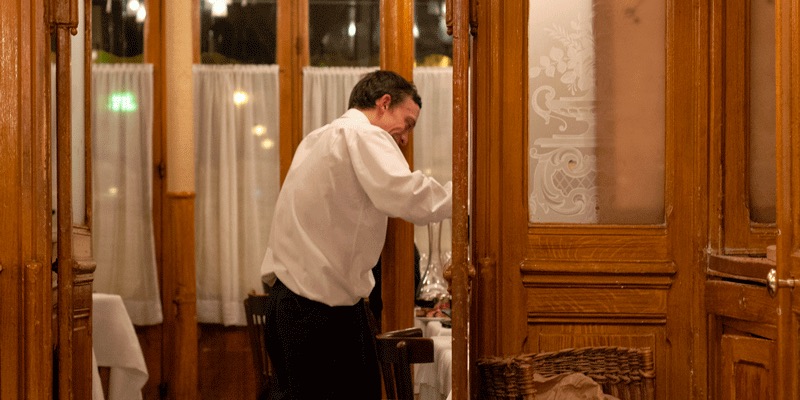 This old style bistro from the Belle Époque features white tablecloths and waiters with black ties. Chez Dumonet, still affectionately called Josephine, has been serving up classic bistro fare for more than a century, in a dining room dating back to 1880.
Behind the wood-clad exterior, sharp waiters deliver housemade terrines to your table in large earthenware dishes. Herring (a classic Parisian classic starter) is marinated in golden olive oil, bay leaves, and thyme. The restaurant offers traditional fare like roasts, grilled meats, foie gras, duck confit, and ripe cheese. A soufflé, baked to perfection, arrives with a small glass of Grand Mariner, in case the fluffy dessert needs extra embellishment.
Tiled floors, etchings, and engraved glass make for a traditional homey bistro and the service is warm and refined. About the only change at Chez Dumonet in the last century or so is offering half-portions of certain dishes. One of the 100 Best Bistros in Paris.
117 Rue du Cherche-Midi
6th Arrondissement
Metro – Duroc or Falguière
4. La Fontaine de Mars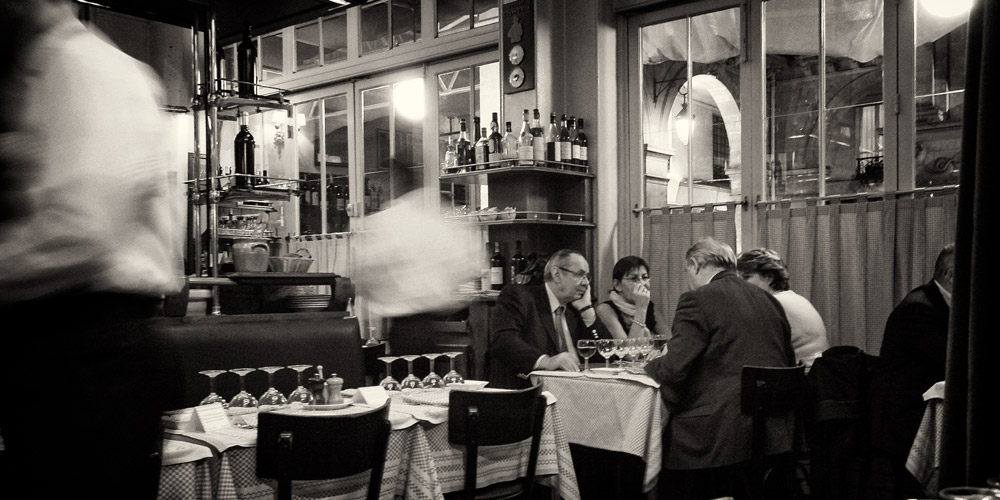 One of the oldest bistros in Paris, La Fontaine de Mars reflects the owner's southwestern roots with a menu crammed with foie gras, duck magret, and cassoulets. Last time we checked, there were seven different armagnacs listed on their regional boissons (drinks) menu.
In the cooler months, cozy up in a leather banquette; in the warmer months, have lunch under the arcade on red-checked tablecloths. Relax and let the sounds of the burbling outdoor Fontaine de Mars soothe you, knowing this was a popular place for Napoleon's army to bring their horses to quench their thirst. (The fountain, that is, not the restaurant.)
This is truly old-style Paris with classics like steamed leeks, sizzling escargots, as well as challenging dishes like warm calf's head, and fried black pudding sausage with apple. Leave room for dessert, the baba au rhum is stellar. One of the 100 Best Bistros in Paris.
129 Rue Saint-Dominique
7th Arrondissement
Metro – École Militaire or Pont de l'Alma

5. La Palette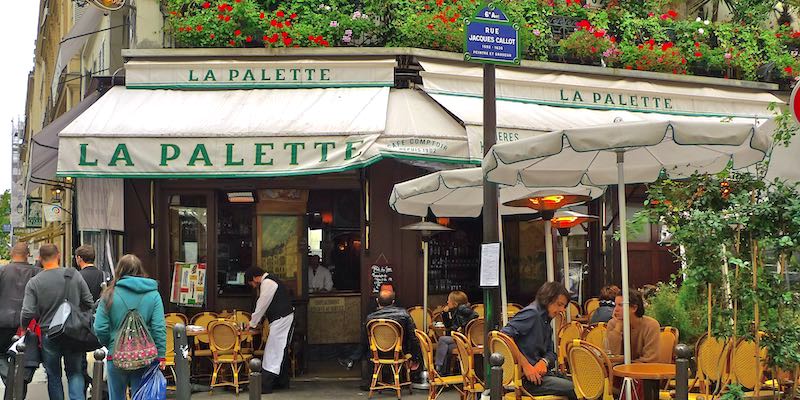 From the Bohemian era, this legendary bistro's elegant facade and dining room has a well-aged patina and is listed as a Paris historical landmark. Given its location in the 6th, it's not surprising that La Palette was a favorite haunt of artists Cezanne, Picasso, Braque, Hemingway and, a few decades later, Jim Morrison. Among the house specialities are organic eggs presented in all manner — boiled, poached, fried, and atop a croque madame sandwich.
The restaurant features two salons. The smaller one is a bar while the second, larger back room space is the dining room. If you're in the mood for a classic outdoor Paris cafe experience, order a drink on the terrace and watch the world going by on lively Rue Jacques-Callot.
43 Rue de Seine
6th Arrondissement
Metro – Mabillon, Odeon
6. Le Voltaire
Le Voltaire's commanding location on the banks of the Seine puts it in the middle of it all, close to Rue du Bac, Musée d'Orsay, and the Carré Rive Gauche — where you find the great antique dealers of Paris. If you've caught a bus from somewhere in the Marais to d'Orsay you will have passed Le Voltaire on the route. (Look out the left windows.)
Le Voltaire defines the typical Parisian brasserie with plump escargots, tender filet mignon with béarnaise and frites, and sole meunière. And for dessert? All the classics — chocolate mousse, creme brulèèe, tarte au citron. By the way, Le Voltaire is located in the building where its namesake writer died in 1778.
27 Quai Voltaire
7th Arrondissement
Metro – Rue du Bac, RER Musée d'Orsay

7. Le Basilic
Positioned next to the pretty Place Sainte Clotilde Basilica, Le Basilic's Art Deco interior style — leather banquettes, subdued lighting, antique mirrors and vintage tile floors — pretty much defines Paris bistro of a certain era. The seasonal southwestern French cuisine is simple and generous, featuring foie gras and mango chutney, small sardines in olive oil, and Black Angus beef tartare, all served with natural and organic wines from the Basque region.
2 Rue Casimir-Perier
7th Arrondissement
Metro – Solferino, Varenne
8. Chez l'Ami Louis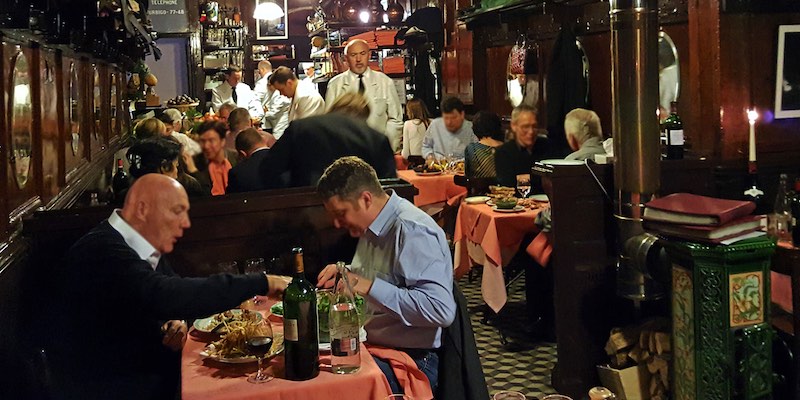 With only twelve tables, this Old World bistro, founded in 1924, shot to fame in the 1950s and became a Paris icon. Since then every famous actor, director, and politician worth their sel has dined here, and that includes Bill Clinton and Jacques Chirac back in 1999. Robert M. Parker, the famous wine critic, calls Chez l'Ami Louis one of his favorite restaurants in the world.
Tucked behind a dark facade you find a restaurant with a nostalgic feel fitted with period tiles, vintage moldings, and 1950s bistro tables. Its wood-paneled space is impossibly small. You see the ancient wood stove and delight in the extensive wine list.
There are two opinions regarding Chez L'Ami Louis — either it's an overpriced tourist trap or it's one of the best bistros in the city. This is not the place to come if you're a fan of fawning service. The servers are as old as the bistro tables and shuffle around in faded white coats, buttons slightly straining. Naturally, it's simply too je ne sais quoi to have something as common as a website or an easy way to make reservations.
The L'Ami Louis secret is the kitchen's oak-wood fired oven. Its intense heat makes for a succulent roast chicken that is up there with the best in Paris. Other timeless classics are roast leg of lamb, scallops, frog legs, and foie gras. Most starters, like the foie gras and scallops can be shared.
Don't miss the towers of crisp, shoestring potato frites of the giant potato cakes called Pommes Bearnaises — tiny potatoes cooked in their skins with plenty of goose fat, then baked in a round mould until the skin blisters and turns deep golden. The dish is finished with a flourish of fresh garlic and parsley and arrives to your table sizzling hot.
Make no mistake, there are no bargains here. Chez l'Ami Louis charges a premium for you to be a part of this piece of legendary Paris. Our recommendation? Experience it at least once if you're willing to part with upwards of €100 per person.
32 Rue du Vertbois
3rd Arrondissement
Metro – Temple
Tel – 01 48 87 77 48

9. La Closerie des Lilas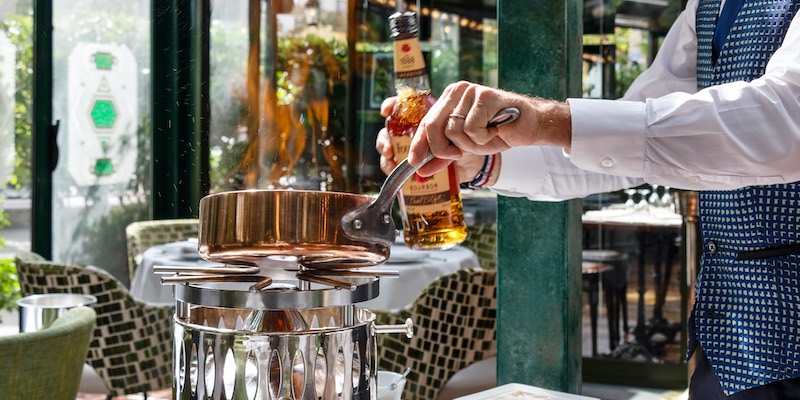 In the same league as Les Deux Magots, this Montparnasse artistic and literary haven attracted Hemingway (there's a sign showing his favorite spot at the bar), Pablo Picasso, Paul Verlaine, and Man Ray. La Closerie first opened its doors in 1847; Hemingway later wrote about it in A Moveable Feast.
We recommend going for the full experience, with a proper dinner in the formal dining room. But, the brasserie/piano-bar is also worth a visit for a glass of bubbly and to get a feel for the place. In the summer months sit in the lovely outdoor terrace and have a cocktail while munching on crispy, homemade potato chips.
171 Boulevard du Montparnasse
6th Arrondissement
Metro – Vavin
10. Le Petit Lutetia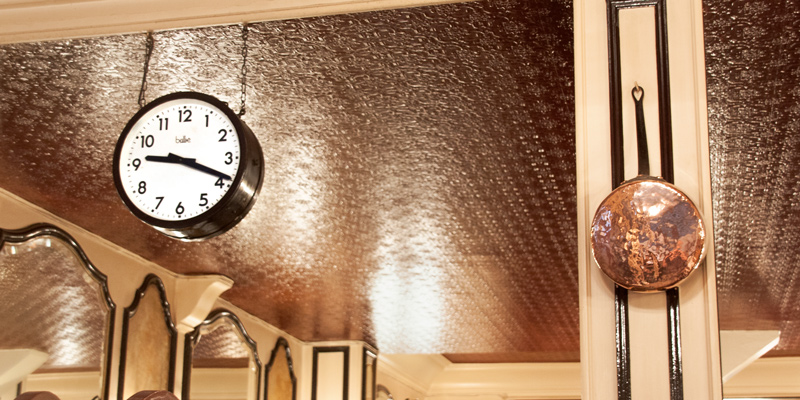 Ever since a recent facelift by Jean-Louis Costes (the uber-designer of the brother team behind Hotel Costes, Buddha Bar, and a handful of trendy Paris cafes), Le Petit Lutetia, an authentic Belle Epoque bistro, feels like it has a new lease on life and is attracting a new clientele, including the King of Macarons himself, pâtissier Pierre Hermé.
Don't worry, though, the decor is still classic Paris bistro, with antique mirrored walls, monogrammed dishes, the original patterned-metal ceiling, and intimate, small tables. The food is good, but the people watching is even better — an endless parade of beautifully outfitted Parisians toting tiny toy dogs in their purses, secretly feeding them bites of steak tartare. Websites are for less-stellar eateries.
107 Rue de Sevres
7th Arrondissement
Metro – Vaneau or Duroc
Tel – 01 45 48 33 53