Bistrot de L'Oulette – An Old Favorite, A New Favorite. Retrospective Review
Bistrot de L'Oulette was our very first restaurant in Paris, those many years ago. When we arrived at the narrow storefront with a small window in its door we were hesitant to enter. "Is this it?" we asked ourselves. "Can we really go in there?" You see, we were used to the grand, sweeping restaurants of San Francisco and Napa Valley with larges signs and where hostesses stood behind majestic desks. When we finally opened the door of the small Parisian restaurant restaurant, just steps away from Place des Vosges in the Marais, it seemed postage-stamp sized.
Opened in 1987, the bistro has stood the test of time — thirty-five years of it. On the menu are still the standard southwestern culinary delights found in Gascony like foie gras de canard, confit au vin d'épices et piment d'espelette (foie gras with spiced wine and Basque espelette pepper); and cassoulet maison aux confits (housemade cassoulet with sausage from Toulouse). Here's what we wrote about in back in 2017.

Our First Meal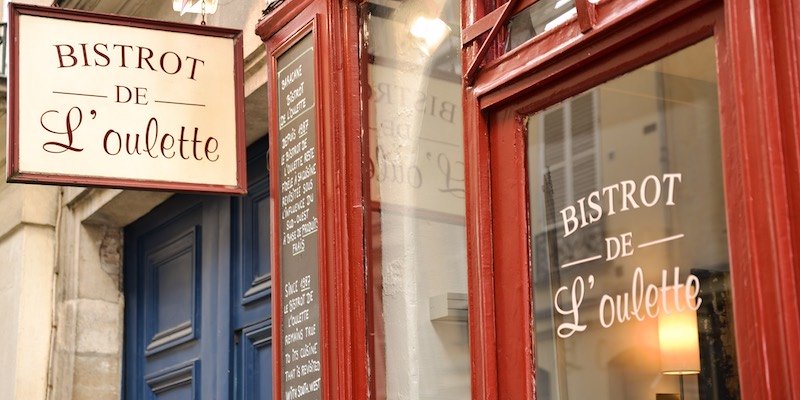 Our first meal at L'Oulette is seared into our memory and that one dîner inspired us to return to Paris again and again to recapture the magic of that first night. On the menu was a generous warm goat cheese salad served on a tangy bed of greens. One main course was a huge seared raie fish that filled the plate with blackened butter sauce resting on golden mashed potatoes. The other plat was our first-ever confit de canard — crispy, duck skin with moist dark meat and a scattering of goose-fried potatoes. Dessert was crème brulée au miel et fleur d'oranger (creme brûlée with honey and orange flower).
Another memory from that first visit is the couple from San Francisco sitting next to us… who claimed they always traveled to Paris with their own coffee ! They insisted that French coffee was not good enough. We also recall peering into the impossibly small kitchen, tinier than most apartment kitchens, and marveling how they were able to turn out all that good food from such a cramped space. Another Paris mystery. Then there was the restaurant bathroom, located across a small courtyard, that had the most high-tech toilet seat we'd ever seen, before or since !

La Rentrée – The Return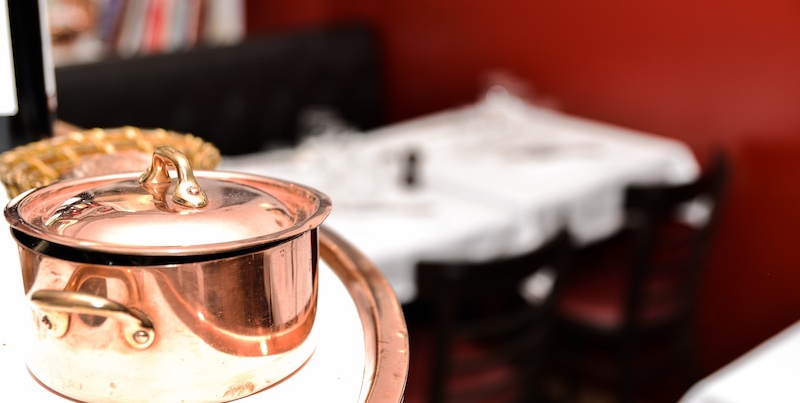 In the early years we dined often at L'Oulette until we noticed the quality of food slipping. We stayed away for a few years until one evening in Paris, a few years later, we decided to revisit L'Oulette with our British friends , for old times sake if nothing else. But, to our delight, the dinner was a complete success and the old high standards were back in place.
That meal began with a unique and delicious escargot entrée, served with nuts and basilic broth. Les plats included a southwestern-style cassoulet, the crispiest confit de canard we've ever had, an an amazing pintade (guinea fowl) served in a dark, rich sauce. We ended the meal with a round of robust Armagnac, the distinctive regional brandy distilled from wine — in fact, it's the oldest brandy in France.
Vive le Bistrot de L'Oulette !
38 rue des Tournelles, Marais
4th Arrondissement