Six Historic Bistros In Paris – For Meals That Create Memories
We head to an historic Paris bistro when we're hungry for classic renditions of pot-au-feu, boeuf bourguignon, Lyonnaise sausages, hearty cassoulets, duck confit and other quintessential bistro desserts like tarte Tatin, creme brûlée, and moelleux — a warm, melting chocolate cake. Here we bring you the six bistros that top our memories list.

Our Top-Rated Food & Wine Experiences
1. Le Chardenoux – 1908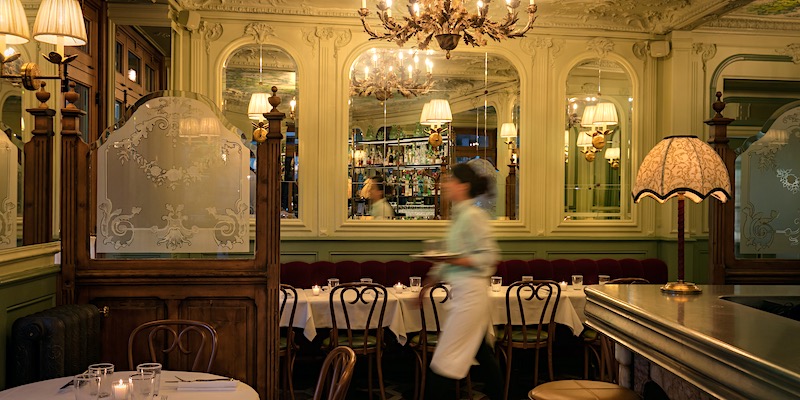 Founded in 1908 by the Chardenoux family, the restaurant is now classified as a Historic Monument of France. The Chardenoux family hails from Lozere in central France (famous for its lamb and potatoes). When they came to Paris they brought their love of simple, hearty cooking. The current chef, Cyril Lignac, is a celebrity himself and vrai man about town, he's been seen in the arms of the likes of French actress Sophie Marceau. That aside, the restaurant itself has been renovated and restored to retain its old-world charm.
On the menu are old bistro favorites with modern twists like foie gras with toasted brioche, scallops with chorizo, organic beef burgers with bacon, house-made frites, and a bevy of French classic desserts like baba au rhum, moelleux, pain perdu with pears. If the interior is filled, there are twenty outdoor tables — on the sidewalk, Parisian style.
1 Rue Jules Valles
11th Arrondissement

Discover What's On When You're Here...
Discover What's On When You're Here
2. Drouant – 1880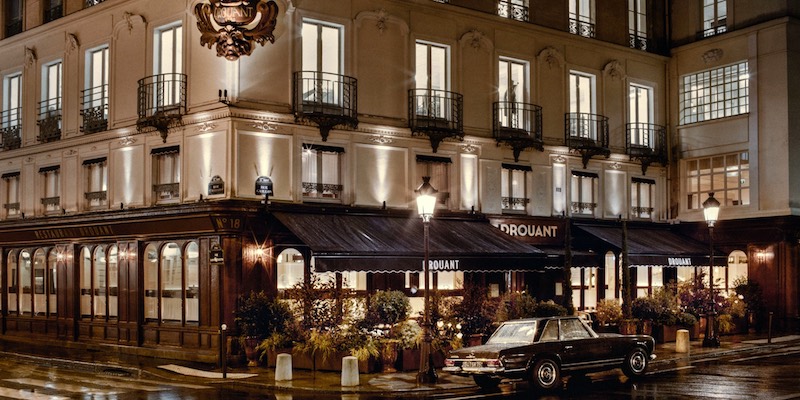 This is the place to seek out when you crave a classic Parisian meal. Think les poireaux en vinaigrette (sautéed leeks with vinaigrette), or steak tartare, or foie gras, or frog's legs, long-simmered lamb, thick slabs of grilled Charolais beef, and hearty patés. Founded in 1880 by Charles Drouant, an Alsatian who came to the big city to seek his future, where he opened a bar tabac, a modern concept at the time. Quickly, his reputation grew as he turned out beautiful plates of fresh oysters (his brother was an oyster farmer in Brittany).
Drouant expanded his tiny bar tabac into a bistro and it became a popular hangout for artists Renoir, Rodin, Pissarro. By World War I he was already planning his succession — his son Jean was sent to apprentice in the finest restaurants in the world. In 2006, Antoine Westerman, a 3-Star Michelin chef bought the bistro. In a strange twist of fate, Westerman is also Alsatian and is related to the Drouant family through marriage.
16-18 Place Gaillon
2nd Arrondissement

3. Bouillon Chartier – 1896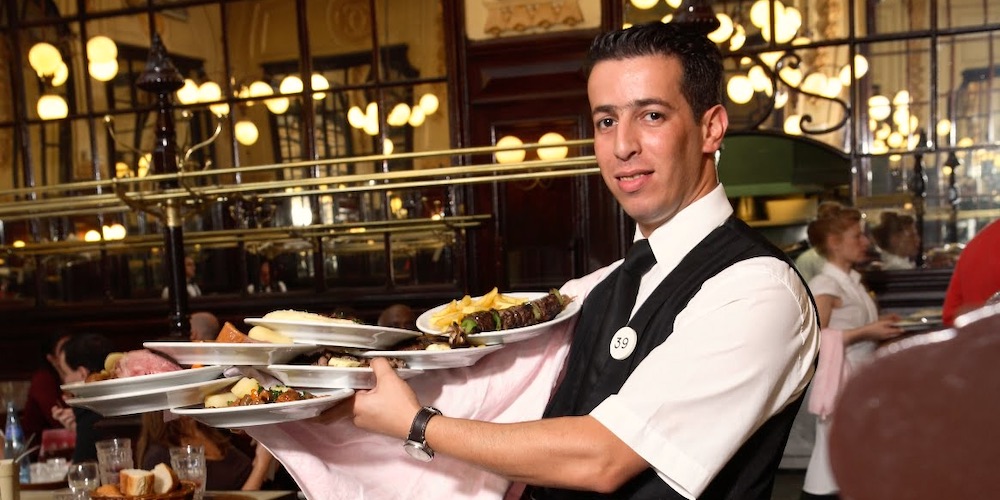 The menu reads like a best of list from Julia Child's favorites — salade frisée aux lardons, herring with waxy yellow potatoes, endive salad with Roquefort cheese, hardboiled eggs with mayonnaise, roast chicken, tête de veau, choucroute Alsacienne. And for dessert? Creme de marron (chestnut), peach melba, apple compote, or our personal fave, prunes in wine with vanilla ice cream. It's got to be the best bargain in Paris; entrées start at €2, plats under €10, and unbelievably, desserts at €3.
The sturdy wooden chairs and tables are packed tight. Red and white checker tablecloths are the only adornment. Middle-aged men in classic black and white uniforms deliver efficient and brusque service. Don't even try to make reservations — none are taken.
7 rue du Faubourg Montmartre
9th Arrondissement
4. L'Escargot – 1832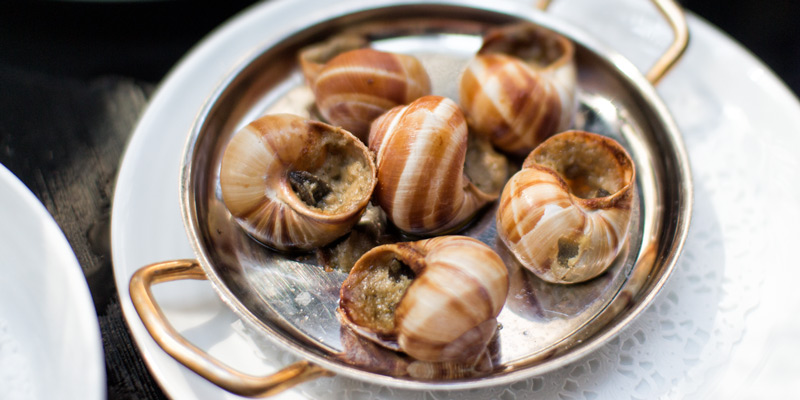 A listed Paris heritage site, you can't miss the golden giant snail that sits above the bistro's awning. Located on the semi-pedestrian food street Rue Montorgueil, L'Escargot has been serving up luscious butter and parsley escargots since the Second Empire. As you would expect, the menu offers a plethora of escargots — traditional (butter and parley), black truffle, foie gras, 24 carats (extra butter), and with curry & roquefort. But it's not just about the escargots, you can also order sardines, caviar, foie gras, and classic French beef, lamb and fish plats.
It's a classic room, but in warmer weather we like to sit out on the enclosed patio, in front of the restaurant, so we can watch the food-shopping action on Rue Montorgueil.
38 Rue Montorgueil
1st Arrondissement

5. La Tour de Montlherey – Chez Denise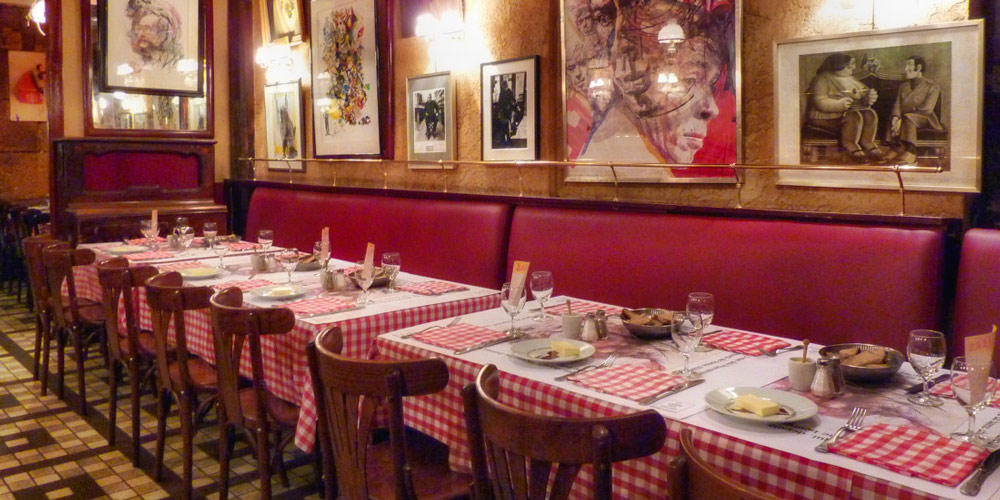 If you're in search of classic Parisian bistro experience that has not changed in a hundred years, this is the place. It's busy around the clock with an eclectic mix of clientele, all served by efficient, no-nonsense servers who manage to run, flirt, and smile despite the rush.
To start, order the escargots bathed in golden garlic butter or a salade frisée with crunchy, homemade croutons, and a warm, runny egg on top. Follow this with tripe au Calvados (if you're an adventurous eater), or grilled veal chops and frites, all washed down with the house Brouilly wine. Reservations are essential. And no, we don't know why the bistro has two names or why it doesn't have a website.
5 Rue des Prouvaires
1st Arrondissement
Tel: 01 42 36 21 82

6. Allard – 1931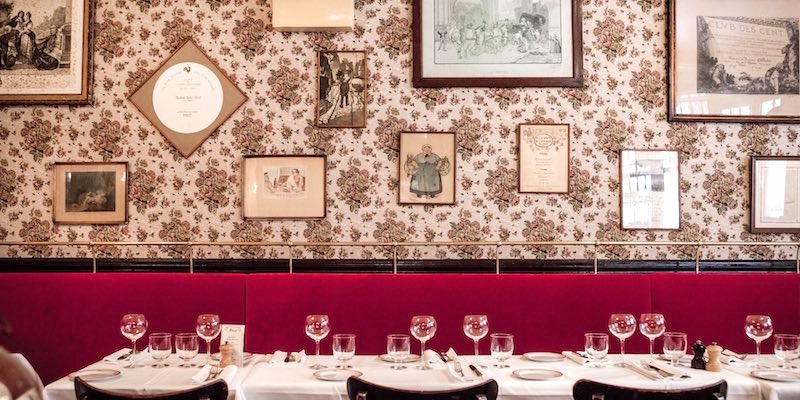 "Guests do not come to us to make culinary discoveries, they come to meet old culinary friends."
– Andre Allard
It's one of Paris's favorite historic bistros, and for good reason. For more than 80 years Allard has been turning out classic dishes like housemade foie gras terrine, and coq au vin. There are in fact seven classics that are good reasons to book a reservation for every day of the week: traditional cassoulet, pan seared lamp chops, veal kidneys with madeira sauce, rabbit in mustard sauce, red mullet with beurre blanc, and on the day of rest — roast guinea fowl and lentils.
This historic St Germain bistro was founded by a woman from Burgundy, Chef Marthe Allard, who came to Paris with her suitcase filled with family recipes. Although the Allard family eventually sold the restaurant it's now in the capable hands of Alain Ducasse, who carefully carries on with the traditions. Today another woman chef is in the kitchen — Pauline Berghonnier.
41 rue St-Andre des Arts
6th Arrondissement
Postscript: Like a Small Vacation
"Every good meal in Paris is like des petites vacances." We don't know who said that, but we sure think it's accurate. We distinctly remember all of our best meals in Paris, and bistros make up the heart and soul of Paris dining. Some are small and unpretentious, and family run; others are elegant, with formally-clad waiters. One constant is the atmosphere — friendly, convivial and packed with locals and loyalists who know every dish on the menu.