Paris Department Stores – Beautiful Adventures In Shopping
The grand Paris department stores were built in the period called the Belle Épôque and are a testament to the wealth and workmanship that existed in Paris at the turn of the 20th century. In fact, one of these stores, Printemps Paris, has been designated a historic landmark with its soaring dome, stained glass and mosaic tiles.
Paris deparment stores are closed on Sundays. Saturdays are busy and the area in front of Printemps and Galeries Lafayette can be crazy busy!
You'll undoubtedly want to pay a visit to one or two of the best Paris department stores — there's Printemps Paris, Galeries Lafayette, BHV and the Left Bank luxury store, Le Bon Marché. Plan to spend a couple of hours navigating your way through the multi-level stores, saving time for lunch or a petit pause.
Printemps Paris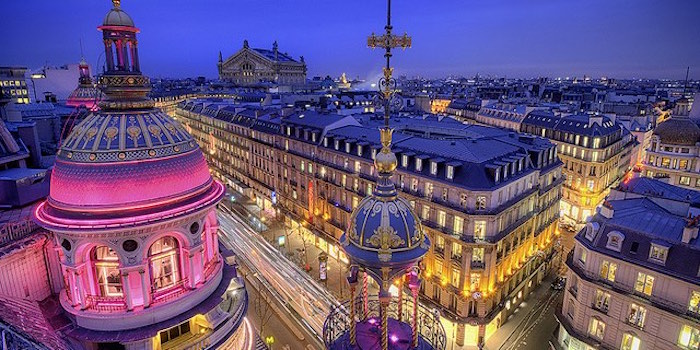 Since 1865, Printemps Paris has been the place to shop for men and women's fashion, cosmetics and fineries. The graceful Art Nouveau architecture alone is worth a visit. There are six restaurants and a spectacular rooftop terrace with a unbeatable 360 degree view of Paris.
Discover your Paris Chi at Printemps. You can arrange your own Paris makeover with a personal shopper to help find the best fashions for you. This free service includes a brigade of multilingual private shoppers to guide you through the store or pre-select pieces for you to try on when you arrive. You must book an appointment for this service.
Galeries Lafayette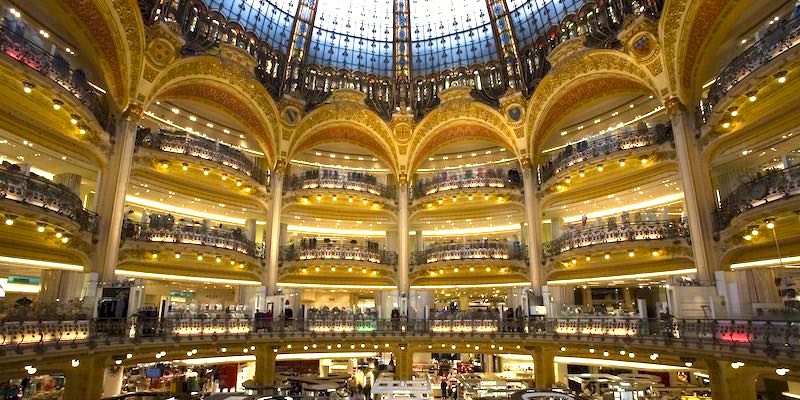 Printemps' main rival, Galeries Lafayette, is found next door.
Visit Galeries Lafayette for a fantastic selection of Paris souvenirs. Then cross the street to visit Lafayette Maison at 35 Boulevard Haussmann. There you'll find four floors of home decor: appliances, accessories, bedding and kitchen equipment
Also across across the street is the gourmet food floor — home to several famous food boutiques, all under one roof.
Le Bon Marché Rive Gauche
This is our favorite grand magasin, and if you want to see Paris chic in action visit this Left Bank luxury landmark.
You won't see as many tourists in this sleek Paris department store. Instead you will be surrounded by stylish Parisiennes as they shop for designer fashions, cosmetics or amazing groceries at the sister store, La Grande Epicerie de Paris. Tranquil and well appointed, Le Bon Marche's building design was the brainchild of Gustave Eiffel himself and it is now owned by the luxury group LVMH.
La Grande Epicerie de Paris
A Paris Insiders Guide Favourite
This is our favorite food store anywhere. Do not miss this spectacular emporium dedicated to the art of food!
This is where we go to pick up gourmet food gifts. You will be dazzled by their large selection of French and international gourmet food.
But La Grande Epicerie is about everyday food shopping as well. The in-house bakery is superb and we love the produce section. Did we mention the wine boutique in the basement?
BHV (Bazar de l'Hotel de Ville)
This expansive store, spanning several buildings, is found right across the street from Hotel de Ville and is an anchor in the Marais.
It's where Parisians go to find the things they really need, and you can buy everything at this bustling department store, from hammers and nails and plumbing equipment to wedding dresses and fashion and kitchenware and toys!