Place To Propose In Paris – The Most Romantic Ideas Ever
It's is called The City of Love. What better way, then, to start off your new life than proposing in Paris? Et mon dieu, there are dozens of romantic places to go and just as many ways to make the proposal. And since it's such a very special event, you want to make sure there are no complications. Let someone else do all the planning work, while you just worry about the script.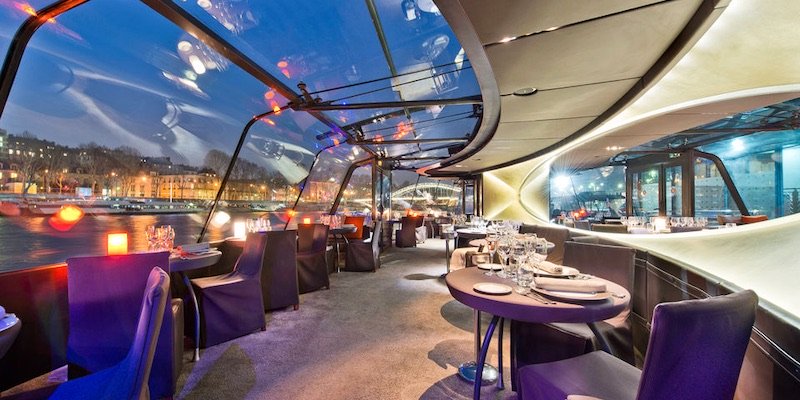 We can vouch for the wonder experienced on this romantic dinner cruise. The way to think about this activity is as a relaxing, two-and-a-half-hour, slow cruise along the world's most beautiful river route. The fact that dinner is included is just a bonus !
The view and the leisurely pace are fantastic. There's nothing to do but to take in the many aspects of this beautiful city as the sun sets and the buildings light up. The cruise includes the multi-course dinner, wine, as well as champagne served at the beginning and the end of the meal. We think that the end-of-meal champagne serving is the time to ask any important questions you might have.
Choose the Service Privilege option for the best seating, best meal, and the ultimate experience.
Want magic? Want romance? How about a private horse & carriage ride through the streets of Paris and past the famous monuments? Then, on the glorious Alexandre III Bridge, with the Eiffel Tower in the background, your driver will stop so you can propose to your special someone.
The choice for a proposal is the 1½ hour Royal Champagne option that includes (naturally) a bottle of champagne.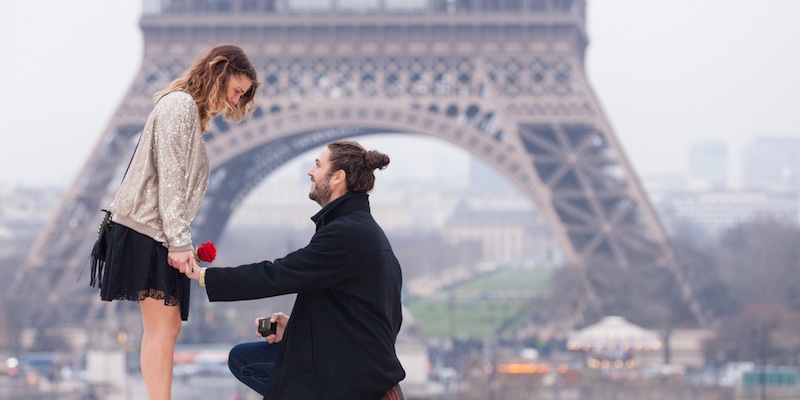 Your driver meets you at your Paris address and whisks the two of you away for a tour of the city as it was meant to be seen — from the plush leather seats of a vintage Rolls Royce. Suddenly, along the route, at a place you have already picked, the driver will stop to give you the chance to step out of the car and propose — with Paris as the backdrop. (As in the photo, at Trocadero with the Eiffel Tower looking on!)
There are a couple of options, but we think the 2-hour VIP tour with champagne sounds just perfect!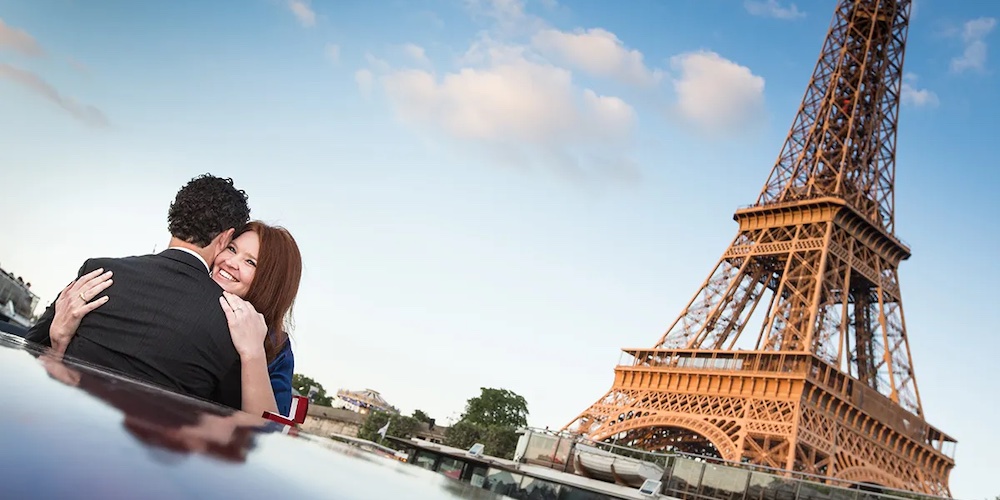 What could be better than making your proposal at the most famous monument in Paris? Well, how about having a professional photographer there to document this unique moment of your life? You'll end up with 150 professional retouched photos (and a video) of your and your loved one autour the Eiffel Tower.