Shop? Drop? Where To Eat At Printemps Department Store In Paris
If you love to shop and you're in Paris, you're bound to spend time at one of the city's the Belle Époque wonders, the Printemps department store on Boulevard Haussmann in the 9th Arrondissement. In between trying on shoes and designer clothing, you are going to need to be re-fueled. Luckily, there are eight locations to satisfy your hunger within the vast, multi-level Printemps store.
Knowing how much you like both Paris shopping and Paris food, here we highlight the restaurants, cafes, and tearooms within Printemps. Note — there are two Printemps department stores in Paris, in this article we are referring only to the landmark location on Boulevard Haussmann.

Ladurée Restaurant at Printemps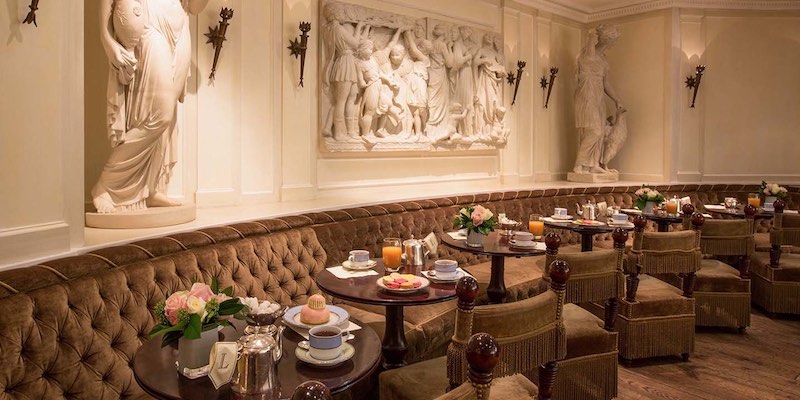 We cannot write about Parisian tearooms without starting with the story of the Ladurée family. In 1862, Louis Ernest Ladurée left his native region in southwest France to open a bakery at 16 Rue Royale in Paris. Just as Baron Haussmann was revitalizing Paris, young Ladurée was expanding his bakery by adding a dedicated cake shop.
He hired Jules Cheret, a famous poster designer, to decorate the cakes. Inspired by the artistic techniques used at places like the Sistine Chapel and Palais Garnier, Cheret added decorative flourishes to the baking. It was Ladurée's wife, Jeanne Souchard, who had the bright idea to combine the cafe with a cake shop, giving birth to one of the first Parisian tearooms
Today, there's a Ladurée restaurant inside Printemps. Looking at the menu you find the Ladurée Breakfast that includes a basket filled with pastries, a fresh baguette with butter, honey and jam, along with freshly-squeezed juice, plus coffee, tea or hot chocolate. The Champs-Elysées Breakfast offers the same bountiful pastry basket but includes eggs for heartier appetites. Brunch is served on Saturdays from noon to three.
On the savory menu is foie gras served with a passion fruit macaron and kugelhopf (a light, yeasted marble cake); smoked salmon with lemon cream sauce; scrambled eggs with wild mushrooms; and chicken vol-au-vent with wild mushrooms. The menu devotes an entire page to omelettes, including truffled omelettes; with mushrooms and Emmental cheese; and a creamy chicken filling. Essential is an assiette of Ladurée's frites.
The savory menu continues with les clubs sandwiches. One that caught our eye is the Club Black Angus Bio et Chou Kale, toasted bread with thin slices of organic Irish black Angus beef with cajun spices, kale, slivers of carrot, red onion confit, mesclun, and lemon vinaigrette.
But the stars of the Ladurée show continue to be the pastries.
The sweets menu is divided into several sections — Les
Bûchettes
are seasonal specialities available only during the month of December;
Les Tartes
include lemon tarts, chocolate tarts, and fruity offerings; and
Patisseries
include favorites like the Mont-Blanc,
religieuse
,
savarin, millefeuille
, the Saint-Honoré, and of course,
les macarons
.
Finally, there are housemade ice creams and sorbets with outrageous combos like the Coupe Marron-Poire featuring chestnut ice cream, pear sorbet, fresh pear, candied chestnuts, and finished with whipped cream. Keeping to the company's roots, the menu also includes a vast array of specialty teas, hot drinks, and wine. Don't forget to order a glass of champagne — we love the Ladurée Rosé.

Brasserie Printemps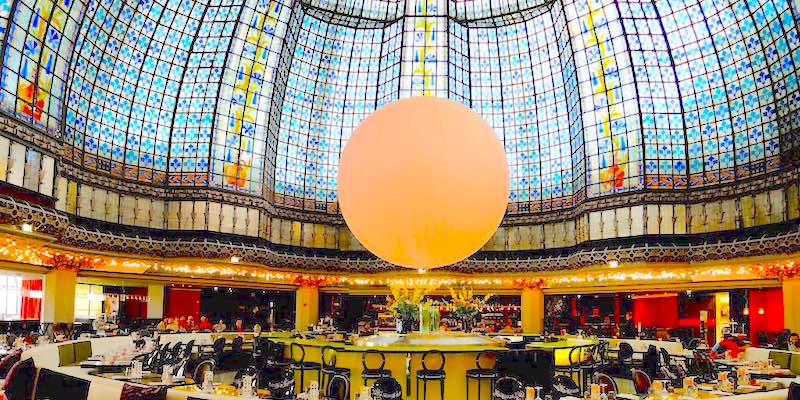 In a magical setting under the store's legendary dome, Brasserie Printemps offers traditional brasserie favorites with a modern twist. Established in 1923, the brasserie's menu includes classic entrées, plats, and desserts.
House specialties include légumes antipasti, mozzarella di Bufala (a vegetable antipasti with fresh mozzarella), saumon fumé et tranché par nos soins, blini tiède (smoked salmon and blinis), brochette de noix de Saint-Jacques (scallop brochette), veau fondante, gnocchi basilic (veal with basil gnocchi), and Dôme crémeux citron vert, sablé croustillant coco (a lime pastry in the shape of a dome with a crunchy coconut cookie).
Café Pouchkine & Terrace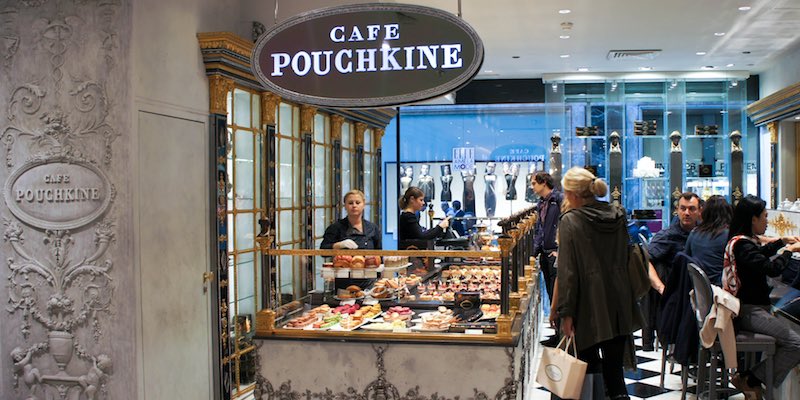 Chef Andrei Dellos, founder of Moscow's Pushkin Café, chose the Printemps Department Store as his first location in Paris, to showcase his celebrated Russian and French specialities. The décor, inspired by 18th-century tsarist Russia, sets the tone for the Franco/Russian menu. You might want to try bichon tvorog, a pastry filled with Russian fresh cheese, lemon juice and grapefruit zest; or roulé au cassis et pavot with puff pastry, blackcurrants and poppy seeds; or Koulitch, a Russian pastry filled with candied fruits.
Other Russian culinary favorites appear on the menu — authentic pirojkis (savory stuffed pastries); borscht made with beets, cabbage, slices of beef and crême fraiche; beef stroganoff; blinis and smoked salmon. Even though it's a shopping day, may we suggest the Pouchkine cocktail with vodka and cassis.
***z-widget-best-selling***
Cojean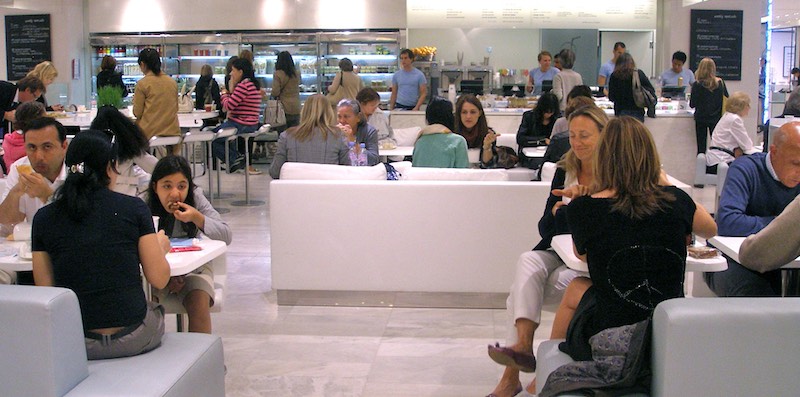 This all-white restaurant is where you want to go if you're in search of a quick bite with a wholesome twist. On the menu are salads, freshly squeezed juices, smoothies, soups and vegetarian options. There is an Asian component in bubble teas and gyoza noodle soups. There are also gluten-free and dairy-free options.
Where Else to Eat at Printemps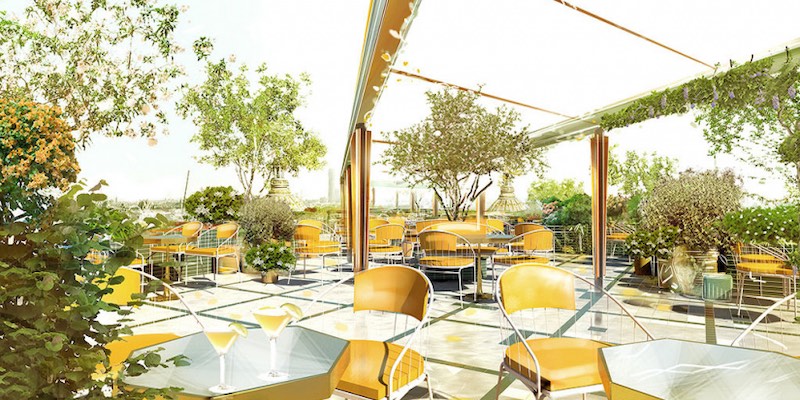 Perruche
If you're after a sensational view over Paris, head to this rooftop garden cafe on top of the Men's Store. Perruche offers, in the words of its founder, "a short menu, powerful wines, meticulously sourced products and shared kitchens". (Photo above.)
Bellota Bellota
Serrano ham, soft manchego goat cheese, toasted bread with homemade tomato sauce — a snack or lunch at Bellota-Bellota is a sensory experience.
Café Jules
Named for Printemps founder Jules Jaluzot, Jules is sort of an updated Paris cafe with a Scandinavian design ethic… if you know what we mean. At 6 PM after-work cocktails are poured.
Printemps du Goût
This is Printemps' latest food extravaganza, and we do mean extravaganza. Two floors dedicated to the best of French food with boutique food markets, dining areas, and the the culinary best of the country. On the 7th and 8th floors of the Men's Store. Information…
Printemps Department Store Resources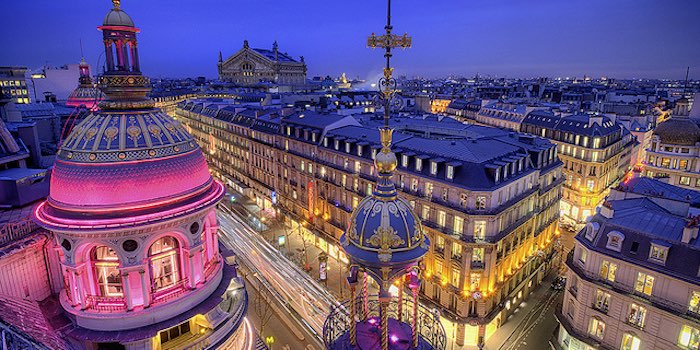 64 Boulevard Haussmann
9th Arrondissement
Metro — Chaussée d'Antin, Opéra, or Trinité