Paris For Kids – All It Takes Is A Little Planning To Keep Them Happy
Is Paris for kids? Absolutely —but it requires some planning. There are tons of things to do in Paris for children and for families. Mind you, don't expect your children to be thrilled about visiting the Louvre all day or standing in line for hours at the Eiffel Tower. That's why we hugely recommend skip-the-lines tours for your family. ("Hugely"?)
Over the course of eighteen or twenty trips to Paris with our son, we discovered the best of Paris for kids — places and activities that will also entertain, thrill, and educate your own children. And the best thing about these parks, museums and attractions is that they're as interesting to parents as they are to children! We know.

Activities to Delight Kids
Take Them to Disneyland Paris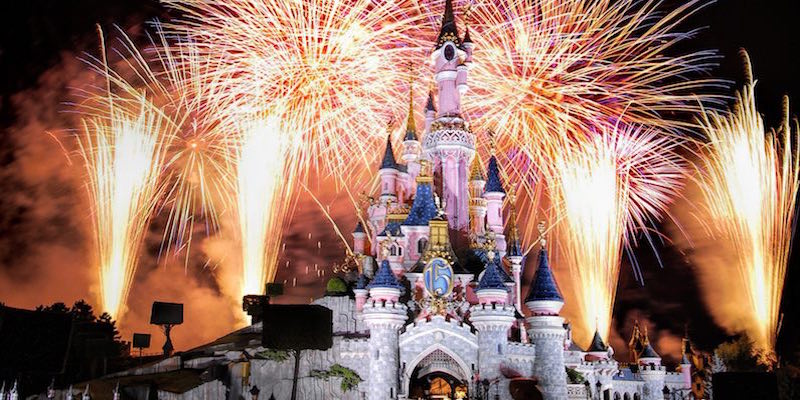 This is what you might call a no-brainer. It's also what you might call a bribe.
Your children are more likely to go along with you to some of the less-interesting-to-them places if you agree to put aside some "kid time" by planning to spend a day or two at the happiest place on European Earth. You can visit Disneyland from Paris, or you can stay in a hotel next to the park. We recommend you book your tickets in advance, online, before you leave home. Use the following links for planning ideas, hotels, and Disneyland deal packages.
See Paris on a Hop-On-Hop-Off Bus Tour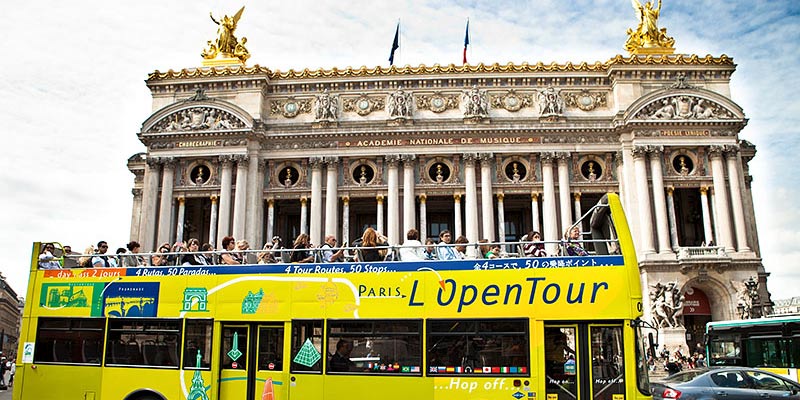 An open-top bus ride is a great way for you and your kids to get an overview of the city. You travel all around Paris, including the Eiffel Tower, Champs de Mars, Orsay Museum, Notre Dame, Louvre Museum, Champs-Elysées, Grand Palais, and Trocadero.
One circuit takes two hours but you're free to hop off at any stop and explore. The hop-on, open-air bus pass is available for one, two, or three days.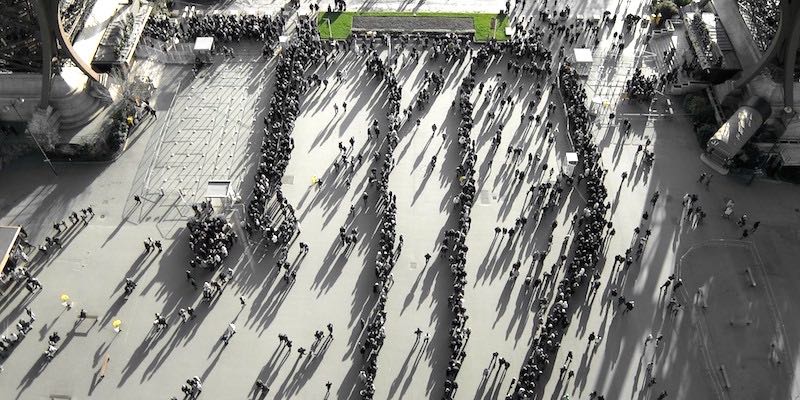 See that long line? Those are people waiting to get up the Tower.
Nobody likes standing in long lines, and especially not young travelers. One way to please kids in Paris is to avoid line-ups. By booking an Eiffel Tower tour, you and your kids will learn fun stories about the building of the tower from your tour guide and, best of all, you will skip the long ticket lines at the most-visited monument in history.
The Paris Aquarium – It's Like a Fish Petting Zoo!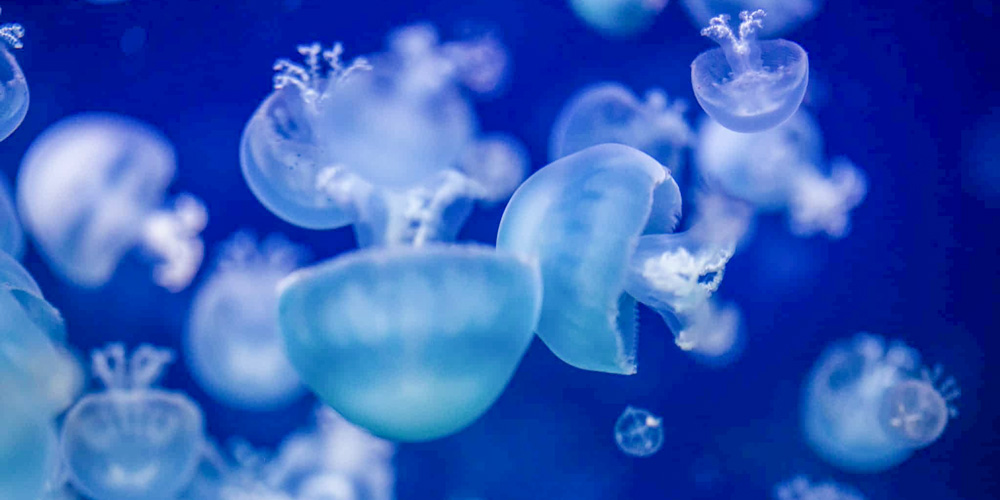 Take an aquarium and a cinema, put them together and what do you get? You get the Paris Aquarium, also known as Cineaqua, one of the most creative Paris-for-kids attractions. Located steps away from the Trocadero, this aquarium combines 9000 fish, 26 sharks with 16 cinema screens. Kids love to explore the various displays, screens and a fish petting zoo as the grand finale.
You'll find it in the 16th Arrondissement opposite the Eiffel Tower in the gardens of Trocadero. It's open 365 days a year.

Museums That Kids Will Love
Palais de la Découverte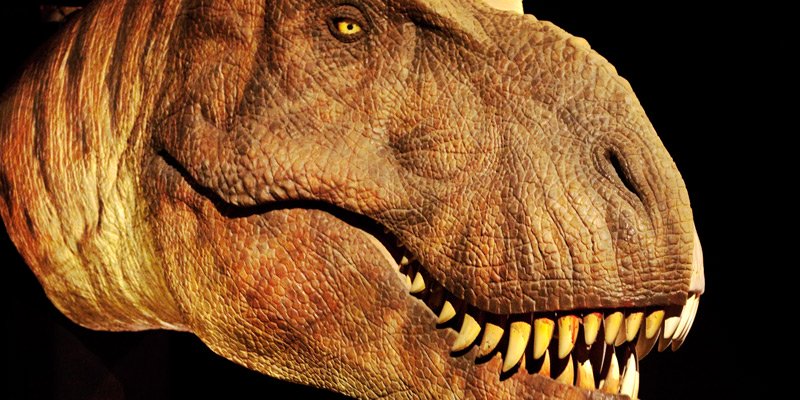 A trip to Paris with kind isn't complete without a visit to the Palais de la Découverte – the Science Discovery Museum. This hands-on museum features plenty of changing exhibits, like a dinosaur display s, as well as old favorites, including an insect collection and the popular École des Rats — Rat School.
Closed until 2024. The entire Grand Palais complex, including the Palais de la Découverte, is closed for a massive renovation. Set to re-open in time for the 2024 Olympics.
Skip-the Lines at d'Orsay and the Louvre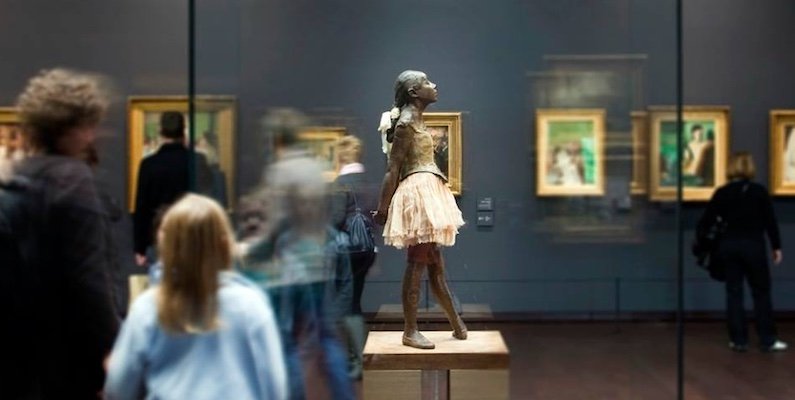 The very best way to experience Paris museums with kids is to book a skip-the-line museum tour for the whole family. These not only get you past the lineups, but your knowledgeable guide takes you right to the most important works.
Kids love museums and especially Musée d'Orsay. The vibrant Impressionist painters like Monet, Van Gogh and Manet seem to appeal to young visitors. The building itself is beautiful, set in a Beaux-Arts train station.
Then there's the amazing Louvre. We think the wait time is just too long for children, but luckily there are some great skip-the-line tours. At the Louvre, you skip the line and go directly to the Mona Lisa!
Grevin Wax Museum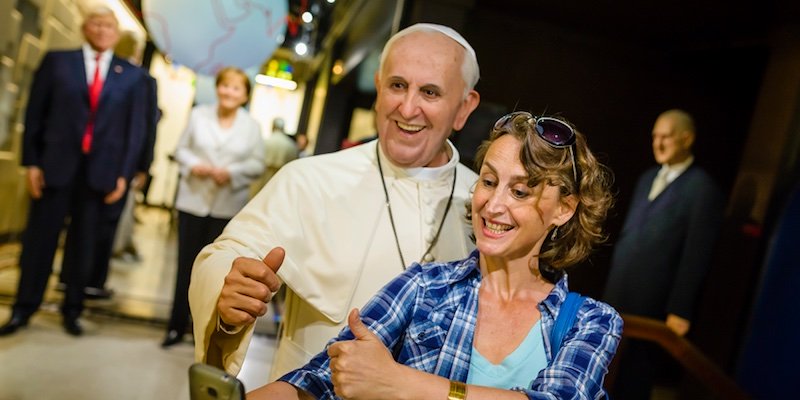 Here's a perfect Paris-for-kids museum! With over 300 wax statues, this museum is a fun way to entertain the whole family. There are all the parents' favorite celebrities as well as the latest for the kids, including Scrat, the most famous prehistoric squirrel!

Parks for Kids
Jardin des Plantes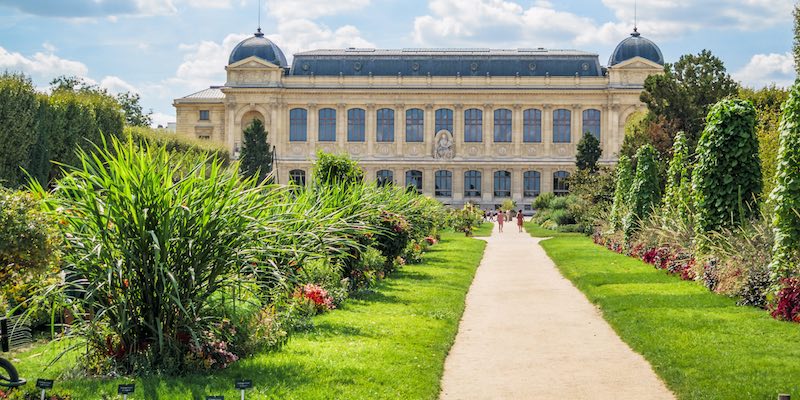 This 28 hectare botanical garden, founded in 1626, houses the expansive Natural History Museum covering paleontology, evolution, mineralogy and entomology. Don't let the big words scare you — the exhibits are fresh, exciting and very kid-friendly. And then there's the lovely, old-fashioned zoo. It's all conveniently located on the Left Bank in the 5th Arrondissement. This is the one kid-friendly park you don't want to miss
Parc des Buttes Chaumont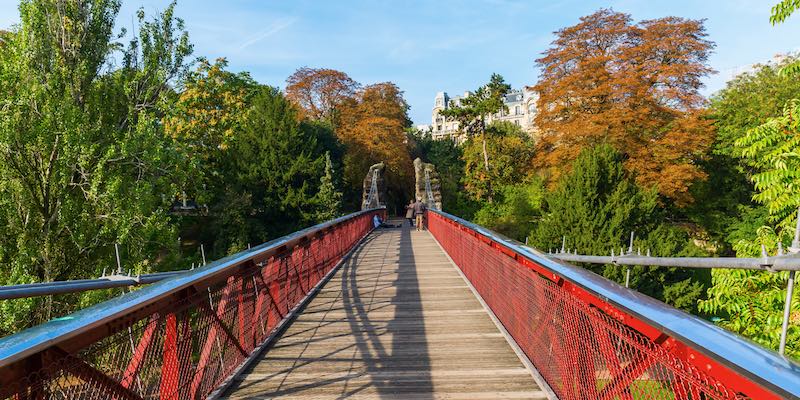 When your kids are clamoring to run around in open spaces, take them to Parc des Buttes Chaumont. This magical park has a fabulous walking trail, a suspension bridge, waterfalls, ponds and playgrounds to appeal to kids of all ages. And you can run on the grass!
The site of the park was a limestone quarry where the blocks for Paris buildings were mined. Like much of modern Paris, Parc des Buttes Chaumont was built by Baron Haussmann.
Rue Botzaris, 75019
Metro: Buttes Chaumont, Botzaris
Parc de Belleville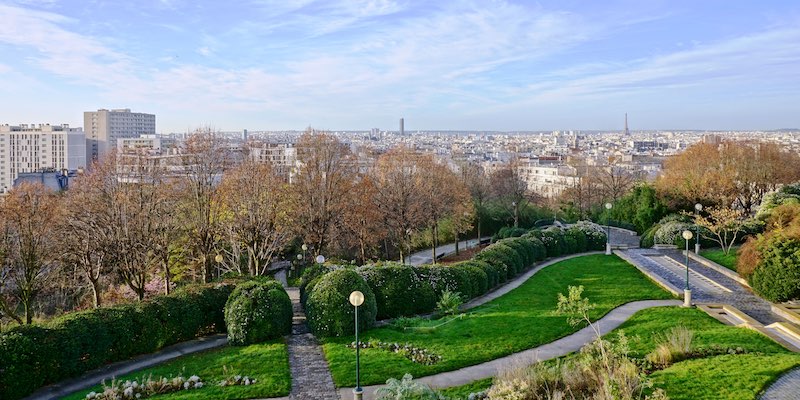 With its vast tangles of wildflowers, a cascading concrete stream that goes on forever, grass you can sit on, and the longest slide in Paris, Parc de Belleville in the 20th Arrondissement is not your typical Paris park.
Although the park is a bit of a Metro ride from the center of things, it's worth it to see your kids clamber up the modern climbing wall and run free. Be sure to take in the view of Paris and the Eiffel Tower from the plaza area on top of the park.

Parc Monceau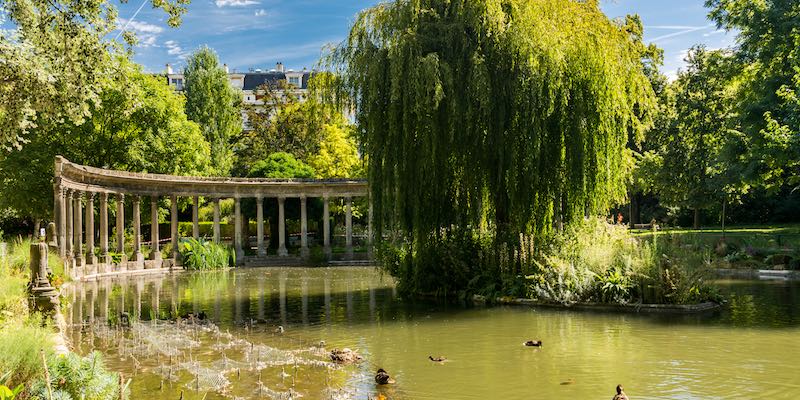 One of the prettiest parks in Paris, Parc Monceau is set in the luxurious 8th Arrondissement and features plenty of places to walk, a children's carousel, swings and a concession stand right out of the 19th century. Your kids can order up hot chocolate, crêpes and ice cream while you admire all the beautifully-dressed Parisian children.