The 100 Top Bistros In Paris – Government Approved!
What do you get when you combine bistro with gastronomy? Bistronomie! It's the clever name given to a culinary movement sweeping France, and breathing new life into the Paris restaurant scene. And that's just one of the things that led the City of Paris a few years ago to name the 100 top bistros worthy of recognition.

Our Top-Rated Paris Experiences
Enduring Symbols of Paris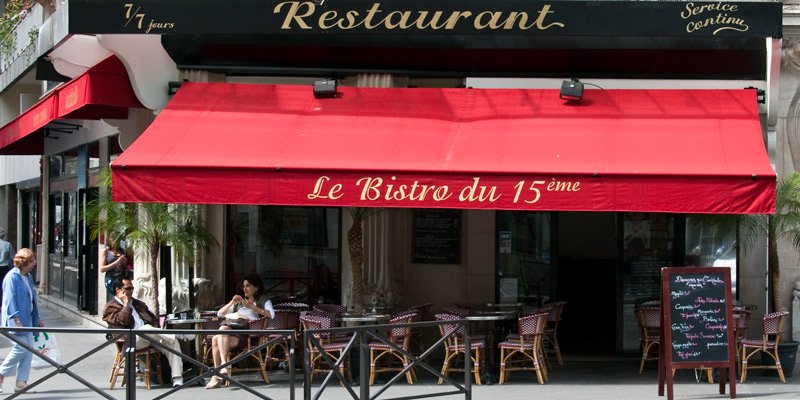 A typical bistro in the 15th Arrondissement, photo by Mark Craft
At the time, Mayor Anne Hidalgo declared, "An enduring symbol of the spirit of Paris, le bistro parisien is an essential part of our art of living. Bistros honor our French culinary traditions along with our inventiveness that keeps our eyes towards the future. With this event, we honor 100 chefs who embody bistronomie. With their contribution, Paris is and will remain a place of life, sharing, and celebration."

Discover What's On When You're Here...
Discover What's On When You're Here
The Paris Mayor Gives Her Approval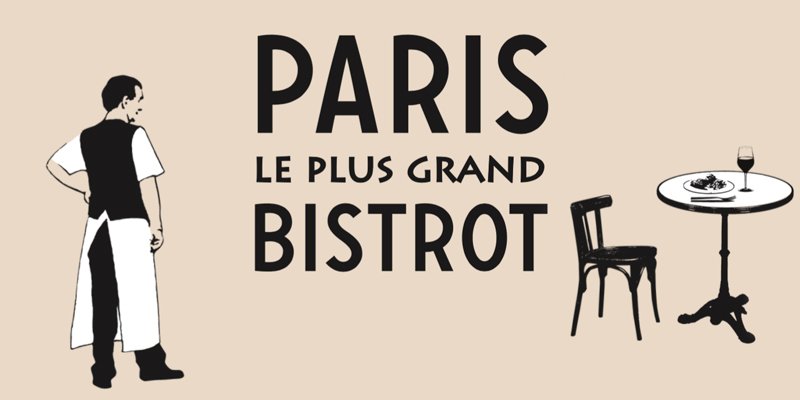 Mayor Hidalgo continued, "These 100 bonnes addresses represent the diversity and richness of Parisian cuisine. The chefs are committed to creating authentic, generous and welcoming restaurants. The bistro represents the roots in our French soil and in the history of Paris."
Gee, it brings tears to our eye. How did she know how much we adore Paris bistros? Let's delve into this list of 100 bonnes addresses. We'll share some of our personal favorites, and then send you to the complete list. The list of the 100 top bistros in Paris starts in the 1st Arrondissement, with the name of the chef appearing before the restaurant. Allons-y !
Bruno Doucet, La Régalade Saint-Honoré
Chef Bruno follows three iron-clad kitchen commandments. Premiereme, respect for the products. Deuxième, respect for the proper seasoning. Troisième, respect for the correct cooking method.
Don't Miss — Roasted, caramelized pork: poitrine de cochon caramélisée de chez Ospital. Save room for Chef Bruno's famous rice pudding, just the way grandmere made it.
106 rue Saint-Honoré
1st Arrondissement

Grégory Marchand, Frenchie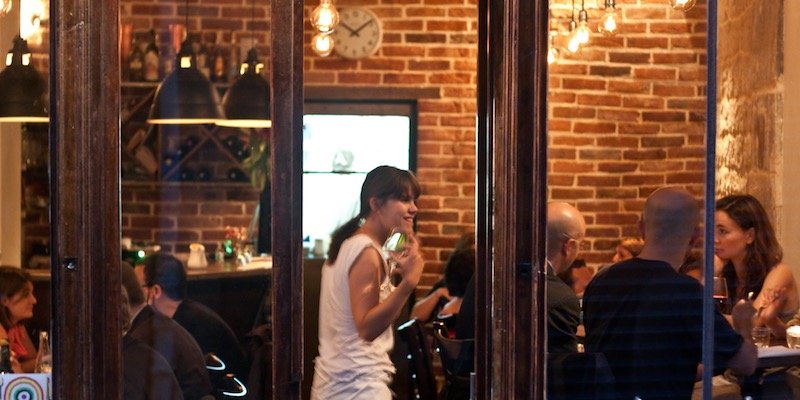 At bistro Frenchie, photo by Mark Craft
Chef Gregory practically reinvented the modern Paris bistro. One of the finest bistro meals we had was at Frenchie, just after his pint-sized restaurant opened, when there were just two people in the kitchen. He's now a Paris icon and his food is famous for its inventive flavors and presentation.
5 rue du Nil
2nd Arrondissement
Jean-Christian Dumonet, Chez Dumonet
Affectionally known as Josephine, this classic bistro is what Paris lovers dream about as they fly across the Atlantic, anticipating their first meal in the city. This is the place to get hearty housemade terrines, seared foie gras layered with crispy, thin potatoes, or a simple marinated herring dish resting in a pool of olive oil and spices.
Don't miss — Seared veal foie gras with raspberry vinegar, foie de veau au vinaigre de framboise
117 Rue du Cherche Midi
6th Arrondissement

William Ledeuil, Kitchen Galerie Bis (KGB)
Famous for his mashup of global flavours, Chef William loves to tangle Asian flavours and ingredients with classic French cooking techniques. If you love French fusion food, this is the place for you. By the way, the Bis means that this is the more casual bistro attached to his Michelin-starred restaurant next door, Ze Kitchen Galerie.
Don't miss — Suckling lamb with soubressade cured sausage, agneau de lait des Pyrénées, condiment soubressade
25 rue des Grands Augustins
6th Arrondissement
Stéphane Jégo, L'Ami Jean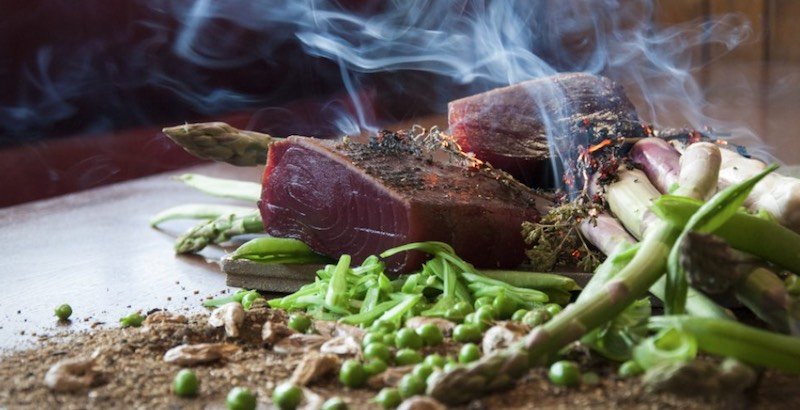 A plate at L'Ami Jean, photo from L'Ami Jean
Want to dine here? Well, you'd better make your reservations well in advance. After being featured in the New York Times, Chef Stéphane just couldn't make room for tout le monde to eat at his postage-stamp-size boisterous bistro. Come hungry and leave satisfied with stews and game meat, both in-season and impeccable creative.
Don't miss — Slow-simmered pork with caviar lentils, marinated scallops & apple; poitrine de cochon, lentilles caviar, St-Jacques marinées, pomme.
27 rue Malar
7th Arrondissement

Christiane Boudon, La Fontaine de Mars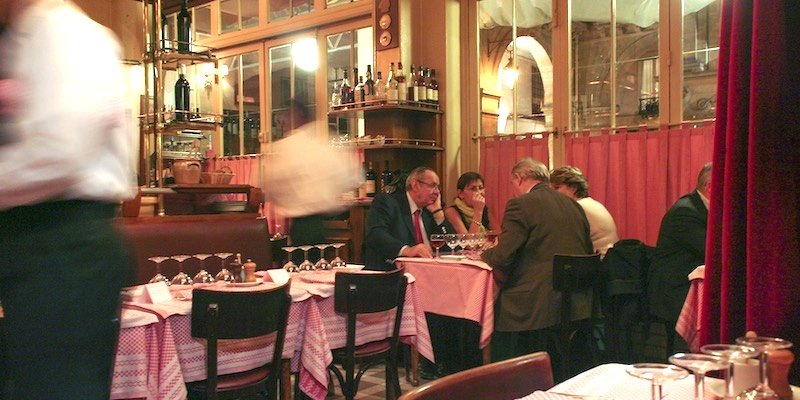 La Fontaine de Mars, photo by Mark Craft
This 1908 bistro in the shadow of the Eiffel Tower is the sort of place first-time travelers to Paris make a bee-line to. The red-checkered table clothes complete the postcard image. Chef Christiane and her husband Jacques have been turning out classic bistro fare for more than a quarter century.
Don't miss — Spicy sausages from Maison Duval, andouillette de M. Duval.
129 Rue Saint-Dominique
7th Arrondissement
Sébastien Gravé, Pottoka
On large family-style tables, Chef Sebastien delivers a Basque-inspired "simplified haute cuisine". He's a fanatic for farm-sourced ingredients including from Eric Ospital, an artisanal Basque charcutier famous for his rosy pork and jambon.
Don't miss — Roast cod with satay and blood sausage, cabillaud rôti au saté, boudin noir.
4 Rue de l'Expositio
7th Arrondissement

Thierry Breton, La Pointe du Grouin
Surprisingly, the bistro gets its name from a pig snout! Chef Thierry's casual wine bar is wedged in between his other two bargain Paris bistros, Chez Michel & Chez Casimir. Expect hearty, small plates of explosive flavors. If you're on your way to Gare du Nord, they can pack you a sandwich made with their own bread. (2022: Unfortunately, we weren't able to confirm that this restaurant is still open. However, Chef Breton's other two bistros on the same street are open.)
Don't miss — Medallions of monkfish with eggplant caviar, médaillon de lotte, caviar d'aubergines.
8 Rue de Belzunce
10th Arrondissement
Sylvain Daniere, L'Ourcine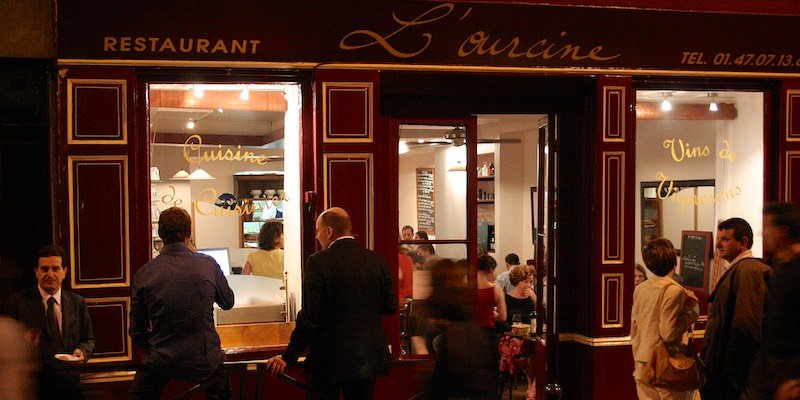 L'Ourcine, photo by Mark Craft
We've been eating here for something like 15 years (in fact, one of our photos is on their website) and we're always impressed with Chef Sylvain's traditional cuisine with a twist. The decor is relaxed and the food is fun, inventive, and one of the best bargains in Paris.
Don't miss — Duck confit with radish & juniper ice cream, cuisse de canette confite au jus, radis glacé au genievre.
92 Rue Broca
13th Arrondissement
Bertrand Auboyneau, Bistrot Paul Bert
Head to Bastille for a taste of traditional bistro cooking. Chef Paul has been behind the stove for decades and his bistro buzzes! The vegetables are sourced from a farm in Normandy and the seafood is from a small family property in Brittany. Reservations are a must!
Don't miss — Roasted scallops with parsley root and lemon, Saint Jacques rôties au persil tubéreux et citron.
18 Rue Paul Bert
11th Arrondissement

Antoine Westermann, Le Coq & Fils
Chef Antoine was a legendary Michelin 3-star chef in Strasbourg before giving it all up to create simpler restaurants and menus. He now has bistros and restaurants in Paris and NYC. He's a self-taught chef and completely devoted to the cuisine of his native Alsace.
Don't miss — Farm-raised roasted duck confit, canette de la Dombes confite, puis rôtie.
98 Rue Lepic
18th Arrondissement
Thierry Faucher, L'Os à Moelle
A dish at L'Os à Moelle, photo by Mark Craft
We've never been disappointed by a meal with Chef Thierry in the kitchen. It's a reason to head south to the calm neighborhood of Lourmel in the 15th Arrondissement. A couple of years ag, he sold the restaurant, but the stars aligned and he's now back in the kitchen. Thankfully!
Don't miss — Roasted veal breast with fricasse of baby peas, poitrine de veau fondante, fricassé de petits pois.
3 Rue Vasco de Gama
15th Arrondissement