Gare de Lyon – The Belle-Époque Train Station Serving Points South
If you've been fortunate enough to travel from Paris to Provence on a regular basis, you will have spent quite a bit of time in our favorite train station, Gare de Lyon. When you're in the main hall you can't help thinking that this is exactly what a train station should look like — the long shed roof; passengers eagerly scanning the departure board for their track numbers; trains pulling up to the voies to take on waiting travelers.

Hall 1 at Gare de Lyon in 2006, photo by Mark Craft

Gare de Lyon is one of the six train stations serving Paris and is, to our minds, the most evocative and most glorious, imparting a feeling of the adventure that train travel once was, and, for some of us, still is. We love boarding the TGV, settling into our seats, and having just enough time to eat a sandwich jambon and read a magazine (both of which we bought at station kiosks) before arriving in Provence at the modern Avignon Gare Méditerranée, where whatever clothes we were wearing in Paris are simply too warm.
Navigating Gare de Lyon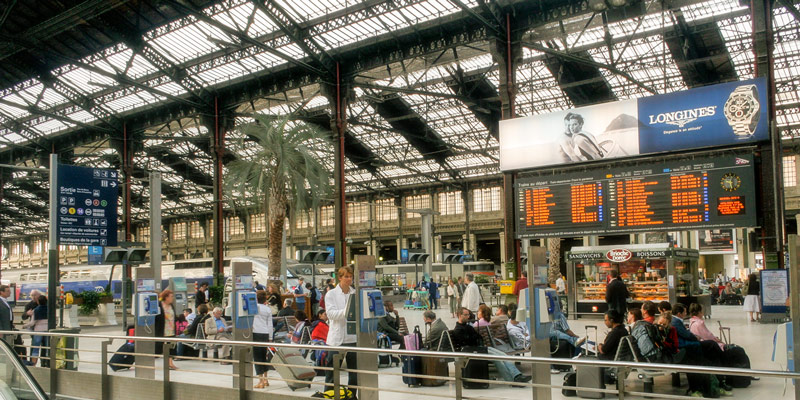 Hall 1 in 2007, photo by Mark Craft
Getting to and from your train at Gare de Lyon is simple, even though the station is spread out a bit. The main things you need to remember are that arrival and departure platforms (voies) are all located on one level, and that there are two groups of train tracks; platforms A to F located in Hall 1, nearest to the main entrance, and numbers 5 to 23 in Hall 2, in the back of the station. (There is a Hall 3, downstairs, where you find access to the RER local trains, and the Metro.)

Plan of Gare de Lyon with main entry to the left, by the clock tower

Hall 1 – Tracks A to N
If you're arriving by car, you will most likely be dropped off in front, at the northwest door, on Place Louis-Armand, next to the clock tower. This entry takes you directly into Hall 1, one of the two large spaces where trains depart and arrive.
This capacious hall is a monument to ironwork from the very end of the 19th century, more than 700 feet from front to back and 140 feet wide. A gigantic glass roof provides natural light. The space is dominated by the large departures board, surmounted by a perennial Longines ad. As you walk in from the entry the alphabetical platforms are spread out in front of you — A through N, from left to right, although for reasons unknown to us, there is no track B or F.
We're most familiar with these platforms as our arrival voies when returning to Paris from Provence, from Gare Méditerranée. But, we've watched trains leaving from these platforms going to places like Lyon and Switzerland.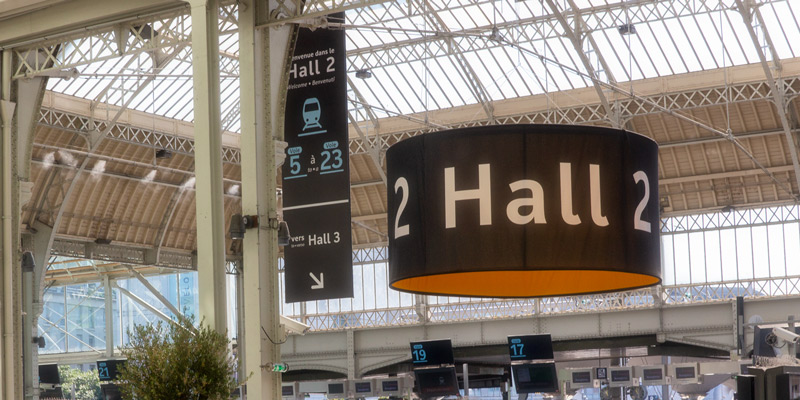 The airy Hall 2 at Gare de Lyon, 2018, photo by Mark Craft

Hall 2 – Tracks 5 to 23
Access to Hall 2 is found on the left-hand side of Hall 1, as you are facing the tracks. There's a large sign above the entryway that takes you into a long gallery with shops and the ticketing office (called Galerie des Fresques, more on that in a moment) leading to the back of the station complex where you find the bright open space of Hall 2 with its numbered platforms. More trains depart from here than from Hall 1. (Makes sense, since there are more tracks — nineteen or twenty in Hall 2 versus a dozen in Hall 1.)
It's from here that we catch the TGV (high speed trains) to Valance, Orange, Avignon, Perpignan, and other points in southeast France; places where we know the weather is going to better suit our clothes. There are a couple of large departure boards in Hall 2 to keep travelers updated on their trains.
Using the Departures Board at Gare de Lyon
Hall 1 departures board, 2017, photo by Mark Craft
The departures boards are just about the only tool you need at Gare de Lyon. Trains are listed chronologically by departure time. The big board in Hall 1 typically displays all trains leaving in the next three hours or so. The board is divided into two sections, with the list starting in the left section and continuing in the right.
There's a lot of information displayed in the seven columns on the board, but the information you most need is in the last column — the voie or "platform" your train will be leaving from. When a train number is first posted on the board, the voie column indicates which hall the train will depart from. Once you know that, you can grab your luggage and move to the indicated area. Then, about twenty minutes before a train's departure, the specific voie is displayed. The instant that happens travelers who've been standing and staring up at the board begin moving, wheeling their luggage to their platform.

Departures board detail

Information Displayed in the Departures Board Columns
Train
The SNCF logo often appears in this column. Nothing to worry about.
N°
The four or six digit number of your train. This is important, make sure you find the correct train number (it's on your ticket).
Heure
Departure time, in this format: 14h25
Destination
The terminus of the train, the final stop. If your destination station isn't the terminus its name won't be posted here. For example, a TGV to Avignon is likely to list "Perpignan" as the terminus. Don't be confused by this — if the train number is correct, you're all set.
Particularités
Details on the type of train, such as TGV or Lyria. Nothing you really need to worry about.
[On Time?]
This column has no heading, but here you learn if your train is on time (à l'heure) or late (en retard), although the latter is quite rare.
Voie
The most important information — your departure platform. When your train is first listed this column indicates the hall you should be in. Twenty minutes before departure the specific platform will appear here.
You Can Get There from Here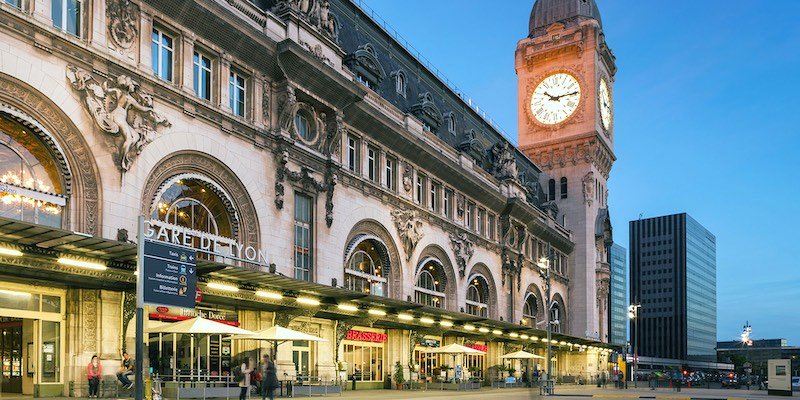 Gare de Lyon serves destinations in southeastern France — "Provence" in the broad sense — and Switzerland, with other destinations in Italy and even Spain (via Perpignan). There are also the Transilien trains that depart from Gare de Lyon, serving locations in the Paris region, but we won't list those towns. Here is a smallish selection of distant locations you can reach from Gare de Lyon.
A Sampling of Destinations in Southeastern France
Aix en Provence
Avignon
Antibes
Cannes
Dijon
Grenoble
Hyères
Lyon
Montélimar
Montpellier
Nice
Perpignan
Sète
Toulon
Valence
The Seven Lines Going to Switzerland
Basel
Berne
Geneva
Interlaken
Lausanne
Neuchatel
Zurich
Italian Destinations
Bologna
Florence
Milan
Padua
Rome
Venice
Verona
Vicenza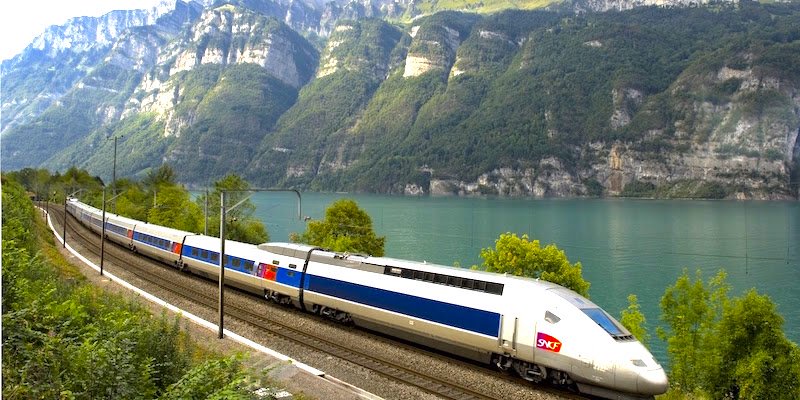 Buying train tickets online that you can print (or send to your device) is simple. It's become so easy in recent years; instead of purchasing a rail pass, or ordering from a travel agent or ticket seller, or having tickets mailed to you, now you can buy on line from a trusted source and partner of SCNF, the French rail network.
How easy is it? Try it — click on the link below and you'll be taken to the easy-to-use order form. Put in your departure and arrival stations or cities, choose the date and time of day you prefer… and that's about it! At the end of a process that takes only minutes you'll have your tickets (or e-tickets) in hand (or in device). We just wish it had been this simple in the past!
An important thing to know is that tickets for most European routes only become available three months before the travel date. For example, if you want to travel from Paris Gare de Lyon to Avignon TGV (to pick a less-than-random example for us) on October 15, you can book and download your tickets starting on July 15. And so on.
Galerie des Fresques
Galerie des Fresques, Marseille panel, Wikimedia
As train travel evolved in the 19th century, tracks from Gare de Lyon reached out southward, farther and farther. First to Montereau, then to Lyon, then through to Marseille where the tracks turned east along the French Riviera to serve Cannes, Nice, and on to Menton, on the border with Italy. That history, that excitement as travel opened up and became accessible, can be seen in a 300-foot-long mural in the long gallery running between Hall 1 and Hall 2.
In the Galerie des Fresques, as this gallery is called, you can view this visual history from over a century ago. Up at ceiling level, on the common wall with Hall 1, the mural depicts the main destinations accessible by train from Gare de Lyon. Starting on the left with Paris, the distance from the home station increases as you move to the right. The last town is Menton.
The city destinations are represented by their most recognizable characteristics — either geographical or architectural, with the station name painted above. The original panels of the fresco were created when the station was built in 1900. These depicted destinations like Lyon, Avignon, Marseille, Monte-Carlo, and Menton. In 1980 the mural was lengthened with the addition of Paris, Fontainebleau, Dijon, and Cluny among seven other places.
The Clock Tower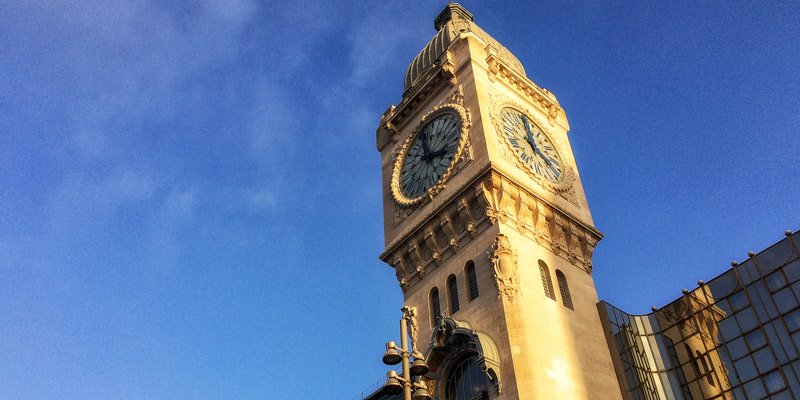 Gare de Lyon 4-sided clock tower, photo by Mark Craft
One of the most striking, and certainly the most recognizable, features of Gare de Lyon is the impressive clock tower standing proudly next to the main entrance on Place Louis-Armand. Built with the current station in 1900, you might detect similarities to London's Big Ben, on which it is rumored to have modeled. With clocks on all four sides, the faces are adorned with hand-painted brass Roman numerals.
Station Restaurant, Le Train Bleu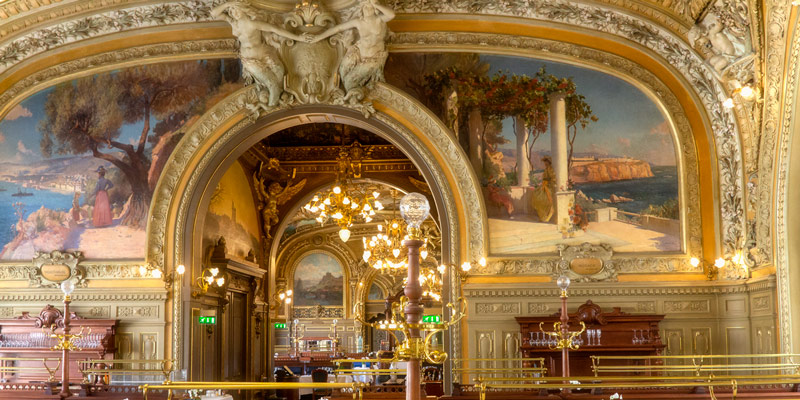 Le Train Bleu, photo by Mark Craft
Gilding, carvings, moldings, chandeliers, and ceiling frescoes are elements that make the station restaurant a lavish museum of the 1900 Belle-Epoque. Restored recently to its pristine glory, it was the work of twenty-seven French artists that created the wonder of the original decor. Forty-one paintings were commissioned from prominent artists of the time — François Flameng, Henri Gervex, Gaston Casimir Saint-Pierre, and René Billotte.
Their paintings featured the cities and landscapes that a traveler would see on one of trains leaving Paris on their way south to Marseille, Monte Carlo, or Nice. Along with the railway sceneries are found portraits of actresses Sarah Bernhardt and Gabrielle Réjane, and the author of Cyrano de Bergerac, Edmond Rostand.
Over the years celebrities have flocked to Le Train Bleu — Coco Chanel, Brigitte Bardot, Jean Cocteau, Colette, and Marcel Pagnol were regulars. Feature films have used the restaurant as a shooting location, including Nikita by Luc Besson, Place Vendôme with Catherine Deneuve, and Filles Uniques by Pierre Jolivet.
A Brief History of Gare de Lyon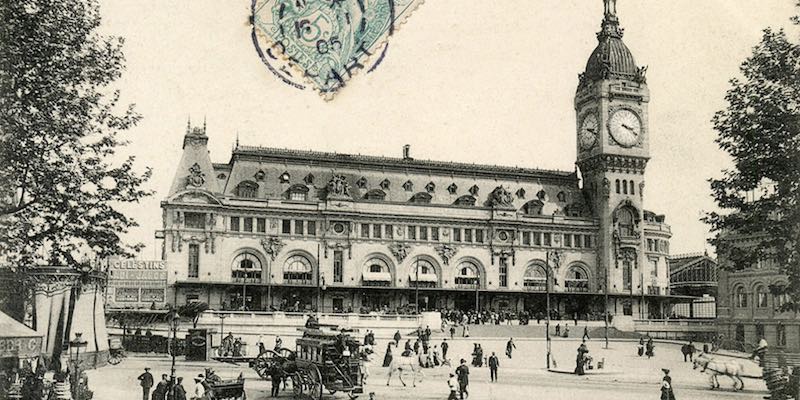 Gare de Lyon in 1900 (if you squint you can see us entering the station)
1847 – Embarcadère de Chemin de Fer de Paris à Montereau
In the beginning it wasn't much more than a wooden shed, built to shelter passengers waiting for the new-fangled train running from Paris to Montereau. Think of it more like a bus stop than a gare.
1855: The First Gare
To meet the needs of increasing train traffic to and from the south, a new five-track station was completed in 1855. Oddly and perhaps inconveniently located next to the Prison de Mazas, the 720 foot by 137 foot building proudly sported five tracks, side by side. Even more inconvenient was the unruly Paris Commune of 1871, when the gare was destroyed by fire, as was the Hotel de Ville. Both would be rebuilt.
1900: A Belle Epoque Beauty
A Universal Exposition was going to bring the world to Paris in 1900, and trains stations had to be built to receive them. Along with Gare d'Orsay (now the museum of the same name) and Gare des Invalides (which later became the Air France travel headquarters), a new 13-track station was built to replace the old Gare de Lyon. And that's the heart of the gare you still see today, including Hall 1, the clock tower, Le Train Bleu, and the Galerie des Fresques.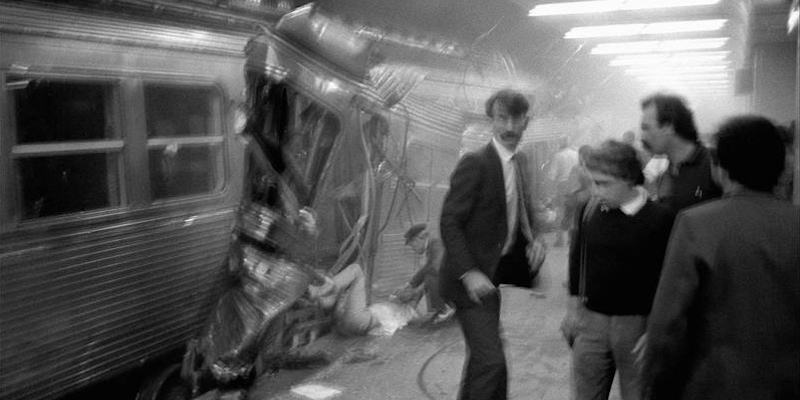 1988 commuter train accident at Gare de Lyon, photo from La Libération

1988: A Tragic Accident
In a bizarre story from Gare de Lyon, on June 27, 1988 a regional commuter train crashed into another train waiting at the station, killing passengers and the driver of the parked train. Reports vary, but it seems that as the incoming train passed a nearby station — normally a stop on the route but deleted in the new summer timetable — a passenger who wanted to disembark there suddenly pulled the emergency brake. (In case it's not clear, this is definitely not allowed.) The passenger got off the train.
Then (or so it seems) the train driver reset the brakes and started up again. Since the train was now late, the next scheduled stop was skipped and the train headed directly for Gare de Lyon. The last stretch of track into the gare is on a slight downward slope; when driver tried to slow down, he discovered his brakes no longer worked properly. Emergency messages were exchanged between the now-runaway train, the rail controller, and the train waiting at the station on the same tracks. Some passengers were able to move to the back of the train for safety, but 56 people died and dozens more injured when the trains collided.
Today there is a memorial to the victims in Hall 3 of Gare de Lyon, but details of the story remain bizarre. Why was the driver of the train convicted of manslaughter (he served six months of a four-year sentence)? With other details a bit sketchy, isn't it odd that we know the inbound train number (153944), the name of the emergency-stop station (Le Vert de Maison), the slope of the track coming into the station (four degrees), and even the name of the passenger who pulled the emergency brake, likely setting off the tragic chain of events (Mme. Odile Mirroir)?