Gare du Nord Paris – Guide To The Busiest Train Station In Europe
Brussels? London? Frankfurt? Trains leaving from the Gare du Nord in the 10th Arrondissement can get you there and other places in France and northern Europe. The gare teems with life, which makes sense since it's the busiest train station on the continent. 700,000 travelers pass through the station daily, where they board trains heading to destinations near and far. Serviced by the Metro, the RER (Regional Express Railway), Eurostar, and hundreds of high-speed trains, the 19th-century mammoth iron-and-glass structure is framed with a classical facade, finished with statues representing destinations from Calais to Arras.

Discover What's On When You're Here...
Discover What's On When You're Here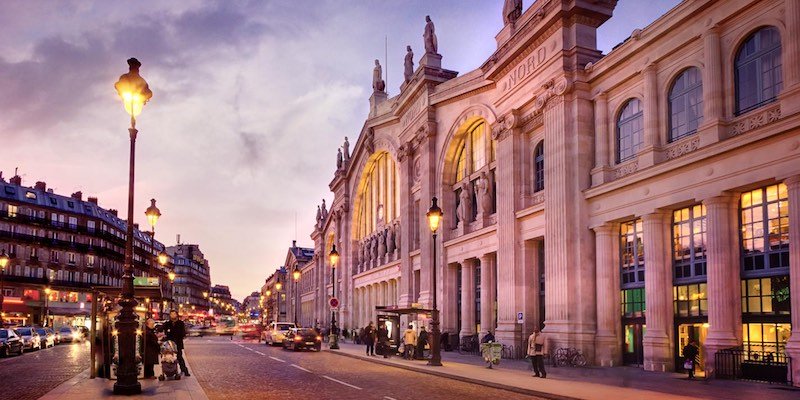 As a hub of local and international travel, Gare du Nord in the 10th Arrondissement of Paris also connects the Metro, the RER, and local buses with intercity trains. It's where you go to reach London on the Eurostar, but the majority of the millions of passengers are commuters on their way to and from jobs in the city. Let's take a look at the oldest and busiest train station in Paris.
High-Speed is the Only Speed on Eurostar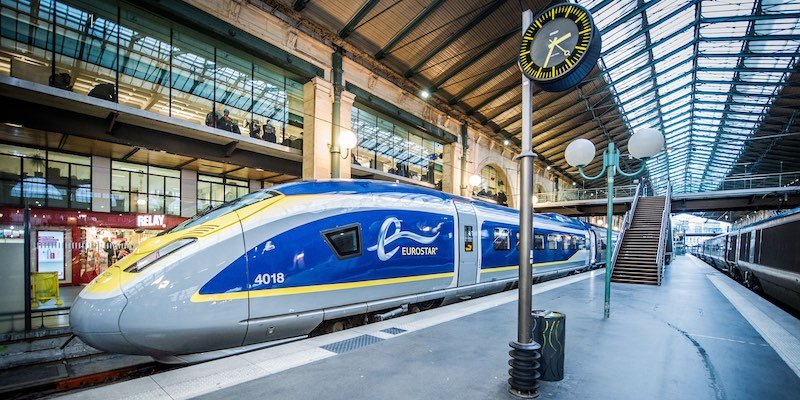 It's no wonder the Gare du Nord is so popular — it transports millions of passengers a year to and from some of the biggest centers in Europe. Cologne and Brussels come to mine. The most famous of the high-speed trains terminating at Gare du Nord is the Eurostar with direct, rapid access to another European capital, London. Courtesy of the Channel Tunnel passengers can ride in comfort and arrive only two hours later.
Gare du Nord High-Speed Train Destination Highlights
London
Amiens
Lille
Brussels
Amsterdam
Cologne
Essen

Connecting to the Rest of Paris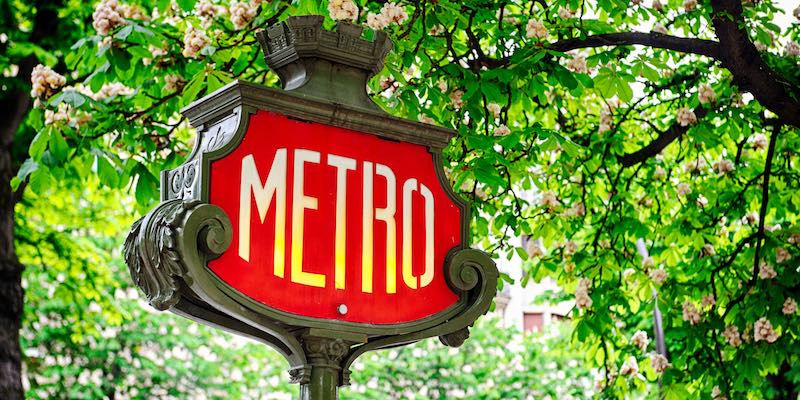 As we noted, Gare du Nord is also well connected to the RER urban trains. RER Line B transports you to Charles de Gaulle airport in less than thirty minutes and it also serves Orly airport. Then there's Line D, providing a rapid link to Paris' next busiest station, Gare de Lyon. Both Lines B and D get you to Stade de France for the big football match. RER B runs every seven to fifteen minutes from 5 AM to midnight.
As far as the Paris Metro goes, Gare du Nord connects directly to Lines 4 and 5, and Line 2 is a short walk away. Then there's Bus 65 that takes you to Gare de Lyon, Gare St Lazare, and Gare de l'Est.
Gare du Nord Services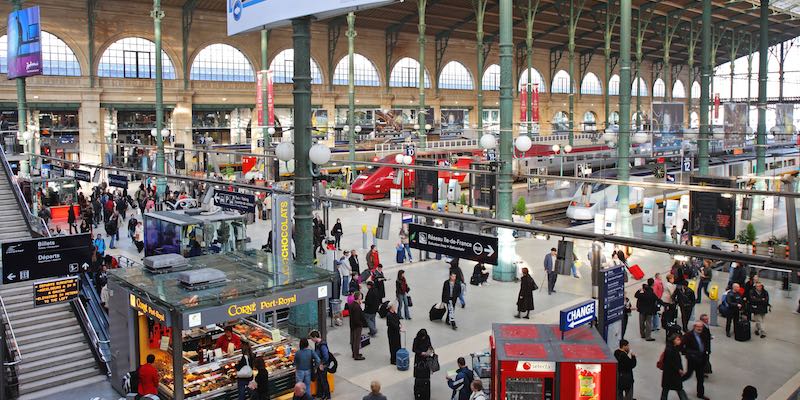 There is no shortage of shopping at Gare du Nord. As you might expect, with so many travelers there's a complete range of stores like chocolatiers, florists, even fashion outlets, grocers, and wine and cheese shops. Luckily (for us at least), chocolate is well-represented with shops by Jeff de Bruges and Le Chocolate by Alain Ducasse. (Ducasse's shop is only accessible to passengers going to London on the Eurostar.)
Our technique — if you can call it that — is to arrive at the station a little early (about forty-five minutes before departure time), peruse the sandwich selection at the various kiosks, and choose the best fromage beurre with a bottle of water for our journey. It may happen that a chocolate or two also sneaks into our shopping bag.

History of Gare du Nord Paris
Train travel was growing so rapidly in the mid-19th century that by the time the original gare on this site was completed in 1846 it was already too small. So, by 1860 a new, bigger station was underway. The façade of the 1846 station was dismantled and moved to Lille while the rest of it was demolished. (In Lille a second story as well as a large clock were added to the original façade.)
In Paris the new design focused on a triumphal arch — the main cast-iron support beam is from Glasgow, the location of the only foundry large enough for the task. The 1860 plan included a monumental boulevard leading to Gare du Nord, cutting a path through the maze of ancient streets (courtesy of Baron Haussmann), but that never was built.
Disruption and renewal has been a way of life for this Parisian gare. In 1884 more tracks were added; in 1889 the interior was rebuilt and then renovated in every decade of the 20th century. In 1994, the Eurostar launched its high-speed train service between London and Paris, requiring further changes. Today, in the evening, the Gare du Nord's neoclassical exterior is lit up, adding sparkle to this chic/shabby district of Paris.

Gare du Nord as Arrival Terminus for the Olympic Games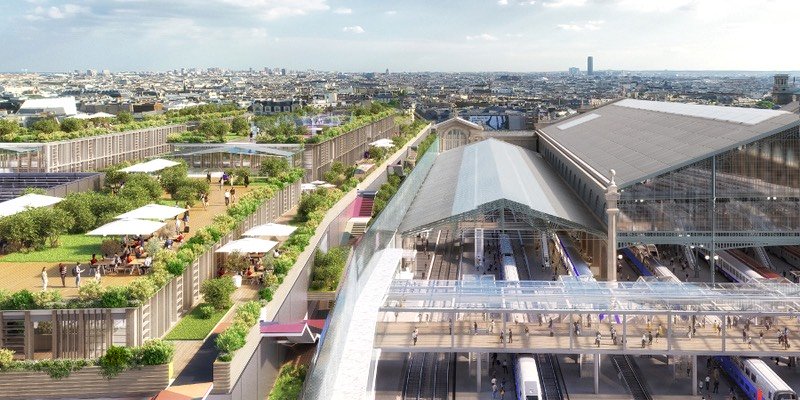 Already the busiest station in Europe, Gare du Nord is going to get busier. To better receive the thousands (millions?) of visitors expected to come to Paris for the 2024 Olympic Games (assuming that event goes ahead as originally scheduled pre-Covid) the station will triple in size. The stated goal was to "transform the station into an urban complex" and turn it into a leading example of "a new type of gare for the 21st century".
Thus, the largest European train station will grow from 36,000 square metres to 110,000. Interestingly — oddly — the new construction is slated to include a one-kilometre-long trail for use by athletes. (Would athletes, we wondered, be flocking to a busy train station for training?) The plans indicate that original hall will remain visually identical, but the main entrance will move to a new building on the east side of the historic station, giving access to an inner street, 300 meters long, covered by a glass roof.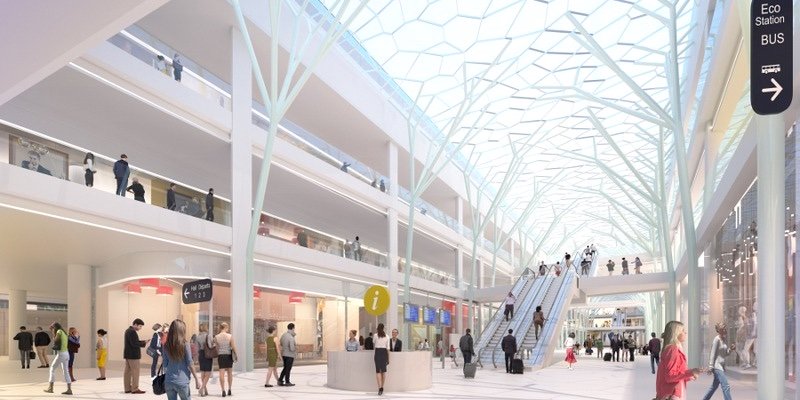 Proposed glass roof in the expanded Gare du Nord
Departures and arrivals will be in two separate areas of the stations with a new departure terminal being built. The design is intended to improve passenger flow, making it more like an airport so that those arriving will not have to dodge departing passengers. And, like an airport, there will be dozens of high-end shops and boutiques trying to attract travelers' euros.
However…
The grandiose Gare de Nord expansion proposal has been severely criticized by architects, historians, and urban planners; even by the City of Paris when it objected to the plans in 2019. (The city does not control the SNCF.) "Should we transform all train stations into shopping malls?" asked a former deputy director of Paris urban planning. Nonetheless, the plan was approved and a construction permit was issued in July 2020.

Where to Eat Nearby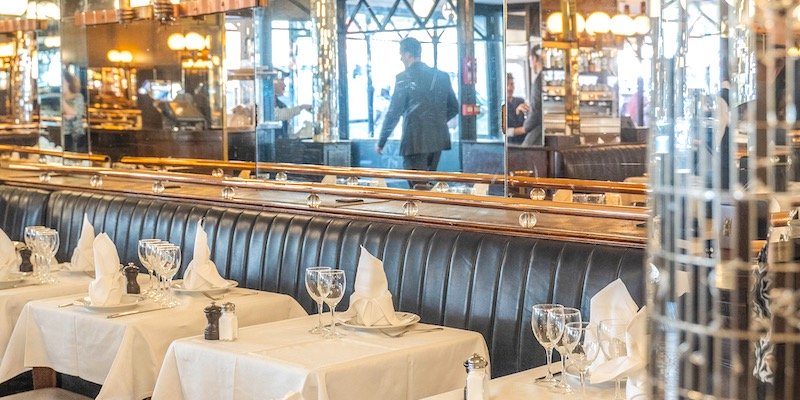 Terminus Nord Brasserie
A little bit Art Nouveau, a little bit Art Deco, a little bit rock and roll, this bustling brasserie has been welcoming diners to the City of Gares since 1925. Just steps away (a one minute walk, to be exact) from Gare du Nord, the brasserie serves up fresh oysters from Brittany, seafood platters, smoked Atlantic salmon with blinis and sour cream, plump escargots in garlic butter, authentic bouillabaisse, and all the luscious French desserts you'd expect — baba au rhum, crepes Suzette and profiteroles with Valrhona chocolate sauce. Classic French food aside, you'll be dazzled by the soaring ceilings, chandeliers, stained glass and Mucha decorative mirrors.
23 rue de Dunkerque, 75010
Open 7 Days a Week

Chez Michel & Chez Casimir
Although the immediate neighborhood tends to be a bit scruffy and the traffic around the station a bit of a nightmare, you can find good, traditional French food in close vicinity to Gare du Nord. If you have some time before your departure, or if you've arrived in the evening, we recommend Chez Michel or Chez Casimir. They're side by side, a seven-minute walk from the station.
CHEZ MICHEL
10 Rue de Belzunce, 75010
01 44 53 06 20
CHEZ CASIMIR
6 Rue de Belzunce, 75010
01 48 78 28 80

Gare du Nord Resources
Entrances at 112 Rue de Maubeuge and 18 Rue Dunkerque
10th Arrondissement
Metro Lines 4 & 5
RER Lines B & D