Gare du Nord Paris – Guide To The Busiest Train Station In Europe
Brussels or London or Frankfurt? Trains leaving from the Gare du Nord in Paris Paris can get you there and many places in northern France. The gare teems with life, which makes sense since it's the busiest train station in Europe. Almost 700,000 travelers pass through the station daily, where they gather to reach destinations near and far. Serviced by the Metro, the RER (Regional Express Railway), Eurostar, and hundreds of trains, the 19th-century mammoth iron-and-glass structure is framed with a classical facade and lined with statues representing destinations from Calais to Arras.
As a hub of local and international travel, Gare du Nord in the 10th Arrondissement of Paris connects the Metro, the RER and local local buses with intercity trains. It's where you go to reach London on the Eurostar, but the majority of passengers are commuters on their way to and from jobs in the city. Gateway to northern France, Belgium, Germany, the Netherlands and Britain, the original Gare du Nord was inaugurated in 1846, but it was too small by the time it was finished. Let's investigate the oldest and busiest train station in Paris.
In & Out of Gare du Nord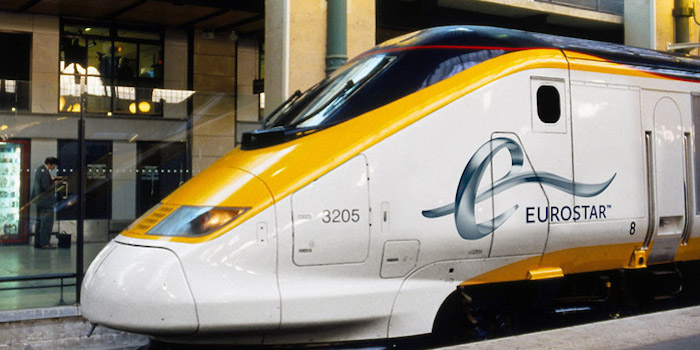 It's no wonder the Gare du Nord is so popular. As we said, it's well connected to the RER urban trains; Line B transports you to Charles de Gaulle airport in less than thirty minutes and it also serves Orly airport. Then there's Line D, giving you a quick ride to Paris' other busiest station, Gare de Lyon. Both Lines B and D get you to Stade de France for the big football match.
As far as the Paris Metro goes, Gare du Nord connects directly to Lines 4 and 5, and Line 2 is a short walk away. Lots of city trains, too — RER B runs every seven to fifteen minutes from 5 AM to midnight. Then there's Bus 65 that takes you to Gare de Lyon, Gare St Lazare, and Gare de l'Est.
Gare du Nord train destination highlights
TGV to Lille – London
TGV to Brussels – Amsterdam
TGV to Brussels – Cologne – Essen
TGV to Brussels – Ostend
Gare du Nord Services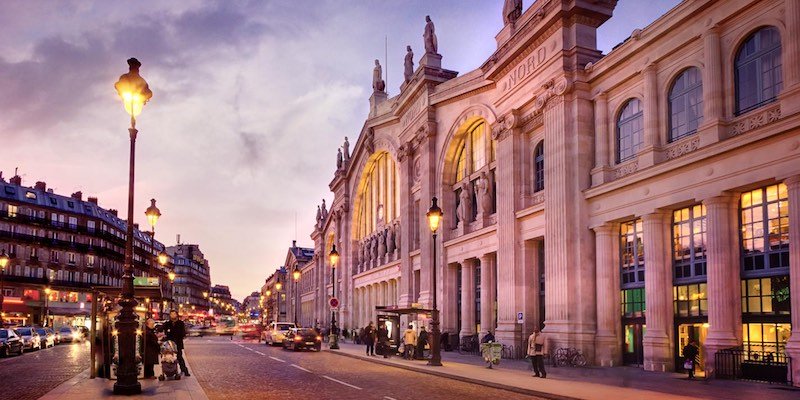 There is no shortage of services & shopping at Gare du Nord. As you might expect, with so many travelers, there's a complete range of stores like chocolatiers, florists, fashion outlets, grocers, plus wine and cheese shops. Luckily (for us at least), chocolate is well-represented with shops by Jeff de Bruges and Le Chocolate by Alain Ducasse. Ducasse's shop is only accessible to passengers going to London on the Eurostar.
Not surprising, since the trains go to the chocolate capital city of Brussels, you can also get fine Belgian chocolate at the Gare du Nord in Paris. Since 1932, Corne Port-Royal has been churning out artisan chocolates using only the finest cocoa butter, jamais (never) vegetable oils. They say Maurice Chevalier (remember him?) favored this Belgian chocolatier above all others. Try the Manon Sucre, a praline chocolate with crunchy nougatine and fresh walnuts. Bonus: The shop's Art Nouveau design is a welcome sight at the busy train station!
History of Gare du Nord Paris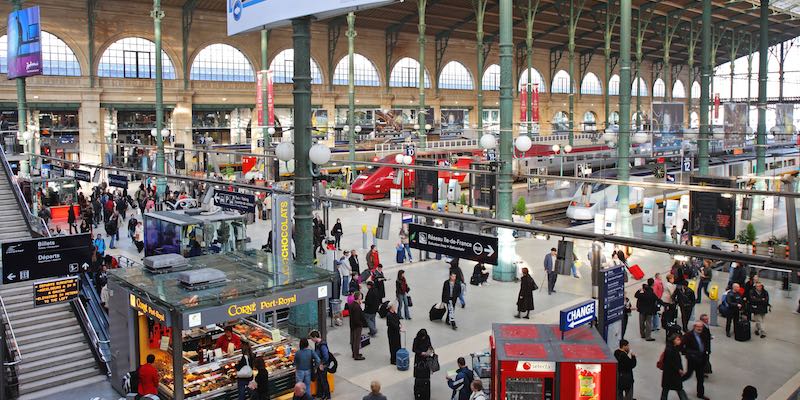 Train travel was growing so rapidly in the mid-19th century that by the time the original gare was completed in 1846 it was already too small. So, by 1860 a new, bigger station was underway. The façade of the 1846 station was moved to Lille and the rest of it demolished. The new design focused on a triumphal arch; the main support beam made of cast iron is from Glasgow, the only foundry large enough for the task. In 1884, more tracks were added; in 1889 the interior was rebuilt and it was renovated in every decade in the 20th century. In 1994, the Eurostar launched the uber-fast train service between London and Paris.
The original 1860 plan included a monumental boulevard leading to Gare du Nord, cutting a path through the maze of ancient streets, but that never was built. It's now projected the Gare du Nord will undergo a major renovation by 2024, maybe for when Paris hosts the Olympic Games. The Mayor of Paris has also made a pledge to fix the perennial traffic jam in front of the station. Every evening, the Gare du Nord's neoclassical exterior is lit up, adding sparkle to the chic & shabby district of Paris.
Where to Eat Nearby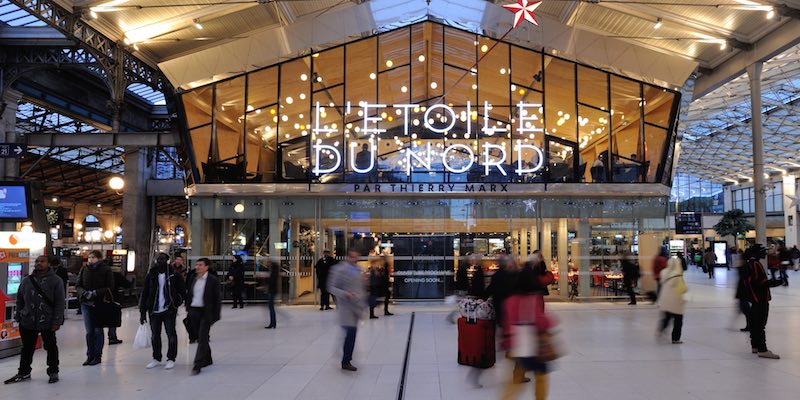 Chez Michel & Chez Casimir
Although the immediate neighborhood tends to be a bit scruffy, you can find good, traditional French food in close vicinity to Gare du Nord. If you have some time before you departure, and it's during the lunch or dinner hour, we recommend Chez Michel or Chez Casimir. They're both a 7-minute walk from the station.
CHEZ MICHEL
10 Rue de Belzunce, 75010
Open Monday to Friday for lunch & dinner
Closed Saturday & Sunday
Telephone: 01 44 53 06 20
CHEZ CASIMIR
6 Rue de Belzunce, 75010
Open 7 Days a Week
Famous for its Sunday brunch
Telephone: 01 48 78 28 80
Terminus Nord Brasserie
A little bit Art Nouveau, a little bit Art Deco, this bustling brasserie has been welcoming diners to the City of Light since 1925. Just steps away (a one minute walk, to be exact) from Gare du Nord, the brasserie serves up fresh oysters from Brittany, seafood platters, smoked Atlantic salmon with blinis and sour cream, plump escargots in garlic butter, authentic bouillabaisse, and all the luscious French desserts you'd expect — baba au rhum, crepes Suzette and profiteroles with Valrhona chocolate sauce. Classic French food aside, you'll be dazzled by the soaring ceilings, chandeliers, stained glass and Mucha decorative mirrors.
23 rue de Dunkerque, 75010
Open 7 Days a Week
L'Etoile du Nord Brasserie
It's a brasserie, it's wine bar, it's a bakery. Michelin-starred chef Thierry Marx (of Sur Mesure fame at the Mandarin Oriental Hotel), has created a food service concept combo right inside the station to give the Gare du Nord's 200 million annual travelers access to good food in a hurry.
La Brasserie's menu brims with flavorful classics like roast chicken with mashed potatoes, beef filet with confit shallots and a daily specials menu: Monday is roasted duck a la orange with braised fennel. We like the airy feel and the bold, modern red and white decor. Le Zinc, the wine bar, serves up good French wine along with quality appetizers like smoked salmon and charcuterie. And if you're in a rush, grab a classic ham, butter & cheese sandwich or pain au raisins from Le Fournil, the bakery.
Gare du Nord Resources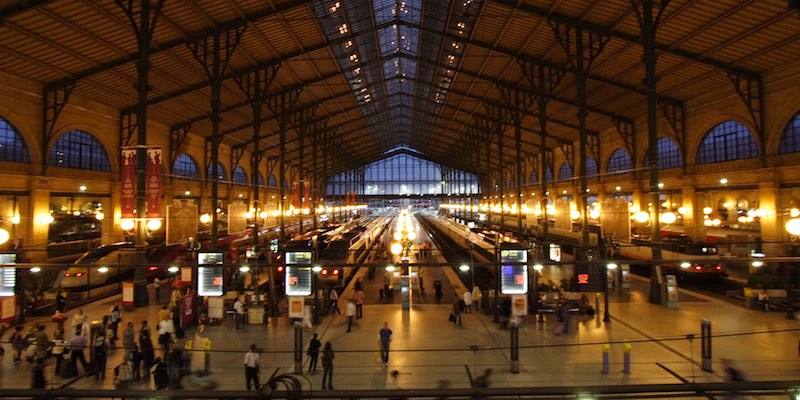 Entrances at 112 Rue de Maubeuge and 18 Rue Dunkerque
10th Arrondissement
Metro Lines 4 & 5
RER Lines B & D