Park Hyatt Vendôme – A Palace in the Heart of Paris
The Park Hyatt Paris Vendôme is truly in the heart of things. Located on historic Rue de la Paix halfway between Place de la Opera (where you'll find Palais Garnier) and Place Vendôme (home of the Ritz Hotel), it's only a two minute walk to either of them. (And we mean two minutes, not like "deux pas", the similar-sounding phrase used by Parisians that can mean anything from five minutes to two kilometers!) If you were to continue your virtual walk another two minutes past Place Vendôme you arrive at Jardin des Tuileries, which borders on the Seine, on the Louvre, and on Place de la Concorde.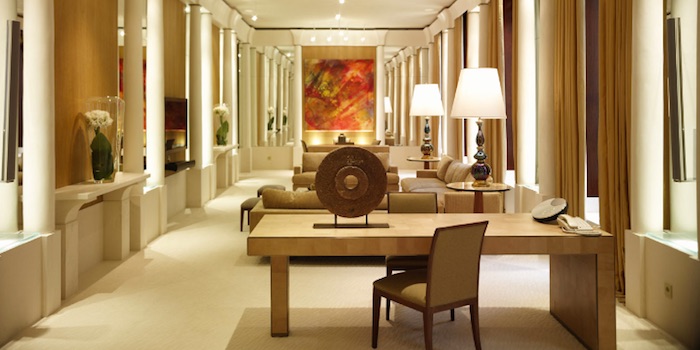 The hotel itself is decorated in soothing neutral tones with a modern use of mahogany and limestone to create a stunning setting. Overall, the Vendôme manifests luxury understated with clean lines, rich colors and a more modern, almost Zen-like, feel than nearby deluxe hotels like the Ritz or the Bristol. Inside, it feels like an oasis of calm, especially after an active day in Paris.

What You Can Expect at Park Hyatt Vendôme
Lots of light since rooms have floor-to-ceiling windows looking out onto Rue de la Paix and the column of Place Vendôme or looking onto the hotel's peaceful courtyard. The Japanese-inspired bathrooms include heated tile floors and rain showers. The room furnishings and details show influences from modernistic lines and classic materials.
Recently, a series of Ambassador Suites were added to the hotel that leave you feeling like you're living in your own luxury Paris apartment. All suites provide a private living area, bedroom and bathroom.
At the Park Hyatt Vendôme there are three restaurants, including the famed Michelin-starred, Le Pur' with Chef Jean-François Rouquette heading up the kitchen. The hotel's large spa — called, unimaginatively, Le Spa — offers a haven of well-being and tranquility devoted to your relaxation.
Park Hyatt Paris Vendôme
Paris Insiders Rating — Superb
5 Rue de la Paix
2nd Arrondissement