Mandarin Oriental Paris –An Asian-Inspired Palace Hotel
"A haven of elegance and understated luxury," is how The Telegraph (UK) described the Mandarin Oriental in Paris, and just looking at the photos will show you what that means. Combining clean Asian design with French luxury sensibilities has produced an oasis of calm and comfort right in the middle of Paris. The hotel occupies a modern Art Deco building arranged around a verdant central courtyard. There is also a rooftop garden with magnificent views of the city.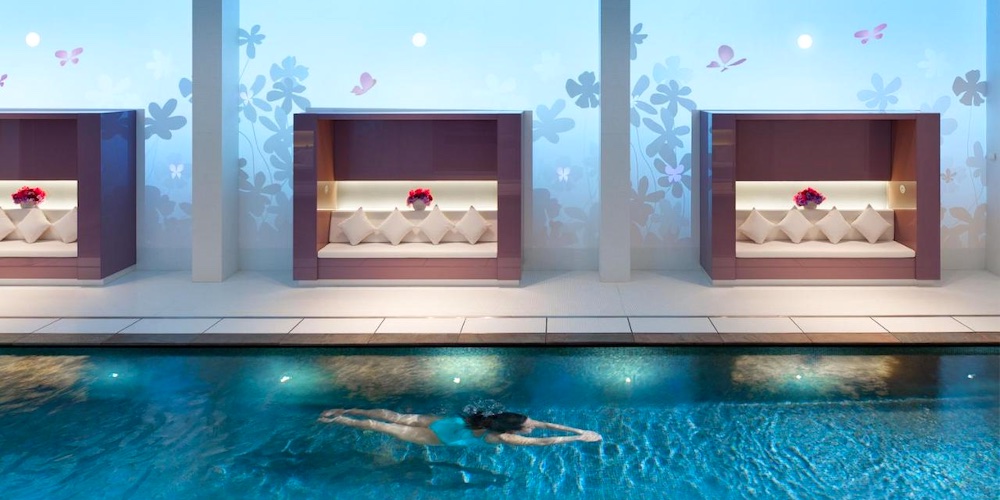 The Mandarin is located on exclusive Rue Saint-Honoré, one of Paris' most prestigious shopping streets, where the hotel is flanked by designer boutiques. The Louvre Museum, Tuileries Garden, Musée d'Orsay, the Seine, and Place de la Concorde are all an easy walk away.

What You Can Expect at Mandarin Oriental Paris
Luxury that makes you want to linger. You may find it difficult to tear yourself away from your perfect room, the pool and the lounges to get out and about in the perfect city just beyond the hotel's doors.
Rooms feature luxe, oversized beds,. warm colours, and lots of clothes storage space Baths are ultimate splendor with sunken tubs, Frette linens and room to move. The in-house Flower Concierge produces arrangements you'll find in your room and throughout the hotel.
"What's the ultimate luxury room?" we hear you ask. How about this — book the entire Penthouse Quartier for the epitome of private luxury in Paris. Three floors, three bedrooms with a private elevator from the lobby. The suites are decorated in gold, white with plum accents and touches of marble, velvet and silk. Original artwork lines the walls and you'll have use of your own private gym.
But at the Mandarin Oriental you don't have to live in the penthouse to enjoy the best Paris has to offer. Every single room has been created to give you what is perhaps the ultimate luxury experience in Paris.
Mandarin Oriental Hotel Paris


Paris Insiders Rating — Highly-Rated-Plus
251 rue Saint-Honoré
1st Arrondissement

Restaurants & Watering Holes
Sur Mesure Par Thierry Marx
The all-white dining room could be intimating to some. To others it's the epitome of French dining with many sublime courses. There are also lunch set menus at a much lower price that feature specialties of Michelin-starred Chef Thierry Marx — one of the most revered chefs in France. Sur Mesure is open for lunch and dinner, Tuesday to Saturday.
Camélia – The Garden Restaurant
The ground floor restaurant is also helmed by Chef Thierry Marx. The centerpiece of the garden restaurant resembles a chic birdcage, crowned by modern, pink lamps. The circular banquette fits six to eight guests but there's also seating in the surrounding garden. There's a Sunday brunch menu. Service is daily from 7:00 am to 11:00 pm.
Bar 8
In the category of James-Bond-sort-of-bars is Bar 8. The room is intimate, with a dramatic bar made from imported Spanish marble as its focal point. Each glass table top is lit with mysterious tiny lights. In the warmer evenings, you can sip outside. We particularly like the J'aime Paris 3.0 with pear liquor, vanilla, champagne, and bitter rhubarb. Feeling peckish? There's a tapas menu from noon to 6:00 pm. Open 11:00 am to midnight, Sunday & Monday, 11:00 am to 2:00 am, Tuesday to Saturday.
>