Le Train Bleu – As Magnificent As When It Was Built In 1901
The year was 1900 and the world was abuzz with the Paris Exposition Universelle. Among its achievements were the brand-new Paris Metro system, the Petit Palais, Pont Alexandre III, the Gare de Lyon, and the train station's Belle Epoque restaurant, Le Le Train Bleu.

Discover What's On When You're Here...
Discover What's On When You're Here
The Blue Train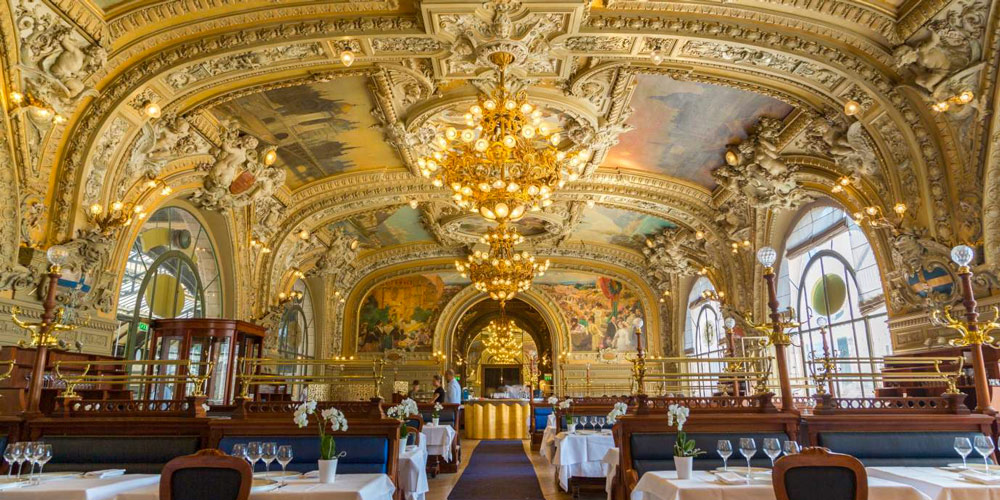 Inside of restaurant Le Train Bleu
Much like the Orient Express, the Mediterranée Express (AKA the Blue Train) was a luxury overnight express train that departed from Gare de Lyon. For more than a century, wealthy passengers took passage on Le Train Bleu, from Calais to the Riviera, seeking warmth and sunshine. And that's where the restaurant at the train station got its name. In 1972, Le Train Bleu restaurant was classified as a Historic Monument of France and, in 2014, it was renovated to restore it to its former glory.

La Belle Epoque & Le Train Bleu
Gare de Lyon in 1900
The planners of the Paris 1900 Universal Exhibition must have wondered what they could to outdo the 1889 Expo, where the Eiffel Tower and the Saint-Lazare train station debuted. Among the answer was the new Gare de Lyon, a vibrant train station in the 12th Arrondissement that would strengthen the Paris-to-the-French-Riviera connection.
The project's architect, Marius Toudoire, also designed the 209-feet tall clocktower and the grand facade of the station itself. The railway company that built and owned the station wanted to include a prestigious restaurant as a symbol of travel, technical innovation, comfort, and luxury. That project was given to Toudoire, who placed the restaurant in the center of the station. Le Train Bleu restaurant was unveiled in 1901 by the President of France.
French Artistry at Le Train Bleu
Sumptuous detailing at Le Train Bleu
Gilding, carvings, moldings, chandeliers, and ceiling frescoes give the restaurant the appearance of a lavish museum of the 1900s. Twenty-seven French artists with pedigrees that included the Prix de Rome worked on the original decor. Forty-one paintings were commissioned from prominent artists of the time — François Flameng, Henri Gervex, Gaston Casimir Saint-Pierre, and René Billotte.
Their paintings featured the cities and landscapes that a traveler would see on one of trains leaving Paris on their way south to Marseille, Monaco, or Nice. Along with the railway sceneries were portraits of actresses Sarah Bernhardt and Gabrielle Réjane, and the author of Cyrano de Bergerac, Edmond Rostand
Over the years celebrities flocked to Le Train Bleu — Coco Chanel, Brigitte Bardot, Jean Cocteau, Colette, and Marcel Pagnol were regulars. Many films have been shot on location at Le Train Bleu including Nikita by Luc Besson, Place Vendôme with Catherine Deneuve, and Filles Uniques by Pierre Jolivet.

The Legend & Lure of Le Train Bleu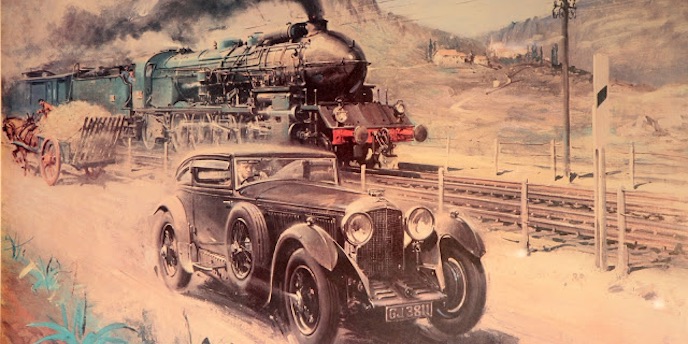 Racing against Le Train Bleu
• "It is as difficult to get a seat for Le Train Bleu as it is to get a seat for the thing itself during the height of the Riviera rush," a reviewer wrote in 1924.
• In 1924, Le Train Bleu (the train) was the inspiration for a ballet by Serge Diaghilev, with a story by Jean Cocteau, choreography by Bronislava Nijinska, costumes by Coco Chanel, and the curtain painted by none other than Pablo Picasso.
• The train was also featured in Agatha Christie's novel, The Mystery of the Blue Train, as well as Georges Simenon's, Mon Ami Maigret. There were even races. In the roaring 1920s, daredevil motorists raced against Le Train Bleu in an attempt to set new speed records.
Le Train Bleu Restaurant Today
A table at Le Train Bleu
Today, you can expect the same level of service and food quality as at the turn of the century, with leg of lamb carved in front of you, steak tartare seasoned at your table, house smoked salmon, and French comfort desserts like baba au rhum or mousse au chocolat. Here are some dishes you might find on the menu —
Le Saumon — Saumon d'Ecosse fumé par nos soins, roulé comme un maki, crème wasabi et citron vert sur une biscotte de pain Poilåne. Which is house-smoked Scottish salmon, rolled like a Japanese maki with wasabi cream and lime, on Poilane toast.
La Coquille Saint-Jacques — Noix de Saint-Jacques et racines hivernales façon wok sous un bouillon a la citronnelle et coriandre. That is to say, scallops cooked in a wok with root vegetables, lemongrass broth and coriander.
La Bouillabaisse et coquillages — Moules et coques, quelques légumes, jus corsé d'une bouillabaisse. Bouillabaisse with shellfish & mussels, vegetables, and a rich fish stock.
L'Oeuf bio — Oeuf parfait, cepes et girolles, mousseline de céleri, jus brun au vin jaune. An organic egg cooked to perfection with porcini & chanterelle mushrooms, with a wine-based jus.
Gigot — Gigot de nos régions roti, servi a la tranche, gratin de pommes de terre à la Fourme d'Ambert. Roast leg of French lamb, served sliced, with potatoes au gratin and Fourme d'Ambert cheese.

Le Train Bleu Resources
Gare de Lyon
12th Arrondissement