Where To Scoop Up The Best Ice Cream in Paris
In France, ice cream is glace or crème glacée and the person who makes it is a glacier or glaciere. It's important to note that Parisians are not used to jumbo-size scoops of fluorescent-colored industrial non-dairy ice product. As with most things in Paris, ice cream is a refined treat, served in delicate portions and is one of the only foods that the French do not eat with a knife and fork. (Although they probably tried.)
We've scoured the Left Bank, the Right Bank, and the Islands for the best, creamiest places in the city. What we discovered was that Berthillon, the legendary ice cream maker on the Île St Louis isn't the only scoop in town — there are beautiful boutiques on both sides of the Seine that are serving classic French flavors — chestnut, salted caramel, Bourbon vanilla — as well as new age tastes like green tea, roasted pineapple, and Sichuan pepper. Allons-y ! Aux glaciers.
Crème Glacée Sur Les Îles
Berthillon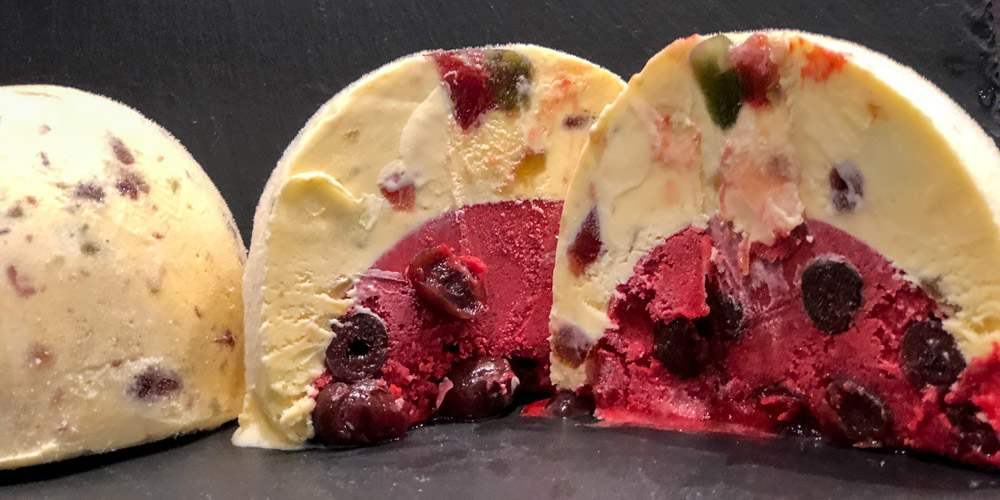 It's the King of Glaces. Sure, you can visit their tea room, but we prefer to go the old-fashioned route and join the outdoor lineup for a scoop. The most famous ice cream in Paris is a family business. The descendants of founder Raymond Berthillon (he died in 2015 at the age of 90) still run the ice cream churn (so to speak). Go for the classic flavors or be daring and order lavender, gingerbread, or praline and pinenuts. 265 gallons (1,000 liters) of freshly-made ice cream are served daily, so don't be surprised if the line is a long one.
29-31 Rue Saint-Louis en l'Ile
4th Arrondissement, Île St Louis
Closed Monday & Tuesday
The Best Ice Cream on the Right Bank
Une Glace à Paris
After many years slaving over a hot stove in the restaurant business, Une Glace à Paris founders Emmanuel Ryon and Olivier Ménard traded in their chef's jackets in for an ice cream churn. These two have serious pedigree. Emmanuel is a Meilleur Ouvrier de France as a glacier and a pastry world-champion winner (Champion du Monde de Pâtisserie). Olivier also has an extensive pastry background with stints with Pierre Hermé and Harrods in London.
Savor a scoop of one of their creamy concoctions. Les milkshakes are made with caramel and vanilla clouds, coconut milk and green tea, or baba au rhum. You can also get fresh fruit frappes made with blackcurrant, raspberry, violet, or citron. We'll meet you here, or at their new location in Montmartre!
15 Rue Sainte-Croix de la Bretonnerie
4th Arrondissement, Marais
À La Mère de Famille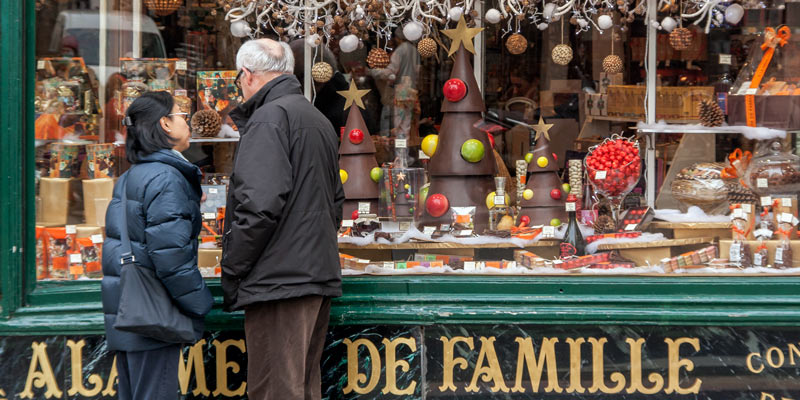 While there is debate on which is the oldest chocolatier in Paris — À La Mère de Famille (1761) or Debauve et Gallais (1759) — there is one area where La Mere excels, and that is ice cream. Try their coffee, caramel, fresh mint, licorice, vanilla, mango or lychee. For the adventuresome gourmand go for black sesame ice cream.
35 Rue du Faubourg Montmartre
9th Arrondissement, Opera
Pierre Hermé's Bar Glacier at the Royal Monceau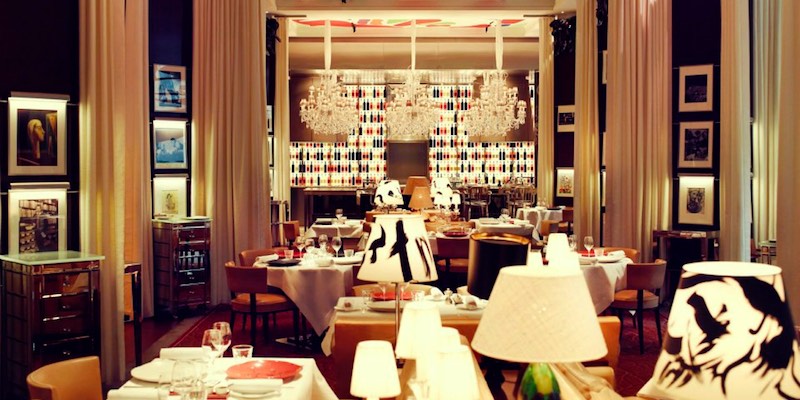 During the summer months, Pierre Hermé opens an ice-cream bar in the inner courtyard of the Royal Monceau hotel. You would imagine that the best pastry chef in the world has ice cream to die for. His creations L'Ispahan — a combination of raspberry sorbet, litchi and rose sorbet — is accompanied by raspberry coulis, litchis, raspberries and whipped cream. The L'infiniment Chocolat is a chocolate ice cream delight with a sweet chocolate cookie and toasted almond flakes. We're hungry!
Royal Monceau Hotel
37 Avenue Hoche
8th Arrondissement
Maison Fabien Foenix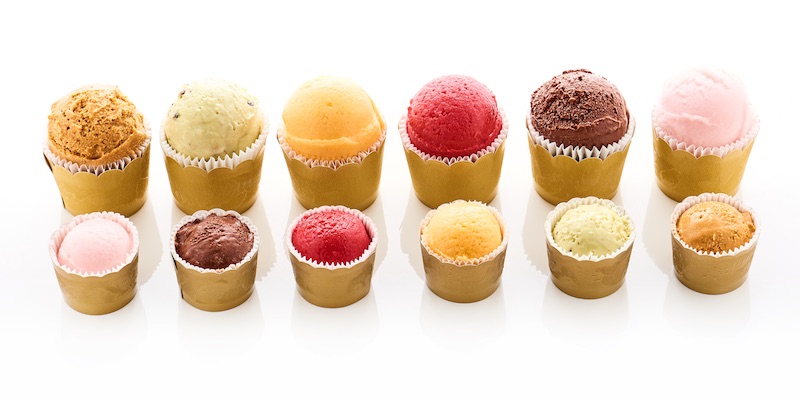 Since 1987, artisan glacier Fabien Foenix has been concocting sorbets and ice cream creations made from the finest ingredients. Fabien is no run-of-the-mill ice cream maker, he has pedigree. Monsieur Foenix was trained at Le Nôtre, the legendary Parisian caterer and cooking school. Parisians in the know flock to his shop in the 17th to taste his confections and his unusual flavors like avocado guacamole, litchi and rose petal, foie gras sorbet, tomato basil, and Mojito.
6 Rue Descombes
17th Arrondissement
Ice Cream on the Left Bank
Martine Lambert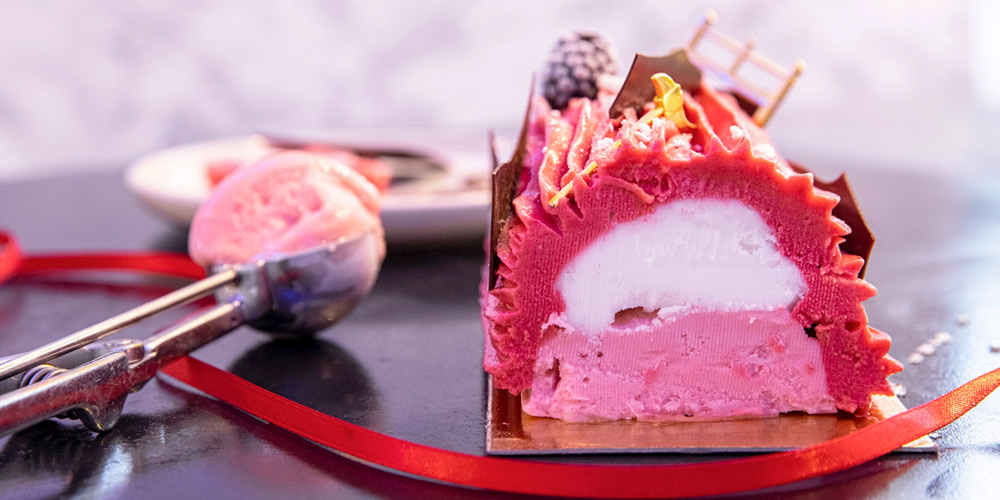 For more than 20 years, Martine Lambert has been treating gourmands to creamy ice creams with surprising flavors like rice pudding-apple-cinnamon, and Sichuan pepper-truffled chocolate. Her secret? The milk and cream are delivered directly from Normandy to the shop on Rue Cler, the famed market street in the 7th Arrondissement. We like their slogan — "Passion is a renewable energy."
39 Rue Cler
7th Arrondissement
Bac à Glaces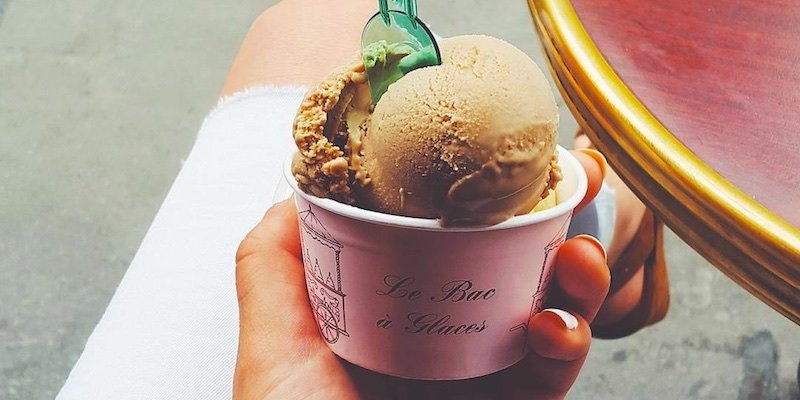 Here's a hidden gem very near to the Bon Marche department store. Owner Sylvain Yoël was a student in 1981 when his grandfather died suddenly, leaving the family ice cream shop without a leader. Sylvain left school and took over the ice cream churn. Since then, he's been creating luscious, natural ice cream and frozen treats.
Bac à Glaces claim to fame
is having sixty original recipes. We haven't tried them all yet, but here's a sampling of what to expect — salted caramel,
confiture de lait
, coffee with flecks of ground beans, caramel with nougatine, chestnut, hazelnut, pistachio, Bourbon vanilla, and our favorite, prune.
109 Rue du Bac
7th Arrondissement
Partout – Everywhere
Amorino
You could think of Amorino as the Starbucks of gelato. Childhood friends Cristiano Sereni and Paolo Benassi had a dream of bringing authentic, daily-churned Italian gelato to a wider audience. They now have multiple locations throughout Paris, Europe, and a few in the USA.
In Paris their popular gelato can be found in train stations like Gare de Lyon, in parks such as Jardin des Tuileries, and a cluster of shops are found in the Latin Quarter, Rue Cler, the Marais, Rue Commerce, and St Germain. They offer all the traditional flavors you'd expect as well as new-age flavors like organic green detox sorbet.