Eat • Drink • Paris – Top Tips to Get Inside Parisian Culinary Culture
Paris is a gourmet capital — food and wine are vital parts of French culture. But as a visitor it can seem difficult to experience the bounty like a vrai Parisien. First of all, there's the language barrier and second, sometimes small Paris stores can seem just a bit… intimidating to first-time visitors. N'aie pas peur — don't be afraid.
To discover the best of the famous French foods it's good to be adventurous. Here are some ways to get inside the culinary culture of Paris.

1. Don't Be Intimidated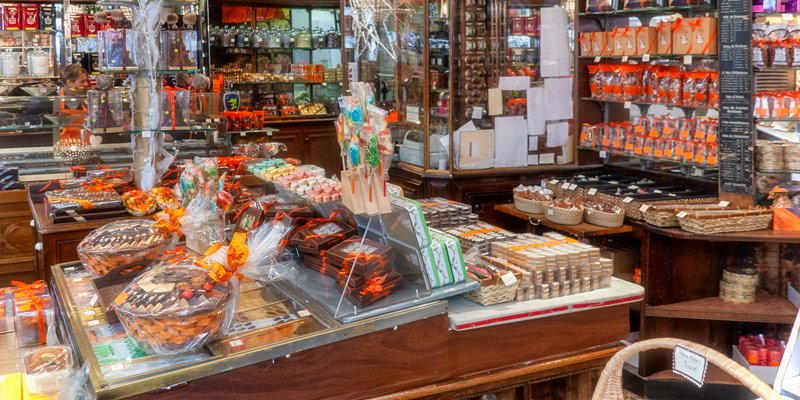 À la Mere de Famille, vintage pâtisserie sec & chocolatier in the 9th, photo by Mark Craft
Entering a Paris food shop, especially a small one, might seem intimidating at first. But just remember the golden rule of French shopping — always say "bonjour" as you enter and "merci, au revoir" when you leave. If you're asked what you're looking for, just say "Je regarde" — I'm just looking. Once your intention is known, take your time to explore the shelves and displays.

2. Le Fromage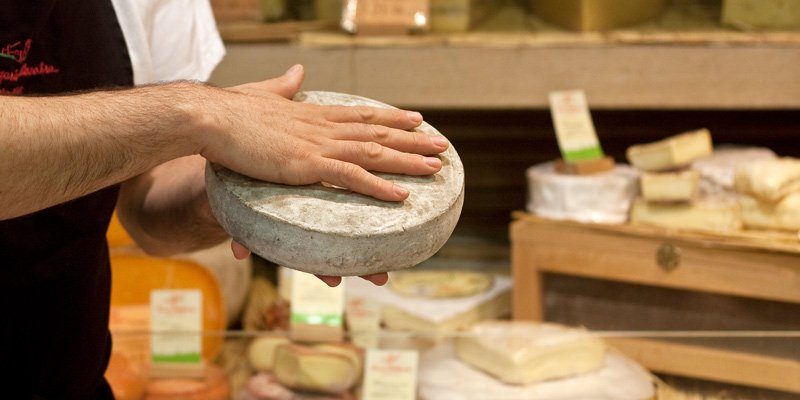 Parisian fromagerie in Belleville, photo by Mark Craft
There are more than two hundred independent cheese shops in Paris— the country's love affair with this famous uber French food knows no boundaries. It was Charles de Gaulle who said it was impossible to govern a country with four hundred types of cheese. Well, today there are something like a thousand different cheeses in France, due to the interest in artisanal foods.
So you'll need to take your time when you visit a fromagerie. Don't be afraid to ask questions or to ask for a sample. Then pick a few different varieties — Comté, Brie de Meaux, and Camembert are top favorites. If you're feeling bold try a rich époisses, a zesty Roquefort, or a classic Crottin de Chavignal made with goat's milk.
3. Le Beurre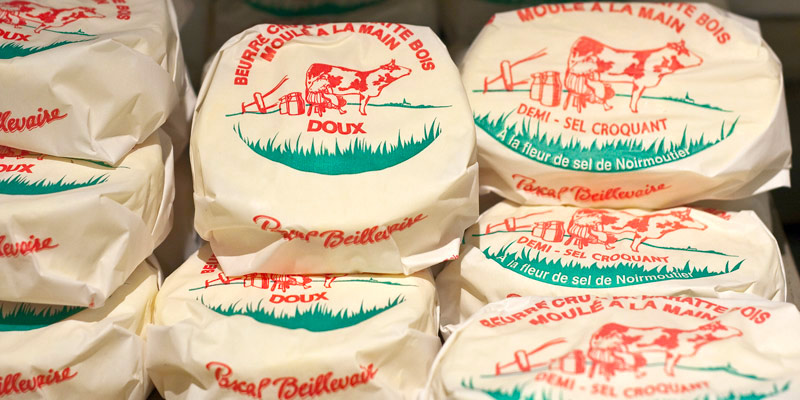 Doux & demi-sell butter at the fromagerie, photo by Mark Craft
At eight kilograms per person, the French are hands down the biggest butter eaters in the world. Even at le supermarché there is a head-spinning selection: unsalted, lightly salted, fully salted, AOC-listed, grass-fed — you might find a dozen different types. One of the most coveted hails from Normandy, a creamy concoction made from fresh unpasteurized milk, called beurre cru. You can buy specialty butters in both supermarchés and fromageries.
BUTTER TIP
French butter has a higher fat content than you may be used to — that's why it tastes better !

4. La Baguette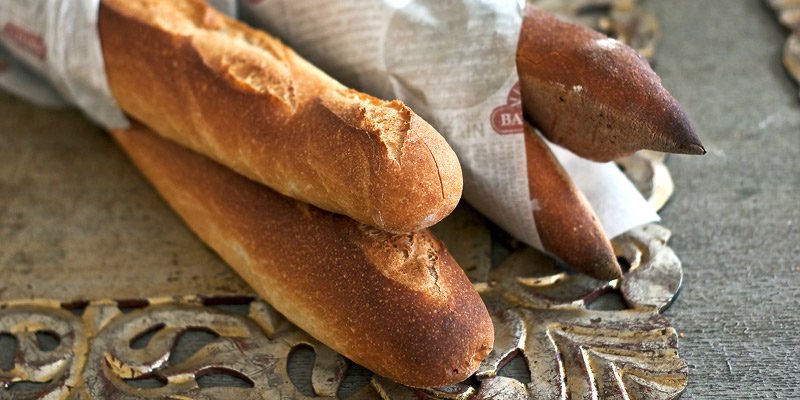 Prize-winning Parisian baguettes, photo by Mark Craft
The unofficial national symbol of France, the baguette unites the country and the culture. The French — every man, woman, and child of them — manage to eat an entire baguette every day. A meal without a baguette is unimaginable. But they have to be fresh — the best-before lifespan of a baguette is only six hours. But that's not a problem since boulangeries churn out fresh baguettes all day long. To get the real thing, look for "Artisan Boulanger" on the shop's signage. This means that the bread is baked on the premises.
BAGUETTE TIPS
Parisians judge a baguette by color and texture — the crust should crackle to the touch and the interior (called mie) should have lots of elasticity and irregular holes. Ask for baguette tradition or baguette de campagne — made on the premises, hand-formed, and often made with a sourdough starter.
5. Le Chocolat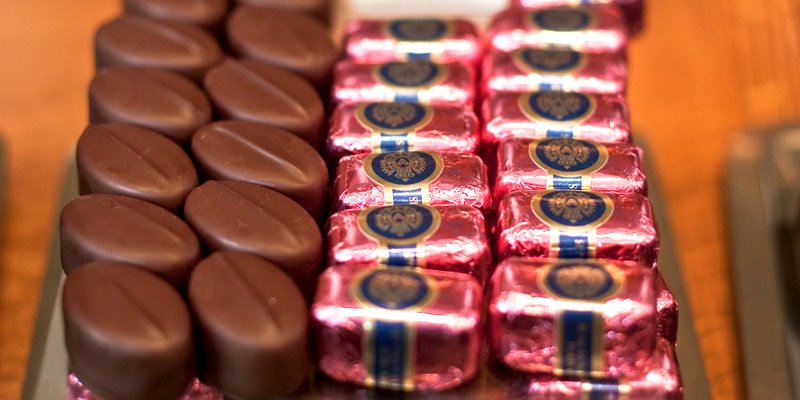 Chocolates at Debauve & Gallais in the 6th, photo by Mark Craft
In France, chocolate is an art form, a national obsession, and there are artisan chocolate shops throughout Paris. Look for praline (roasted almonds and hazelnuts) ganache (chocolate with cream, butter or milk), nougatine (a mixture of milk, sugar and butter), and pate d'amandes (ground almonds with sugar).

6. Les Huitres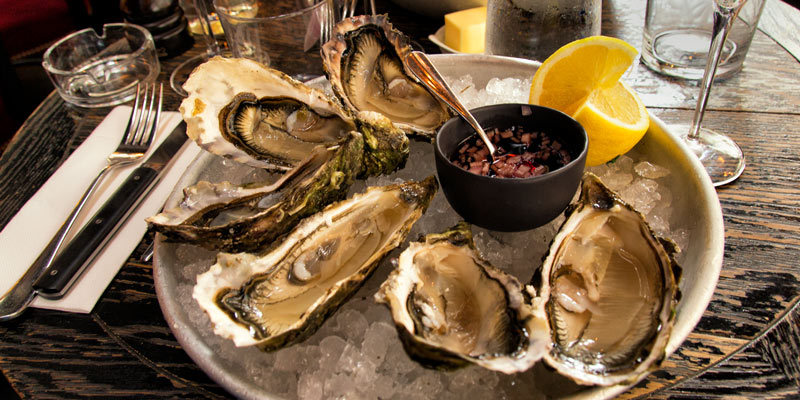 Oysters at restaurant L'Escargot in the 2nd, photo by Mark Craft
France produces over 150,000 metric tonnes of fresh oysters each year. (That's 287 million pounds, over four pounds for every man, woman, and child.) Les Français eat 90% of the production by themselves, although we try to do our part when we're there during oyster season. Along with foie gras and caviar, oysters define the essence of the good life in Paris. Order platters of fresh oysters, cracked open and served on a bed of ice with seaweed garnish, and with it, a crisp Sancerre white wine.
OYSTER TIPS
Many Paris restaurants, bistros, and brasseries will have an outdoor seafood display manned by an oyster shucker. Step inside to order une douzaine ou deux (a dozen or two).
7. Epic Gourmet Halls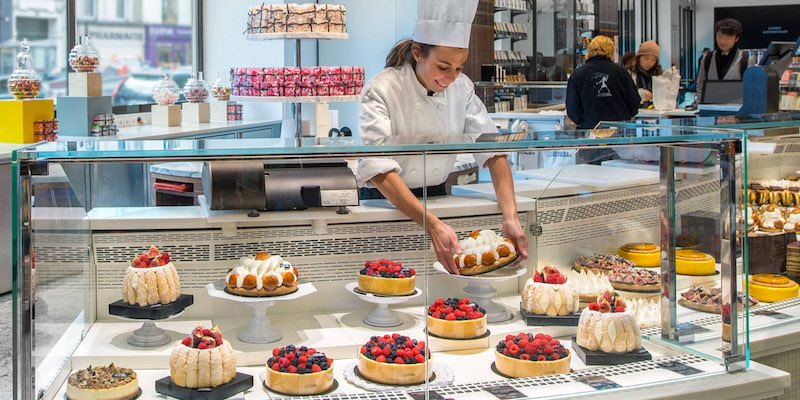 Pastries at La Grande Epicerie de Paris
Paris is home to several gourmet grocery stores that warrant a special visit. La Grande Epicerie de Paris is found next to Le Bon Marché on the Left Bank and features a mouth-watering array of specialty chocolates, fleur de sel, olive oils, mustards, cheese, baked goods, fresh produce, fresh seafood, and a half dozen cafes and restaurants. This is the place to stock up on gifts for friends or to complete your culinary cupboard.
On the Right Bank another of the grands magasins (the big department stores), Galeries Lafayette, also has a large, gourmet food section covering two floors.
For decades there were two other gourmet specialists on the Right Bank, both found on Place de la Madeleine. Hediard closed its store there for renovation almost a decade ago and nothing's been heard of them since.
Sadly, during the pandemic lockdown of 2020, Paris gourmet food icon Fauchon closed its doors for good at its two Place de la Madeleine locations. However, at the same time the Fauchon cafe and luxury hotel opened on the opposite corner of Place de la Madeleine.

8. And the Drink?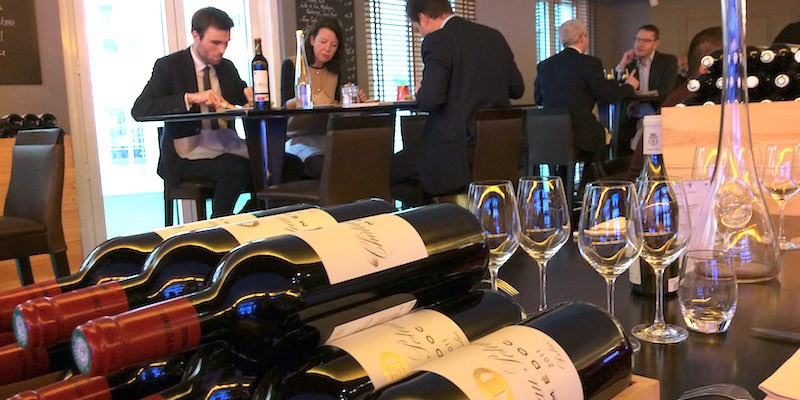 Not only are the wines of France the best in the world, you can find them for sale in every bodega, grocery store, supermarché, and epic gourmet hall. One of the best places to procure wine in Paris is at the biggest wine store of them all — Lavinia. Three floors of wines of the world, expert help (English-speaking sommeliers), and a café on the second level where you can order glasses of wine for as little as three euros.
Eat. Drink. Paris. Resources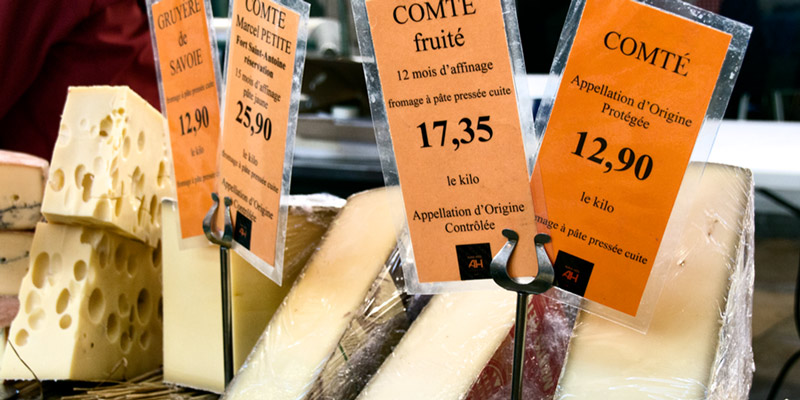 Wherever you go in Paris you will discover that delicious food isn't just for special occasions and doesn't always come with a luxury price tag. The best food in Paris is everyday eating, everyday cooking, and everyday pleasure.
Boulangeries
Every quartier, in fact practically every corner, has one or two good-quality boulangeries, although you may have to try two or three to find the very best one. So shop locally! Every year in Paris there is an open competition for the best baguettes in the city. Here are recent bread winners — good places to start your search.
Boulangerie Leroy-Monti, 203 Avenue Daumesnil 75012
Aux Deux Anges, 23 Rue Daval 75011
Paris & Co Écoles, 4 bis Rue des Écoles 75005
Le Délice de Bagnolet, 42 Boulevard Mortier 75020
Tout Autour de Paris, 134 Rue de Turenne 75003
Boulangerie Faubourg Saint-Charles, 134 Rue Saint-Charles 75015
Boulangerie Line, 235 Rue de Bercy 75012
Alexine, 109 Avenue de Saint-Ouen 75017
Maison Lardeux, 63 Rue Caulaincourt 75018
Comyn, 8 Avenue Félix Faure 75015


Fromageries
Barthélemy, 51 Rue de Grenelle, 75007
Alleosse, 13 Rue Poncelet, 75017
Marie Cantin, 12 Rue Champ de Mars, 75007
La Fromagerie, 25 Rue d'Aligre, 750012
Beillevaire, 140 Rue de Belleville, 75020
Chocolatiers
À la Mere de Famille, 33 Rue du Faubourg, 75009
Michel Cluizel, 201 Rue St. Honoré, 75001
Josephine Vannier, 4 Rue Pas de la Mule, 75003
Jacques Genin, 133 Rue de Turenne, 75003
Michel Chaudun, 149 Rue de l'Université, 75007
Epic Food Halls
La Grande Epicerie de Paris, 28 Rue de Sevres, 75008
Beauvau Covered Market at Rue d'Aligre, 75012
The Drink
Lavinia, 3 Boulevard de la Madeleine, 75001
Le Repaire de Bacchus — wine stores throughout Paris