The Top 4 Disneyland Paris Hotels For Kids & Parents
The Happiest Place Sur La Terre ! Just outside of Paris is a place that's a center of family fun. Disneyland Paris is close enough that you can visit on a day trip, but we recommend you make it easier and more relaxing by staying a couple of nights at a nearby hotel. Arrive in the later afternoon the day before you start your Disneyland adventure, then stay one more night on the day your visit ends.
We like hotels that offer things like free shuttles, swimming pools, and cool stuff for kids. The Disneyland Paris hotels we recommend are located either inside the park, just outside the park, or in nearby Marne-la-Vallée, a suburb of of Paris. It's easy to use the Paris urban-area train system, RER Line A to get you directly to Marne-la-Vallée and your Disneyland hotel. Paris Metro lines make it easy to connect with RER Line A.
More Disneyland Information

Radisson Blu Hotel
The Radisson Blu is located on the park golf course, and it's a beautiful setting. The hotel has been renovated recently and the rooms are modern with lovely views. All have flat-screen TVs and free high-speed Internet. This hotel isn't just for kids, either — there's a health club and spa with full massage and beauty services.
There are several nice dining choices: the breakfast buffet at Restaurant Birdie, the Pamplemousse for fine French cuisine, and the Chardon Bar for light snacks. Best of all, the hotel runs a free shuttle service to take you directly to the Disneyland park.
Marriott's Village d'Ile-de-France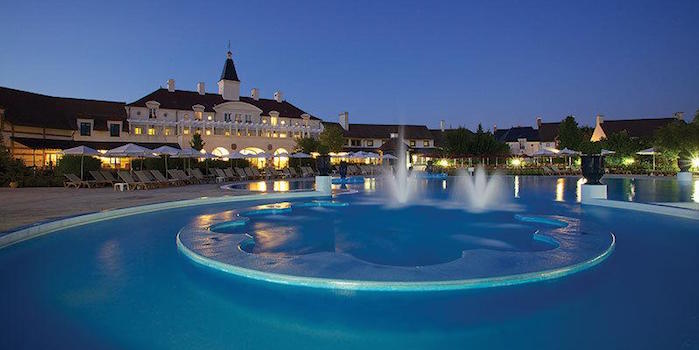 This is the only resort at Disneyland Paris that gets a solid "Superb" rating from travelers, and from us!
It's laid out like a French village, complete with 2- and 3-bedroom mini-villas with full kitchens. There's both an indoor pool and a seasonal outdoor pool. Also located next to the golf course, there are activities for at least one parent while the kids are at Disneyland!
Dream Castle Hotel at Disneyland Paris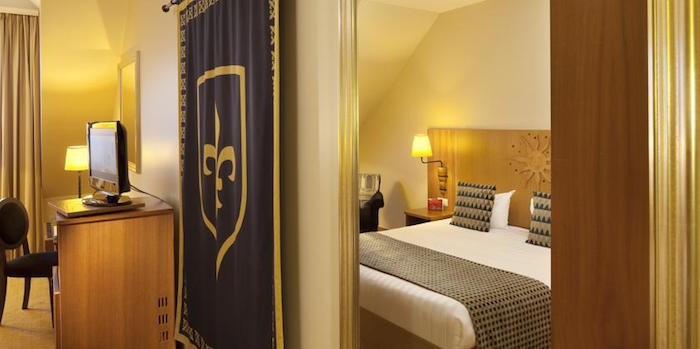 Surrounded by a lake and gardens, the Dream Castle hotel is decorated in the style of a Musketeer Castle, the guest rooms and suites are equipped with the usual: cable TV, Internet access and a mini-refrigerator.
The hotel's restaurant, Sans Souci serves a full American buffet breakfast and the Musketeer restaurant is open every evening for classic French food.
After a busy day at Disneyland, you can relax in the Dream Castle Spa, which has a heated indoor swimming pool, sauna, jacuzzi, fitness room, and beauty treatments. There are free 10-minute shuttle rides to the park and to the Marne-la-Vallée TGV train station, which has direct connections to Paris and Charles de Gaulle Airport.
Magic Circus Hotel
If you have kids (and why else would you be at Disneyland?) this circus-themed hotel is a fun place to stay. Each room has all the usual amenities as well as a view of the park or the lake. Located just 10 minutes from the Disneyland itself, the hotel offers a free shuttle service to get you back and forth.