Arc de Triomphe du Carrousel – The Other Arch In Paris
Napoleon had two triumphal arches designed in 1806. One, the Arc de Triomphe de l'Étoile, is a world-famous monument and one of the icons of Paris. The other, the Arc de Triomphe du Carrousel, too often goes relatively unnoticed by visitors.
Although the story of Arc de Triomphe du Carrousel starts with Napoleon (doesn't almost everything in modern Paris?), the history of the Place du Carrousel goes back centuries earlier. Bonaparte was never one to be modest about his military achievements, so he decided he would flank both ends of the Axe Historique with monuments to his victories.

Arc de Triomphe du Carrousel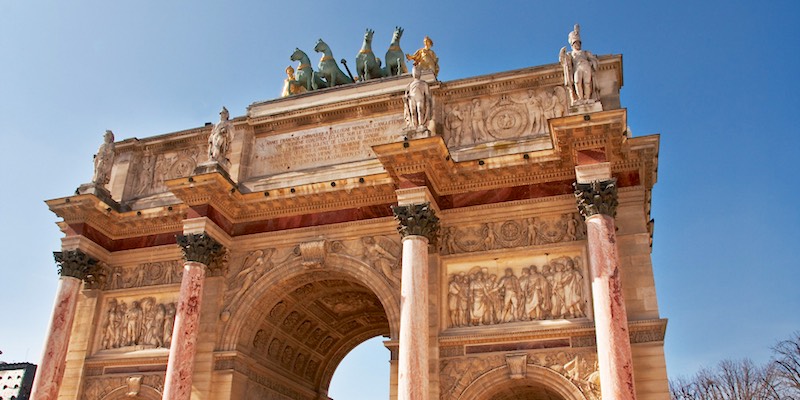 The imaginary "historical axis of Paris" starts in the center of the Louvre and runs west through the Tuileries Gardens, through the Place de la Concorde, along the middle of Avenue des Champs-Elysées, and into the center of the Place de l'Étoile, today also known as Place Charles de Gaulle.
Napoleon ordered his two arches to be built straddling this imaginary line and so the Axe Historique runs directly beneath the Carrousel Triumphal Arch. (In modern times, this historical axis has been extended beyond the Place de l'Étoile to continue down Avenue de la Grand Armée and onward, across the Seine, and through the middle of that grandest of arches, the, um…Grande Arche de la Défense.)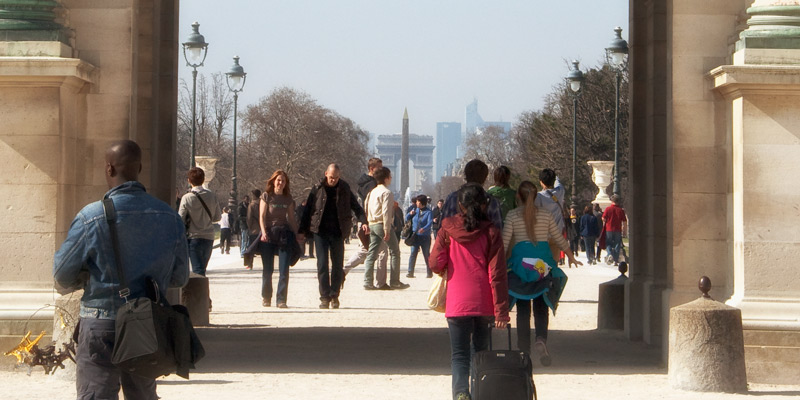 Back to the Arc de Triomphe du Carrousel… The reliefs on this arch show Napoleon's victories at the beginning of the 19th century and the horses sculptured on top are copied from St Mark's Basilica in Venice.
The area where the arch sits is called the Place du Carrousel, located between the Louvre and the Tuileries Gardens, although it's unrecognizable as a separate square these days. However, there used to be a palace here that fronted on the Place: the Tuileries Palace.
The Palais des Tuileries was started way back in 1564 and housed various Louis (XIV, XV, etc) during its time. In fact, it was the last home of the ill-fated Louis XVI until his execution during the French Revolution. But, like the Hotel de Ville Paris (the City Hall), the palace was burned by a mob during the Commune of 1871, never to be rebuilt.