Discover The Best Burgundy Accommodations – 4 French Wine Country Hotels
Visiting Burgundy (Bourgogne, in French) is about wine and food, of course, but it's also about vineyard walks, cycling, shopping, even cruising the canals! Elsewhere we tell you how you to arrange for a VIP Burgundy wine tour as a day trip from Paris by catching the TGV high-speed train. But if you want to stay longer, to really enjoy the great things that Burgundy has to offer, you're going to need a place to stay.
If your stay is going to be for a day or two or three of four, book a hotel — we share our favorite Burgundy hotels below, in and around the city of Beaune, the charming center of Burgundy wine country. To get a feeling for the French wine country, you might want to book into a hotel in one of the smaller villages near Beaune, or even in the country.

The Top Burgundy Hotels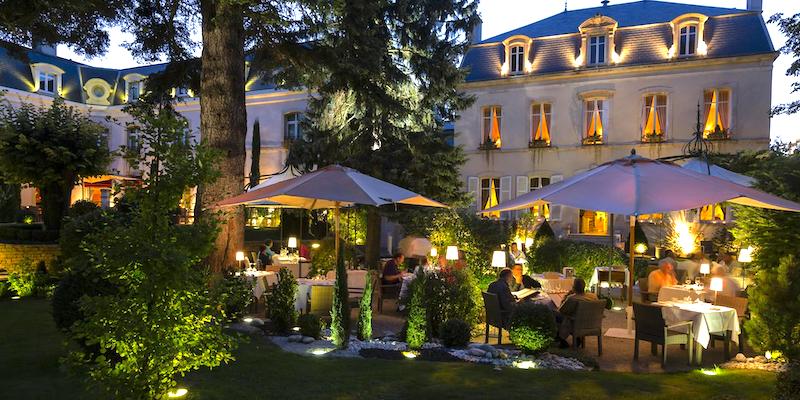 In the center of Beaune our favorite hotel has got to be the five-star Hostellerie Le Cèdre, set in a 15th century building and featuring a garden with 100-year-old trees where you can have your breakfast. It's located just on the edge of the old city walls and is only about 5-minute walk to the historic center with shopping, restaurants, wineries, and the bustling Saturday market.
How Our Ratings Work
Superb Plus = 93%+ Travelers Rating
Superb = 88%+ Travelers Rating
Highly Rated Plus = 85%+ Travelers Rating
Highly Rated = 80%+ Travelers Rating

Our Rating — Highly-Rated-Plus
• 10 Boulevard Marechal Foch
• Beaune
In the beautiful & perfect town of Meursault, about 15 minutes southwest of Beaune, you'll find La Cueillette, a hotel and spa located in the Chateau de Cîteaux on the edge of the town. It's a member of the Hotels & Chateaux Collection and that shows in its opulent details, nice swimming pool, and a fantastic location among vineyards. There's easy parking and it's a nice stroll into Meursault to visit wineries or pick up some supplies. It doesn't get any more peaceful than this.
Our Rating — Highly-Rated-Plus
• Château de Cîteaux, 18 Rue de Cîteaux,
• Meursault
Our highest-rated Burgundy hotel gets you out of town and into the country of wine-growing region Aloxe-Corton. Everything about the Villa Puycousin is wine-country-lovely — from the setting to the suites to the bar to the indoor swimming pool. The big bonus, of course, is that you're in the middle of the vineyards of the best white wines in the world!
Our Rating — Superb-Plus
• 9 Rue Franche
• Aloxe-Corton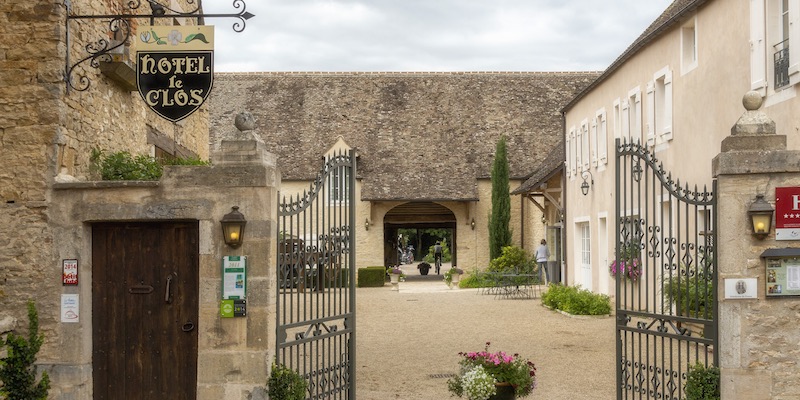 We happened upon Hôtel Le Clos one day while out for a drive — its charming exterior spoke to us, so we checked in. An eight-minute drive south(ish) of Beaune gets you to this French country inn with a French country feel. It's not glamorous but it is cute and it is friendly and provides a calm respite after a day of driving and drinking (we mean, of course, wine tasting). We loved it. There are cows grazing in the neighboring field.
Our Rating — Superb
• 22 Rue des Gravières
• Montagny-lès-Beaune