Insiders Fashion Guide – What To Wear In Paris
"What should I wear in Paris?" — This is one of the most frequent questions we hear. And it's a good question, since Paris is a fashion capital and you'll want to try to look good while being comfortable as you explore the city, visit museums, dine in restaurants, or shop in chic stores.
So, we rose to the challenge. Here we've collected our very best Paris fashion tips to help you look and feel like you belong — and not feel like a tourist. There's nothing like the experience of being mistaken for a Parisienne as you're walking down the street. And that's not as rare as you might think, if you walk with confidence while wearing clothes suited for the city known for its style.

The Paris Seasons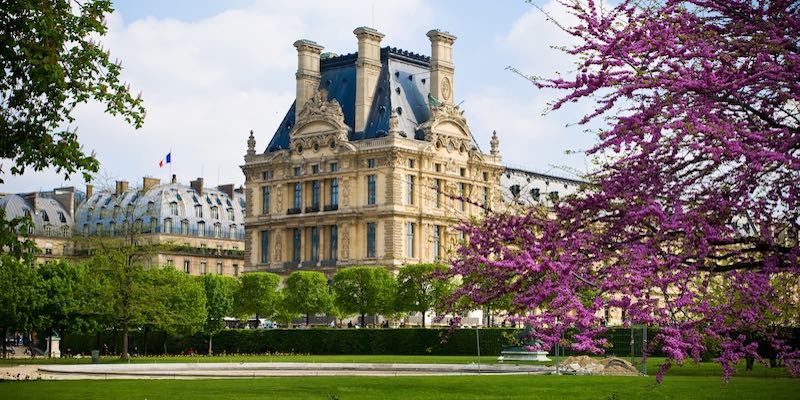 Much of your Paris wardrobe, like scarves, simple dresses and cashmere sweaters, will be good for any season, and any time you visit Paris. But there are other essential seasonal items you'll need to pack, depending on the time of year you visit the City of Fashion. So, before you pack, take a little bit of time to read our seasonal guides.
What to Wear Essentials
Cashmere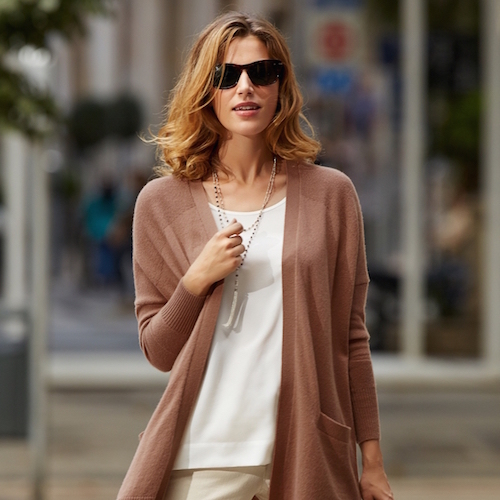 French women (and men) generally shop for quality over quantity.
That's why you'll see a lot of cashmere in Paris. Cashmere is soft, comfortable and always looks great. A cashmere sweater is a fashion essential in any season in Paris.
Think simplicity when choosing a a cashmere sweater: V-neck or turtlenecks are a good option. At our favorite source for quality cashmere there's free shipping and often a great sale!

The Black Dress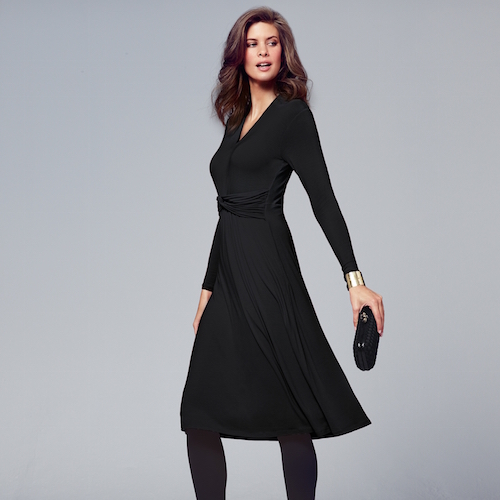 Once you find a simple black dress you'll be well on your way to completing your What to Wear in Paris wardrobe.
Make sure the dress is versatile, one you can wear to dinner, yet still casual enough to wear underneath your trench coat or under a pashmina.
"Black" doesn't always mean black, if you know what we mean. A simple solid-color dress of the trending color is always appropriate. Our top choices are simple and elegant dresses.

A Simple Scarf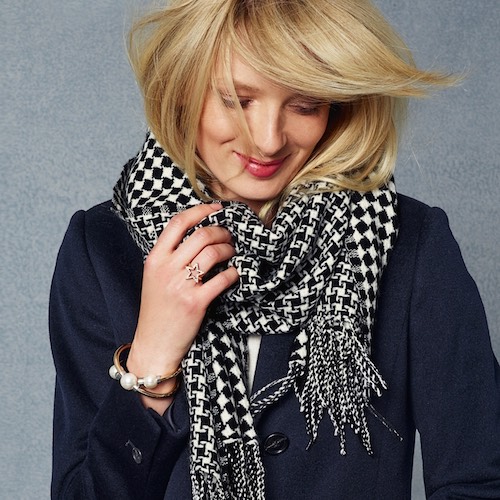 The first thing you'll notice when you hit Charles de Gaulle Airport are the scarves! Men, women and children wear them in Paris in winter, spring, summer and fall.
We want you to look (and feel!) like a Paris Insider, not like a tourist. So we highly recommend packing a scarf or two, whatever the season. You probably will end up buying some in Paris, but it's better to come prepared. So, here's where we like to shop online for beautifully-made scarves —

Denim & Stylish Pants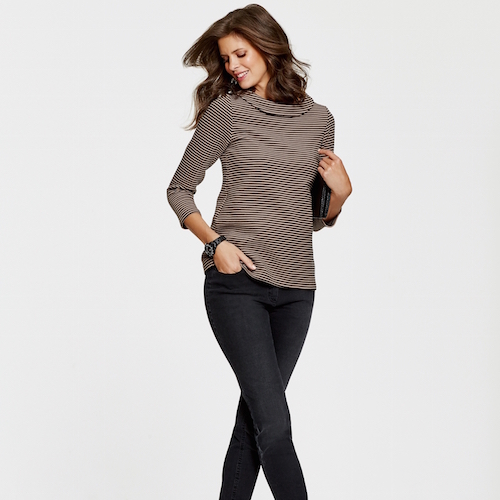 The French have fallen hard for denim. That's right, what started out as rugged miners' gear is now high fashion on the streets of Paris.
So, the good news is you can wear your jeans in Paris, but not your runners! Make sure you uphold the Paris Insiders Ideal by only wearing jeans that are stylish. No rips or fades or saggy bottoms.
Throw your soccer-mom jeans in the poubelle (garbage can) before you leave home. In fact, do it right now!

Comfortable Yet Stylish Shoes & Boots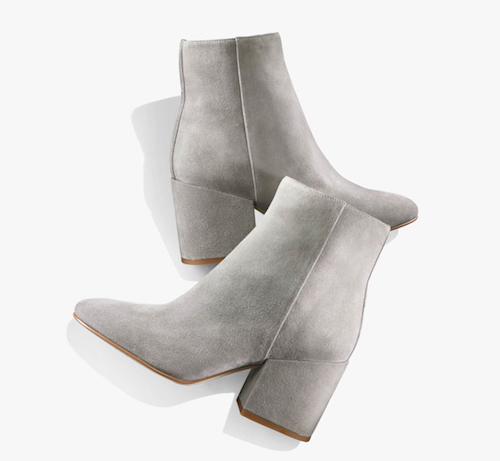 You don't have to sacrifice beauty for comfort.
While you won't want to walk around the city all day in high heels, you will notice all the stunning flat shoes that women wear in Paris. Maneuvering stairs, gravel pathways and cobblestones demands shoes with some structure.
In winter, you'll want to wear boots, but stylish ones. And, to say it again, in Paris, running shoes are simply not an option!

And Don't Forget About…
Hair & Make-up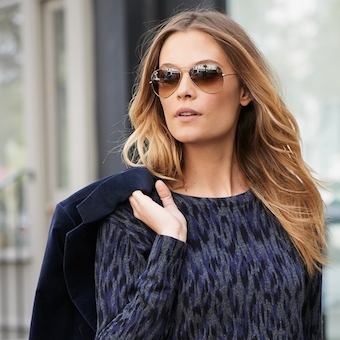 French women are famous for their au naturel look. They wear makeup to look like they don't wear any. With makeup at least, less is more.
Parisiennes tend to wear their hair in soft, natural styles to accentuate the overall effect. And they have their hair done often — the city seems to have a couple of coiffures (hair salons) on every block.
Something we recommend, if you want to treat yourself in Paris, is to pop into a coiffure near your hotel (or even on your adventures in the city) for le brushing (blow-out) or une coupe. Most salons in Paris do not require an appointment.
Paris Fashion for Men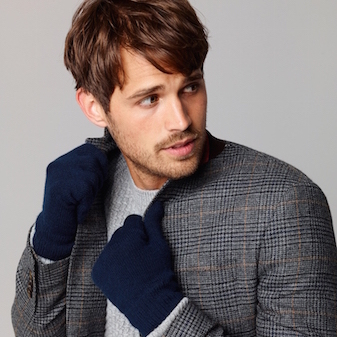 In Paris men dress up. Even young men can be seen in slim-cut dark suits, and shiny black shoes. Even when they're just going out to get groceries.
They all wear scarves and seem to know how to knot them expertly. This doesn't mean that men have to wear suits. Choose casual wear — tweed jackets, corduroy trousers or heavy-knit sweaters. Stylish jeans are seen everywhere. And if you're planning to go to any high-end Paris restaurants you will definitely need a jacket or sport coat.
Pare Your Paris Wardrobe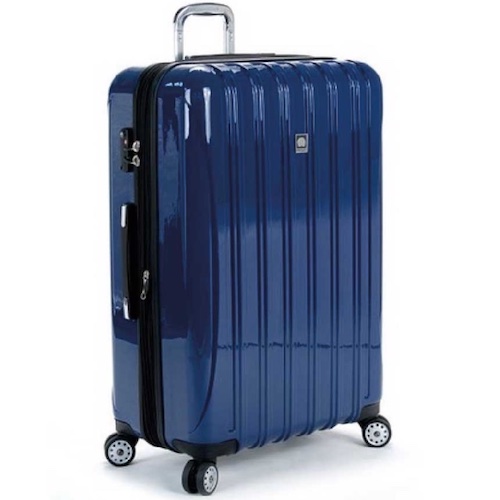 It's easy to pack too much. A few essential pieces will carry you from going out to dinner, to visiting museums, to long city walks. You'll discover that you wear the same outfit, much like a uniform, but make it look and feel different with a few accessories.
For women, this means three tops plus a sweater and two bottoms — one pair of jeans or pants, and one skirt. One dress will do. For footwear, limit yourself to three pairs. Remember, you'll probably want to shop when you're in Paris, so make sure you leave room in your suitcase.
Speaking of suitcases, does yours need replacing? What with airline baggage weight limits, it pays to to make sure the suitcase itself weighs as little as possible. And we love the new super-light options — in fact, we've just replaced our own luggage. (We went with the Delsey Helium Aero, in blue.) Take a look at the new generation of suitcases.
Season by Season
Printemps
Springtime in Paris
Spring weather can be unpredictable — you'll need a stylish trench coat, a warm sweater for layering and water resistant shoes (not suede, for instance). Either throw a travel umbrella in your suitcase or plan to pick up an inexpensive one in Paris.
Éte
When it sizzles
Paris in the summer can sizzle, so you'll want to pack summer skirts and dresses. Grown-ups in Paris don't wear shorts. Period. If you want to fit in, leave the shorts at home. For men, light-weight khaki trousers will do or, of course, linen pants.
Automne
When leaves are falling
Fall in Paris can be warm right into October but, much like springtime, it can be unpredictable. You'll need to packs clothes to layer, as well as that stylish trench coat and an umbrella.
Hiver
When it drizzles
Paris winters range from moderate to downright cold! You will need a warm, winter coat (for when the temperature drops down to freezing), boots, scarves and gloves.
But you don't have to dress for the arctic! Think stylish black boots, a long wool coat and more scarves. In winter, your coat and boots will become your official uniform, so you can reduce the number of pants, sweaters and shoes.

What Not To Wear In Paris – In Any Season
Just as there are some definite ouis in Paris fashion, there are a few nons-nons you should be aware of. Here's our hit list —
sweatshirts & sweat pants
baggy jeans
T-shirts or any clothing with logos on them
fleece (please no fleece!)
fanny packs
ugly nylon backpacks
Tilly hats — you're not on safari
sportswear (either nylon or fuzzy)
yoga pants
runners
puffy nylon coats
hiking boots
short pants if you're more than 10 years old