What To Wear In Paris – 20 Stylish Tips For The City Of Fashion
What to wear in Paris? Much has been written about this fashion dilemma, and a lot has changed in the last decade. Once upon a time in Paris, jeans and running shoes were not worn by stylish women. Today, jeans are a staple in Paris along with chic athletic shoes. Let's explore how styles have changed in Paris and, more importantly, what to wear on your next visit to Paris. Feel like you're an insider, not like a tourist.

Discover What's On When You're Here...
Discover What's On When You're Here
Plus Ça Change…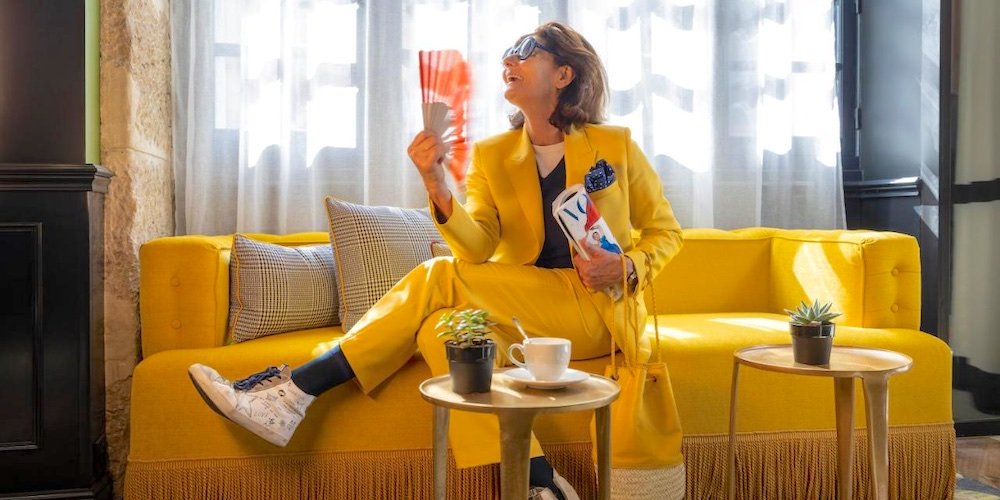 Fun & Fashionable at Hotel Louis II
Fashions may have changed, but one thing remains the same — Parisiennes like to dress well. Their je ne sais quoi approach to fashion is the reason their style is so much admired. It hits you as you stroll the city streets.
In general, French women wear less color, fewer prints, and less makeup than their North American sisters. (obviously, there are exceptions, such as in the photo above.) Conversely, French men tend to wear a bit more color than their North American frères. Don't be surprised to see Frenchmen wearing jeans in all the colors of the rainbow.
Learn from our decades of traveling to Paris and follow these twenty tips when packing for your upcoming visit to the City of Fashion. You'll be rewarded by looking and feeling your best.
20 Essential Tips – What to Wear in Paris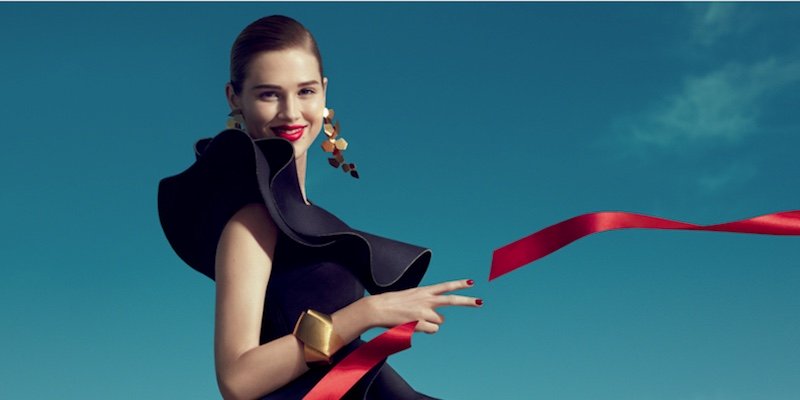 Air France style
1. Dress Well – All the Time
It starts at the airport. Instead of wearing yoga pants and a sweatshirt on the flight, wear real clothes. Your fashion adventure starts on the runway (so to speak!). Once we started dressing better for flights, we found we were treated better and with more respect at check-in, through customs, by flight attendants, and by everyone we met along the way. Dress for where you're going, not where you came from.
2. Get Dressed Up for Sightseeing
Afterward a day out in Paris, change to get dressed up for nighttime in Paris. Divide your wardrobe into daytime and evening. Change from sightseeing outfits to dressier pieces for soirées, dinners, and concerts.
3. Avoid Tourist Fashion Faux Pas
Guess what? You don't need a fanny pack, a Tilley hat, or hiking boots. Unfortunately, we've seen all of these things in Paris. Parisiennes are notorious for their effortless style, and they wouldn't dream of just throwing on a pair of yoga pants and calling it an outfit. Please leave your yoga pants at home. Ditto for your baseball caps, logo T-shirts, sweatshirts, lifeless sportswear… you know the clothes we mean.


Dress for your wine tasting experience
4. Wear a Dress – With Jewelry
For men, a sports jacket or blazer for dinner is an essential. When you're stylish in Paris, you'll be rewarded with better treatment at the restaurant, at the museum, heck, even Chateau de Versailles. Instead of looking like you just got off the tour bus, dress like you've just returned from the French Riviera.
5. Pack for Easy Maintenance
Pack clothes that can continue to look good without needing to be ironed. Bring soft, jersey dresses, trousers, and knit tops that can be rolled up for easy packing and easy care. Avoid bringing items that need to be dry cleaned, steamed, or are just plain finicky.
6. There's Shopping in Paris
If you love fashion, leave extra room in your suitcase for Paris purchases. After witnessing the fashion scene here, you may well want to up your game with a new outfit or two from the City of Style.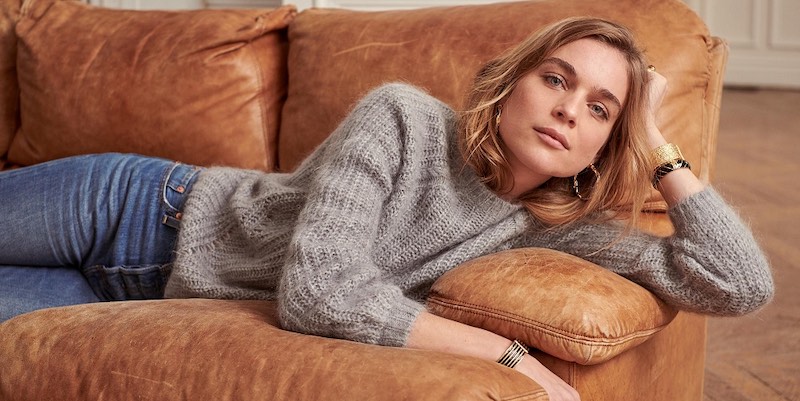 Evenings can be chilly
7. A Stylish Sweater
No matter the season, pack a stylish sweater, pashmina or blazer that can be worn with either a casual or dressy look. Even in summer, temperatures can drop at night and you'll be glad you have a layering piece.
8. Pleece, No Fleece
We repeat — please don't wear fleece or yoga attire on the streets of Paris. A stylish trench coat will serve you well in spring and fall, and a belted, tailored wool coat will be your best friend during the winter months.
9. High Heels? Flip-Flops? Just Say Non.
Leave your high heels and flip flops at home. At two ends of the foot-fashion spectrum, neither heels nor flip-flops are practical for long walks through museums, metro stations, and cobblestone streets. Comfortable wedges or stylish walking shoes can be worn in an urban environment, whereas high heels and flip flops cannot. No.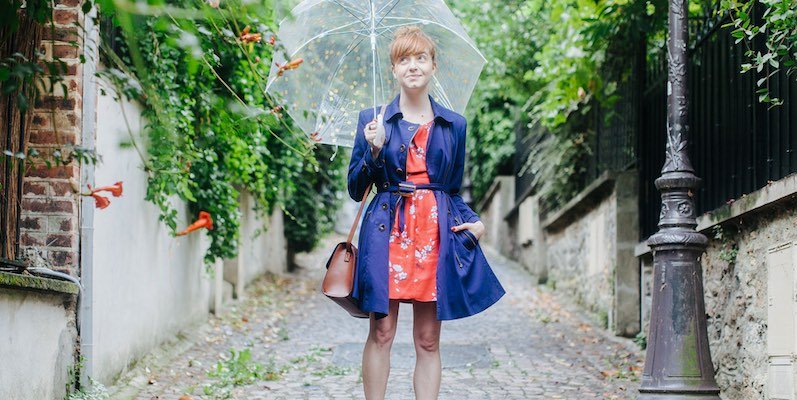 Dressed in a dress in the 20th Arrondissement
10. Create a Paris Uniform
If you're going to be in Paris for only a short time, one simple uniform for day and one for evening will do. You don't need different outfits for each day. Think dresses and skirts in the summer, and pantsuits, statement coats and blazers for the fall and winter.
11. Pack Light (There's Shopping in Paris: Part II)
Resist the urge to pack too much. For one week, a single pair of trousers, a skirt, blazer and a dress with coordinating tops are enough. Don't bring duplicates. They won't be worn and you'll regret the extra space they took up in your luggage. This applies to footwear, jewelry, and handbags as well. Plus… there's shopping in Paris!
12. Be Weather Wise
Check the weather before you leave. If the forecast is for cool weather, adjust your packing list accordingly. If there's going to be a heat wave in Paris, pack summer dresses and leave your jeans at home. Bring a stylish summer hat or visor. Sunstroke is never an attractive look.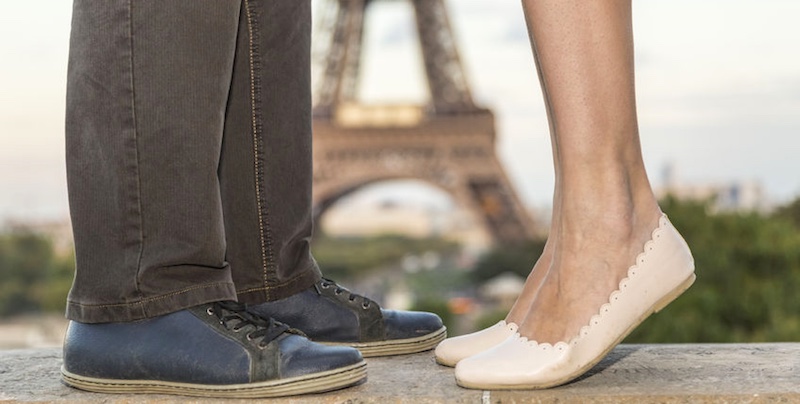 Ballet flats and the Eiffel Tower go together!
13. Stylish & Comfortable Shoes
Three-inch wedges are as comfortable as runners and they add something special to your Paris look. During the day, opt for stylish runners or perhaps ballerina flats. White, platform runners are the rage in Paris right now.
14. Rock the Color Blocking
Organize your travel wardrobe with color blocking in mind. Choose navy blue, black, white, or red as your base color and build on that. It's so much easier to build on one or two colors than an array of prints and tones. As we teased earlier, les Françaises wear fewer prints than les Américaines, with the one exception being stripes. Nautical, Breton striped sweaters, T-shirts and dresses are always in style in France.
15. Not Too Many Shoes
Choosing footwear for Paris can be is tricky. You're likely to be walking more than you're used to. You want to be comfortable during your long daytime promenades and your evenings out. Think about the white platform runners we mentioned, or some other neutral walking shoes for day. Platform wedges are always perfect for the evening.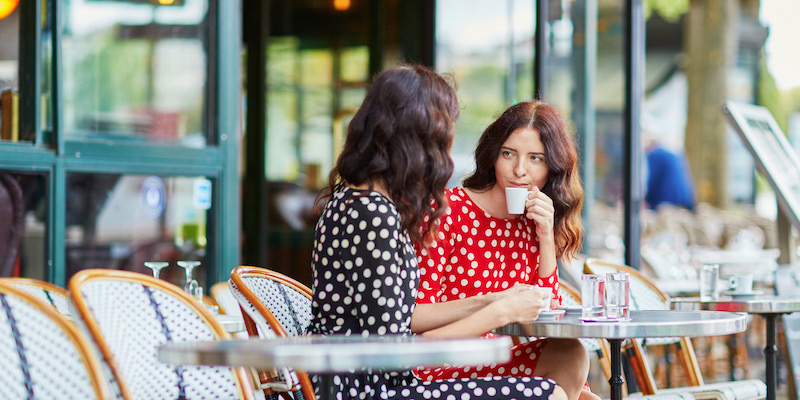 Dressing for coffee at the sidewalk cafe
16. Minimizing Accessorizing
Let's talk accessories, including purses and bags. Top Rule: resist the urge to pack too many. Bring a small bag for nighttime and one for daytime. A cross-body bag makes a lot of sense, as it leaves your hands free and allows you to walk freely. Don't bring valuable jewelry; limit your selection of rings, necklaces and earrings.
17. The Sacred & The Profane
If you plan to visit the historic churches & cathedrals of Paris don't pack crop tops, spaghetti straps, short shorts, or miniskirts. This may seem like obvious advice, but we've seen many outfits that are just too casual or even inappropriate for certain Parisian settings. The same advice applies to museums and galleries.
18. A Scarf is Not an Outfit
Although Parisiennes love to wear scarves, they're treated as additions to an outfit, not a fix-all. In fact, our advice is not to bring any scarves; plan on purchasing a few while here.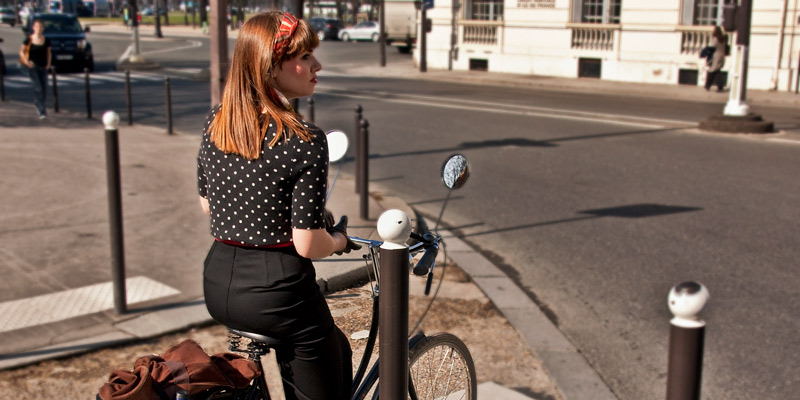 Parisian cycling outfit
19. Yes, You Can Wear a Beret
Berets are trending right now (who knew?) and you can stock up on an array of colored berets while in Paris. A beret can look fabulous with the right outfit… and the right attitude! Hint: a white beret with a white suit can look stunning.
20. Experience Le Brushing
Even French hairstyles reflect a seemingly effortless approach. Pay close attention and you'll notice that hair salons are found on every rue and avenue and are filled with stylish French women of all ages getting le brushing (a blow-out). Think soft waves, partial up-dos and ponytails. Leave your hairspray at home!
What to Wear, Season by Season
The Paris Seasons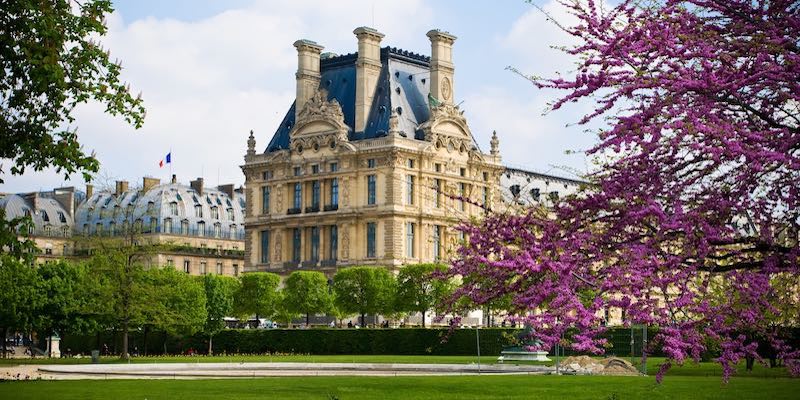 Much of your Paris wardrobe — like scarves, simple dresses, and cashmere sweaters — will be good for any season, and any time you visit Paris. But there are other essential seasonal items you'll need to pack, depending on the time of year you visit So, before you pack, take a little bit of time to read our seasonal guides.
Printemps
Springtime in Paris
Spring weather can be unpredictable — you might want a stylish trench coat, a warm sweater for layering, and water-resistant shoes (not suede, for instance). Either throw a travel umbrella in your suitcase or plan to pick up an inexpensive one in Paris if you need it.
Éte
When it sizzles
Paris in the summer often sizzles; you'll want to pack summer skirts and dresses. For men, light-weight khaki trousers or, of course, linen pants. We usually advise that you leave your shorts at home, but if it's going to be 35° C you might think twice about that advice.
Automne
When leaves are falling
Fall in Paris can be warm right into October but, much like springtime, the weather in autumn can be unpredictable. You'll need to packs clothes to layer, as well as that stylish trench coat and an umbrella.
Hiver
When it drizzles
Paris winters range from moderate to downright cold! You will need a warm, winter coat, boots, scarves and gloves. But you don't have to dress for the arctic. Think stylish black boots, a long wool coat, and more scarves. In winter, your coat and boots will become your official uniform, so you can reduce the number of pants, sweaters and shoes.

Discover What's On When You're Here...
Discover What's On When You're Here