Honeymoon Hotels In Paris – Romance Is In The Air
Live La Vie Romantique in the City of Love by settling into a honeymoon hotel in Paris. In another article we shared the very best things to do in Paris during your honeymoon. Here we take a look at the best places to stay — from the let's-go-all-the-way luxury hotels to cozy & wonderful hotels in the Latin Quarter.
It's not every day that you get married and not every trip that's a honeymoon. So, we tend to go a bit larger with our honeymoon hotel recommendations. We don't want you to blow the entire budget on a room, but we do want you to be really comfortable and feel very special. Now, put aside the guest list for a while and take some time for yourself as we help you choose a honeymoon hotel in the City of Love.

Shangri-La Paris – The Palace Hotel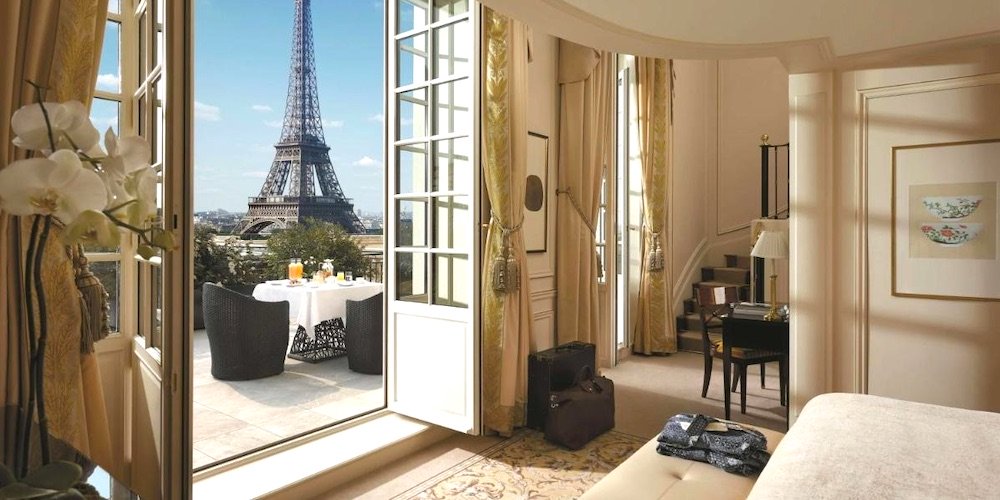 If you want to do it well, if you want to do it romantically, you are not going to be able to beat the Shangri-La Paris. Just look at the view from the window. No other hotel in Paris has that view of the Eiffel Tower. What was once the mansion of a nephew of Napoleon III is now a luxury hotel without equal, that still retains the Belle Epoque decor of the original building. Pricey? Oh, yeah. Worth it? Absolutely.
How Our Ratings Work
Superb Plus = 93%+ Travelers Rating
Superb = 88%+ Travelers Rating
Highly Rated Plus = 85%+ Travelers Rating
Highly Rated = 80%+ Travelers Rating

Our Rating — Superb-Plus!
• 10 Avenue d'Iéna
• 16th Arrondissement
Le Cinq Codet – 5-Star Art Moderne
It's amazing that this hotel was once the France Telecom building, built in the 1930s Art Moderne style. A complete revamp a few years ago kept the Art Moderne styling but updated everything else to give the hotel a refreshing, modern feel. Also refreshing is that this is one of the few hotels of this calibre not owned by a chain, but by a local French couple. Luxurious, exciting design — that's what you can expect at Le Cinq Codet. Also rated Superb-Plus! by us.
Our Rating — Superb-Plus!
• 5 Rue Louis Codet
• 7th Arrondissement
Hotel Monge – Four Cozy Stars in the Latin Quarter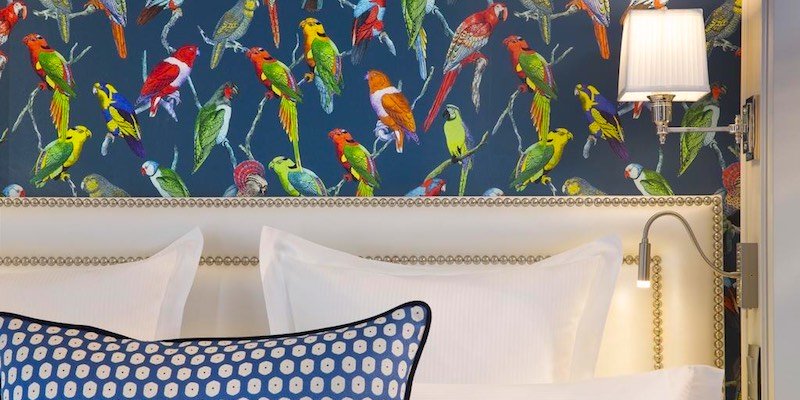 Hotel Monge is our new favorite in Paris. We stay here whenever we're in town for two or three days. Barely two years old, everything at the Monge is shiny new and… well, perfect. From the lighting details to the decoration to the amazing beds and pillows, the whole experience is satisfying, inviting, and comfortable. Hotel Monge was on our Top 10 List of everything Paris in 2016. Another Superb-Plus! rating from us.
Our Rating — Highly-Rated-Plus
• 55 rue Monge
• 5th Arrondissement
Hotel des Grandes Ecoles – 3 Stars in the Latin Quarter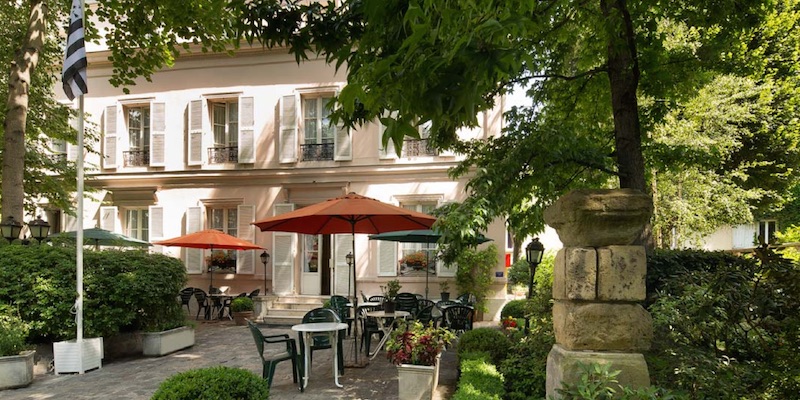 The location of this hotel is a secret guarded by its admiring guests. In the most historic part of the Latin Quater is a beautiful garden where, hidden behind imposing wooden doors, Hotel des Grandes Ecoles awaits those who have discovered the secret. All the rooms look out onto the tree-shaded garden with trellised roses, and a riot of flowers from daffodils in the spring to wildflowers in the summer.
Our Rating —Superb
• 75 Rue du Cardinal Lemoine
• 5th Arrondissement
Other Boutique & Romantic Hotels in Paris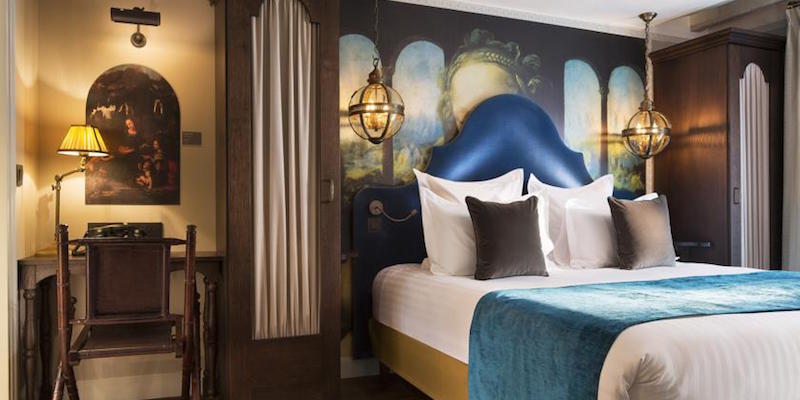 We've shared our top picks in each hotel category, ones we feel will be perfect for a Paris honeymoon. But really, there's no shortage of wonderful hotels here. We've reviewed dozens more that we have liked. If you want to explore further, follow the link below to discover 40-something hotels in all the best neighborhoods of the city that we have reviewed favorably.