4 Paris Luxury Hotels – Pamper Yourself In The City Of Romance
You know that dream when you're staying in a luxury hotel in Paris? Why let it be only a dream, we say! Staying at one of the Paris luxury hotels has to be on the wish list of every Francophile and everyone who daydreams of their next trip there. We know this — spending a few nights at one of the famous luxury hotels will be something you remember for the rest of your life.
It's the perfect thing to do for a an anniversary, a honeymoon, a special birthday… or just to celebrate being in Paris. If you plan ahead, you can often find special Paris luxury hotel deals. Especially if you check with Booking.com, the website we use to find the best Paris hotel prices.

We'll start with the newest hotel on this list, and one of the newest luxury accommodations in Paris. Fauchon has been the prominent name in gourmet food in Paris since 1886, when Auguste Fauchon opened a store on Place de la Madeleine in the 8th Arrondissement. The Fauchon name dominated a corner of the place for 130 years until the 2020-2021 coronavirus lockdown resulted in the permanent closing of the store.
Luckily for travelers, Fauchon has taken over another space at the opposite end of Place de la Madeleine where they've created a hotel experience that echoes the gourmet experience of their food. The iconic Fauchon design and colors are evident. The common spaces and some of the rooms feature works by young French artists and artisans. The French design firm Atelier Paluel Marmont created a full set of original furniture, lighting, paneling, even carpeting. It's a one-off, unique experience and located in the center of all things Paris. Most importantly, guests love the service, ambience, and comfort. For a pampered, luxury stay in Paris, there'a a new address !
Fauchon L'Hôtel Paris
How Our Ratings Work
Superb Plus = 93%+ Travelers Rating
Superb = 88%+ Travelers Rating
Highly Rated Plus = 85%+ Travelers Rating
Highly Rated = 80%+ Travelers Rating

Our Rating — Superb-Plus!!
• 4 Boulevard Malesherbes
Place de la Madeleine
• 8th Arrondissement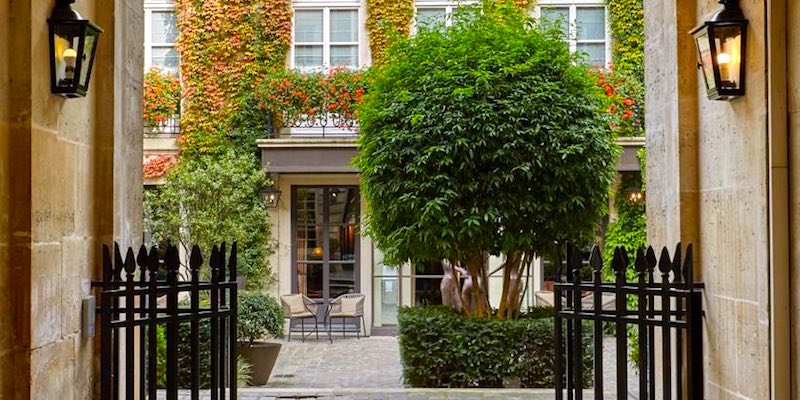 "Everything about this hotel is extraordinary," exclaimed a traveler in a typical 5-star review of Le Pavillon de la Reine. Located on the historic and charming Place des Vosges, you enter the hotel through a tranquil courtyard just off the place. It's an oasis of calm right in the middle of bustling Marais.
Being in the heart of the Marais, Le Pavillon is close to shopping and museums, including the newly-renovated Musée Picasso. It's just two very short blocks away from one of our favorite oyster places, Le Bar à Huitres.
Le Pavillon de la Reine
Our Rating — Superb
• 28 place des Vosges
• 3rd Arrondissement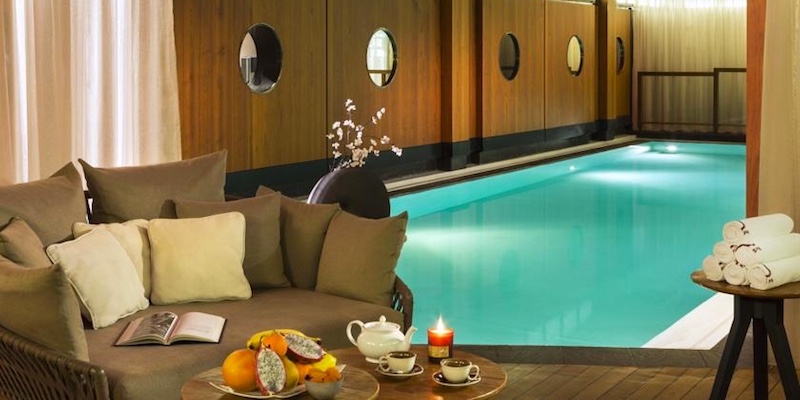 Expensive? Yes. Worth it? Definitely. At least according the the reams of travelers who consistently rate Barrière Le Fouquet's as one of the best Paris luxury hotels.
Discreet, formal yet friendly service. Conveniently located at the corner of Champs Elysée and George V in the middle of the luxurious 8th Arrondissement, above restaurant Le Fouquet. Therefore, close to the best restaurants and boutiques. We'll be just across the street at Louis Vuitton's flagship store!
Hotel Barrière Le Fouquet's
Our Rating — Superb
• 46 Avenue George V
• 8th Arrondissement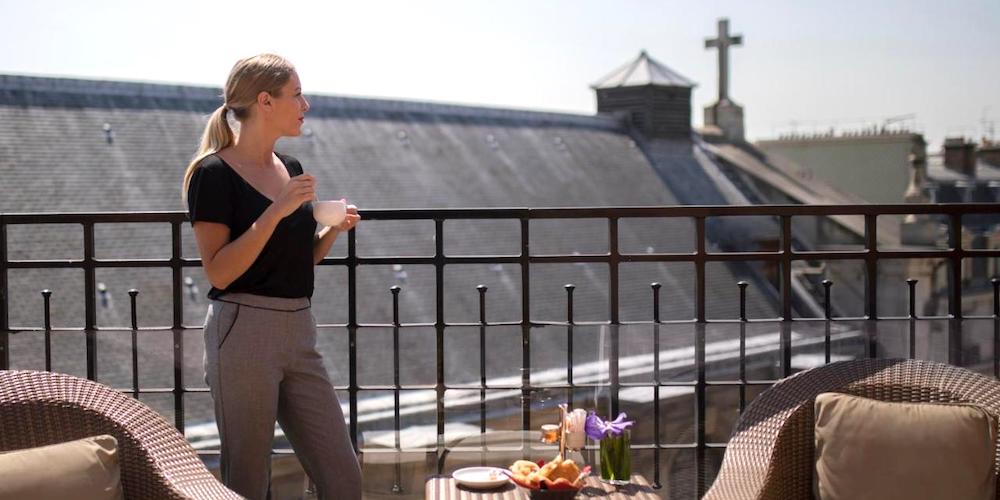 Walk to the museums, take the Metro at the nearby station Rue du Bac, eat at the best restaurants in St. Germain. The hotel concierge at this Paris luxury hotel can arrange everything for you.
The Pont Royal has been recently renovated with mahogany, silk and stone as the theme. There's a reading lounge, fitness area, and a bar for a cozy nightcap. If you're in the mood for something special, be sure to dine at the nearby restaurant, l'Atelier de Joel Robuchon, with menus by France's most famous chef.
Hotel Pont Royal
Our Rating — Highly-Rated-Plus
• 5 Rue De Montalembert
• 7th Arrondissement