Travellers' Top Hotels In Paris For 2018 – Our Readers Have Chosen
There are a lot of hotels in Paris, more than fifteen hundred; some are good, some are better, some are great. Here at Paris Insiders Guide we've reviewed hundreds of them and have selected the best Paris hotels and grouped them in number of categories — like Left Bank hotels, the top hotels in the Latin Quarter, 4-star hotels, and hotels that are downright charming.
Each year it's fun to present the choices made by our readers; the hotels that travellers to Paris in 2018 chose for their special holiday. Here are the top ten hotels, as chosen by our readers who travelled to Paris in 2018.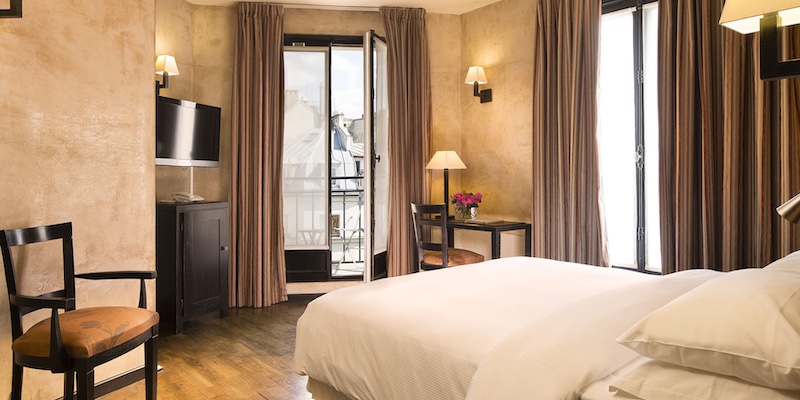 Location is everything with this hotel — in the heart of historic Paris, on the border of the 5th and 6th Arrondissements, and a 5-minute walk from Notre Dame Cathedral. You're in the Latin Quarter, on land with over 2,000 years of history, on streets dating back to when Romans lived here.
The Saint Severin blends modern comfort and design with the charm of an historic building. We prefer the larger Privilege rooms that have balconies overlooking the lively street.
Our Rating — Highly-Rated-Plus
• 38 Rue Saint Severin
• 5th Arrondissement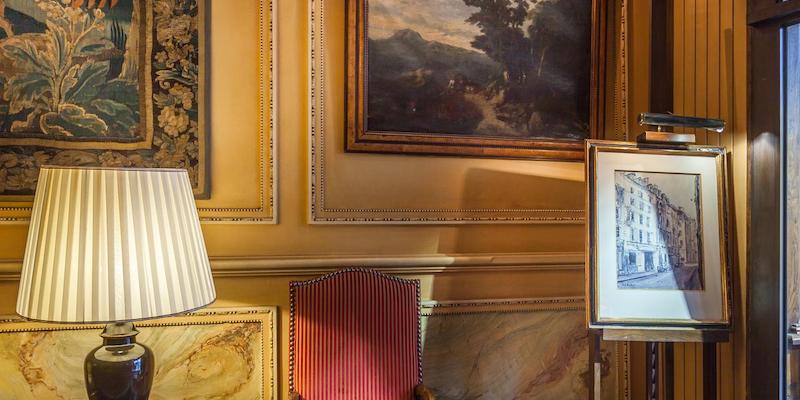 Just a few steps away from the church and boulevard that gives the neighborhood its name, booking a room at Hotel Saint Germain des Prés puts you in the middle of the lively quartier of Saint Germain des Prés, full of history, cafes, and shopping. Legendary literary hang-outs Les Deux Magots and Café de Flore are just around the corner.
Inside, Hotel Saint Germain des Prés feels like historic Paris, with decoration from a different era that make us think of Proust. And we mean that in a good way!
Our Rating — Highly-Rated-Plus
• 36 Rue Bonaparte
• 6th Arrondissement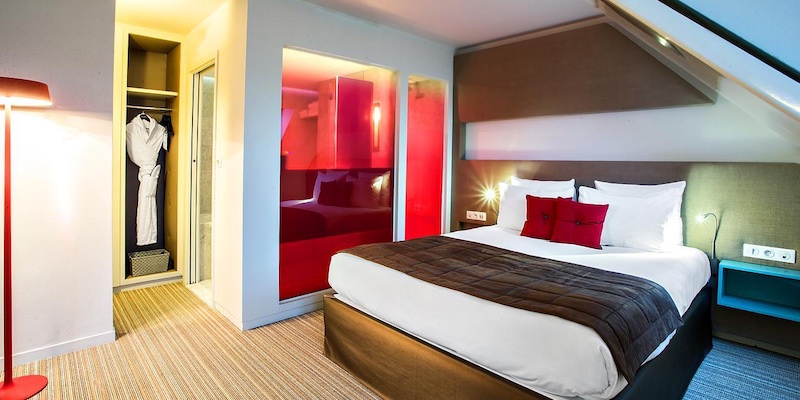 The 1st Arrondissement is where you find the Louvre, Jardin des Tuileries, Palais Royal, Napoleon's Rue de Rivoli… and the Novotel Paris Les Halles hotel. It's rare to find a modern, 20th-century hotel in the very center of Paris. It was our readers who found this hotel, and who have rated it Highly-Rated-Plus. We learned how much they like the convenience of the Novotel chain.
As its name implies, the Novotel Paris Les Halles is located at Les Halles, neighboring both the famous sights of the 1st Arrondissement and the historic Marais quartier. Each room is bright and white, with accents in wood, reds, and yellows. There are large public spaces in the hotel as well as a courtyard. This is a good family choice since you can book rooms with sofa beds or two queen beds.
Our Rating — Highly-Rated-Plus
• 8 Place Marguerite de Navarre
• 1st Arrondissement
This is another historic hotel that has a great location going for it. Like many hotels in Paris, this one has a clunky name trying to attract novice visitors by combining the names of famous sights or districts. In this case, though, the name is accurately descriptive. The hotel is just "two steps" from Boulevard Saint-Germain with nearby neighbors that include Odéon and Ile de la Cité, where you find Notre Dame.
Our Rating — Highly-Rated-Plus
• 9 Rue de l'Ancienne Comédie
• 6th Arrondissement
A little farther to the west, in the 7th Arrondissement, is this Art Deco/Moderne gem. There's a lot to like about Le Cinq Codet, nicely located very near Les Invalides (the hotel sports a great view of its dome) in a lovely part of town. This locally-owned hotel features a fresh design with bright spaces making great use of the period building.
There are 67 rooms in 29 different design varieties, making every stay at Le Cinq a fresh experience. For the most memorable stay, book one of the four suites; they have private balconies and each one affords a great view of Paris. Our top choice is the 900-square-foot Prestige Suite.
Our Rating — Superb
• 5 rue Louis Codet
• 7th Arrondissement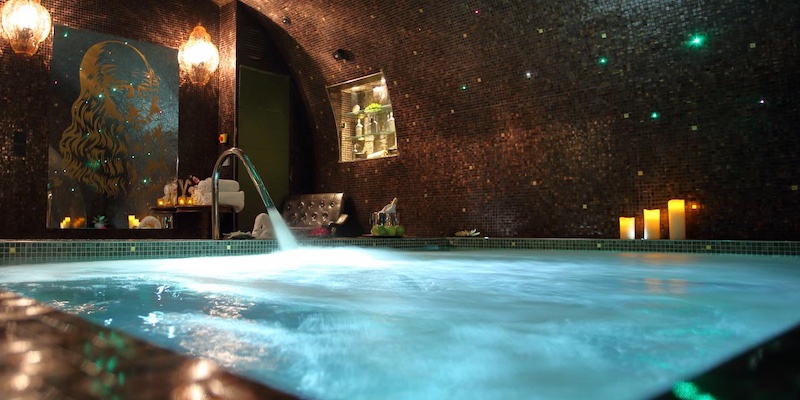 Charming and well-appointed, Hotel Da Vinci is nicely located between Boulevard Saint-Germain and the river Seine, just across from the Louvre and in the very heart of Left Bank life. It's a great place for walking access to everything you want to see, including Musée d'Orsay, only 10 minutes away.
Unusually for an affordable boutique hotel in central Paris, the Da Vinci features an indoor pool. There's also a stunning courtyard patio, but we really like the comfortable rooms and the great service.
Our Rating — Superb
• 25 rue des Saints-Pères
• 6th Arrondissement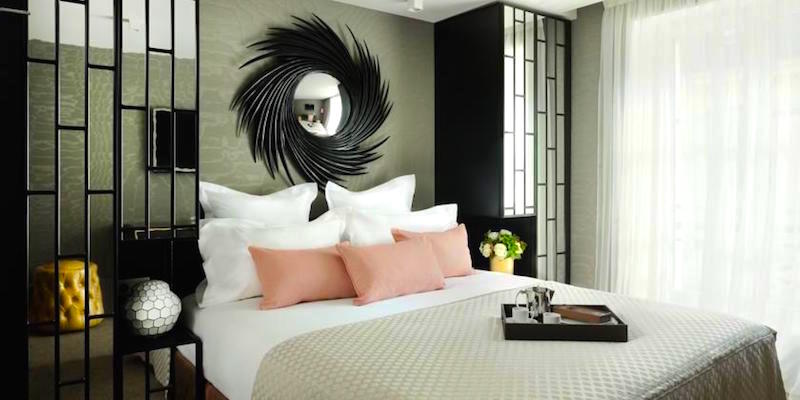 If you're interested in a modern hotel with a historic design sensibility, we can recommend Le Baume. The hotel has been completely re-done with an interior design inspired by the 1930s and the fashion, films, and Art Deco of the period. Harking back to that era, the rooms are filled with textured silk, satins, and exotic woods.
In addition to the stunning design, the hotel has all the modern conveniences, and guests rave about the staff, saying, "A gem in Paris!!!" — "Missed it the moment we left!" — "Perfect boutique hotel and location."
Our Rating — Superb
• 7 rue Casimir Delavigne
• 6th Arrondissement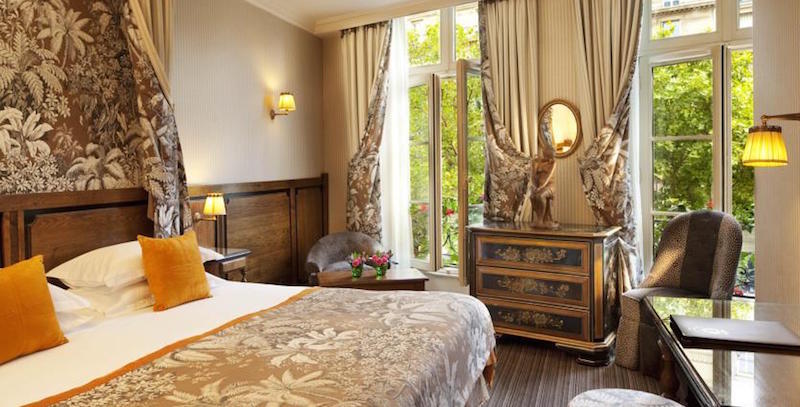 Au Manoir Saint Germain appears on our list of recommended budget hotels and has been well-liked by our readers. Like all our other top Paris hotels in the 6th Arrondissement, the location is superb. In this case the hotel is right next door to the historic Brasserie Lipp and directly across the street from Les Deux Magots, both famous literary hangouts. You really can't get more Left Bank central than that!
The rooms are nice with an old-fashioned charm. Views from the rooms facing Boulevard Saint Germain are downright exciting — you're in an historic part of Paris and you can see Les Deux Magots, Café de Flore, and the tower of the church.
Our Rating — Highly-Rated-Plus
• 153 Boulevard Saint Germain
• 6th Arrondissement
Set on Rue Dauphine, which leads directly to the Seine, where you can cross Pont Neuf to île de la Cité (it's a 3-minute walk), Hotel d'Aubusson is the highest-rated boutique hotel in the 6th Arrondissement and one of our highest rated hotels in Paris.
Built in the 17th century as a private mansion, Aubusson retains the period charm, with oak beams, giant fireplaces, and antique furniture. The rooms are charming, well-maintained, and equipped to modern comfort standards. We also love the public areas like the lobby and the bar with its curved zinc counter.
Our Rating — Superb-Plus
• 33 Rue Dauphine
• 6th Arrondissement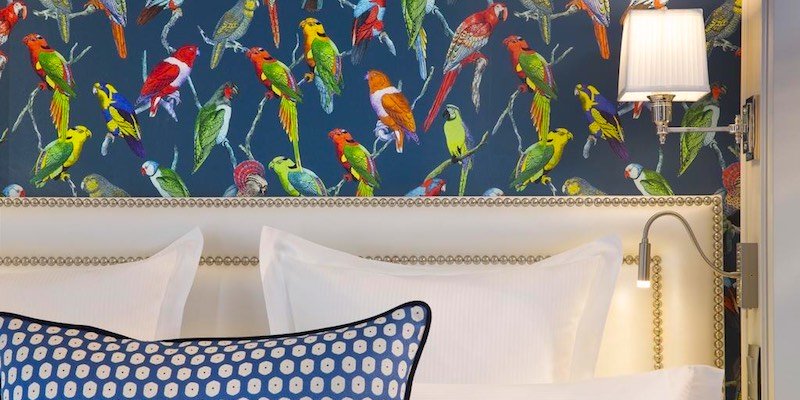 As soon as it opened Hotel Monge went to the top of our hotel recommendation list, and has stayed there ever since. It's the reigning top hotel in the Latin Quarter, found on the lively shopping street for which the hotel is named. Perfectly located in a vibrant neighborhood, Hotel Monge is also convenient to the things you want to see in Paris, like the Pantheon and Notre Dame. There are also two Metro lines to choose from (7 and 10) that get you to the rest of the city quickly.
Everything about the Hotel Monge is excellent — the best hotel beds and pillows ever, fantastic lighting design, great staff and service. Since we started singing its charms, Hotel Monge has become incredibly busy, so be sure to book early.
Our Rating — Superb-Plus!
• 55 Rue Monge
• 5th Arrondissement