L'Escudella – A Modern Bistro With The Flavors & Colors Of The South
Visitors to Paris may not be aware that the historic district that is home to both the Eiffel Tower and Napoleon's Tomb — the 7th Arrondissement — is also home to a collection of French government ministries, foreign embassies, and the complex that houses UNESCO. The architecture on display along those streets is a kind of bureaucratic brutalism; all sharp angles, straight lines, and cold, flat surfaces. But, it's in the middle of all this that you find the modern Parisian bistro, L'Escudella.
On a chilly day in early March we descended the stairs from the elevated Metro station Sèvres-Lecourbe (Line 6) and walked along Avenue de Suffren. Since we were a bit early for our reservation, we circumnavigated the architecturally-dated and slightly off-putting headquarters of UNESCO, cruised past the Embassy of the Ukraine and the Ministry of Social Affairs and Health, and arrived at restaurant L'Escudella on Avenue de Ségur just in time for lunch.
Bringing the Occitan to Paris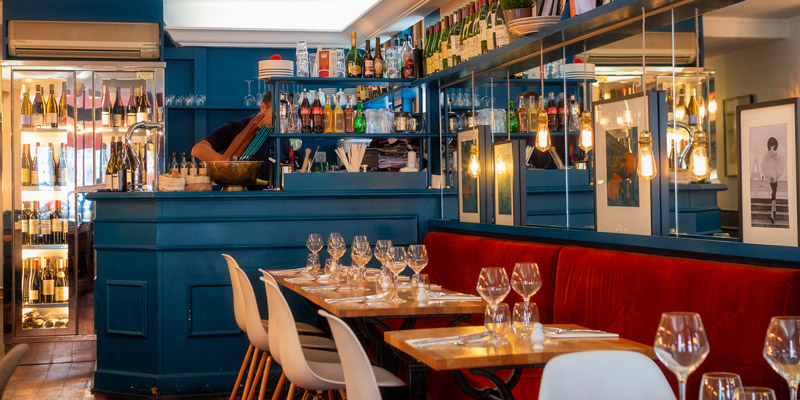 The long and narrow, low-ceilinged restaurant is located on the ground floor of one of the anonymous buildings along the avenue. The front window is filled with decals proclaiming recognition from Michelin, Gault Millau, and other restaurant raters. We ducked inside just in time to escape the rain and were pleased to find colorful decoration and a relaxed atmosphere.
As soon as we were seated in the crimson banquette hugging the wall, an amuse bouche arrived to our table — French lentils, served creatively in a sardine tin set on top of a bed of yellow popping corn. Dotted through the lentils were flecks of mini-croutons, goat cheese, and micro-herbs, adding a certain oomph to these first bites of lunch.
Southern Roots
Co-founding Chef Paul-Arthur Berlan (who was a semifinalist on the TV show, Top Chef France) hails from Carcassonne in the south, and his roots are on display in the Mediterranean-influenced decor and in the distinctive complex flavors of Provence. "Escudella" means plate or bowl and is also a traditional, regional stew of Occitan, the region of southern France bordering Provence to the west.
Along with partner-chef Jerome Laurent, the young duo command the kitchen, turning out hearty southwest-inspired dishes like gazpacho elevated with basil sorbet and Iberian ham; smoked haddock with black olives; and the entrée we ate, smoked octopus. Tender and flavorful, the octopus was deep-fried and finished with a light touch of paprika and parmesan crumble.
L'Escudella's Menu
L'Escudella's menu is short, with only a handful of entrées, plats and desserts — and we like it like that. Our main course of duck magret was served deconstructed, with the breast served separately from the main plate on a miniature smoker. The skin was crisp and the flesh was just pink — something else we like! But, the star of the dish was a luscious, roasted onion with a rich, shiny sauce tucked beneath. And we might just travel across the Atlantic to have another taste of L'Escudella's hearty, firm sourdough bread, paired with an amazing smoked butter.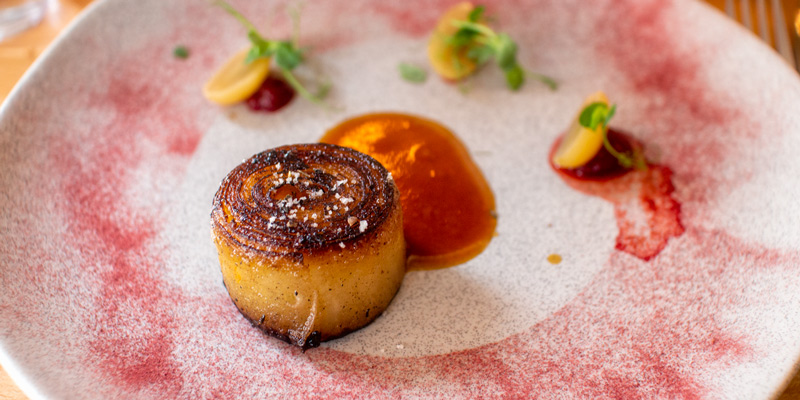 By the time dessert was served shards of sunlight had broken through the clouds. For this last course we sampled the restaurant's famous Paris-Carcassonne (a play on the classic Paris-Brest, in this case pastry filled with hazelnut cream) and a less successful frozen chocolate concoction. The restaurant, by the way, also serves tapas and has an unbelievably low-priced lunch menu.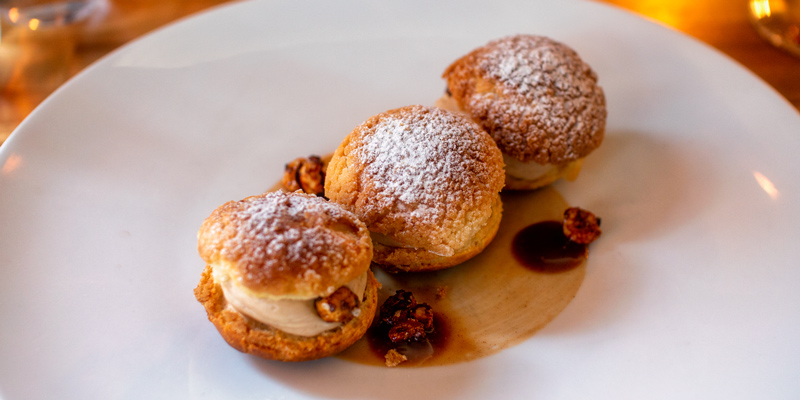 Even though the neighborhood architecture leans towards a Soviet style, L'Escudella attracts a loyal following of office workers and a smattering of tourists who have, perhaps unintentionally, wandered off the beaten track. Seated next to us, two women (employees of UNESCO, we suspected) enjoyed a simple lunch. We absolutely adored how they whispered in hushed tones in that beautiful, French way. While we wouldn't make a special trip across town to dine here, if you're looking to unwind after a morning visit to the nearby Tomb of Napoleon, it's a mere eight-minute walk to L'Escudella.

L'Escudella Resources
Avenue de Ségur
7th Arrondissement
Metro – Saint-Francois Xavier