In A Secret Garden – The Grand Salon At Hotel Particulier Montmartre
It had been a while since we had ventured to Montmartre and the neighborhood seemed more pleasant, calm… even more refined than we recalled. It was a warm, sunny day in October. Rue Lepic winds its way up the mont of Montmartre, and Rue Junot, where we were headed, is one street up from Lepic. How hard could it be to find number twenty-three, the address of Hotel Particulier Montmartre? Harder than we thought, as it turned out.
If you're looking for a peaceful corner in Paris to escape for a glass of champagne or a leisurely lunch, Hotel Particulier Montmartre and its Grand Salon may be just the place. The building and gardens were once the Hermès family home before being transformed into the smallest hotel in Paris, with only five exclusive suites. There is also a recently-renovated restaurant — the Grand Salon — and two lavish bars.
Locating Hotel Particulier Montmartre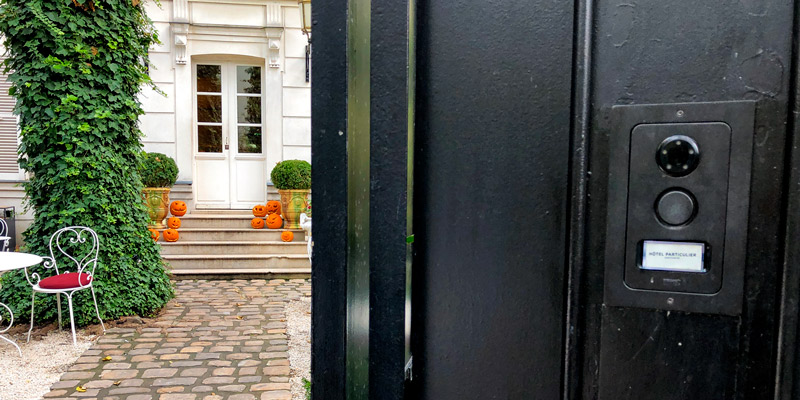 In France, mansions like these are called hôtel particuliers, freestanding structures with a courtyard in the front and a garden in the rear. The Hermès family — famous first for saddles then for silk scarves and handbags; think Grace Kelly and her famous Hermès bag — at the height of their fortune built this hôtel particulier in Montmartre, nestled among the trees and greenery on the slope between Rue Lepic and Rue Junot.
Hotel Particulier Montmartre is so private, so secluded, that there is no sign to announce the location; there's not even a street number. But, next to 23bis Rue Junot (the "bis" means "again", designating the building next to number 23) we spotted an old narrow cobblestone way, protected by a locked metal gate. It took a couple of tries to find the name of the hotel on one of the three intercom panels, ring the bell, and follow the cobblestone path to another gate, behind which we discovered the hotel, set in a lush garden, with a view down a long set of steps to Rue Lepic and, in the far distance, the Eiffel Tower. The door to the hotel itself was locked (it's always locked, we found out later) but the concierge was right there to open it and welcome us inside.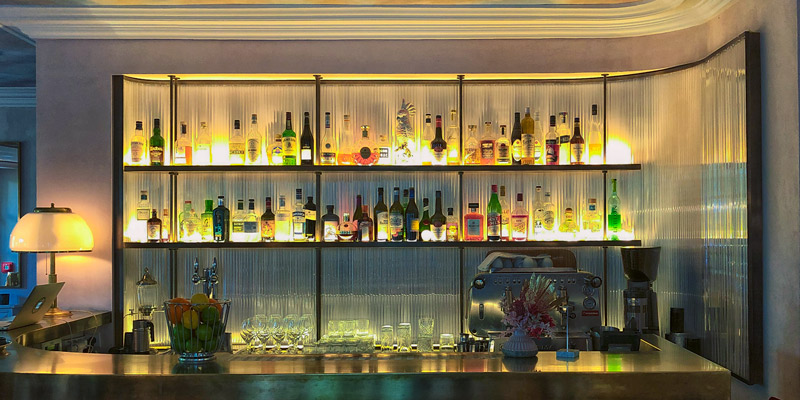 We stood in the small Grand Salon restaurant and looked around, feeling the place had a certain familiarity. Vases of dried pink flowers decorated the tables, there were alabaster sconces, fringed pink velvet pouf chairs, and in the center a cocktail bar reminiscent of the 1920s. Later we that learned designer Pierre Lacroix took inspiration from Wes Anderson's film, Hotel Budapest.
It's an intimate space where you might escape with a new paramour or your best friend. Even if you don't want to lay out the Euros to stay in one of the luxury suites (in the €400 per night range), you can linger inside the cozy interior of the restaurant or, in the summer, on the terrace or in one of the garden spaces.
Grand Salon Restaurant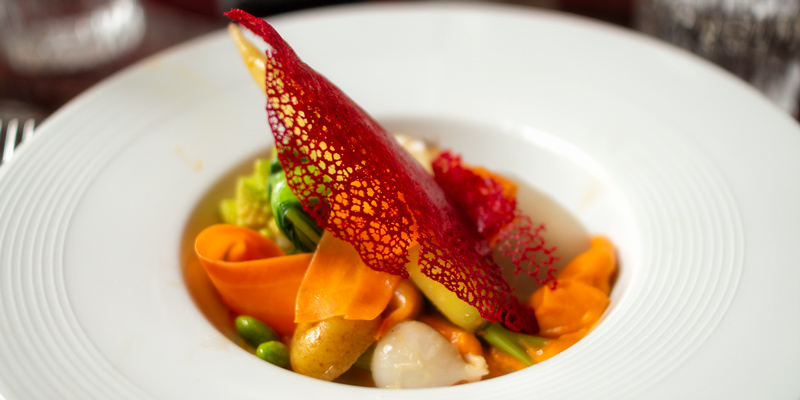 The cuisine is seasonal, and predominantly vegetable based. Chef Louis Ricard is obviously inspired by the light touch of Asian cuisine. Although it's a vegetable-forward menu, grilled fish and meats are offered. The vegetarian main dish featured ten vegetables, all individually prepared to create harmony on the plate. It's an elegant display of seasonal produce, in this case it was yellow carrots and romanesco (a broccoli/cauliflower hybrid).
In the corner a group of handsomely dressed millennials sipped San Pellegrino while (we imagined) discussing their upcoming independent film project. Another duo next to us, intellectuals in their 40s, debated the meaning of all that graffiti that says "J'existe". Or so we assumed.
We started with a coupe of Charles Heidsieck champagne served in vintage flutes. The gazpacho de concombre was a vibrant, peridot green and was delicate, refreshing, and cleansing. There were big, flavorful chunks of black tiger prawns giving the cold appetizer a needed boost of protein and texture.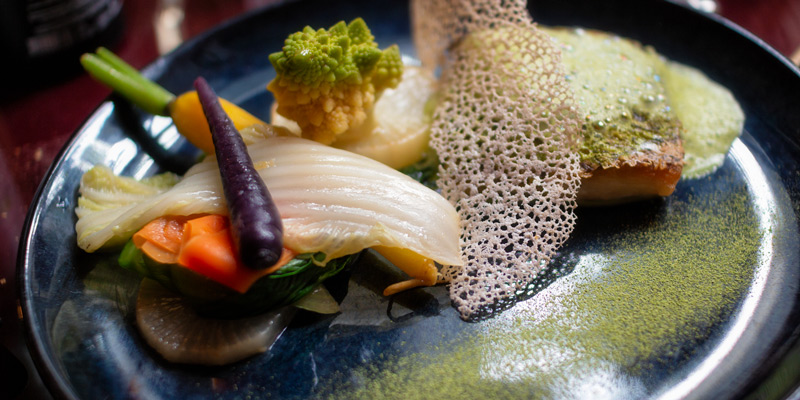 Next up was maigre a la plancha, a firm white fish seared to perfection with a crisp, exterior skin. A fine herb emulsion added an element of tang and the treatment of the seasonal vegetables was stellar.
Always intrigued by a croque monsieur we were delighted when we bit into the perfectly crisp frites and admired the delicate handling of the tomme cheese and truffle cream in the sandwich itself. Somehow chef had managed to elevate the French sidewalk food without overdoing it.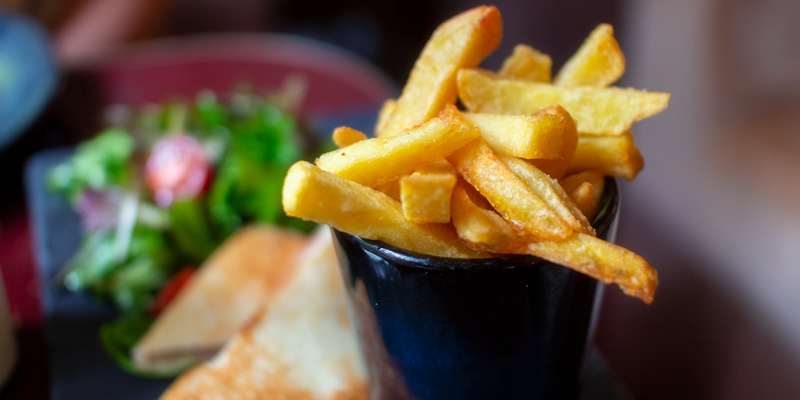 Dessert was the perfect thing for succulent lovers! It was an aloe vera concoction with huge chunks of the pale succulent, steamed and finished with a sweet broth and a scoop of raspberry sorbet. The overall effect was cool, sweet, and refreshing.
But, dessert isn't dessert without chocolate. Luckily our other choice was a dark mousse au chocolat with brownie crumble and dollop of rich, creamy bourbon vanilla ice cream. Messier, but delicious.



This truly is a secret garden in Paris. There is an extensive outdoor terrasse at the entry level, with a solarium and garden tables on the garden's lower level, which features its own bar. (In warm weather only.) Sipping a coupe in these areas you can admire the garden landscaped by Louis Benech; his designs can also be seen in recent renovations at the Tuileries Garden and Chateau de Versailles.
The restaurant is open for breakfast, lunch, brunch (on the weekends), tea time, and cocktails. Reservations are recommended.
Hotel Particulier Montmartre Resources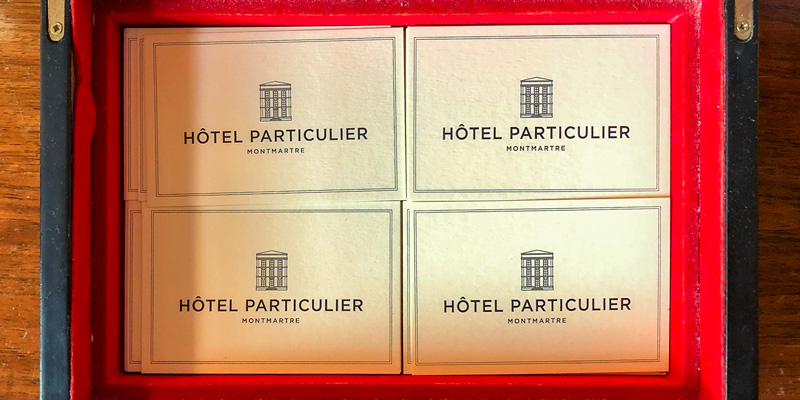 23 avenue Junot, Pavillon D
Montmartre, 18th Arrondissement
Metro – Lamarck-Caulaincourt, Abbesses