Paris Book Review – The New Paris by Lindsey Tramuta
Thirty-something American transplant Lindsey Tramuta believes there is a new spirit in Paris. She's written a book tearing down the myths of "old Paris" and introducing her vision of "new Paris" — one filled with hipster, thirty-somethings trying to find their own paths in the City of Light – though maybe now it's the City of Pixels.
Tramuta interviewed veteran chefs, rising culinary stars, award-winning patissiers, mixologists and craft beer brewers, fashion designers, soap makers, and gallery owners to get under the skin of a newfound energy in Paris. Here we take a look at her book, The New Paris, and present some of her vision of… the new Paris, with our specific focus on food & drink.
How the Book is Structured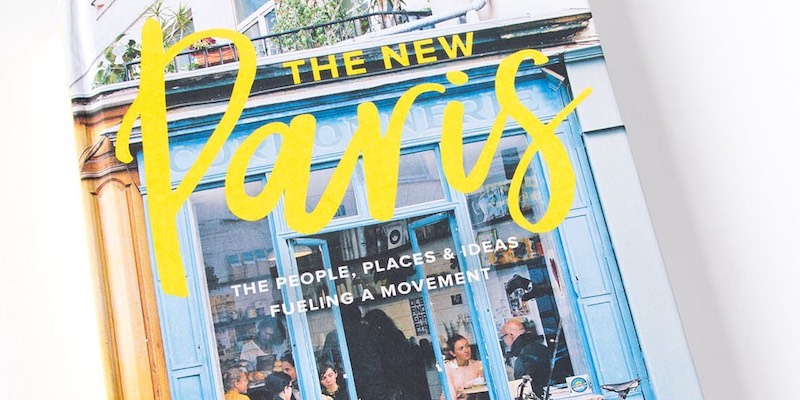 The New Paris is divided into several sections — the Foundations of a New Paris, The New Food & Dining, the New Coffee, the New Sweets, the New Libations, the New Shopping & Crafts, the New Places and Spaces, and Lindsey's New Favorites. The book includes addresses for each section, with all the places presented in the chapters, as well some of her personal favorites, that are driving what she thinks of as the New Paris movement forward.
The New Food & Dining
The section covers a few different styles of cuisine — new bistros/modern, neo-brasseries, new classic bistros, Japanese chefs, street & comfort food, and la cuisine healthy with vegetarian, vegan, and gluten-free options. Tramuta ignores (what she sees as) fossilized ideas about what French cooking is and shares trends in the current Paris food scene.
Tramuta thinks that the Paris food scene has gone from a two-pronged system, with upscale dining on one end and affordable brasseries and bistros on the other end, to a much wider net offering far more options. Here's a taste.
The New Food & Dining Resources
6 RUE PAUL BERT (bistro)
The modern sister of the Le Bistrot Paul Bert, with top ingredients and dishes meant for sharing.
6 Rue Paul Bert, 11th Arrondissement
Website…
LE GALOPIN
Top Chef France winner Romain Tischenko has created a temple of creative, spontaneous cooking.
34 Rue Sainte-Marthe, 10th Arrondissement
Website…
ELLSWORTH
Nouveau Americana cuisine with a southern twang from Verjus owners Braden Perkens and Laura Adrian.
34 Rue de Richelieu, 1st Arrondissement
Website…
LE DAUPHIN
Little sister to Le Chateaubriand next door, the restaurant serves tapas and natural wines.
131 Avenue Parmetier, 11th Arrondissement
Website…
PORTE 12
Chef Vincent Crepel's small bistro servs up Asian-influenced cuisine.
12 Rue des Messageries, 10th Arrondissement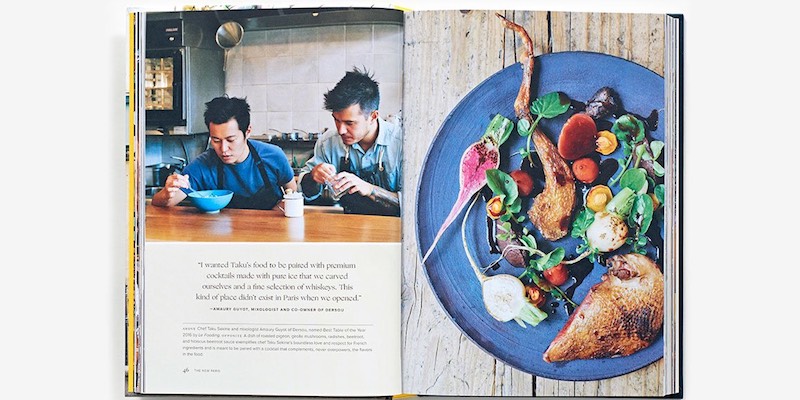 The New Coffee
Tramuta makes the distinction between older Parisian cafes and the younger coffee culture. Old Paris is Procope, Cafe de Flore, and Les Deux Magots. New coffee culture is found at places like Cafe Louistic, run by Channa Galhenge. He hired top designer Dorothee Meilichzon to help him bridge the Parisian cafe culture and the international coffee culture with a design that feels like anywhere else but Paris, with comfortable sofas, swivel tables and a long bamboo bar.
New Paris Coffee Resources
CAFE LOUISTIC
40 Rue Chapon, 3rd Arrondissement
Website…
L'ARBRE A CAFE
Stop in for a coffee from this master Parisian roaster.
10 Rue de Nil, 1st Arrondissement
Website…
BROKEN BISCUITS
An English-Irish Pastry duo whips up delectable cakes and pastries.
10 Passage Rochebrune, 11th Arrondissement
CAFE LOMI
One of the Paris' first specialty coffee roasters with a roastery, training area, and coffee shop.
3ter Rue Marcadet, 18th Arrondissement
Website…
HOLYBELLY
This is, as the author says, the intersection of great food and great coffee.
19 Rue Lucien Sampaix, 10th Arrondissement
Website…
The New Sweets
Tramuta's New Sweets collection looks a whole lot like classic, old-world Paris. Her list includes pastry giants like Pierre Herme, Jean-Paul Hevin, Pierre Marcolini, and Patrick Roger. Lindsey believes that the current generation of French pastry, chocolate, and candy makers have an obsession with quality, freshness and the quest for excellence. Just like before! Here's to the New Paris, same as the Old Paris.
New Sweets Resources
ARNAUD LARHER
A spectrum of classic and inventive pastries and baked goods. Chef Arnaud has been awarded the Meilleur Ouvrier de France.
93 Rue de Seine, 6th Arrondissement
Website…
LA CHOCOLATERIE CYRIL LIGNAC
Come for the hot chocolate and pastries and leave with one of Chef Cyril's chocolate bars in a multitude of flavors.
JACQUES GENIN
A king of chocolate, he also excels at candied fruits and caramels.
133 Rue de Turenne, 3rd Arrondissement
Website…
PIERRE HERMÉ
The Picasso of pastries. Go here to sample his exceptional macarons and cakes.
72 Rue Bonaparte, 6th Arrondissement
Website…
JEAN-PAUL HEVIN
One of Paris' most respected chocolate masters, Hevin is famous for his chocolates, ganaches, and macarons.
231 Rue Saint-Honoré, 1st Arrondissement
Website…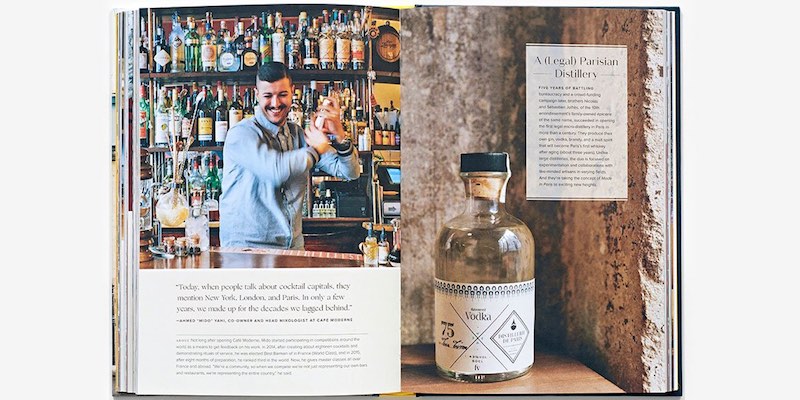 The New Libations
Tramuta traces the popularization of craft cocktails in Paris to 2007 when a trio of bon vivants with a vision appeared on the scene. Romee de Goriainoff, Olivier Bon, and Pierre-Charles Cros moved cocktails from their traditional codes and created their first famous bar, The Experimental Cocktail Club. They showcased what they had seen from Montreal, New York, and London; sourced the best-quality ingredients; and created a new image of the cocktail bar. The trio were told they were crazy and that Parisians didn't drink cocktails. Within six months of opening their bar was a success and Paris has never been the same.
New Libations Resources
ARTISAN BAR
Natural wines, craft cocktails and small plates found on a quiet corner.
14 Rue Bochart de Saron, 9th Arrondissement
Information…
CAFE MODERNE
Craft cocktails are served along with their famous 1970s meatballs. (Aren't they stale by now?)
19 Rue Kelle, 11th Arrondissement
Website…
CASTOR CLUB
One of Paris' early cocktail bars, with expertly mixed drinks.
14 Rue Hautefeuille, 6th Arrondissement
LE VERRE VOLE
This canal-side natural wine bar/restaurant serves a mix of Asian-influenced small plates and French rustic classics.
67 Rue de Lancry, 10th Arrondissement
MA CAFE FLEURY
The wine bar of Champagne Fleury, the biodynamic champagne estate.
117 Rue Saint-Denis, 2nd Arrondissement
Website…