Stellar Paris Bistros Where Parisians Dine But Tourists Rarely Find
It was back in the early 1990s when young chefs rocked the restaurant scene in Paris by breaking away from the haute cuisine practiced at such high end restaurants as Les Ambassadeurs at Hotel Le Crillon (where most of them trained under master chef Christian Constant). They sent the French food-writers into a feeding frenzy by opening small bistros scattered across Paris in far-flung arrondissements where they offered gourmet meals at affordable prices.
There was Yves Camdeborde and La Régalade in the 14th Arrondissement, Thierry Breton with Chez Michel and Chez Casimir in the 10th, Rodolphe Paquin of La Repaire de Cartouche and, in the 15th Arrondissement, Thierry Faucher 's l'Os à Moelle. These guys set the tone for the generation of chefs to follow — using traditional French ingredients to express their own style of cooking and show us something new, as if we've never tasted it before. Today, Thierry Breton's restaurants in the 10th are still on our circuit and so is l'Os à Moelle. Other fave restaurants are still chef-led.
Chez Michel – Thierry Breton
A Paris Insiders Guide Favourite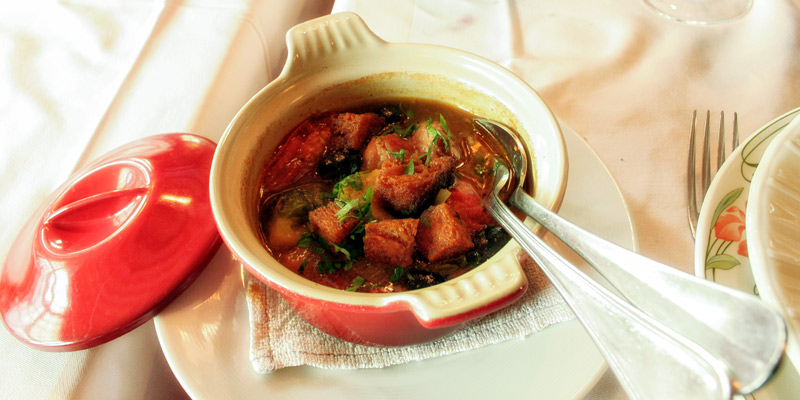 The menu at Chez Michel is based on the food Thierry Breton grew up with in his native Brittany, in the west of France on a peninsula sticking out into the Atlantic Ocean. We always start with his famous fish soup when it's on the menu. The broth is aromatic, pungent, puréed, tasting of the sea. The food at Chez Michel never disappoints, and we're not the only ones who think so! Be sure to make reservations.
10 Rue de Belzunce
10th Arrondissement
tel: 01 44 53 06 20
Chez Casimir – Thierry Breton
A Paris Insiders Guide Favourite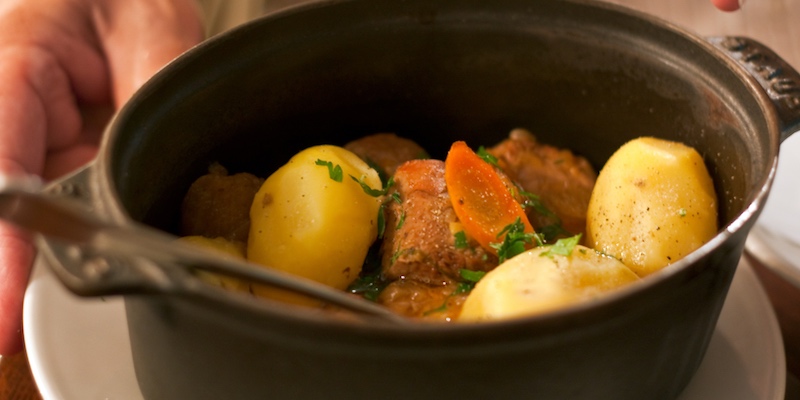 Chez Casimir is the sister restaurant, next door to Chez Michel. And we do mean "sister" because, in real life, the two restaurants are named after Chef Thierry's son and daughter. Casimir is the daughter. This restaurant in Paris is simple and small with maybe thirty-five rustic wooden chairs and a few banquettes. You shake your head in disbelief at the low prices and delectable selection.
The food here is regionally hearty, flavourful, and perfectly done. Between us we ordered slow-cooked, rich pork stew, Mediterranean scorpion fish, veal cooked in a white sauce, and ratatouille.
More recently Chef Thierry has opened up a wine bar in the space between the two restaurants. It's very casual and a lot of fun.
6 Rue de Belzunce
10th Arrondissement
tel: 01 48 78 28 80
L'Os à Moelle – Thierry Faucher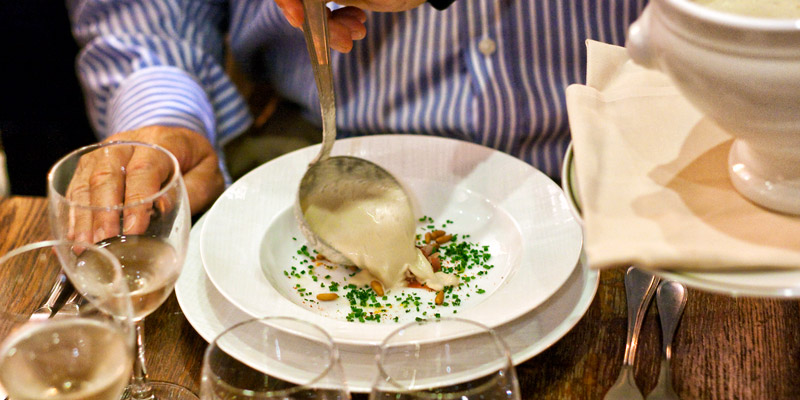 If the cream of mushroom soup is on the menu order it! It is both drama and art — a large soup bowl arrives with a scattering of fresh herbs, toasted pine nuts and crispy lardon. Then the server brings a pitcher of the soup to ladle into the bowl, in this case a billowy mushroom broth is poured. Your taste buds, expecting warmth, are jolted awake with cold, silky, wonderful soup! This cold mushroom soup is a signature dish invented by Chef Thierry Faucher.
The meals goes on like this, one superb plate after another — boudin noir, foie gras, lapin, pintade — accompanied by the white Saumur and the red Saint-Joseph. After desserts have been served Chef Thierry is often out on the floor, shaking hands — in years past he might have been carrying his young daughter, but we suspect she's too old for that now! You applaud him for keeping his restaurant in Paris scrumptious for thirty years.
The history of L'Os à Moelle is a bit unusual. Chef Faucher opened the restaurant in 1994; in 2000 he opened a wine bar right across the street. Fast forward to 2011 and Chef sells the restaurant and rents out the wine bar to his staff, while he concentrates on another restaurant he's opened in the suburbs. But Thierry, it seems, can't stand to see his babies in someone else's hands. In 2013 he again takes over the wine bar and the next year he repurchases L'Os à Moelle. And we're thankful for that.
The impressive menu for about 42 Euros offers five courses, including a soup and a cheese course.
181 rue Lourmel
15th Arrondissement
tel: 01 45 57 27 27
La Braisiere – Jacques Faussat
Dining at La Braisiere was one of our favorite restaurants experiences and Jacques Faussat a favorite chef in Paris. The restaurant itself it hidden on a small street in the 17th Arrondissement that tourists are unlikely to find. Yet, in this unassuming location you'll find some of the best food you've every eaten.
Chef Faussat was raised loving food near the Basque country in southwest France. By age 12 he was already working in a local restaurant and 14 left home to attend cooking school. But, to this day, the flavours of his childhood and his region influence everything he cooks.
When we last ate at La Braisiere it had one Michelin star, and we thought it was truly worthy of it. But in the latest edition of the Michelin guide we were surprised to see that Chef Faussat had lost his star. Whatever the case, we still highly recommend the restaurant. The menu is not as low-priced as the others in this article, but it's worth every cent.
54 Rue Cardinet 75017
tel: 01 47 63 40 37
L'Ourcine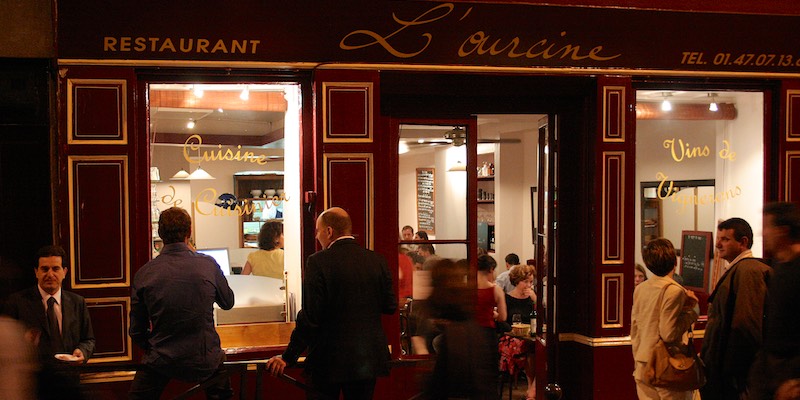 The last time we dined at this gem of a Paris bistro, frothy amuses bouches in shot glasses arrived at the table as soon as we sat down — setting the tone for this modern bistro meal. We started with marinated fresh mackerel served on a salad with a tangy Thai-influenced vinaigrette. That was followed by roasted sea bream: crispy-skinned fish on a bed of vegetable couscous, and a chilled red wine from the Auvergne.
Founding chef Sylvain Danière was a Yves Camdeborde protégé from the original La Régalade in the 14th. For our most recent review, also see, The Best of Paris 2018…
92 Rue Broca 75013
12:00pm to 2:30pm and 7:00pm to 11:00pm