Coquilles Saint-Jacques – A True Classic French Scallop Recipe
Creamy, flavorful and delicious, this classic pleases everyone. After trying several complicated French scallop recipes, we created this simple, fail-proof version based on a dish we had been served in Paris at Fermette Marbeuf 1900, a stylish Belle Époque restaurant in the 8th Arrondissement (now, sadly, closed).
The simplicity of their version attracted us. Many scallops recipes for Coquilles Saint-Jacques include things like sautéed mushrooms or a ring of mashed potatoes. This version makes the best of the ingredients — just silky scallops bathed in cream with a hint of lemon. It can be served as an appetizer (one shell) or as a main course (two shells) with a salad and crusty bread.

Coquilles Saint-Jacques Scallop Recipe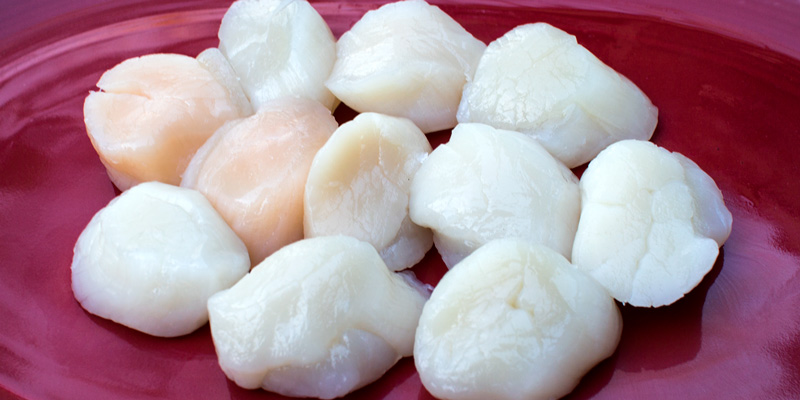 Don't overcook the scallops. They should still be a bit translucent when you remove them from the pan.
6 large scallops
1 T extra-virgin olive oil
2 T butter
¼ cup unbleached flour
3 T heavy cream
1 tsp lemon juice
½ glass white wine
1 shallot, finely chopped
3 T Reggiano-Parmigiano
Cut the scallops by slicing them in half horizontally. In a non-reactive dish, marinate the scallops for 30 minutes in the olive oil and lemon juice.
Preheat the broiler.
Drain the scallops, dredge them in the flour, and cook them gently in 1 tablespoon of butter, for about a minute. Remove the scallops from the pan and set aside. Divide them among four shell-shaped baking dishes.
In the same pan cook the shallots at medium heat, in another tablespoon of butter until they are almost caramelized. Add the white wine and a few drops of lemon juice. Cook until the mixture is bubbling and reduced. Add the cream and then season with salt and pepper. Let it simmer for another two minutes until the cream has thickened.
Pour the shallot-cream mixture equally over the baking shells of scallops and grate on the Reggiano-Parmigiano. Place under a broiler at high heat until bubbling and browned, no more than 5 minutes. Serve immediately.
Serves 4 as an appetizer or 2 as main course.