French Bread – Water, Salt, Yeast & Flour. What Could Be Simpler?
As we learned from a Parisian boulanger, French bread recipes use only four ingredients: water, salt, yeast and flour. Easy, no? When we're not in France and find ourselves pining for the rustic boules found in every boulangerie, we turn to this easy, no-kneading recipe. The trick to this easiest of French bread recipes is to do less. Do not knead the bread at all. Once you stir the yeast, salt, water and flour, in a large mixing bowl, set the dough aside and let it rise on its own for several hours
To steam or not to steam? Much has been written in French bread recipes on adding steam to the oven to help produce a better loaf. But, after experimenting a lot, we've found that even without steam, the bread will be crunchy, with a holey, soft interior. Skip the steaming step; just one less thing to do.

French Bread Recipe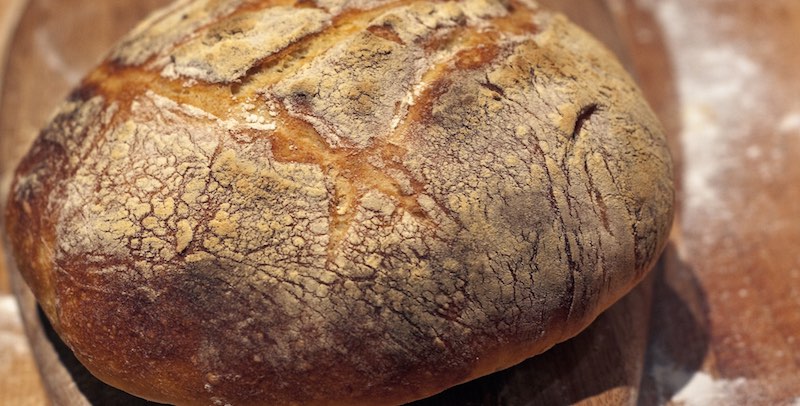 This recipe makes 3 medium boules or 4 small boules.
1½ T dry active yeast
1½ T coarse sea salt
3 cups lukewarm water
6½ cups unbleached flour
Two hours before baking, in a large mixing bowl, add the water, yeast and salt and stir briefly. Then stir in the flour using a rubber spatula to integrate the flour into the water, salt, yeast mixture. Make sure the cups of flour are scant and not brimming over the top.
Mix until all the flour is incorporated, this step should take just about two minutes. If the mixture is bone dry, add a tablespoon of water to the bottom of the bowl and stir in, repeat if necessary. The mixture should be fairly wet. Loosely cover the bowl with plastic wrap and set aside for two hours (or more.)
(Once the dough has risen for two hours and if you're not going to bake it right away, simply put the covered dough into the fridge. It's good for two weeks! When using dough straight from the fridge, shape into boules, and let rest covered for about an hour before baking. This recipe can also be used for pizza dough.)
Thirty minutes before baking, place a pizza stone in the oven and heat to 450°F. If you don't have a pizza stone, use a heavy-duty baking tray lined with parchment paper.


After two hours the dough will have risen considerably. Have some extra flour nearby and with your hands, grab a handful of dough about the size of a melon. Cut off this portion of dough with a sharp knife. With flour on your hands, form the dough into a ball, pulling it smooth towards the bottom. Tighten it by pinching the seam underneath. Make sure the dough is not sticking to your hands, so use as much flour to dust your hands as you need. The boule shaping step should take about 30 to 60 seconds.
On a bread peel (or a cutting board) sprinkle a handful of corn meal so the bread doesn't stick. Place the formed dough onto the peel or board. If the dough has already been at room temperature for two hours, you are ready to bake. With a sharp knife or blade, cut one-half-inch deep slashes diagonally across the top of the dough (3 slashes are plenty): this helps to form the artisan crust. Now sprinkle extra flour on top and put into the oven. With a firm jerk, the dough will move from the peel and onto the stone. Set the timer for 30 minutes.
The bread will pop up into a lovely boule shape within minutes. When the crust is a deep golden brown it is ready to take out. Let the bread cool for at least 30 minutes before you eat. If you can wait!