Steak Au Poivre Recipe – The Famous French Pepper Steak
Parisians love steak au poivre. A peppery crust in a creamy sauce with a hint of brandy elevates steak from meat-and-potatoes to something so sublime it will make you swoon. When it's done right, steak au poivre should melt in your mouth. We've added fleur de sel to the peppercorns to mellow the peppery flavors. If you don't have fleur de sel even a few grinds of freshly ground sea salt will do the trick.
What's essential to this dish is quality filet mignon or tenderloin, and whole grain peppercorns. You can grind the peppercorns in a pepper grinder on the coarsest setting, or better yet, smash with a mortar and pestle. Don't crush the peppercorns too fine, they should retain a chunky texture. Don't be alarmed by the amount of butter and cream! You'll discover that a small portion will satisfy, even a 3-ounce serving is plenty. Steak au poivre is a easy French recipe that can be quickly be made. It's hard to believe that this spectacular French dish can be made in less than 30 minutes.

Steak au Poivre Recipe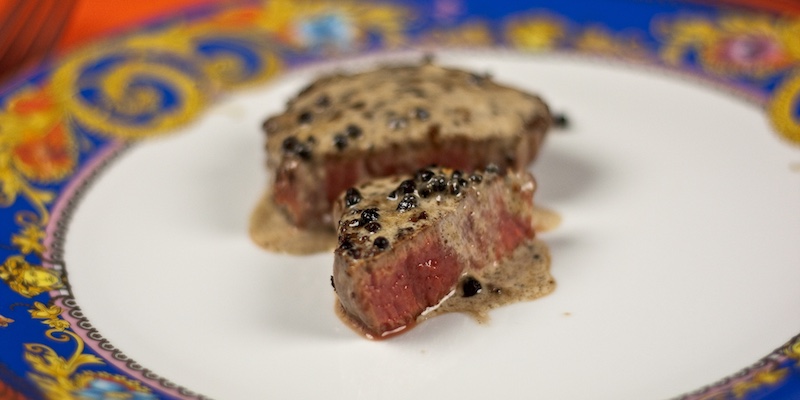 This dish really shines when the steaks are cooked rare — it's important not to overcook the meat. Cooking time will vary with the thickness of the steaks and even the skillet you use.
Essential Equipment — a large skillet, a pepper grinder or a mortar and pestle to crush the whole black peppercorns.
1 to 2 T whole black peppercorns, coarsely crushed
1 T fleur de sel
Two 6 to 8 oz steaks, filet mignon (tenderloin)
1 T butter
1 T olive oil
¼ cup Cognac or brandy
½ cup heavy cream
With a mortar and pestle coarsely crush the peppercorns, then add the fleur de sel, and give a few more turns with the pestle. Spread out the mixture on a large plate. Press steaks directly onto the salt and pepper mixture on both sides.
In a heavy skillet heat the butter and olive oil until sizzling hot. At a near high heat, cook the steaks on each size for 2 to 3 minutes depending on the thickness. Remove the steaks with a pair of tongs.
Remove the pan from the heat and wait for about a minute to let it cool slightly. Add the cognac and stand back! The cognac will practically ignite and then quickly boil down. With the heat still off, add the cream and then bring back to a low heat until it boils and thickens, about 2 to 3 minutes.
Return the steaks to the skillet, completely coat with the mixture and serve immediately.
Cooking Time: 10 to 15 minutes prep time and 15 minutes active cooking.