Bring Back Your Paris Memories With Authentic Quiche Lorraine
There are a lot of quiche recipes. It seems that every cookbook has at least one. But the recipe we use delivers an authentic Quiche Lorraine that we think you'll want to make again and again.
One summer we stayed in a rustic farmhouse in Provence where we would buy delectable individual quiche from the local boulangère. When we asked why her quiche were so delicious, she surprised us: "Authentic quiche does not use cheese." If you want to really impress dinner guests with your quiche make the pastry dough from scratch and you will be richly rewarded.

Quiche Lorraine Recipe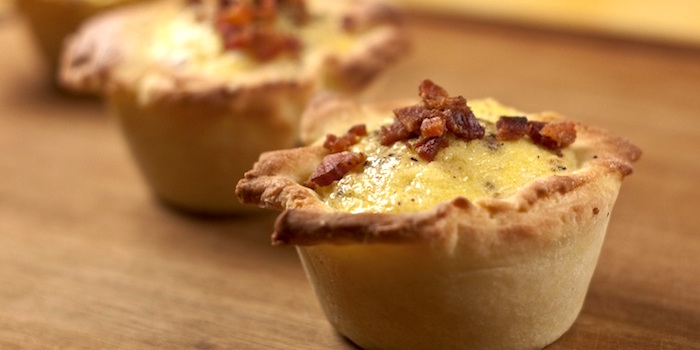 Essential Equipment — a large skillet, muffin tins (muffin mold), a small pot, and a rolling pin.
3 eggs
2 cups cream
½ lb bacon, chopped
Quiche Pastry Dough (separate recipe)
sea salt
freshly ground black pepper
Preheat oven to 375°F. Smear a bit of butter into each muffin hole.
Prepare the Quiche Pastry
Use thick-cut, high-quality bacon and fry it until it is almost crisp. Drain the strips on paper towels, and then cut it into small bite-size pieces and set aside.
In a small, heavy-bottom pot bring the cream to a boil. Turn down the heat, and continue to simmer for about two minutes until the cream has thickened. Remove from the heat and let it cool for about 10 minutes.
In a medium bowl beat the three eggs with a fork or whisk. When the cream has cooled, add the eggs and beat together. Add salt and pepper to taste.


Roll out the pastry and cut rounds to fit into the prepared muffin tins. In each muffin mold, gently press a piece of dough into place to form a cup. Make sure there's extra dough to fold over the top edge slightly. Place the muffin tin on a baking tray before you fill them for easy transport to the oven.
Divide the cooked bacon into two parts. One half will be sprinkled directly on top of the dough in the molds. Set aside the remaining half of the bacon for later use.
Using a soup ladle, pour the creamy egg mixture into each mold, filling almost to the top. Bake for 20 minutes and then sprinkle the remaining bacon on top. Return to the oven and cook for an additional 10 to 15 minutes. The crust should be golden brown and the custard slightly springy.
Let the quiche cool in the muffin tin for a few minutes, then transfer to a wire rack. These can be served warm or cold.