Chocolatiers de Luxe – Five Of The Best Chocolate Shops In Paris
Five Of The Best Chocolate Shops In Paris
Paris chocolatiers represent luxury in food. In that they share company with wine shops, fromageries, and boulangeries as essentials for the good life. In France chocolate is treated with respect; although the French didn't invent chocolate, they have elevated it to a gourmet food item revered by many. Let's take a stroll through the chocolate-paved streets of Paris to discover les bonnes addresses de chocolat. But, first let's look at a delectable chocolate tour !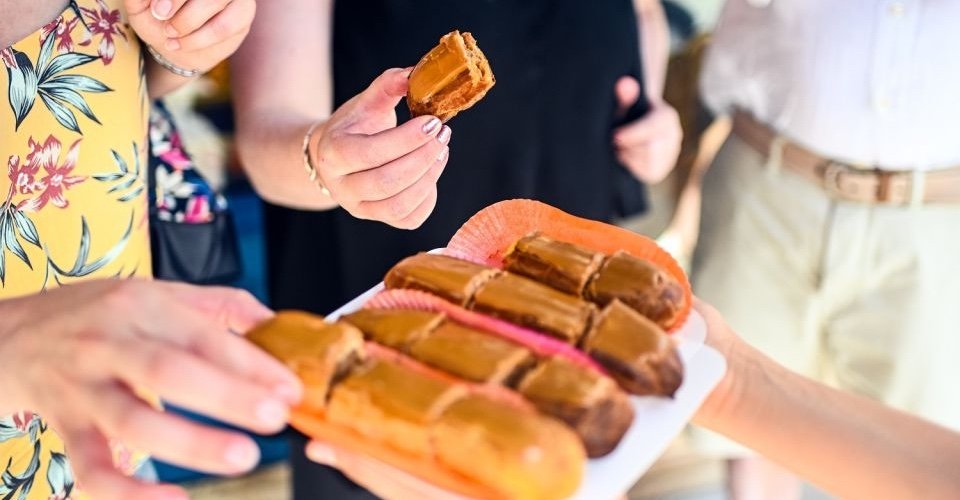 Even though chocolate shops — chocolatiers — are found in every quartier of Paris, Saint-Germain seems to be some kind of hub, like the Cocoa Express truck dropped a whole load of raw ingredients here. Not only do you find the oldest chocolate shop in Paris (whose founder made chocolates for the likes of Marie-Antoinette and Napoleon), but a number of internationally-renowned chocolatiers have locations here — like Pierre Cardolini, Patrick Roger, Pierre Herme (of course), Ladurée, and Gerard Mulot. It's no wonder that one of the most popular food activities in Paris is a chocolate walking tour through this neighborhood.

Discover What's On When You're Here...
Discover What's On When You're Here
1. Pierre Hermé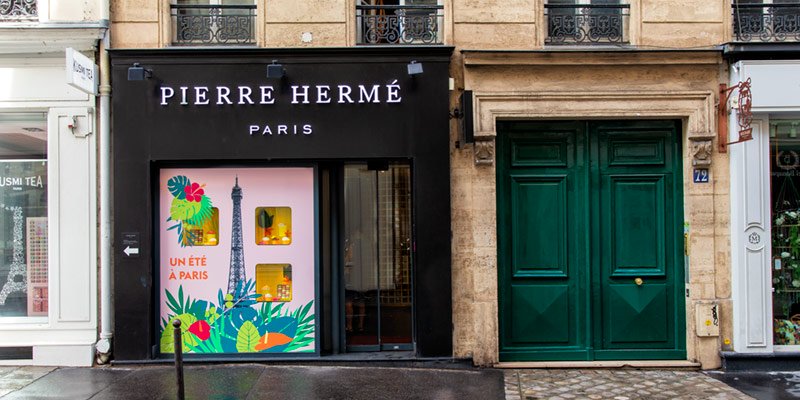 They don't call him the Dior of Desserts for nothing. This highly-esteemed pâtissier and chocolatier has a firm grasp on combining sweet and savory flavors to impress any food lover. Some of our favorites are the Seville Orange Ganache, rich and delicate, with a tangy twist; and the Lemon Ganache, with almond paste, a wafer-thin macaron cookie, all covered in dark chocolate.
72 Rue Bonaparte & other locations
6th Arrondissement
2. La Maison du Chocolate
Back in 1977 Robert Linxe had a dream — "to restore chocolate in all its nobility". To fulfill that dream he opened his first shop on Rue du Faubourg Saint-Honore. It wasn't long before food writers began called him the "sorcerer of ganache" due to his creation of intoxicating flavors with a technique of blending chocolate with fresh cream. His legendary Salvador ganache was made with the strained pulp of fresh raspberries.
Linxe also introduced giant chocolate macarons, long before the mini versions became all the rage. Since 1990 his eclairs have also been a house specialty, with the fillings changing seasonally. Of course, his chocolate eclairs are a year-round staple. Today, La Maison du Chocolate locations are found throughout Paris, in France, and even around the globe. Robert Linxe died in 2014 at the age of eight-five, but his reputation as as a chocolate statesman lives on. He is remembered as the godfather of modern French chocolate.
There are numerous boutiques in Paris, one is found at 225 Rue du Faubourg Saint-Honoré in the 8th

3. Hugo & Victor
When friends Hugues Pouget and Sylvain Blanc opened their modern luxury chocolate shop and patisserie in 2010, they envisioned an haute chocolaterie. Their chocolates, infused with Earl Grey tea, orange, and cloves are displayed in jewel cases like rare gems; every inch of the shop is designed with precision. Even the chocolate boxes are designed to resemble Moleskin journals. All their chocolates and pastries come with wine recommendations for the perfect pairing. Now, that's luxury!
40 boulevard Raspail
7th Arrondissement
4. Jacques Genin
Famous for his caramels (most days there are eight different flavors available) and his pâtes des fruits (delicate, fruit jellies), all of Jacques Genin's creations offer just the right balance. Enter his sleek shop and tea salon in the Marais and inhale the blend of chocolate, fruit, butter and caramel. If you're a fan of hot chocolate try his version, which is simply melted chocolate and a dash of hot milk. Genin is a self-taught maître chocolatier and he considers himself a chocolate rebel.
133 Rue de Turenne, Marais, 3rd Arrondissement
27 Rue de Varenne, 7th Arrondissement

5. Henri le Roux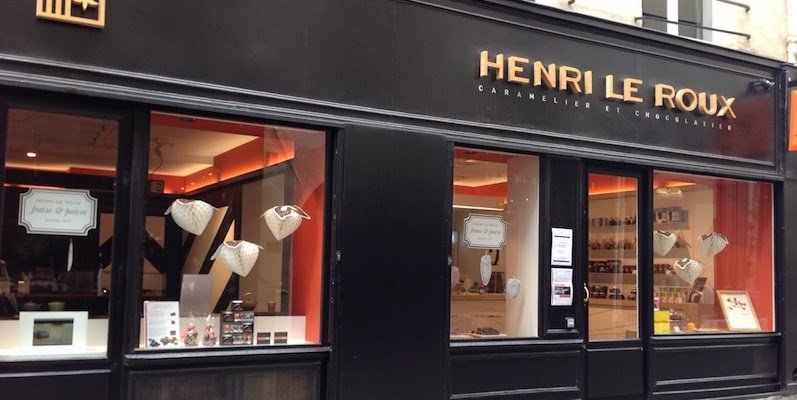 Tucked away behind a brown and orange storefront in Saint Germain des Prés is the shop of Henri Le Roux, the creator of the famous patented salted caramel (CBS for short) made with salted butter from Brittany. To celebrate their 20th anniversary of chocolate making, Henri and his wife Lorraine made the longest salted butter caramel in the world — 620 yards long, with 440 pounds of caramel. But it's not just about the caramels, they also produce a unique Truffe de Truffe (a chocolate truffle made with real truffles) and an award-winning yuzu macha bar.
1 Rue de Bourbon le Château
6th Arrondissement

A Short History of Chocolate in France
"Chocolate is Health" – Voltaire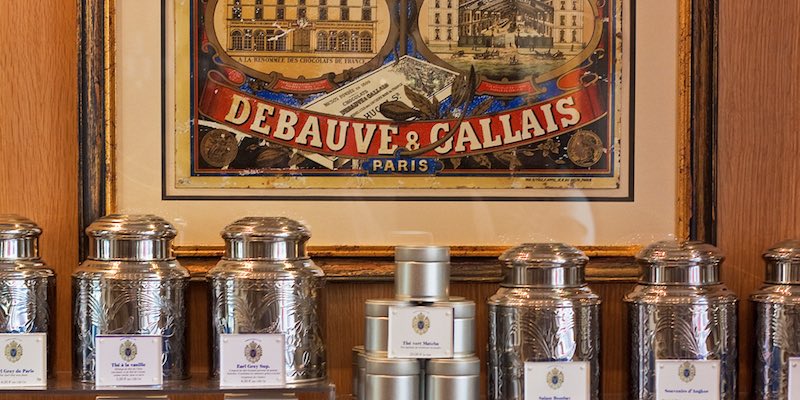 When chocolate first arrived in France in the 17th century, the royalty declared it was only fit for the aristocracy. Before there was chocolate as we know it, in bars and bite-sized shapes, chocolate was only served as a drink. As it became popular in Europe, many people had questions about it — was it healthy or was it harmful?
Paris's first chocolate shop opened in 1659 on Rue de l'Arbre Sec, when Louis XIV allowed one of Queen Anne's officers the exclusive rights to sell chocolate. Chocolate soon became the rage in French courts. At Versailles, hot chocolate became a popular drink. It is said that Napoleon preferred it to coffee and that Voltaire drank a dozen cups a day.
In 1800 two clever businessmen figured out a way to market chocolate. They sold it as medicine and soon "the chocolate cure" swept Paris. And what's not to like about a medicine that contains mostly cocoa and sugar? Monsieur Debauve, a chocolatier, and Monsieur Gallais, a pharmacist, opened their shop just off the Boulevard Saint-Germain on Rue des Saints-Peres. (It's still there, called Debauve & Gallais). They even prepared special medicinal chocolates for Marie Antoinette.
The French generally prefer chocolate amer, bitter chocolate high in cocoa butter and low in sugar, compared to their American friends who prefer milk chocolate, high in sugar. And these days the flavor profile of chocolates in France go beyond simply praline to concoctions like salted caramel, Espelette pepper, green tea, yuzu, mango, and other global flavors.
Although there seems to be a chocolatier on every street corner in Paris, the French show great restraint in their consumption. In fact, they eat less chocolate than their neighbors in Switzerland, Germany and even the UK and USA.
In France the art of chocolate is viewed the same as the world of wine, perfume and fashion. Much like a cellar master, a maître chocolatier seeks out the finest cocoa from Venezuela, Ecuador, the Caribbean, Brazil, and The Ivory Coast and carefully blends until it's just right.

Tips for Buying Chocolate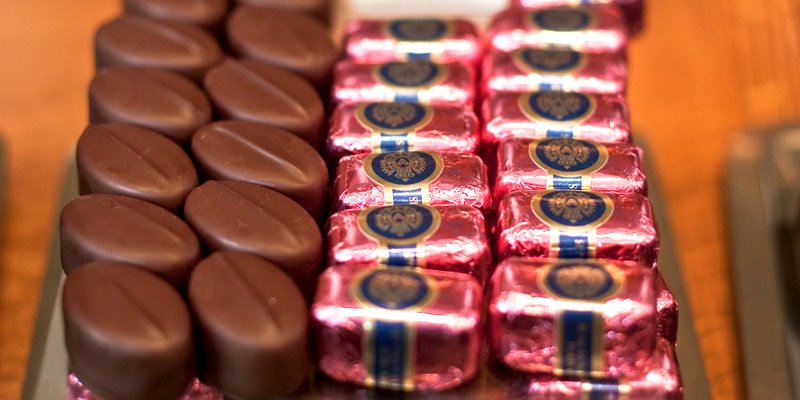 Always choose chocolates with a shiny coating, which is a sign of quality.
When buying chocolates as a gift, always buy a mixture to ensure the recipient will enjoy some of them.
Pay attention to the size of the chocolates. They should be small enough so they can be put into your mouth whole, to savor the flavors in one bite.
Never keep chocolates in the refrigerator. Keep them in a dry, cool place like a dark cupboard.
The enemy of chocolate is dampness. Keep your chocolates in a dry place.
Do not store chocolates near strong-smelling foods, which could alter the taste.
Our favorite tip — Eat chocolates as quickly as possible, within two weeks of purchase is advised.