Thé à la Française – French Afternoon Tea in Paris
Although we (the royal "we") tend to think of high tea as more of a British tradition, French afternoon tea service in Paris has recently become a thing. So we say, why not make it the theme of your next visit here? Spend some time in Paris visiting the grande luxury hotels to sample their afernoon tea.
At a fraction of what a meal would cost, you get to soak in all the luxury, crême de la crême service, and delicious gateaus and patisseries with a freshly brewed pot of tea. Here are seven delicious choices.

Located on Rue de Rivoli, just across from Tuileries gardens, Le Meurice is dedicated to the style of Louis XVI. Soak up the 18th-century grandeur and heritage at Restaurant Le Dalí (designed by Philipe Starck) for afternoon tea. And while the Meurice respects its past, their afternoon tea is innovative with superstar pastry chef Cédric Grolet at the helm.
What can you expect for tea? A silver three-tired tray full of dainty sandwiches, scones with clotted cream, confiture and pastries are served to you under the fresco that adorns the ceiling of the Dali restaurant. Or, you could choose the Cocooning Champagne Tea option which includes tea plus champagne followed by pampering at the spa with either a facial or a scented-oil full-body massage.
228 Rue de Rivoli
1st Arrondissement
This Art Deco landmark hotel offers a sumptuous afternoon tea experience in the Galerie lounge. The elegant room is filled with 19th-century furniture, works of art, glittering chandeliers, Flemish tapestries, and an explosion of fresh flower arrangements. You might even hear the tinkling of piano music in the air.
Fresh, decadent desserts and pastries from the trolley will arrive at your table, along with the choice of twenty-five teas sourced from Betjeman & Barton. You can elevate the experience with a glass of champagne or the hot chocolate grand cru option.
31 Avenue George V
8th Arrondissement

The Ritz being the Ritz, there are two afternoon teas to choose from — Thé à la Française is served in Salon Proust while a more traditional tea service is offered in the Bar Vendôme and, in warmer months, on the outdoor terrace. Named after the French author Marcel Proust, Salon Proust's wood-panelled walls, fireplace and plush armchairs will force you to put down your guide book and settle in for a relaxing afternoon.
Thé à la Française is served from 2:30 PM to 6:00 PM and, like the name implies, with a distinctly French twist. Expect tuiles, delicious rolled wafers called cigarettes, florentines, and madeleines along with an extensive choice of teas. The landmark hotel opened its doors in 1898 and set the gold standard for luxury hotels.
15 Place Vendôme
1st Arrondissement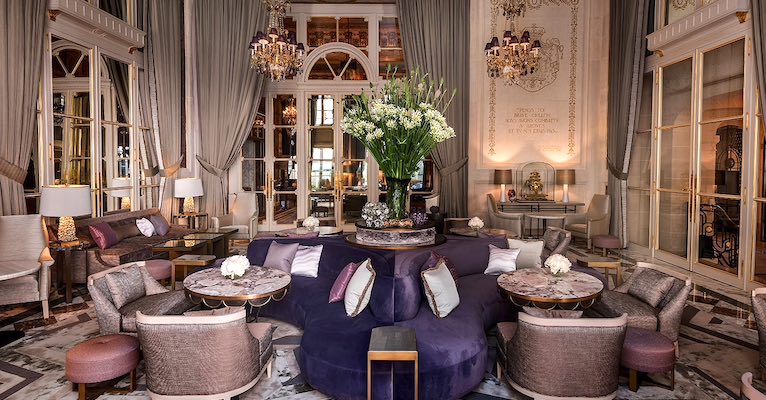 The star of Place de la Concorde, Hotel de Crillon opened as a luxury hotel in 1909. However its history dates back to the 1700s. The building was constructed on order of Louis XV to be used by the French state. And the name comes from the Crillon family who once lived here for more than a century, after the Revolution and all… oh, it's a long story.
Until recently, Hotel de Crillon had been closed for years for a complete upgrade. Now, this hotel in the very heart of Paris has been revitalized and a Palace designation has been awarded. That's good reason to visit the historic hotel and indulge in their afternoon tea service. Served in the Jardin d'Hiver, the Gouter des Ducs is a enviable three-step teatime that pays homage to Marie-Antoinette. We'd go for the champagne pairing option. (No surprise there.)
10 Place de la Concorde
8th Arrondissement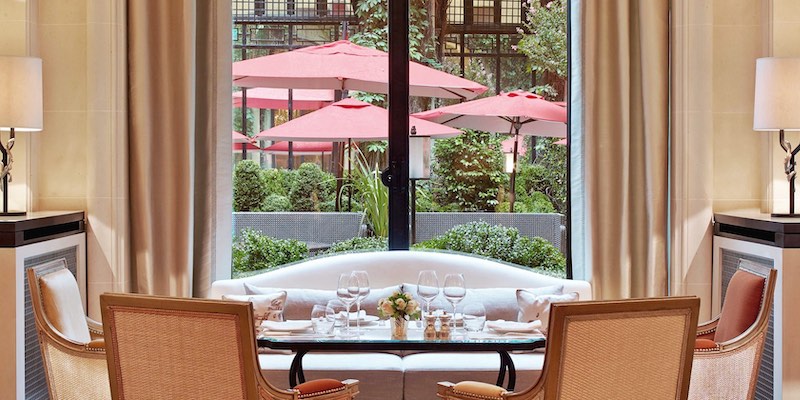 Located on elegant, tree-lined avenue Montaigne, Hotel Plaza Athénée, with its signature red umbrellas and awnings, stands proudly in the city's haute couture district. Afternoon tea here is in true Parisian fashion with three tiers of treats. This is a dessert lover's dream. On the menu is Paris-Brest with cashews, tarte aux framboises, Baba Plaza with aged rum, and the hotel's signature 100% Vanille concoction.
25 avenue Montaigne
8th Arrondissement
This Palace-designated hotel was once the residence of Napoleon Bonaparte's great-nephew, Prince Roland Bonaparte. And why wouldn't he want to live at this location, given its commanding views, including that of the Eiffel Tower? The afternoon tea in the lounge offers a 100% vegan option with finger sandwiches and scones made with dairy-free and animal-free ingredients, if that's your cup of tea.
25 avenue Montaigne
8th Arrondissement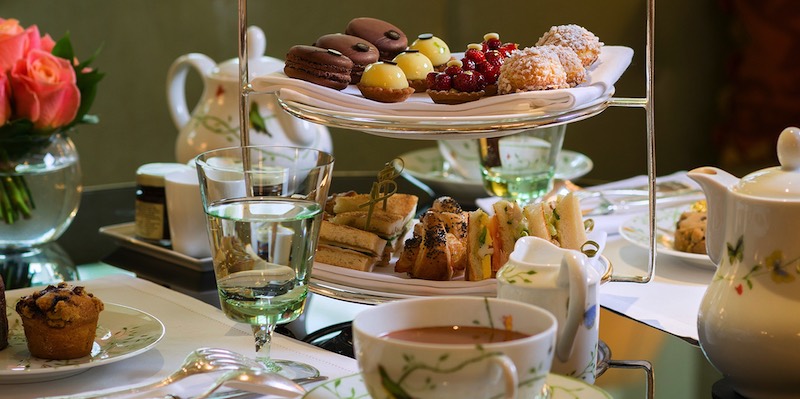 As you would expect, afternoon tea at the Hotel Bristol is a very civilized affair. Adorned with frescoes and crystal chandeliers, Café Antonia is a stellar setting for afternoon tea, served from 3:00 PM to 6:00 PM. Three-tiered plates arrive arranged with darling, miniature club sandwiches and traditional French pastries. You can take tea in the lounge, or in warmer months, in the beautiful courtyard garden. Choose from the classic tea option or Le Bristol high tea which includes a glass of champagne. No need to guess which one we opt for.
112 Rue du Faubourg Saint-Honoré
8th Arrondissement
A Brief History of Tea in France
The French actually do have a tea tradition, it's just that they lost it for a couple of centuries. We can thank the French Revolution for that. In fact, tea was first introduced to France twenty-two years before it arrived in England. It was 1636 when the first shipment of tea landed in Paris via the Dutch trade route.
After its introduction tea became very popular in France, especially among the aristocracy. Louis XIV, AKA The Sun King, became an avid tea drinker. It's no surprise that his top man, Cardinal Mazarin, also took up drinking tea. Famous letter writer Madame Sévigné wrote to her daughter that the Princess de Tarente (Marie Antoinette's lady-in-waiting) drank at least twelve cups a day.
However, its popularity among the French aristocracy may have been the kiss of death for the beverage. Along with Louis XVI and Marie Antoinette, another casualty of the French Revolution was tea. Tea, a symbol of privilege, went the way of royalty.
Fifty years after the Revolution, a wave of Anglomania swept the country. Everything English became the rage. It was stylish to take tea, often in the evening along with a patisserie. Around this time the French importer, Mariage Frères, began to expand its business. In 1854, they founded the Mariage Frères tea company in Paris, the oldest in France.
Tea is now trending in France, especially in Paris. French tea aficionados can even study their passion at the École du Thé. The French art of tea is taken seriously with careful attention to choosing quality ingredients, along with exact preparation and elegant presentation. Removing the leaves immediately after the tea is infused is considered a signature of French tea preparation.
Another hallmark of the French approach is a preference for estate-grown tea. Sound familiar? The French are bringing the same love and appreciation they devote to wine to tea. Mon dieu, tea is finally recovering from the French Revolution and taking its rightful place alongside cafê.