Insiders Guide to
Paris Taxis
A good way to
travel around paris
At one time, getting a Paris taxi was a bit of a challenge. You couldn't hail a cab on the street, but had to find a designated taxi stand and wait there until one of 15,500 Paris taxis arrived.
In recent years we've noticed a loosening of the rules and we often see people hailing a taxi on the street.
We've done it ourselves.
The official taxi stands still exist (look for the blue-and-white sign) where you can find a cab already waiting, or wait for the next one.
To spot an available taxi look for a cab with a bright light on top. That indicates the taxi is ready for customers.
How much does a paris taxi cost?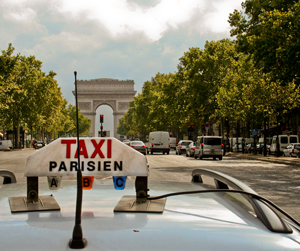 The meter starts at 2.20€ and the minimum fare is 6.00€. There's also something called an approach price. This applies when you arrange for a taxi to come to your hotel or apartment. You will be charged for the journey to get to you.
Taxis in Paris generally do not take credit cards, so be prepared to pay in cash. If you do want to try to pay with a credit card from the airport, always ask the cab driver if they accept les cartes de credit before you jump in.
Taxi Cost from Charles de Gaulle Airport?
You can expect to pay anywhere from 60€ to 80€, it really depends on the traffic and exactly where you are going. It can be more if traffic is slow. If you reserve a taxi in advance, you'll have to pay an extra reservation and pickup fee in addition to the fare.
However, it isn't necessary to book a taxi in advance – at the airport you'll find plenty of them at the designated taxi stands.
Taxi Caveat
Don't do what our friend José did.
He accepted a taxi ride from a phoney who solicited him inside the airport, not at the official taxi stand. José got to his hotel, but he managed to pay about three times the going rate! Always check to make sure the taxi has a meter and a visible taxi sign on the roof. (This scam is usually only pulled at the airports and train stations.)
How do I communicate with the driver?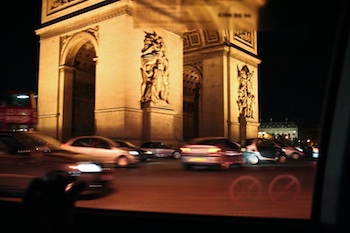 Seeing Paris From A Taxi
Many taxi drivers in Paris speak a little English, but it's always a good idea to have a pen and paper to write down the address. There are many similar sounding streets (especially if you have our dubious French accents!), you could wind up across town!
A good tip is to print out small slips of paper with the name of your hotel and the address (or your apartment address). That way, if you are not confident in speaking French, you can politely hand the driver one of the slips, with a "Nous allons ici, s'il vous plait". (We are going here, please).
Paris taxi training
There are no amateur taxi drivers in Paris, it's a serious profession. All the drivers are professionals who have successfully passed exams controlled by the Paris police department. In general, we've found Paris taxis to be cleaner and the drivers more professional than in other cities.
Are there extra costs? Do I need to tip?
Taxis are required by law to charge for any passenger over three — the fourth and fifth passengers will be charged 3€ each. There is also an additional charge for pieces of luggage weighing over 5 kilos (11 pounds). There is no charge for wheelchairs. Remember, you don't need to tip your taxi driver in Paris.
Paris Planning Quick Links
Guide To Paris Airport Transfers

Useful Phrases
In French
D-Day Tours
From Paris

Romantic Seine River Cruises
Want To Learn More?
Don't Miss a Single Paris Travel Tip –
Sign up for Le Petit Journal !
the newsletter of Paris Insiders Guide