Guide to the best
Paris baguettes
And the winner is…
Bread has always been important in France, and Paris baguettes continue that tradition.
While the French eat a lot of bread, particularly baguettes, they used to eat a lot more.
A hundred years ago the typical Parisian ate 620 grams of bread per day, nearly a pound and a half! Today, that amount is more like 150 grams, just over five ounces.
The quality of Paris baguettes declined as demand decreased. Things got worse during World War I and World War II when rationing affected bakers' ability to get supplies.
The dubious quality of some Paris baguettes led to changes in the early 1990s. Consumers and artisan boulangers banded together to try to return the traditional quality of Paris baguettes.
In 1993 a law was passed that regulated how a baguette de tradition (traditional baguette) must be made.
Baguettes de tradition must be made on the premises of the boulangerie, from start to finish. They can contain only four ingredients – wheat flour, yeast, salt and water. Only then can they be called "tradition".
The new law was supported by an annual competition for the best Paris baguettes, the Grand Prix de la Baguette de la Ville de Paris, where the top baguette maker got to supply the French presidential residence with baguettes for the year.
So, when buying a baguette in Paris, always ask for a tradition and, if you get a chance, try a baguette from one of the prize winning boulangeries.
Behind the Scenes of a Paris Boulangerie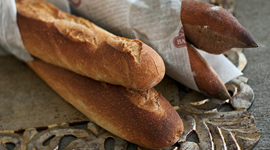 Take a tour behind the scenes at a authentic Parisian boulangerie to discover every aspect of the art of the baguette and that other paragon of french pastry, the croissant.
There will be plenty of baguette and croissant tasting in this one-hour guided tour. Eat bread, be happy.
Grand Prix de la Baguette de la Ville de Paris
Paris Baguettes 2011 winners
Au Levain d'Antan, 6 rue des Abbesses, 75018

Gaétan Romp, 14 rue de la Michodière, 75002

Les Saveurs du 20eme, 120 rue de Bagnolet, 75020

Gontran Cherrier, 22 rue Caulaincourt, 75018

Le Fournil du Village, 12 place J.B. Clément, 75018

Les Gourmandises d'Eiffel, 187 rue de Grenelle, 75007

Julien, 75 rue Saint-Honoré, 75001

Philippe Marache, 92 av de la République Paris, 75011

Philippe Bogner, 204 rue des Pyrénées, 75020

Le Grenier à Pain Saint-Amand, 33 bis rue Saint-Amand, 75015


Paris Baguettes 2010 winners
Le Grenier à Pain Abbesses, 38 rue des Abbesses, 75018
La Parisienne, 28 rue Monge, 75005
Dominique Saibron, 77 Avenue du Général Leclerc, 75014
Yves Desgranges, 6 rue de Passy, 75016
Philippe Gosselin, 258 Boulevard Saint-Germain,75007
Xavier Doué, 163 Avenue de Versaillais, 75016
Boulangerie Lohézic, 31 rue Guersant, 75017
Boulangerie d'Isa, 127 rue de Charenton 75012
Mohamed Zerzour, 50 rue de l'Amiral Roussin 75015
Zerzour II, 324, rue Lecourbe, 75014
Good Bread Is Back —
A Contemporary History of French Bread, the Way It Is Made, and the People Who Make It

This is a beautifully illustrated book for anyone interested in French food (and Paris baguettes). Widely recognized as a leading expert on French bread, the historian Steven Laurence Kaplan takes readers into aromatic Parisian bakeries as he explains how good bread began to reappear in France in the 1990s, following almost a century of decline in quality.
Paris Planning Quick Links
Want To Learn More?
Don't Miss a Single Paris Travel Tip –
Sign up for Le Petit Journal !
the newsletter of Paris Insiders Guide