Bread Winners –
The Best Paris Baguettes
Crunchy on the outside, airy on the inside — a winning combination. Bread has always been important in France, and Paris baguettes are most definitely a part of that tradition.
While the French eat a lot of bread, particularly baguettes, they used to eat a lot more.
A hundred years ago the typical Parisian ate 620 grams of bread per day, nearly a pound and a half. Today, that amount is more like 150 grams, just over five ounces.
Over the years, as demand declined, so did the quality of Paris baguettes. Things got worse during World War I and World War II when rationing affected bakers' ability to get supplies.
Were the food-loving French going to sit back and take this? Mais, non !
The dubious quality of some Paris baguettes led to changes in the early 1990s. Consumers and artisan boulangers banded together to try to return the traditional quality of Paris baguettes.
The Return of Le Bon Baguette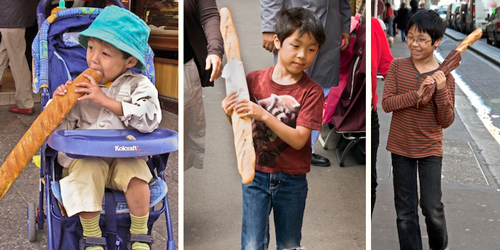 Our son Alexandre & his Paris baguettes through the years
In 1993 a French law was passed that regulates how a baguette de tradition (traditional baguette) must be made.
Baguettes de tradition have to be made on the premises of the boulangerie, from start to finish. They can contain only four ingredients — wheat flour, yeast, salt and water. Only then can they be called tradition.
The baguette law is supported by an annual competition for the best Paris baguettes, the Grand Prix de la Baguette de la Ville de Paris, in which then winner, the top baguette maker of the year, gets the honor of supplying the French presidential residence with baguettes every morning for the entire year.
So, when buying a baguette in Paris, we recommend you always ask for a tradition and, if you get a chance, try a baguette from one of the prize winning boulangeries.
Behind the Scenes of a Paris Boulangerie
Take a tour behind the scenes at a authentic Parisian boulangerie to discover every aspect of the art of the baguette and that other paragon of french pastry, the croissant.
There will be plenty of baguette and croissant tasting in this one-hour guided tour. Eat bread, be happy.
Grand Prix de la Baguette de la Ville de Paris
Paris Baguettes 2014 Winners
The 2014 winning roster is unusual in that there are a number of ties, including one three-way tie. Thus, there are a total of fifteen boulangeries winning honors this year.
Aux Delices du Palais, 60 boulevard Brune, 75014
Tie: Au Petit Versailles du Marais, 27 rue François Miron, 75004 and La Montmartoise, 43 rue de Clignancourt, 75018
134 RdT, 134 rue de Turenne, 75003
Tie: Au Pain d'Autrefois, 83 rue Damrémont, 75018 and Maison Delcourt, 100 rue Boileau, 75016
Tie: Gosselin Saint Honoré, 125 rue Saint Honoré, 75001 and Les Artisans du Pain, 81 rue Didot, 75014
Boulangerie Mulot, 75 rue de Seine, 75006
Macaron's Café, 77 avenue du Général Leclerc, 75014
3-way Tie: Liberté, 39 rue des Vinaigriers, 75010; La Petite Marquise, 3 place Victor Hugo, 75116; Acacias Etoile, 31 rue des Acacias, 75017
Meksem, 27 rue Campo Formio, 7501.
Le Petrin Normand, 152 rue de la Convention, 75015

Paris Baguettes 2013 Winners
Au Paradis du Gourmand, 156 Rue Raymond Losserand, 75014
Boulangerie Raphaëlle, 1 rue Feutrier, 75018
Boulangerie Damiani, 125 avenue du Clichy, 75017
Christian Vabret, 27 rue Francois Miron, 75004
Maison Cailleaud, 104 Cours de Vincennes, 75012
Maison Landemeine, 56 rue du Clichy, 75009
Dominique Saibron, 77 avenue du Géneral Leclerc, 75014
Le Grenier à Pain Lafayette, 91 rue Faubourg Poissonière, 75009
La Parisienne, 12 rue Coustou, 75018
Claude Besnier, 40 rue du Bourgogne, 75007

Paris Baguettes 2012 Winners
Boulangerie Mauvieux, 159 rue Ordener, 75018
Raoul Maeder, 111 boulevard Haussmann, 75008
Boulangerie Audou, 10 rue de Chanzy, 75011
La Pompadour, 110 rue de la Tour, 75016
Arnaud Delmontel, 39 rue des Martyrs, 75009
La Petite Marquise, 3 place Victor Hugo, 75016
Guillaume Delcourt, 100 rue Boileau, 75016
Eran Mayer, 100 rue du Théatre, 75015
134 RdT, 134 rue de Turenne, 75003
Les Saveurs de Wagram, 169 avenue de Wagram, 75017

Paris Baguettes 2011 Winners
Au Levain d'Antan, 6 rue des Abbesses, 75018

Gaétan Romp, 14 rue de la Michodière, 75002

Les Saveurs du 20eme, 120 rue de Bagnolet, 75020

Gontran Cherrier, 22 rue Caulaincourt, 75018

Le Fournil du Village, 12 place J.B. Clément, 75018

Les Gourmandises d'Eiffel, 187 rue de Grenelle, 75007

Julien, 75 rue Saint-Honoré, 75001

Philippe Marache, 92 av de la République Paris, 75011

Philippe Bogner, 204 rue des Pyrénées, 75020

Le Grenier à Pain Saint-Amand, 33 bis rue Saint-Amand, 75015


Paris Baguettes 2010 Winners
Le Grenier à Pain Abbesses, 38 rue des Abbesses, 75018
La Parisienne, 28 rue Monge, 75005
Dominique Saibron, 77 Avenue du Général Leclerc, 75014
Yves Desgranges, 6 rue de Passy, 75016
Philippe Gosselin, 258 Boulevard Saint-Germain,75007
Xavier Doué, 163 Avenue de Versaillais, 75016
Boulangerie Lohézic, 31 rue Guersant, 75017
Boulangerie d'Isa, 127 rue de Charenton 75012
Mohamed Zerzour, 50 rue de l'Amiral Roussin 75015
Zerzour II, 324, rue Lecourbe, 75014
Want To Learn More?
Don't Miss a Single Paris Travel Tip.
Sign up for Le Petit Journal!
The Newsletter of Paris Insiders Guide
Don't Miss a Single Paris Travel Tip.
Sign up for Le Petit Journal!
The Newsletter Of Paris Insiders Guide