Musée Cognacq-Jay – An Homage To The Age of Enlightenment
You'll discover a rags-to-riches tale extraordinaire at the Cognacq-Jay Museum in Paris. It goes like this — a poor traveling salesman and his dressmaker wife end up not only creating one of the greatest department stores in Paris, but also become one of the wealthiest couples in France. Together, they amass a stunning collection of art now seen at the Cognacq-Jay Museum, an homage to the Age of Enlightenment.

Our Top-Rated Museum Tours in Paris
At Musée Cognacq-Jay, photo Musée Cognacq-Jay
Let's journey to the heart of the Marais, to a hôtel particulier (we call it a mansion) — a listed historic monument — that houses the magnificent art collection of Ernest Cognacq, founder of La Samaritaine department store, and his wife, Marie-Louise Jay. The couple adored 18th-century arts and decorations and expanded their collection over a 27-year period, ending in 1927, just a year before Ernest's death.
On his death, Ernest Cognacq's entire collection was bequeathed to the City of Paris with the understanding it would remain available to the public. First opened in 1929, the Cognacq-Jay Museum was initially on Boulevard des Capucines, next to the luxury branch of his Samaritaine department store. In 1990, the museum was moved to the 16th-century Hôtel Donon in the Marais.
Musée Cognacq-Jay in Paris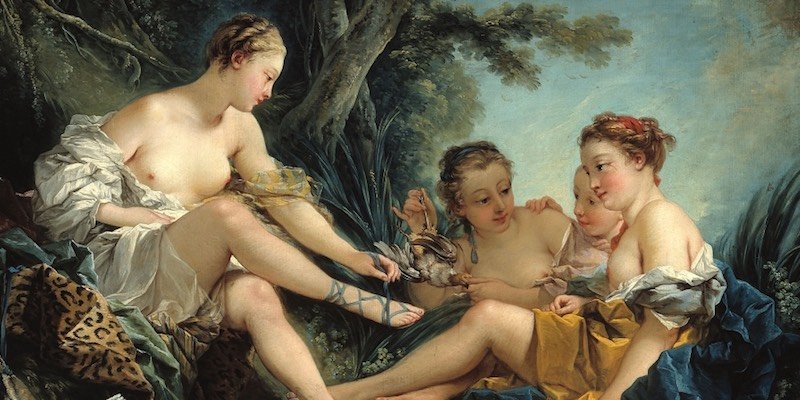 François Boucher, Retour de Chasse de Diane, photo Musée Cognacq-Jay
The Cognacq-Jay collection features masterpieces from the 18th-century with paintings by Canaletto (real name, Giovanni Antonio Canal), Giovanni Tiepolo, François Boucher, and Jean-Honoré Fragonard; and pastels by Georges La Tour and Jean-Baptise Perronneau. There are also sculptures, porcelains, intricate miniatures, and elaborate furniture from the wealthiest estates of the 1700s.
If you've been only once, it's time to go again. The museum was fully renovated in 2015, with the help from Lacroix. You know? Christian Lacroix, the fashion designer? The Cognacq-Jay Museum is one of fourteen museums managed by the City of Paris.

History of the Cognacq-Jay Family
Portrait of Retour de Chasse de Diane, photo Musée Cognacq-Jay
Théodore-Ernest Cognacq did not start life with a silver spoon in his mouth. Born in 1839 on the Il de Re, off the Atlantic coast, his father died when he was just 12 years old. The family was left destitute and Ernest was forced to leave school to work as a traveling salesman. He moved to Paris, where he found work at a department store and met his future wife, Marie-Louise Jay. In 1867, he opened his own shop in the Marais on Rue Turbigo. It wasn't a success — in fact, he went bankrupt. Ernest regrouped by working as a street hawker beneath Pont-Neuf.
By the age of 30, he had managed to save enough money to sublet a location where Rue du Pont-Neuf and Rue de la Monnaie join the Pont Neuf. His plan was to attract customers from the nearby Les Halles market, and this time his plan was successful. Cognacq leased the space and hired two employees. He also married his life partner, Marie-Louise, who at the time was working in the dressmaking department of Le Bon Marché department store.
The hardworking couple eventually opened La Samaritaine department store. That business prospered, thanks to their innovative retail techniques like clearly-displayed prices, daily promotions, and the revolutionary idea that customers could try on clothes before purchasing. In 1882, sales were 600,000F (francs), in 1895, 40,000,000F, and by 1925, sales broke a billion francs.


Canaletto, Vue du Canal de Santa Chiara, photo Musée Cognacq-Jay

In 1883 (with sales at about 1,000,000F), Ernest Cognacq met Belgian architect Frantz Jourdain, a pioneer of Art Nouveau. Jourdain redesigned the interiors of the first La Samaritaine, as well as the Cognacq residence at 65 Avenue du Bois de Boulogne (now Avenue Foch). In 1905, Jourdain designed the second La Samaritaine store and boldly featured Art Nouveau elements with visible metal frames and a facade with enameled rock panels and mosaics. (The storefront was updated to an Art Deco style in about 1927.)
With their vast fortune, the Cognacqs focused not only on collecting, but also on philanthropic activities. In 1907, Ernest established a local history museum on Ile de Re. Marie-Louise established Jaysinia, an Alpine botanical garden in her home region of Haut-Savoie. Together, they founded the Fondation Cognacq-Jay (still in existence); they opened a children's nursery, a medical centre, a nursing home, a school, a maternity clinic and an orphanage.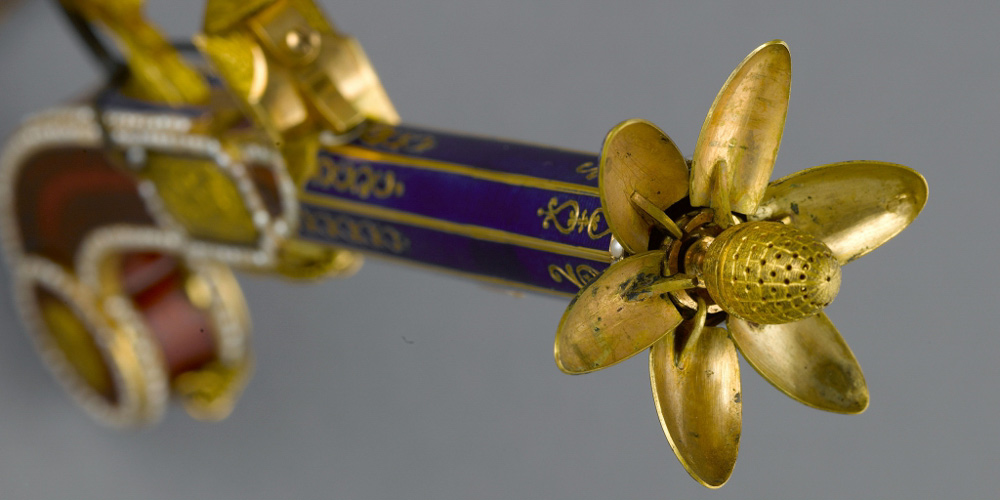 Perfume atomiser, shaped as a pistol, photo Musée Cognacq-Jay

In 1920, the Cognacqs created the Prix Cognacq-Jay (also still in existence) awarded by the Academie Française to assist large families around the world. The Cognacqs were not able to have children of their own. Upon their death, a nephew inherited the empire.
The store went into decline the 1970s. Fortunately, UNESCO listed the La Samaritaine building facing the Seine (on Quai du Louvre) as a World Heritage Site in 1991. A decade later La Samaritaine was purchased by the luxury group LVMH. After 135 years of operation, the iconic department store suddenly closed its doors in 2005, from one day to the next. In recent years, the building has resurfaced as a centre of luxury shopping, dining, and accommodations.

Musée Cognacq-Jay Resources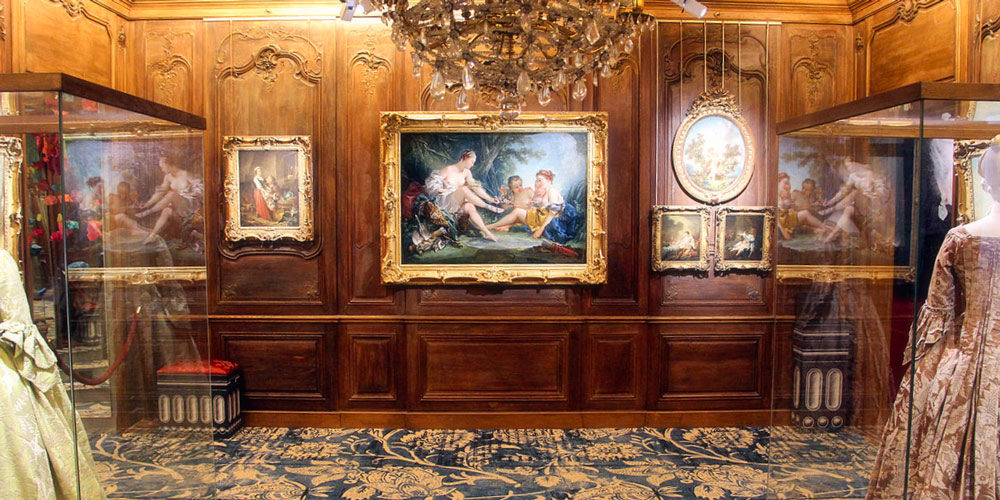 At the Cognacq-Jay Museum, photo Wikimedia by Sailko
8 rue Elzevir
3rd Arrondissement
Metro – Saint-Paul, Chemin-Vert, Rambuteau
Admission is free to the permanent collection