La Régalade Conservatoire – Modern French Cooking
Sometimes you just want to have a wee bit of fun when you go out to dine in Paris. When that mood strikes may we suggest you head to La Régalade Conservatoire. Our own connection to La Régalade goes back nearly 20 years. Whenever we arrived Paris back then — though jet-lagged and tired — we would eagerly trek out to the far reaches of the 14th, next to an all-night laundromat, to get a taste of the jovial, popular bistro with Yves Chamborde then at the helm.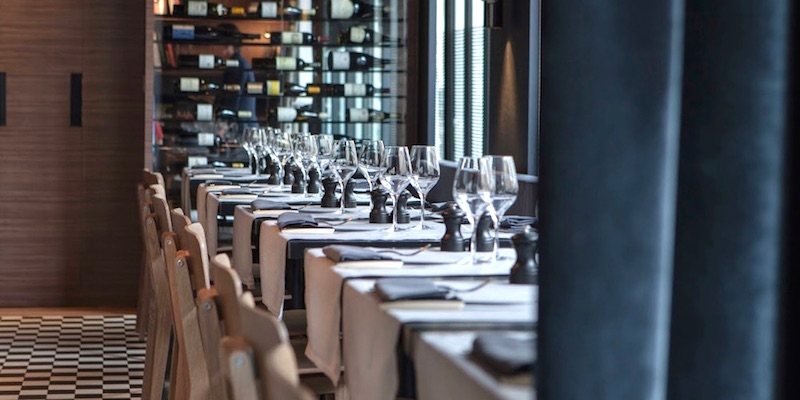 Chef Bruno Doucet took over the original La Régalade from Yves Camdeborde in 2004 and has continued to deliver that sort of solid, bistro-loving experience that Parisians and travelers crave. Now almost two decades after our first visit we find ourselves reliving the gastronomic joys of yesteryear. Who says you can't look back?

Dining at La Régalade Conservatoire
La Régalade Conservatoire is housed in the 5-star boutique Hotel de Nell on the pretty street of Rue Conservatoire. The modern bistro design features black and white checked floors, solid oak chairs with enough wiggle room from your neighbor to relax, yet close enough to see what luscious dishes are being served to the table next door. Our Spanish server was the epitome of a good host, always checking to make sure we had everything we needed.
For a memorable meal we suggest you order the classics when you visit. Always start with the risotto crémeux à l'encre de seiche, gambas rôties à l'ail, émulsion de vache qui rit. The only thing that's changed in this dish in the last 20 years is the addition of a cheeky emulsion of the popular grocery store cheese, La Vache Qui Rit, (the Laughing Cow). It's just how we remembered it — creamy risotto infused with black cuttlefish ink, golden brown flecks of aromatic roasted garlic, tender roasted gambas.
For the plat, order up poitrine de cochon caramélisée de chez Ospital, cuisine de choux romanesco. It's a beautiful caramelized pork belly that cuts with a fork and is finished with a deep, dark glaze, and pan-fried cabbage.
And for dessert you must order the Riz au lait comme le faisait ma grand-mére, caramel laitier — a giant cauldron of perfectly cooked rice pudding (Grandma-style) with a luscious caramel sauce. Get your dining partner to order the petit pot au lait de chèvre, a tangy petit pot of goat cheese with a cherry mousse. And hopefully there'll be a third in your party to order the grand classic dessert — soufflé chaud Grand-Marnier.
La Régalade Conservatoire is one of the few Paris restaurants that can deliver a soul-satisfying, three-course meal for an amazing 37€. But, be sure to make a reservation in advance.

La Régalade Conservatoire
7 rue Conservatoire
9th Arrondissement
Website…
tel – 01 44 83 83 60