14 Paris Dining Tips You Won't Read In A Guide Book
When you're in Paris you want to feel like you're part of the scene; you don't want to feel like a tourist. Knowing some basic etiquette will make you feel more comfortable and even more welcome when you're out on the town, whether you're at a bistro or brasserie, restaurant, café or a Michelin-starred restaurant.

Discover What's On When You're Here...
Discover What's On When You're Here
1. The Most Important Dining Tip
Restaurant La Grand Cascade, photo by Mark Craft
When you enter a restaurant (or any other establishment, for that matter), always say "bonjour" or "bonsoir". Write that one down so you don't forget it. That kind of polite exchange is expected at all French restaurants and shops.
Say the same to your server when they arrives at your table adding "Monsieur" or "Madame" or "Mademoiselle", as appropriate. We've often seen visitors get flustered when they enter their first-ever restaurant in Paris. (Oh, wait, that was us!) But if you remember to keep the word "bonsoir" on the tip of your tongue you'll be off to a winning start.

2. Arrive Like a Parisien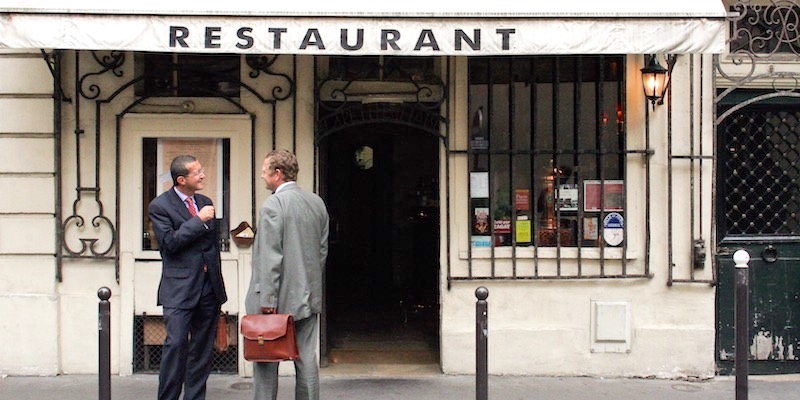 Restaurant Le Petite Chaise, photo by Mark Craft
Arrive on time for your reservation. As a courtesy, make sure to call to cancel if you can't make it. We always recommend that you call to confirm your reservation 24 hours in advance, or at least the morning of your reservation (you can get your hotel concierge to do it for you). Failure to do so could result in losing your hard-earned table.
3. Order Like a Parisien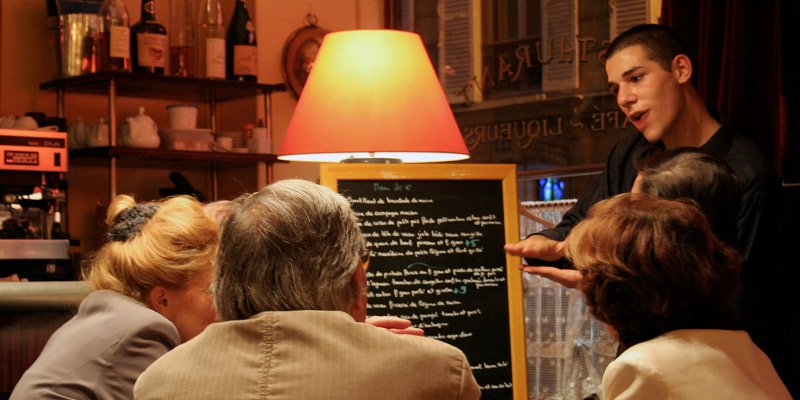 Restaurant L'Entrudgue, photo by Mark Craft
If you want to feel like you fit in, order from the 3-course prix fixe menu if the restaurant offers one. You're likely to get the best the chef has to offer for that day, the freshest products from the market. Plus it's the best deal. The prix fixe menu always comes in at a lot less than ordering individual dishes à la carte.
By the way, that's something else good to know — "la carte" is what we English-speakers refer to as "the menu", the list of dishes offered showing individual prices. In France "menu" refers to the special collection of dishes the chef is offering that day, as in "3-course menu". "À la carte", then, means to order individual dishes from the carte.
Got that? Then let's move on to another important tip — don't order like you might do at home. You know — Hold the this and that… Or I don't want an appetizer… Or Please no oil or fat… Or Can we split a meal?
Non, non!  Eat like a Parisian and order from what is offered on le menu or la carte. For example, at the famous Brasserie Lipp on Boulevard Saint-Germain (where they get a high proportion of tourists) you are greeted with a sign, "No Salad As A Meal".

4. "Pas Encore"
Pas encore" ("paws on-CORE") is a phrase that gets a lot of mileage from us . It tells the server, "not yet". As in not yet ready to order. This magic phrase will give you a few extra minutes to figure things out.
5. Menus et Cartes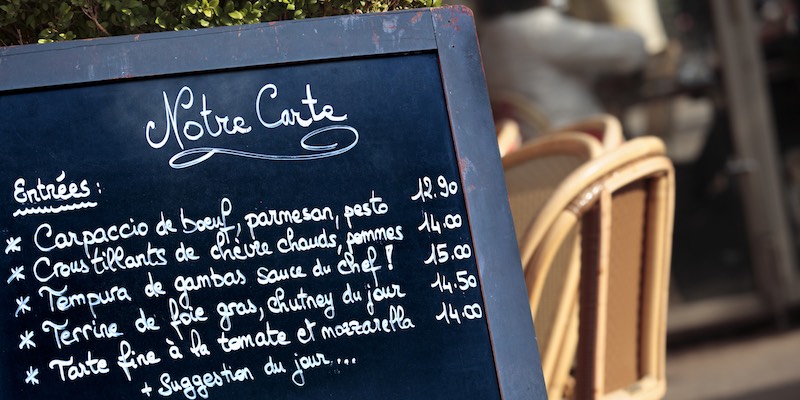 Typical restaurant chalkboard menu
In some cases you may be given an English menu (your accent when you whisper "bonjour" will be a dead giveaway). But we suggest you always ask for the French menu, too. Get the full experience. Your job is to become familiar with French food terms. Also, we find the English menu is frequently not accurate and the translation is suspect! (Our favorite bad menu translation was "Ass of cooked" — a true story.)
Sometimes the server will carry a chalkboard with the day's menu and leave it at your table. It might be in both French and English, but there's no guarantee. It's best to brush up on your restaurant French by learning a few key food phrases beforehand.

6. Act Like a Parisien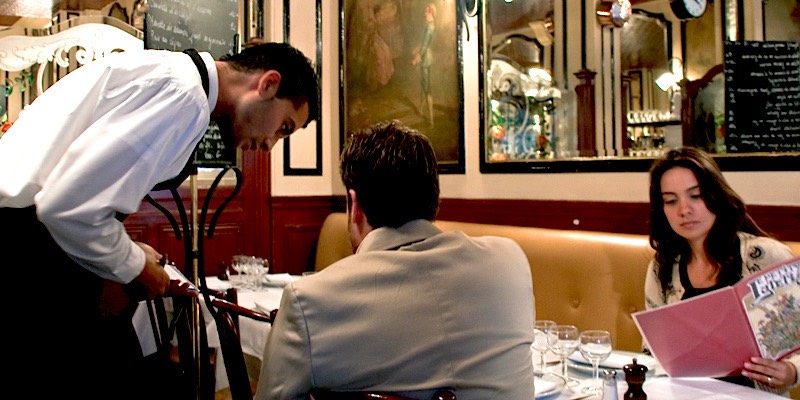 Restaurant Le Petit Lutetia, photo by Mark Craft
Doucement, s'il vous plait. Speak softly. Although it's close quarters, with diners jammed into every nook and cranny, the rooms of most restaurants in Paris are remarkably quiet. Take note of how Parisian diners stay within their private spaces and speak softly to each other. Understanding the customs of Paris bistros, brasseries and cafés is like unlocking a secret code.
Also, let go of your food fears. Relax and just enjoy the experience. The meals served in Paris restaurants are perfect French Women Don't Get Fat portions. So release your inner dieter and enjoy all the rich, delicious French food while you're in Paris.
7. Dine Like a Parisien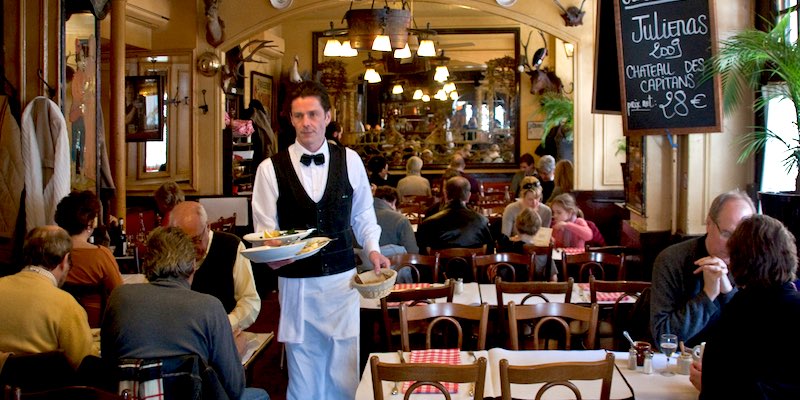 Restaurant "Brasserie Ile St Louis, photo by Mark Craft
Don't make a grab for the bread. In France, bread is meant to accompany the meal, not to be eaten like an appetizer. You won't be served butter with bread. Your piece of bread is kept on the table next to your plate, not on the plate.
8. Always Eat With Cutlery
The French consider it very impolite to eat with your fingers. You'll notice that they even manage to eat hamburger and frites with fork and knife.
9. A Champagne Aperitif
Although cocktails are trending in France, it's not typique to order one before dinner. A glass of champagne is always the right choice!


10. Slow Down
Take time to enjoy, as Parisians do. A meal in France includes an entrée (starter), plat (main course), and dessert. Make the most out of it. Savor the food, the decor and the service.
11. The End
When you're finished with a course, place your fork and knife across the plate. This will let the server know you're finished. Most Paris restaurants do not rush service.
12. "Garçon" Is Not The Name Of Your Server
Garçon means boy in French. Always call your server either Monsieur or Mademoiselle. "Mademoiselle" is used for young women, and female servers of all ages like to hear that!
13. "L'addition, S'il Vous Plaît
Your bill will only be delivered to your table when you request it. It's as simple as catching your server's eye and making the universal signal of cheque.

14. Savor Everything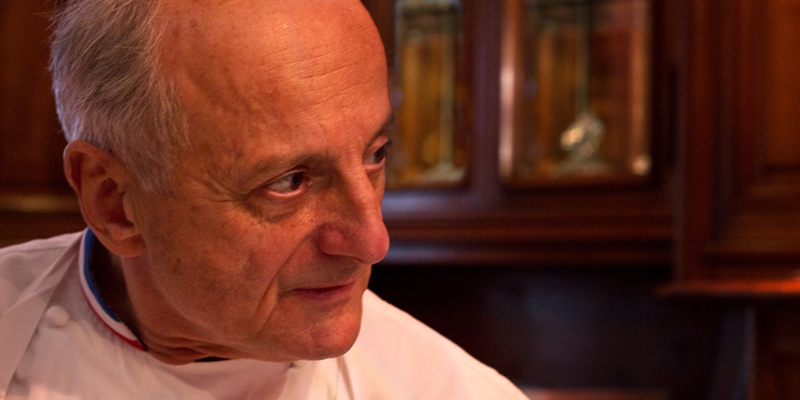 Chef Pierre Orsi, photo by Mark Craft
Pierre Orsi is a culinary legend in Lyon, the food capital of France. He cooked at his eponymous restaurant located there for more than forty years and, at 80, was the oldest Michelin-starred chef working in the kitchen every day. Chef Orsi taught us to savor everything about a meal. Spoon up every morsel and every flavor on your plates — the chef put those flavors in there for a reason.
"You must experience everything," Chef Orsi told us."When you are finished rub your fingers around the edge of your plate and smell them. Smell your napkin, savor the scent in your empty wine glass. Everything."
You might be surprised by the extra pleasure this adds to a meal in a great Parisian restaurant.