Guide to Luxury
Paris Design Hotels
Prepare to be Pampered.
You may not want to go outside!
Paris Design Hotels. If you're like us and love a touch of art & decoration in your hotel, then staying in a design hotel will make your visit to Paris even more memorable.
We were impressed by these hotels. Every Paris design hotel we review tells a story — the story that was in the eye of the visionary designer or hotelier. But these hotels are much more than just pretty faces; they are also known for genuine hospitality, great locations, historic buildings, and groundbreaking architecture.
What's special about this collection of design hotels is that each one is an original, featuring a unique design. Often, each room in a hotel sports its own individual style. The photos of the hotels tell their stories better than we can!
Hotel Bel-Ami
"Wonderful choice – you will not be disappointed or surprised"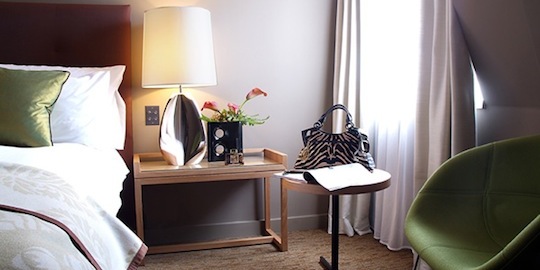 Bedroom at Hotel Bel-Ami.





6th Arrondissement
Metro: Saint-Germain
Part lounge, part spa, part art exhibition space and all hotel, L'Hotel Bel-Ami is right in the heart of the life of the Left Bank, the perfect place for a design hotel.
An 18-century abbey has been transformed into a modern hotel masterpiece by a team of leading French designers and architects. The design theme seems to be ice cream and you'll find colors like chocolate, pistachio and vanilla throughout the hotel.
There are also rooms inspired by Kubrick's Clockwork Orange using orange, olive green and azure blue with simple white marble bathrooms.
The location couldn't be better for a visit to Paris — in the heart of Saint-Germain-des-Pres and equidistant from the Seine, Île Saint Louis, Jardin du Luxembourg, and Le Bon Marché.
You can save money at this hotel by choosing an advance purchase. You receive a 15% discount when you book and pay in advance.
La Maison Champs Élysées
"Small hotel, great standards"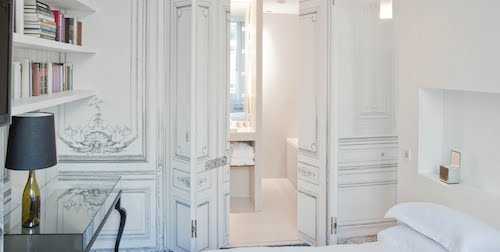 8th Arrondissement
Metro: Saint-Germain
La Maison Champs Élysées is so named because it was designed by fashion house Maison Marin Margiela. It's a minimal, offbeat design that combines classical styles with the avant-garde. Surprisingly, the result is both elegant and relaxing.
This design hotel was once the townhouse of the Princess of Essling. The location is amazing — just off Champs-Élysées in the most luxe part of the 8th Arrondissement. Easy access to Metros and within walking distance of a ton of Paris landmarks and museums.
Even though it's in the heart of things, La Maison Champs Élysées also sports a secluded, leafy patio lounge.
Hotel Sezz
"Romantic luxury, incredible service, perfect location"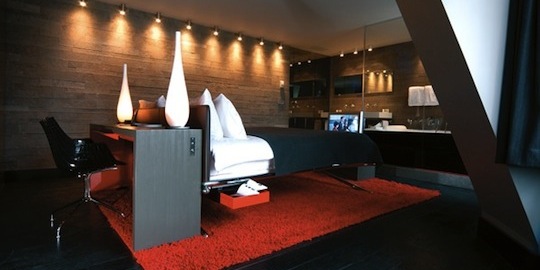 A Spacious Bedroom at Hotel Sezz.





16th Arrondissement
Metro: Passy
In a late-19th century Art Nouveau building is this classically moderne example of Paris design hotels; showcasing the colors and textures of the City of Love – beige stone, gray slate and blue-gray sky – mixed with a generous portion of red and chrome.
Reception desk? Forget that old-fashioned notion! Instead, you are greeted by your personal assistant, who welcomes you with a drink. After you're signed in, retire to your room for a soak in the bathtub for two.
There are 26 rooms, including 12 suites and the ultra-special Eiffel Suite. Hotel Sezz is found in the exclusive residential 16th Arrondissement, only a 12 minute walk from both Trocadero and the Eiffel Tower, and just around the corner from the Musée du Vin. The fabulous restaurant, L'Astrance, is only a couple of streets away.
Hotel Gabriel
"Great hotel – probably best value in Paris"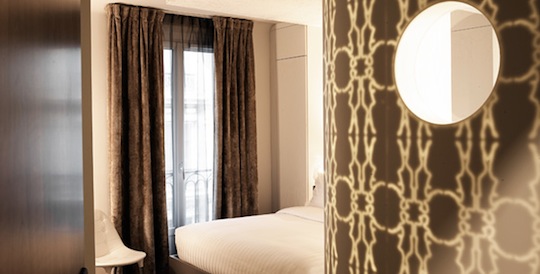 Designer Bedroom at Hotel Gabriel.





11th Arrondissement
Metro: République
Art Deco and minimalism come together in this gorgeous design hotel. Clean, relaxing lines and colors throughout make staying at one of Hotel Gabriel's 41 rooms a pleasure.
The hotel is located just at the outskirts of the Marais, near Boulevard Jules Ferry. This is a good location for calmness and quiet, and it's an easy walk to the Marais and its trendy shops and restaurants. It's easy to get to other areas of Paris as well, using the nearby Metro.
Hotel du Petit Moulin
"Fantastic designer hotel in perfect location."
Lacroix-designed Hotel du Petit Moulin.





3rd Arrondissement
Metro: Saint-Sébastien-Froissart
In our favorite scene from Absolutely Fabulous Patsy arrives and finds Eddie wearing a hideous sweatshirt-like top:
Patsy (in a disgusted tone): "Darling, WHAT are you wearing?!" Eddie: "It's Lacroix, darling. Lacroix!" Patsy: "It's FABULOUS!"
The Christian Lacroix designed Hotel du Petit Moulin is also rated Fabulous (or the star equivalent) by travelers, calling it "the quintessential Parisian experience".
And they're not just raving about the design and comfort of the hotel, for the location is equally fabulous — in the heart of the vibrant and trendy Marais with its museums, shops and restaurants. You're only 5 minutes from the Metro and 10 minutes from Centre Pompidou.
Hotel le Bellechasse
"Lovely Boutique hotel"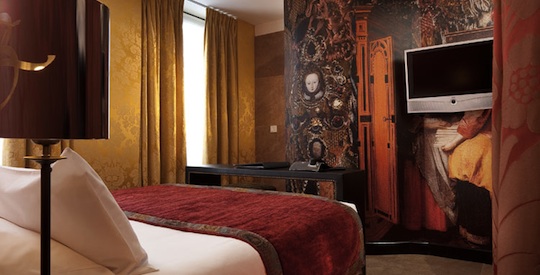 7th Arrondissement
Metro: Solférino
Paris Design Hotels. Stay here and your next door neighbor is the Musée D'Orsay!
Another beautifully designed hotel by fashion designer, Christian Lacroix, so expect a feast of color and contemporary design.
> Hotel Jules
>"Jules didn't disappoint – a central location and well-maintained"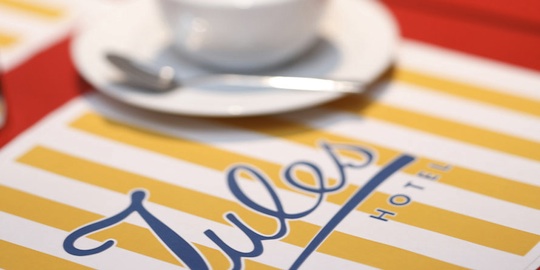 9th Arrondissement
Metro: Le Peletier
This hip and modern hotel is bordered by the Opera Garnier and the Grands Boulevards.
The roooms are decorated in neutral chocolate brown and cream, with ensuite bathrooms.
Mama Shelter
"Tres chic!"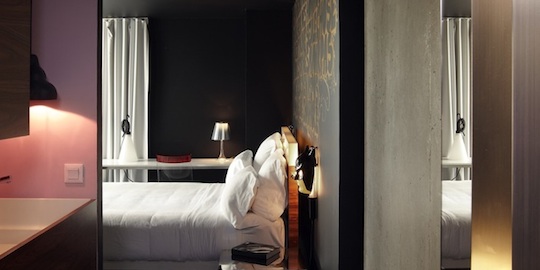 20th Arrondissement
Metro: Gambeteta
This ultra-sleek hotel was designed by Phillippe Starck.
Sensual and elegant, the rooms are modern-simple with iMac TVs, luxurious sheets and towels, with kitchenette and mini bar.
La Réserve Paris, Luxury Apartments
"The service and apartments were even better than the location"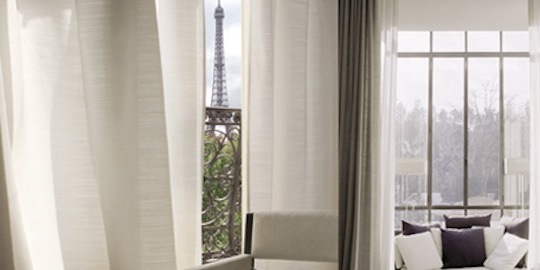 The View From La Réserve





16th Arrondissement, Trocadero
Metro: Trocadero
This Paris design apartment hotel is sublimely modernist.
Filled with soft lighting, monochromatic schemes, and plenty of natural wood, it effuses elegance and simplicity.
The apartments at La Réserve range from 1500 to 3000 square feet; with 1, 2, 3 or 4 bedrooms! That's huge by Parisian standards. In many of the apartments you'll find ultra-moderne four-poster beds, high double windows, and a private office.
In addition to the usual services, La Réserve Paris provides each apartment with a butler and, upon request, a private chef.
The location is hard to beat, on Place du Trocadero, directly across the river from the Eiffel Tower and affording the best views of the monument. Trocadero is also home to some wonderful museums — the Museum of Architecture, Museum of Man, the Naval Museum, and the amazing Cineaqua Paris Aquarium.
Don't Miss a Single Paris Travel Tip.
Sign up for Le Petit Journal!
The Newsletter of Paris Insiders Guide
Don't Miss a Single Paris Travel Tip.
Sign up for Le Petit Journal!
The Newsletter Of Paris Insiders Guide