Les Plus Beaux Romantic & Stylish Hotels in Paris
Paris — the name alone makes you think of romance. And doesn't simply dreaming about spending time in one of the city's romantic hotels put you in a good mood? Imagine breakfasting on your own private terrasse, or having champagne stocked in your minbar, or a romantic walk in the fabulous Jardin des Tuileries at dusk.
There are a number of cozy hotels in Paris that provide comfort, luxury and, of course, romance. Let's take a virtual journey to the City of Love to find the perfect romantic hotel for you and that special someone.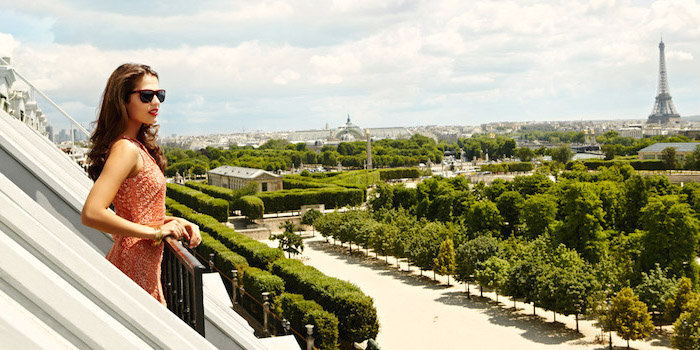 Le Meurice has an unbeatable location with spectacular, iconic views. Located on Rue de Rivoli (the first grand street of Paris, created by Napoleon) the hotel faces the stunning garden and is just steps away from the Louvre. From the upper floors you can see all of Paris spread out before you.
At this majestic Palace hotel, every room is a peaceful oasis of calm. The classically-decorated rooms feature marble bathrooms with both shower and bath. Each room is soundproofed and has air conditioning and multiple telephone lines. But what really makes Le Meurice special are the small details: the Honeymoon Package includes strewn rose petals, champagne and an in-room couples massage.
How Our Ratings Work
Superb Plus = 93%+ Travelers Rating
Superb = 88%+ Travelers Rating
Highly Rated Plus = 85%+ Travelers Rating
Highly Rated = 80%+ Travelers Rating

Our Rating — Superb-Plus!
• 3 Rue Christine
• 6th Arrondissement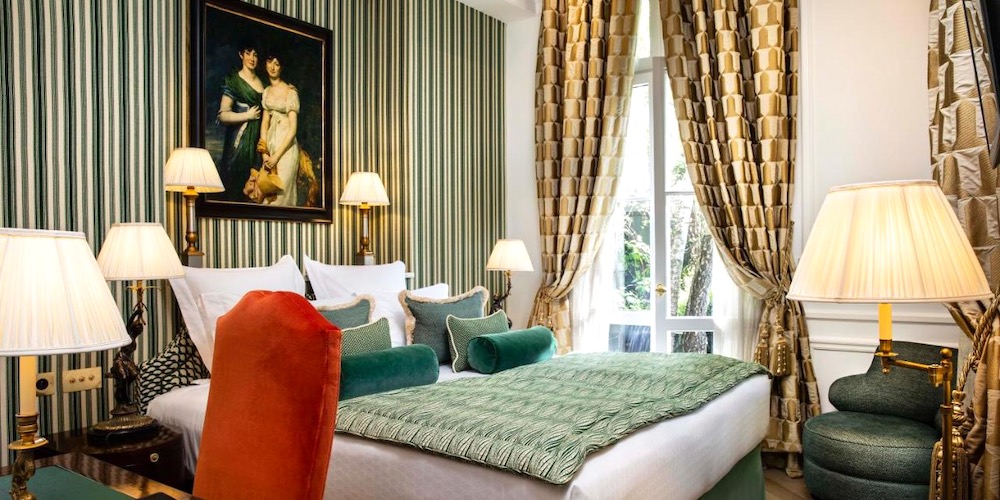 This little gem of a romantic hotel is tucked away on a quiet courtyard on a narrow, tiny street just steps away from the buzz of cafés, restaurants and shops of Saint Germain.
Relais Christine is like a country mansion, surrounded by the best of Paris. All the rooms are tasteful, tranquil and comfortable. And as for romance, in the evening you and your sweetie can snuggle up by the fireplace in the lounge or relax in the spa. The jacuzzi is decorated with mosaic tiles and there's a classic Finnish sauna as well.
Our Rating — Superb
• 228 Rue de Rivoli
• 1st Arrondissement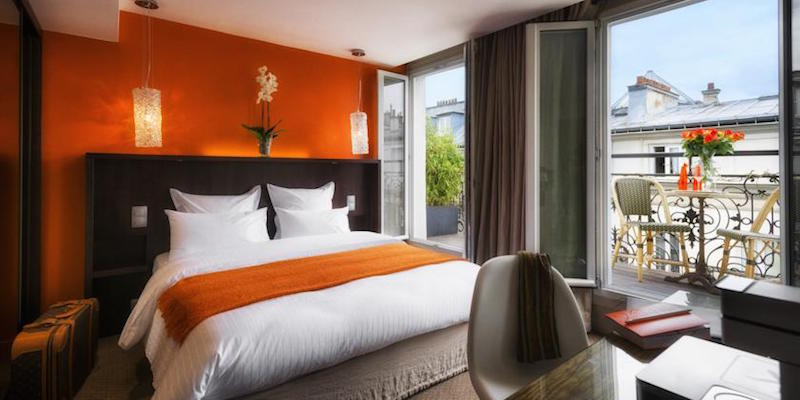 This pretty, comfortable, boutique hotel is lauded for great service, great location, and a special stay in Paris. (Think romance!) The rooms are a pristine modern style, using neutral whites and browns, accented with a splash of orange here or a splash of green there. Bathrooms are finished in a comforting marble with tile accents. One traveler put it perfectly — "Fabulous boutique hotel in great location. Perfect for treating and spoiling someone special!"
Our Rating — Superb
• 6 Rue Lecluse, 17th Arrondissement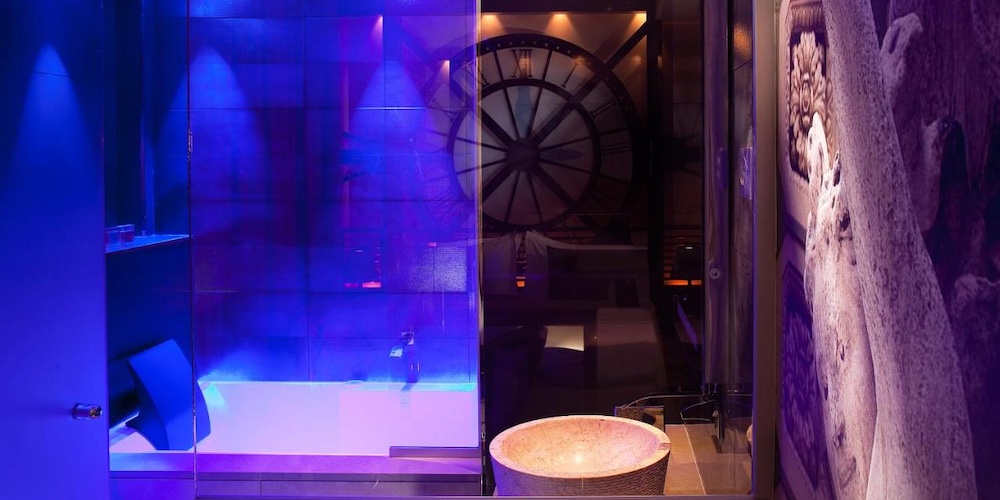 This hotel is filled with romantic nooks, crannies and corners. Each room is individually decorated in a unique theme with reds, blues, and purples scattered throughout. You might be attracted to the room inspired by Montmartre itself or a room that takes its design from the Musée d'Orsay. Every room represents a different area of Paris. It's fun, well-located, highly-rated, and romantic!
Our Rating — Superb
• 2 Rue de Parme
• 9th Arrondissement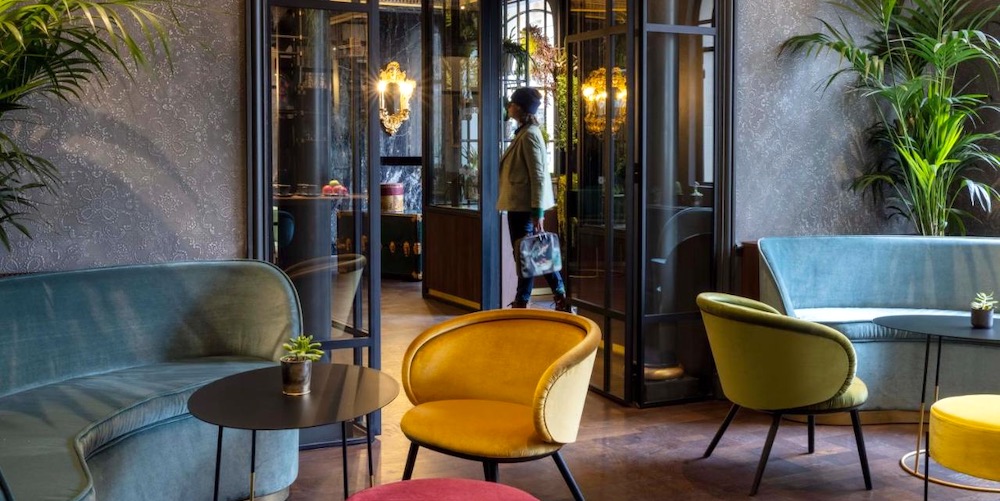 Located in the Left Bank on a quiet little street in the 6th Arrondissement, the Victoria Palace was completely renovated in 202, giving it a new (and romantic!) lease on life.) Travelers call this comfortable hotel "a hidden gem" and rave about the "wonderful service". Victoria Palace is also full-on with romantic touches like plush bathrobes and slippers, fresh toiletries daily, a turn-down service, and plenty of thick towels.
Situated between Montparnasse and Luxembourg in a classic neighborhood, this Paris hotel is on a quiet, narrow street running between Rue de Vaugirard and Rue de Rennes.
Our Rating — Superb
• 6 Rue Blaise Desgoffe
• 6th Arrondissement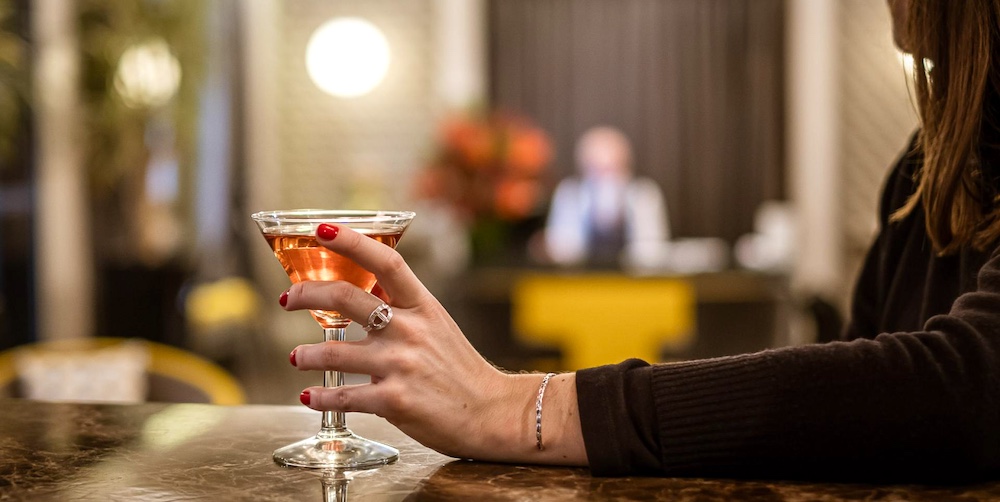 The Hotel le Marquis Eiffel has also been renovated recently and, if anything, it's even more comfortable, inviting and, cozy. You're going to be very happy with your stay in this classic boutique hotel. Have a quiet drink in the library next to the fireplace, or on the private terrace. It's close to the Eiffel Tower (3-minute walk to Champs de Mars), La Motte-Picquet Metro station, and the twice weekly Grenelle outdoor market.
Our Rating — Highly-Rated-Plus
• 15 Rue Dupleix
• 15th Arrondissement