Paris Food – A Guide to the Best Cheese Tours in the City
We never miss a chance to sample fromage in the City of Food. Charles de Gaulle is famous for complaining that it was impossible to govern a country with deux cent quarante-six variétés de fromage —246 kinds of cheese. Today there are probably more like one thousand cheeses made in France, and the country is no more easily governed than it was under De Gaulle!
All those cheeses made throughout the country eventually find their way to Paris, which is why there are over 250 fromageries in the city. Get inside the Paris food culture by joining a wine and cheese workshop or private tasting during your visit to the City of Food! Here are offerings from our cheese platter.

Cheese & Wine Tasting in a Private Cheese Cellar
A Paris Insiders Guide Favourite
This is a great way to get inside the culture of Paris life and food — a wine and cheese tasting in the cellar where the cheese are aged by a Master Cheese Affineur. It's a unique & unusual tour — you don protective clothing (to protect the aging cheeses and do your tasting in the cellar, right among the cheeses.
You not only get to taste some of the most famous cheese of France, but you learn all about their history, lore and production techniques. You are also served wines and fruits that compliment the wines. Numbers are limited so be sure to book well in advance.
Tuesdays, Thursdays, Fridays at 4:30 PM
Located in the Marais, 3e
7 cheese and 2 wines, plus bread and fruit
Cheese & Wine Tasting Lunch in Paris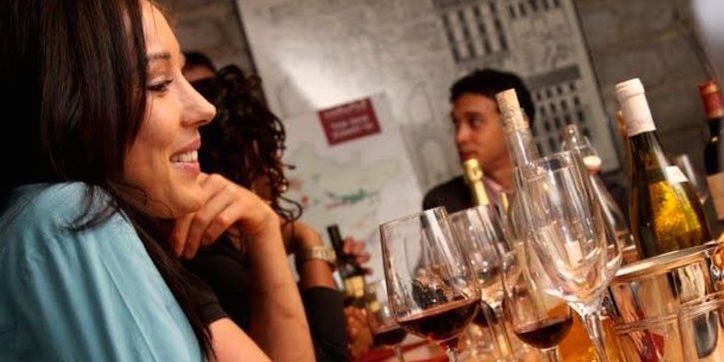 Go the distance and spend ninety minutes at a wine tasting and sit-down lunch at one of the best wine tasting rooms in Paris.
It's a fun and different way to have a meal in Paris. Arrive at noon to the 17th century wine cellar near the Louvre and taste six different wines from six different wine regions of France. You learn about each wine and about the food that's served with it – regional cheeses and meats from all over France.
À votre santé !
Every day at 12:15 PM
Wine cellar near the Louvre, in central Paris
Private Cheese Initiation Tasting
Go deep into the Paris food scene and join a master fromagiere for an afternoon of tasting and sipping. Your expert cheese master guides you through each of the six cheeses and the region they come from. While sampling you also drink wine that are perfectly paired with the cheeses.
This activity offers an intimate private wine- and cheese-tasting session led by an expert host. You are introduced to six cheeses and four wines that pari with them.

Other Paris Cheese Activities We Like
Learn About French Cheeses