Guide to the
The Louvre Pyramid
After 800 years of construction, the biggest changes to the Louvre took place in the 20th century. You would never guess from looking at the Louvre Pyramid today that this site was once an important part of the fortifications of Paris. Every major ruler of France has tried to leave their mark on Paris, and particularly on the Louvre — from Phillipe Augustus and Francis I right up to Napoleon and Mitterand.
After eight centuries of additions, renovations and beautification, and a series of kings, emperors and presidents, there was still work to be done in the 20th Century under French President François Mitterrand. By the 1980s the number of people visiting the museum had grown to such a size that the original entrances simply could not handle the crowds. In addition, with the number of pieces in its collection, the Louvre Art Museum needed more room.
The Louvre Pyramid – The Concept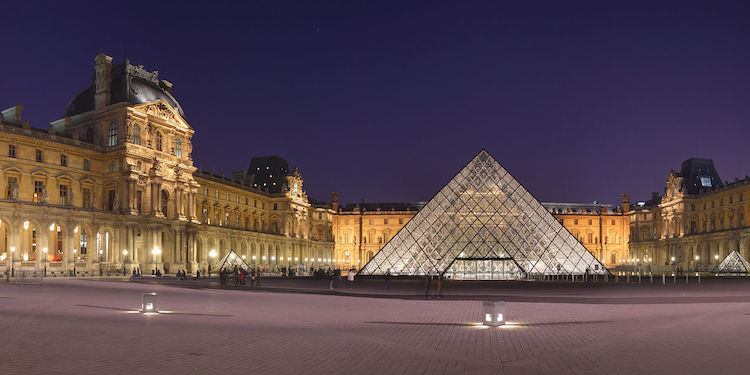 For a couple hundred years the Palais du Louvre, the building itself, in addition to housing the museum, was also home to the office of the bureacrats in the French Ministry of Finance.
The Cour Napoléon, the central courtyard, was used as a parking lot for their cars! The work that President Mitterrand commissioned in 1984 in the Grande Louvre Plan started with moving the Ministry of Finance to new quarters and clearing out the central courtyard.
That made the central courtyard available as a space to build a new entry. In a novel concept, architect I.M. Pei placed the new main entrance underground, in the center of Cour Napoléon and plunked a steel-and-glass pyrmaid on top of it.
underground network
of shops, connection to the Metro, exhibiton spaces, a cafeteria, even a tourist bus depot! The
New Louvre
(as it is often called) opened in 1988. Since then
attendance at the museum has doubled
and now amounts to over 9 million people every year!
So you can see why we recommend some skip-the-line techniques — sign up for a guided tour of the Louvre, or make sure you have a Paris Museum Pass.