Jules Verne Restaurant –
A Star on the Eiffel Tower
Imagine having Dinner
Four Hundred Feet above paris
A jewel of super chef Alain Ducasse, the Jules Verne Restaurant takes its place on Level Two of the most iconic landmark in the world – the Eiffel Tower.
In 2007 Ducasse took control of the restaurant and sent Paris abuzz when he transformed it from a sinister black and white nightclub into an opulent dining room with a soft palette of chocolate brown and amber.
The service, the wine list and the cooking all have contributed to the restaurant's fame and to the Michelin star it has been awarded.
Add to that the unique, spectacular view of Paris and you end up with a restaurant unlike any other.
You'll choose from one of the set menus with prices ranging from around 75€ for the three-course lunch menu up to 200€ for the seven-course dinner menu.
Paris Insiders Tip
Make sure you have your printed reservation with you, to present when you arrive at the Eiffel Tower. It's the only way you'll get immediate access to the restaurant's private elevator. By the way – no reservation, no luck!
Don't Wait, Book Early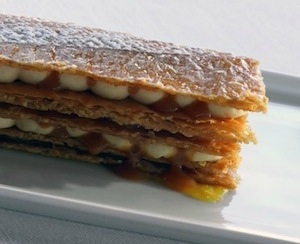 With only 120 places available, you'll want to make your reservation at the Jules Verne restaurant months in advance.
Of course, everyone wants a table by the windows and although they do their best they can't guarantee it. Your best bet is to book early with the request.
You're in Paris so you'll want to look good. Men: wear a suit or a sports jacket and trousers. Women: dress up! You don't want to be caught in T-shirts, shorts or casual clothes – they may not let you in!
Jules Verne Restaurant Facts
French Name: Le Jules Verne
Address: Avenue Gustave Eiffel 75007
South Pillar, Level 2 (Pilier sud deuxieme etage)
Open 7 days a week
Lunch: 12:15 to 1:30 pm
Dinner: 7:00 to 9:30 pm
How to get there
Metro: Bir-Hakeim. Get a spectacular glimpse of the tower as you cross the river, since this is one of the only Metro lines that runs above ground.
Metro: Alma. You come up out of the Metro next to the Eternal Flame sculpture and walk across the Seine on the Pont d'Alma. Then it's a short but breathtaking walk to the Tower.
Metro: Trocadero. Arrive on the Right Bank, cross the Trocadero plaza and walk across the river.
Paris Planning Information
Want To Learn More?
Don't Miss a Single Paris Travel Tip –
Sign up for Le Petit Journal !
the newsletter of Paris Insiders Guide