Guide To
Paris Boutique Hotels
Guide To Paris Boutique Hotels
Intimate and inviting boutique hotels are a tradition of the City of Light. It's the personal service and attention to detail that sets boutique hotels in Paris apart from other accommodations.
If you're like most travelers, when you think of spending time in the City of Light, you think of settling into a cute boutique hotel – charming, romantic and filled with French details that will make you swoon.
The great thing is that our recommended boutique hotels don't come with a five-star price tag.
You'll find Paris boutique hotels in the city's best areas — from the Latin Quarter to the Left Bank to Champs-Elysées.
You'll find the reviews of our recommended Paris boutique hotels in this article as well as in —
Paris Insiders Tip
Don't expect a bellman or porter to deliver your bags to your room. That doesn't happen very often in Paris, unless you're staying in a 5-Star luxury hotel.
Paris Design Hotels
We love a sense of design in the Paris hotels we stay in. It makes us feel special somehow.
So we've scouted out the best Paris design hotels, chosen for quality, decor and value.
You'll also find a review of an amazing luxe apartment hotel with a view on the Eiffel Tower, as well as an absolutely fabulous hotel designed by Christian Lacroix.
Charming Paris Hotels
Filled with French décor, inviting color, tasteful furnishings and romantic touches, these hotels will make your visit to the City of Charm & Romance completely memorable.
Paris is all about charm, so check our our Guide to Charming Paris Hotels to discover some of the city's delightful hotel secrets.
Romantic Paris Hotels
Champagne, roses, cozy corners — romantic Paris hotels have it all.
It is the City of Romance after all!
Whether you're in Paris to find romance, to rekindle romance, or simply to enjoy the feeling of the romance of the city, these enchanting hotels are waiting for you.

Hotel Therese
Perfectly located in the center of Paris, along with its neighbors Palais Royal, the Louvre, Palais Garnier and the Tuileries Garden.
It's one of the lovelier Paris boutique hotels with touches from the past mixed with modern amentities.
Hotel Muguet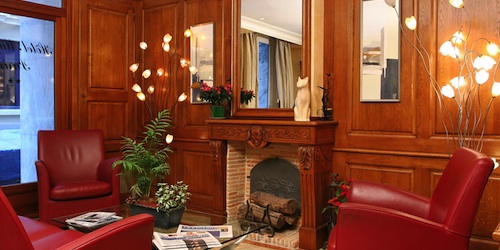 Loved by travelers and reviewers, Hotel Muguet is in a great location next to Les Invalides and is particularly famous for its superb service.
Behind the pink-painted brick exterior of this recently renovated hotel are forty-five calm and comfortable rooms.
Hotel Brighton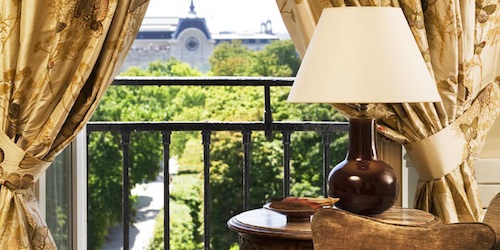 Hotel Brighton is in the heart of the city, directly across the street from the gorgeous Tuileries Gardens, close to the Louvre and all the great Paris sights.
The views from the rooms facing the garden are simply stunning.
This was one of the first hotels in Paris and since its renovation a few years ago it's charming, modern & convenient..
Hotel Madison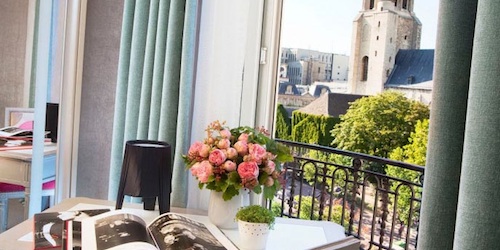 This Paris boutique hotel is situated in the highly desirable neighborhood of Saint-Germain-des-Pres. After a 2011 renovation it was upgraded to a 4-star rating.
The 52 traditional, elegant rooms each have their own ambiance and décor.
Left Bank Hotels
Romantic, charming, budget, luxury – you can find a Left Bank hotel to suit your style.
You'll roam among iconic cafes, lively markets, stylish shops and world famous museums. You may never find reason to cross the river. Read all about some of our favorite Left Bank Hotel Paris charmers.
Secret de Paris
"Greeted with a glass of Sangria and nibbles when we arrived"




This boutique hotel is located near Place de Clichy (and its Metro station), just down from Montmartre.
Each room is individually decorated with soft lighting and includes a hydro-massage tub.
Travelers rave about this quality hotel!
Hotel le Chat Noir
"A wonderful and charming hotel"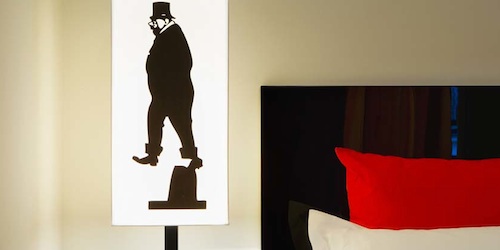 This hotel started life as the famous cabaret of the same name!
Recently renovated to a stylish, modern decor. Located at the foot of Montmartre, le Chat Noir has air-conditioning and flat screen televisionss.
Ask for a room on the top floors for views of the Eiffel Tower.
What to Expect in a Boutique Hotel in Paris
In Paris, hotel rooms are small, even in many luxury hotels. But what they lack in space, they make up in charm. Boutique hotels are "intimate" (another way of saying "small") – and often Paris hotel elevators are even more intimate!
Don't be suprised if your hotel elevator the size of a closet with barely enough room for one person and a suitcase! Remember, Paris is an old city with old buildings, and elevators were an afterthought, fit into whatever space could be found.
Many Paris hotel breakfast rooms are found in the cellar, but breakfasts can be expensive. Save money and get a better Parisian experience – head to a local boulangerie or café for a more satisfying petit déjeuner (breakfast) of coffe and croissant or other freshly baked pastries.
Service in boutique hotels in Paris is usually very good. The front desk will be able to help you make dinner reservations and recommend the best things to find in the neighborhood.