Moulin Rouge –
Still the Hottest Ticket in Town
1889 was a big year for Paris. The Eiffel Tower was built, the International Exhibition was staged, and Moulin Rouge opened its doors. Exactly as old as the Eiffel Tower, this famous cabaret is more popular than ever. You can't miss its signature bright red windmill at the foot of Montmartre, on Place Blanche along Boulevard de Clichy.
This has been the spot for the best entertainment in Paris since it was built at the height of the Belle Epoque, the re-flourishing of Paris after France's defeat in the Franco-Prussian war. The French Cancan with its furious rhythms and scintillating costumes, along with a champagne-fuelled audience made the Moulin Rouge a sought-after destination. Today, Moulin Rouge is still the number-one rated show in City of Night and it sells out weeks in advance. One hundred performers, including the legendary Doriss Dancing Girls, are resplendent in feathers, sequins and rhinestone costumes.
Moulin Rouge Dinner, Show & Hotel Pickup
A Paris Insiders Guide Favourite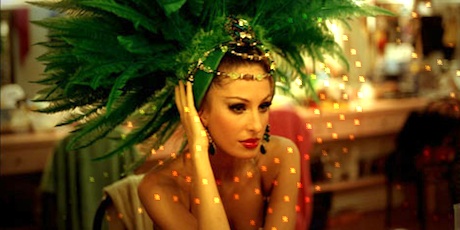 We recommend this package for many reasons, an important one is it includes hotel pickup and return.
The fun starts at 7:00 pm with a leisurely multi-course meal featuring classic French food and champagne.
After dinner, settle back and enjoy the amazing cabaret show. Best part, you don't have to worry about arranging any details. Everything is included — tickets to the show, dinner, champagne and transportation to and from your hotel.
This sells out weeks in advance, so be sure to book early!
Eiffel Tower, River Cruise & Moulin Rouge Show
Paris Insiders Readers' Favourite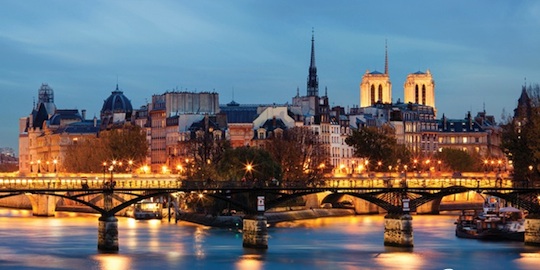 Combine the Moulin Rouge with the best of the city's nightlife.
You start at the Eiffel Tower for panoramic views and dinner at Restaurant 58 perched on Level One, 200 feet above the city.
Next is a leisurely Seine River cruise to see Paris at night. Then be whisked off to the legendary Moulin Rouge for the evening cabaret.
Everything is included — transportation, dinner, Seine cruise, Moulin Rouge show and champagne! Tip: This tour sells out early.
Illuminations Tour + Moulin Rouge Show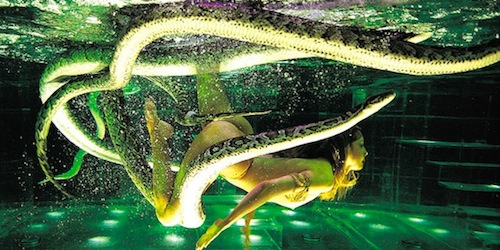 Paris is fantastic by day but it is absolutely magical by night.
See the city lights on your way to Moulin Rouge. Your driver takes you on a best-of-Paris route from Place de la Concorde, Vendôme, Opera and Champs-Elysées to Pigalles and Montmartre.
All the details have been arranged — pick-up at a central Paris location, illuminations tour, tickets to Moulin Rouge and champagne.
Dinner on a Seine Cruise + Moulin Rouge Cabaret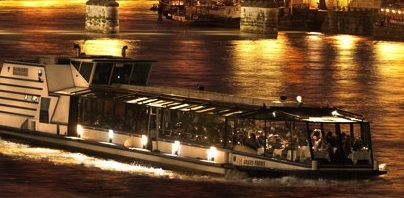 Start your night with a dinner cruise aboard one of the glass-enclosed boats from Marina de Paris on the River Seine.
We like the one because you dine at your own private table as you admire the monuments of Paris passing by. Then you are driven to Moulin Rouge for a dazzling show.
Everything is included — transportation to and from your hotel, dinner, Moulin Rouge show and champagne!
Dinner View of the Eiffel Tower + Moulin Rouge Show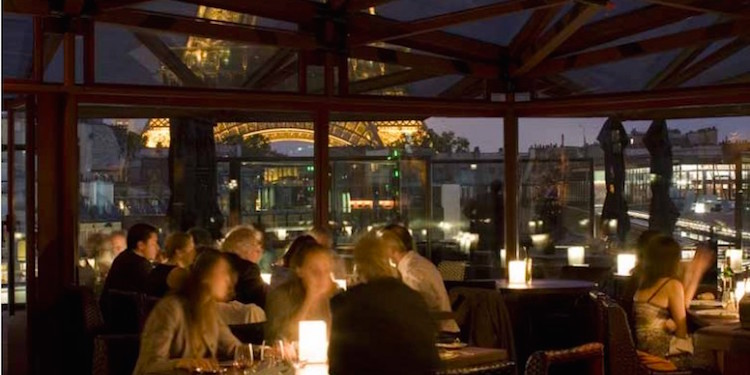 Les Ombres is the restaurant with the best view of the Eiffel Tower through large windows and a glass ceiling!
It's located on top of Museée Branly, almost right next to the tower, (See photo.) Not only is the view great, the food is superb in the way only the French can do it. After a leisurely dinner, you're whisked over to Moulin Rouge for the cabaret show.
Everything is included — transportation, dinner at Les Ombres, Moulin Rouge show and champagne. Wait, we forgot to mention the one-hour nighttime Seine River cruise that's also part of the evening!
Moulin Rouge Show with Hotel Pick-up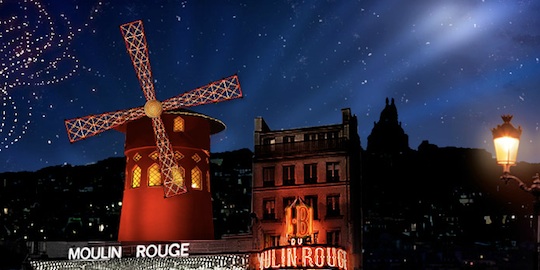 Want to see the cabaret show without dinner? Bien sur!
Same great show with transportation to and from your hotel and some bubbly to enjoy while you take in the number-one rated show in Europe.
It's the easy way to go, no need to figure out how to get there on the Metro or what to do when you're ready to leave.
Moulin Rouge Dinner & Show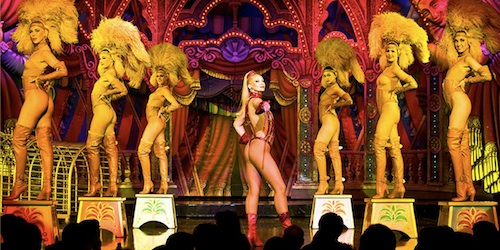 Want dinner and the show but you can manage your own transportation? Pas de probleme!
This combination dinner and show includes everything except getting to and from your hotel.
Dress code at the Moulin Rouge is elegant attire. Dress your best, you're in Paris!
Moulin Rouge Cabaret Show Only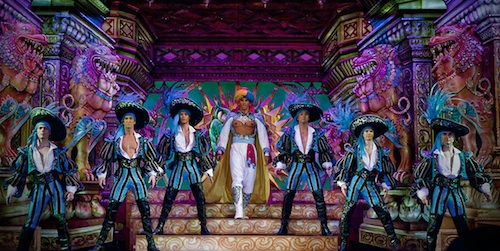 Just the show? C'est possible aussi!
If you'd like to see the current Moulin Rouge cabaret show, Feerie — complete with choreographed performances on moving staircases, AND a gigantic aquarium — then book the 9:00 PM or 11:00 PM show using the following link below.
All tickets include champagne! That way you'll taste stars and see the dancing stars in amazing costumes and an elaborate light show.
Other Ways to See the Show
History of the Moulin Rouge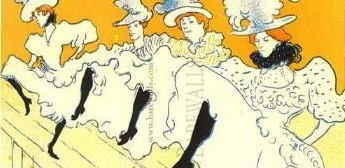 Founders Joseph Oller and Charles Zidler had a vision of creating a place where rich and famous Parisians could let their hair down in the shabby/chic part of town, Montmartre.
Their extravagant design included a gigantic elephant sculpture in the garden and the early shows were inspired by circus acts. Instantly, Moulin Rouge became a magnet to tout le monde — women, workers, artists, the bourgeoisie, businessmen and tourists.
Enter Parisian artist Toulouse-Lautrec. It was his posters and paintings that boosted the Moulin Rouge to international fame.
Controversy has also been a part of the Moulin's history. Colette's 1906 performance Egyptian Dream caused a sensation. The Chief of Police threatened to close down the cabaret if the two-minute act was ever performed again. What was all the fuss about? A long kiss between Colette and her fellow performer, Missy, AKA the Marquise de Morny.