Viewing the
Paris Skyline
What do you see when you
look at paris?
One of the reasons that the Paris skyline is so attractive is that it's human scale. Unlike almost any other major city, there is almost nothing over five storeys high to block the view of the Paris skyline.
Other than the skyscraper above the Montparnasse train station, Tour Montparnasse, it's not until you get to the periphery of Paris that tall buildings start to appear.
The business center La Défense to the west of the central city is an example.
The View from Notre Dame
Our favorite place to view Paris is from the top of the bell towers at Notre Dame Cathedral. You're high enough above the street (about 387 steps high!) to see over the surrounding buildings easily, yet low enough that you get a real sense of the silhouette of the Paris skyline.
From Notre Dame you get a 360° view, look upstream and downstream at the Seine, and understand the Paris geography, noting especially the hills of Montmartre and of the Pantheon.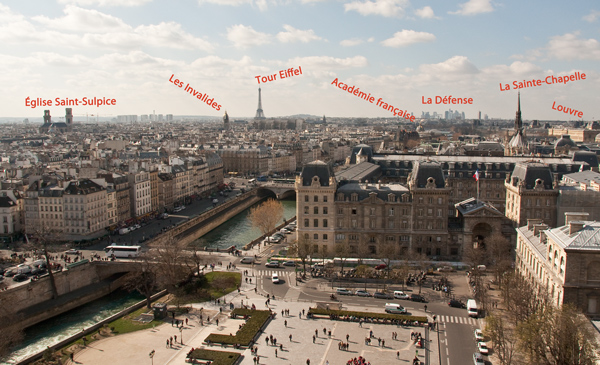 Annotated View Of Paris From Notre Dame – Looking West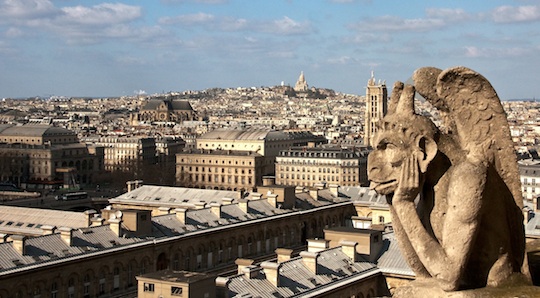 View Of Paris From Notre Dame – Looking Northwest
Other Views of Paris
We also love the view of Paris from the top of Parc de Belleville in the 20th Arrondissement. It's quite a different view (and Belleville is quite a different place) from the rest of Paris.
You can spot the Eiffel Tower and get a real sense of its height, of course. But in front of it, between you and the Tower, you can see the Ferris wheel set up in the Tuileries and a bit of the roof of the Hotel de Ville.
Paris From Parc de Belleville
From the Top of the Arc de Triomphe
Perfect for seeing the area around Champs-Elysées. By the way, you get free entrance to the top of the Arc de Triomphe with a Paris Pass.
From Montmartre
From up on the hill of Montmartre (where the big white church, Sacre Coeur, is located) is another panoramic view of Paris from the north.
From Tour Montparnasse
This may be the ultimate view of Paris, although it's so high you don't really see the city skyline, you're looking down at the city. Entrance to the 56th floor viewing level of Tour Montparnasse is free with a ParisPass.
From the Eiffel Tower
Can't forget this viewing platform! Great for views on the Seine and the entire west side of the city. The line-ups can be long (usually over 2 hours), so we recommend booking a skip-the-line Eiffel Tower tour in advance.
Paris Planning Quick Links
Want To Learn More?
Don't Miss a Single Paris Travel Tip –
Sign up for Le Petit Journal !
the newsletter of Paris Insiders Guide