Can I Travel to
Paris on a Budget?
Answers to Your Paris Questions

Paris on a Budget? I lean towards budget travel (flights & hotels) because I am aware that food, fun, and little splurges might come along, as with any vacation. Our overall travel budget is around $5000 to $6000 for three people. I have found a number of airfare/hotel combos in the $3000 to $4000 range. The hardest thing about these combination packages is knowing which area of Paris is really going to serve us best.
If I look at booking flights and hotels separately I would still like to pay 100€ to 200€ per night for a hotel. I hope I don't sound too cheap! I would like to travel to Paris on a budget but still reap the rewards of the sights and sounds! I certainly look forward to your ideas and suggestions!
Thank you again! -Pinching Pennies in Pennsylvania


Dear Penny: You'll be happy to know that there are several good Paris hotels in that price category of 100 to 200€. Don't expect lavish extras but you can find decent, clean, even nice accommodations for that price. Especially since it is your first time to Paris, we would recommend that you stay close to the center.
There are some areas that we do not recommend for your first time in Paris.
The 9th Arrondissement, north of Palais Garnier, has several budget hotels, it's not a great area to stay. Although it's perfectly safe, it is very busy and doesn't have the charming Paris neighborhood feeling.
Although we love Montmartre, we don't recommend it to first time visitors for a couple of reasons. First, it's not close to the center of Paris — the Metro ride is 20 to 30 minutes. Also, unless you're staying close to Rue des Abbesses, you can end up in a heavily-touristed part of the neighborhood.
Areas Of Paris We Like To Stay In
Paris on a Budget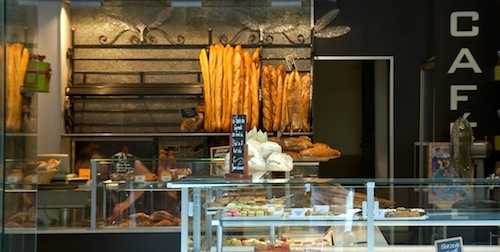 There are good budget hotels to be found in all areas of Paris. We especially like the neighborhoods around the Eiffel Tower in the 7th and the 15th. As you go south from the Tower into the 15th the area is not as tourist heavy, but a great place to stay.
One of our favorite new areas is in the 11th Arrondissement on the border of Bastille and the Marais. There are a lot of good Paris on a budget hotels in the area.
Paris on a Budget Hotel Tips
• Most Paris hotels are much smaller than North American hotels. On Trip Advisor, many travelers rate Paris hotels poorly because of the small rooms, not aware that almost all Paris hotel rooms are compact.
• The majority of Paris budget hotels (and most Paris 3- and 4-star hotels) do not have a valet or doorman, so get used to carrying your bags yourself.
Generally speaking, hotels in Saint-Germain-des-Prés (the 6th Arrondissement) and on Champs Elysées (the 8th) are higher priced than other areas due to the prestige of the neighborhood.
Here are some favorite Paris On A Budget Hotels —
Hotel Europe Saint Severin

At this charming hotel found in the 5th Arrondissement, in the Latin Quarter, you'll be close to everything. The last time we checked, a triple room was about 207€ per night.

• Best Rates Online – Hotel Europe Saint Severin »
• More Reviews & Comparison Rates »
Le Relais du Marais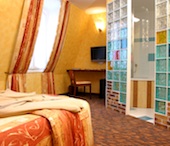 This centrally located Paris hotel is just on the edge of the Marais. Guests rave about the nice touches in the hotel, like the friendly staff and cute decor.

• Best Rates Online – Le Relais du Marais »
• More Reviews & Comparison Rates »
Hotel de Sevres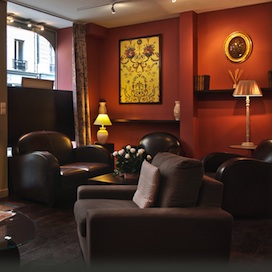 Here's a hotel that we used to stay in frequently before we started renting apartments.
Since then it's undergone a complete makeover. It's in a location (one of our favortie neighborhoods, the 6th near Bon Marché), quiet and has reasonable rates of around 110€ per night.
•
Reviews & Rates – Hotel de Sevres »
Paris on a Budget Tips
• Save money on food in Paris by taking advantage of the great baguettes, cheese, wine and patisseries.
• Skip the hotel breakfast and head to the local boulangerie to pick up some fresh croissants or coffee and croissants a local café. Both options will cost less than the hotel fare.
• Choose the prix-fixe menus in Paris restaurants. These three-course menus are always the best bargain.
• Avoid taking taxis in favor of walking and the metro to get around Paris.
• Pack lightly. With less to carry, you can save money by catching the RER from the airport. This money-saving way to get to Paris costs less than 10€.
Paris Planning Quick Links
Don't Miss a Single Paris Travel Tip.
Sign up for Le Petit Journal!
The Newsletter of Paris Insiders Guide
Don't Miss a Single Paris Travel Tip.
Sign up for Le Petit Journal!
The Newsletter Of Paris Insiders Guide