How to Choose the Best
Street Map of Paris
How to Choose the Best Street Map of Paris
You'll need a city map, but which one is best? It isn't hard to find a map of Paris. But given the number of people who visit the city (more than 40 million a year), it's surprising there aren't more really good maps.
We've used a ton of different city maps, map books and guide books in our many visits to the City of Lights, and here we reveal the best of them — including ones for people (like us) us who need to know everything. There's also going to be a Paris Insiders secret!
In another article, Guide to Paris Tourist Maps, we tell you even more about the best maps and guides for visitors — including pocket guidebooks.
Right off the top, we're going to dismiss the traditional folded paper street maps. They're a pain to use when you're walking around, and we want you to look like a Paris Insider, not a tourist!
Certainly you can find a map that will help you, but many are not quite good enough. As we said, we like to be able to dig deep when we want to —
That's not asking too much, is it?
Paris Insiders Tip
We usually recommend a map of Paris France with a scale of 1/10,000. Much smaller than that and it becomes hard to read. Unless your eyes are better than ours!
Michelin 62: Paris par Arrondissement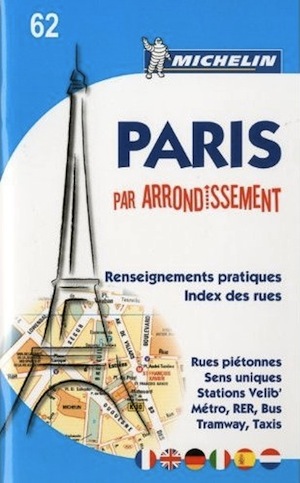 • 1/14,000 (varies)
• Great Metro map
• Stapled paperback
• 4.6 ounces
Michelin is the name in Paris maps, and has been for over 100 years. This is one of the maps we always have with us.
Michelin 62, the 2011 edition of their Paris map, is essentially a mini-atlas covering all 20 arrondissements of Paris and includes every street and alley, no matter how hidden. It's compact and lightweight.
In addition to the accurate street maps you expect from Michelin, Paris 62 includes a complete street index, a good Metro map, and information on busses, airports and markets.
The maps themselves show all the details you need, such as location of taxi stands, monuments, markets, parks and Metro stations.
Overall Paris 62 Par Arrondissement is very good, detailed, easy to use and easy to carry around. Except for the map key page (which is in five languages) Paris 62 is in French. But that's not really a problem for a map book!
By the way, the description of Paris 62 Par Arrondissement at Amazon.com is incorrect. It's listed as being a folded map, but it's not, it's a map book. We know, cuz we bought one to find out.
Knopf CityMap Guide: Paris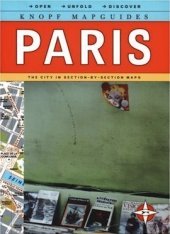 Buy at Amazon
• Easy-to-read map scale
• 48 pages
• Good Metro map
• 6.4 ounces
This light guide (6.4 ounces) is very easy to carry around, you won't even notice it's in your bag. In addition to its weight, what we like most is that the maps are a large, easy-to-read scale.
Knopf Paris Doesn't try to cover the entire city. Each of its eight sections focuses on a specific area of Paris. For instance there's the Latin Quarter/The Islands/ Montparnasse section and there's the Les Halles/Le Marais section.
This may not be the way you think about Paris, but each section has a nice fold-out Paris tourist map that illustrates the area very well. It's worth saying again: the maps are at a large scale, making them very easy to read.
The restaurant and bar suggestions aren't very good, and it's best to ignore them. But the itineraries are worthwhile. There's also a good Metro map on a double-page spread.
TimeOut Shortlist Paris
Maps & Guidebook
• Map scale varies
• 2014 Edition
• Updated annually
• Paperback
• 8.6 ounces
Nice size pocket guide that covers the city by area, with good small maps of each area. (Examples of the areas it covers: Opera to Les Halles and Northest Paris.) While we usually prefer Paris city maps by arrondissement, the Timeout scheme actually works quite well.
The laminated back cover tri-folds out to a nice city map and a good-size Metro map (new graphic style).
What we really like about TimeOut Shortlist Paris is that it's useful to both visitors and Parisiens. It's packed with good information on what to see, where to go and some tips on hotels and restaurants in each of the areas. (We often use their restaurant recommendations for finding lunch spots in Paris.) Timeout is updated annually so Paris city maps and the information are always current.
Guidebooks & Tourist Maps
Paris Insiders Guide Recommendations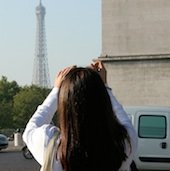 Do you want your guide book or map of Paris to include ideas for things to see, recommended restaurants and even specific itineraries? Then jump to our Guide to Paris Tourist Maps where we present our recommendations for some of the best guide books of Paris. You'll find some famous names, like the only Frommers guide we recommend, as well as some names you may not have heard of.
• Guidebooks & Paris Tourist Maps – Read Our Reviews »
Paris Subway Maps
There are good resources for Paris subway maps online.
RATP, the company that operates the Metro, has a couple of large-scale Metro maps on its site. Learn everything you ever wanted to know about Metro maps — and more!
• Paris Subway Maps – More Details »
• Metro Maps of Paris – Read Our Guide »
Paris Arrondissements, Red Cover
A Paris Insiders Guide Secret!
• Map scale varies
• By arrondissement
• Stapled paperback
• Good Metro map
• Éditions Courtarel, publisher.
This is one of the maps Parisians carry around, when they carry around a map at all.
As the title suggests, it presents Paris by arrondissement, with a double-page spread for most arrondissements and two double-page spreads for the larger ones (13 through 20). Each map is in an easy-to-read scale.
The double-page Metro map (new graphic style) is easy on the eyes. Maps also include bus routes and a list of Metro stations. Of course, there's the usual street index.
This map of Paris France is a small book, with a stapled spine, and very easy to carry around. The information is in five languages.
Paris Arrondissements with the red cover is available at all newsstands, in all bookstores and many other places. We use this one to supplement our Michelin 62 map book. You can never have too many good Paris street maps!
Online Maps
There's Google & Then There's…
Don't Miss a Single Paris Travel Tip.
Sign up for Le Petit Journal!
The Newsletter of Paris Insiders Guide
Don't Miss a Single Paris Travel Tip.
Sign up for Le Petit Journal!
The Newsletter Of Paris Insiders Guide